Ayaz somroo being welcomed by supporters
With party workers in islamabad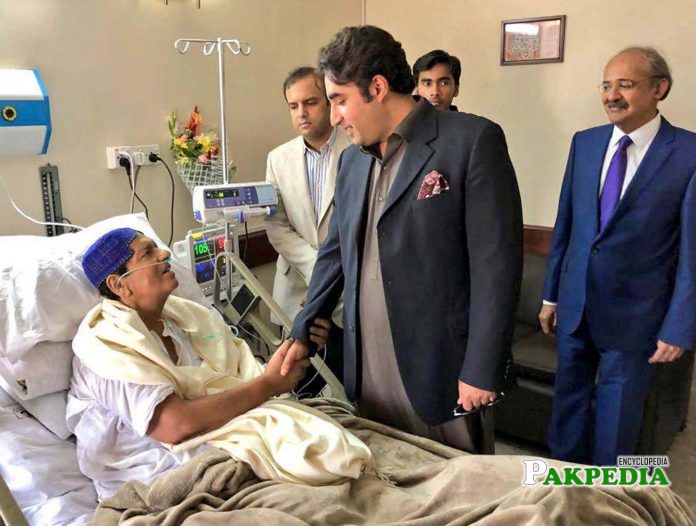 Bilawal visit to meet ayaz somroo
During his last days
With Chief Minister Syed Mehdi Shah
Biography
Ayaz Somroo was Born on December 31, 1958, He joined Sindh People's Students Federation in his student life. He also remained central secretary general of the PPP Sindh. He was a lawyer by profession and was elected as member of Supreme Court Bar from Larkana. He also remained president District Bar for ten years. Ayaz Sooro was considered a close associate of Benazir Bhutto. He also remained PPP president of District Larkana for ten years. He was also elected member of provincial assembly (MPA) of Sindh Assembly three times. He was appointed as provincial law, jails and housing minister in 2008. He received the degree of Bachelor of Arts, Bachelor of Laws and Master of Arts, all from the University of Sindh.
[1]
Biography Biography
Career
Muhammad Ayaz Somroo was the Pakistan People's party leader and member of National Assembly (MNA). Muhammad Ayaz Soomro was elected as the member of the National Assembly on a ticket of Pakistan Peoples Party from NA-204 (Larkana) in general election, 2013, he was elected as  MPA from PS-37  Larkana in 2002, and he also served as  law minister Sindh when Qaim Ali Shah was chief minister. 
[2]
Career Career
Death
Pakistan Peoples Party leader and member of the National Assembly Muhammad Ayaz Soomro passed away at a hospital in Manhattan, New York in the wee hours on Tuesday 20th March 2018. He was suffering from cardiac ailment and was being treated in the United States. PPP co-chairman Bilawal Bhutto Zardari expressed his grief over the demise of Soomro. In a condolence message, Bilawal eulogised services of the PPP leader. 
[3]
Death Death