Nasir ud-din Muhammad Humayun was the second Mughal ruler of territories in the Indian subcontinent including what is now Afghanistan, Pakistan, and parts of northern India. He was the son and successor of Babur, the founder of the Mughal dynasty. He became the Mughal emperor at the age of 23. He was inexperienced at the time of ascending to the throne and faced bitter rivalry from his half-brother Kamran Mirza who ruled over Kabul and Lahore. Even though Humayun was a brave soul and an adventurous ruler, he lost several territories to his rivals over the ensuing years. However, he was not someone to accept defeat so easily and he successfully won back his territories after a few years. Many years of his reign were spent in defending territories from his rivals, and he was even forced to seek refuge in Persia for some time. When he returned to his kingdom as the undisputed Mughal leader after the death of his rivals, he set about consolidating the empire for the generation to come. He embarked on several campaigns to expand the Mughal territories and at the time of his death, the Mughal Empire spanned almost one million square kilometers. Even though not counted amongst the greatest Mughal emperors, Humayun ensured that he left behind a rich legacy for his son Akbar.[1] Mughal Emperor biography
| Title | Description |
| --- | --- |
| Personal | |
| Name: | Nasir ud-din Muhammad Humayun |
| In Urdu: | نصیرالدین محمد ہمایوں |
| Nationality: | Indian |
| Religion: | Islam |
| Mughal Emperor Reign: | 26 December 1530 – 17 May 1540 22 February 1555 – 27 January 1556 |
| Mughal Emperor Coronation: | 29 December 1530, Agra |
| Mughal Emperor Predecessor: | Babur |
| Mughal Emperor Successor: | Sher Shah Suri Akbar |
| House: | House of Timur |
| Dynasty: | Mughal |
| Immediate Family: | Son of Babur; Maham Begum Mirzā and Aisha Sultan Begum Husband of Hamida Banu Begum; Khanish Agha; Bega Begum; Mah-chuchak; Shahzadi Khanum and 5 others Father of |
| Issue: | Al-aman Mirza Akbar Mirza Muhammad Hakim Ibrahim Sultan Mirza Farrukh-Fal Mirza Aqiqa Sultan Begum Jahan Sultan Begum Bakshi Banu Begum Fakhr-un-Nissa Begum Bakht-un-Nissa Begum Amina Banu Begum Sakina Banu Begum |
| Consort : | Bega Begum |
| Born | |
| Date: | 17 March 1508 |
| Place: | Kabul, Afghanistan |
| Family | |
| Spouse: | Hamida Banu Begum Mah Chuchak Begum Bibi Gunwar Khanish Agha Maywa Jan Shad Bibi Chand Bibi |
| Children: | Akbar son, Mirza Muhammad Hakim son ,Aqiqeh Begum daughter Bakshi Banu Begum daughter,Bakhtunissa Begum daughter |
| Parents: | Babur, Maham Begum |
| Siblings : | Gulbadan Begum, Kamran Mirza, Hindal Mirza, Askari Mirza, Khalil Mirza |
| Died | |
| Date: | 27 January 1556 |
| Buried: | Humayun's Tomb, New Delhi, India |
| Rest Place: | Delhi, India |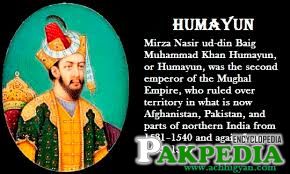 Early life of Humayun
Nasiruddin Muhammad Humayun was born at Kabul on March 6, 1508. His mother, Mahim Begam, who was married by Babar in 1506. As Babur had come to a settled life in Afghanistan, very good arrangements must have been made for the education of his eldest son.
In his early life, Humayun learnt Turki, Arabic and Persian. We are told that he picked up some Hindi also after Babur's conquest of Northern India. Besides literature and poetry, he was interested in mathematics, philosophy, astronomy and astrology. Military training also formed part of his early education. While yet a boy he was associated by his father with civil and military administration.
Nasiruddin Muhammad Humayun was appointed governor of Badakhshan at the early age of twenty. On the eve of the battle of Panipat,  he was sent to encounter one of the Afghan advance parties under Hamid Khan. Humayun defeated Hamid Khan near Hisar Firuza. It was his first experience of battle. Subsequently, he fought at Panipat and Khanua and had a number of other encounters with Afghans.
In 1926, Humayun was assigned the district of Hisar Firuza and was, subsequently, given Sambhal in jagir. After the battle of Khanua he was sent to take charge of Badakhshan, but he abandoned it after two years and returned to Agra in 1529. Humayun was then sent to manage his jagir of Sambhal from where he had to be brought to Agra owing to illness.[2] Early life of Humayun 
Reign of Nasiruddin Muhammad Humayun
Humayun consolidated the Mughal Empire. In 1530, he got the throne of Delhi and Agra. His first achievement was the victory of Kalinger in 1531. In 1532, Humayun compelled Sher Shah Suri to surrender. But he simply took the Qutub Shah, son of Sher Shar Suri as a hostage. So, taking Qutub Shah as a hostage he left fort of Chunar in the hand of Sher Shah.
This was his blunder. I mean to say, it was irrelevant to conquer without consolidation. The same mistake was done by the Siraj-ud-Daula of modern India.
While Humayun was busy in eastern India. Bahadur Shah, a young ruler of Gujarat started to enter in Rajputana to expand his territory. Bahadur Shah encircled Mewar, which had a minor ruler as Rana Udai Singh. The entire management of the state was in the hand of Rani Karnavati.[3] Reign of Nasiruddin Muhammad Humayun 
Expedition of Nasiruddin Muhammad Humayun
The Nasiruddin Muhammad Humayun was alarmed due to the rising power of Bahadur Shah. So, he moved towards Chittor. According to a story, Rani Karnavati sent "Rakhi" to Nasiruddin Muhammad Humayun. She asked help from him against the Bahadur Shah of Gujarat.
But unfortunately, Humayun neglected this on the advice of his religious teachers. So, in this way, he lost the opportunity of friendship with Rajputs. After this, he chased Bahadur Shah and occupied Gujarat. He handed over the Gujarat to his incompetent brother Askari.
So, before he could reach Delhi, Bahadur Shah recaptured the Gujarat. But Nasiruddin Muhammad Humayun did not take it seriously and moved to Delhi. This was one more blunder of Humayun.
Sher Shah vs Humayun
After the Gujarat expedition, Humayun left for Delhi. He constructed a new city Dinpanah, which had a famous library, Sher Mandal. Nasiruddin Muhammad Humayun was fond of reading books. His sister Gulbadan Begum wrote his biography.
The crisis of Gujarat in which Humayun was fully involved, proved costly for him. Because as he was busy in Gujarat Expedition, on eastern front Sher Shah Suri occupied Bengal in the Battle of Surajgarh, 1538. As Sher Shah became the ruler of Bengal, Humayun was in trouble.
So, Nasiruddin Muhammad Humayun moved towards Bengal. But then he became the victim of Sher Shah's conspiracy. Dancer and opium of Bengal fascinated Nasiruddin Muhammad Humayun. So he gave a new name to Bengal "Jannatabad".
While Nasiruddin Muhammad Humayun was enjoying in Bengal, Sher Shah strengthened his position in Bengal. But Humayun was awakened only when his brother Hindal declared himself as the Emperor of Hindustan or India. So, from here, Humayun started returning to the Delhi. But in the Battle of Chausa, 1539 and Battle of Kannauj, 1540 he faced defeat against Sher Shah Suri.[4]  Sher Shah v/s Humayun 
Humayun as Refugee

So, after the defeat in Battle of Chausa and Battle of Kannauj, Humayun somehow managed to escape. He became a refugee. He took the first shelter in the court of Rajput ruler Rana Virsal of Amarkot. Here, he met the love of his life, mean to say, his wife  Hamida Banu.
For about 10 years, Humayun was in exile. But he came back when Sher Shah Suri died. He was an opportunist. So, he defeated later Surs in Battle of Macchiawada, 1555. Finally, he regained Delhi and Agra. But his success short lived for him.
His difficulties

 
King Humayun's accession to the throne was delayed by four days (Babur's death Dec. 26, Humayun's accession Dec. 30), during which attempts were made to set aside his claim and place Mahdi Khwaja on the throne. Situation at the time of his accession was not an easy one as there were hostile forces on all sides and as these were disguised, so were more dangerous. Prime Minister Nizam-ud-din Muhammad Khalifa had sustained a very poor opinion of Humayun and preferred to support Mahdi Khwaja, brother-in-law of Humayun to the throne. The situation therefore, was intriguing. There was also no unity in the royal family and Humayun's cousins Muhammad Zaman and Muhammad Sultan were pretenders to the throne.
Among the Muslims, the theory of primogeniture was not strictly followed which made Humayun's three brothers Kamran, Hindal and Askari aspirants to the throne.
Humayun's court was full of nobles who were busy in engineering plots for occupation of the throne. His empire which included the provinces of Balkh, Qunduz, Badakhshan in Central Asia, and Multan, the Punjab, the modern Uttar Pradesh; Bihar, Gwalior, Bayana, Dholpur and Chanderi in India was not completely reduced to submission and was ill organized.
The Afghan chiefs within the empire were not subdued. Mahmud Lodi, brother of Ibrahim Lodi, the last Sultan of Delhi was still a claimant to the Delhi throne. Sher Khan was trying to weld the Afghans into a powerful community in order to set up an independent kingdom with their help. Bibban and Bayazid were looking for the opportunity to recover the territories from which they had been expelled. Nusrat Shah, Sultan of Bengal was trying hard to organize an Afghan confederacy to contain the Mughals. Alam Khan who along with Daulat Khan had invited Babur to invade India, collected an army with the help of Bahadur Shah of Gujarat, sent his son Tarta Khan to invade Agra. Humayun's near relations, the Mirzas were his rivals. Besides, his brothers Kamran, Askari and Hindal were all ambitious to occupy the throne. Kamran who was in charge of Kabul and Qandahar turned his covetous eye on the Delhi throne.
The situation demanded a ruler of much political wisdom, military skill and diplomatic ability. But Humayun lacked all these qualities. His lack of these qualities proved to be the major cause of his undoing. He was no doubt a man endowed with intellectual taste and love of culture, but he hopelessly lacked the determination, perseverance, practical wisdom and above all, discretion which were the need of the hour.Humayun, immediately on accession to the throne, took a step which showed some brotherly feeling and liberality of mind, but no political wisdom. He divided his empire between his brothers, thinking that it would be possible for him to disarm his brothers by making them partners of his empire. Kamran was not only confirmed in his possession of Kabul and Kandahar but was allowed to keep in his possession the Punjab and Hisar Firuza which had been forcibly seized by him. Askari was given Sambhal in assignment. Hindal was given jagir in Mewat instead of Badakhshan. Mewat comprised the extensive territories of Gurgaon, Mathura and part of Agra and Alwar which was his capital. Humayun's cousin Sulaiman Mirza was given Badakshan.[5] His difficulties Mughal emperor humayun
Possession of Kabul and Qandahar by Kamran, who was openly hostile to Humayun, deprived the latter of excellent recruiting grounds for his army. Further, by confirming Kamran's forceful occupation of the Punjab and Hisar Firuza Humayun not only revealed his weakness but also struck at the root of the integrity of the empire. Possession of Hisar gave Humayun command of the road connecting Delhi and the Punjab. Apart from dividing the empire between his brothers, Humayun also increased the jagir of every Amir.
Sher Shah Suri-The Interim Sultan
Sher Shah Suri, the interim sultan between the reigns of Humayun and Akbar, was altogether a much better king and administrator than Humayun. The Babur had once remarked about Sher Shah: '…keep an eye on Sher Khan. He is a clever man and the marks of royalty Without a doubt, Babur must have wished for a son like him to succeed him. In his short reign, Sher Shah Suri showed remarkable talents as an administrator, diplomat, builder.When Sher Shah defeated Humayun in the Battle of Chausa, the Mughal did not have time to save his queens and was himself saved by a water carrier. Sher Khan ensured that the royal ladies were treated with respect and returned to Humayun.
Formation of The Seventh City of Delhi
Humayun and Sher Shah Suri, the defeater and the defeated, both built the seventh city of Delhi. Humayun started it as Dinpanah or Purana Qila and Sher Shah Suri finished it as Delhi Sher Shahi.In 1540 Sher Shah Suri took over the reigns of Dinpanah. It took 15 years and Sher Shah's death for Humayun to defeat and regain control of his city.[6] Formation of the seventh city of delhi
Sher Garh–The Citadel
Sher Shah also built Sher Garh, the citadel of his city whose were completed by his son Islam Shahi. The only remains of the fort now are the Lal Darwaza and the Kabuli Darwaza. Purana Qila itself has three gates, Humayun Darwaza (Humyaun's Gate), Talaqi Darwaza (Divorce Gate! Nobody knows why it was named thus.) and Bara Darwaza (the Big Gate). The Bara Darwaza is the one you would use to enter the fort today.
Consort
1) Bega Begum –  (1511 – 17 January 1582) was Empress of the Mughal Empire as the first wife and chief consort of Emperor Humayun. Her important architectural legacy is the mausoleum of her husband, Humayun's Tomb at Delhi, which she commissioned in the late 16th century. The mausoleum was the first one to have been built for a Mughal emperor and was the first garden-tomb on the Indian subcontinent. Bega was also known as Haji Begum after she undertook the pilgrimage to Hajj. 
Bega Begum was the daughter of Humayun's maternal uncle, Yadgar Beg Taghai, who was the brother of Sultan Ali Mirza, father of Kamran Mirza's wife Gulrukh Begum. Bega married her first cousin, Prince Humayun in 1527. The marriage took place while Humayun was in Badakshan during his second term as Viceroy. In November of 1528, she gave birth to Humayun's first child and son, Shahzada Al-aman Mirza. The couple were heavily congratulated by the Emperor on the birth of an heir, but were criticized for naming the child 'Al-aman', a name which, according to him, was ominous in its connotation. The prince died in infancy.[7] Consort Mughal Empire Humayun  
Issue: Al-aman Mirza and Aqiqa Sultan Begum
Wives
2) Mahchuchak Begam
3) Banu Begum
4) Miveh Jan
5) Gunwar Bibi
6)Hamida Banu Begum:
Hamida Banu Begam, 'Maryam Makani' (1527 – 29 August 1604) was a wife of the second Mughal Emperor, Humayun, and the mother of Mughal Emperor, Akbar.
Hamida Bano Begum was born in 1527 to Shaikh Ali Akbar Jami, a Persian Shia, and a friend and preceptor to Mughal prince Hindal Mirza, the youngest son of the first Mughal Emperor Babur. Ali Akbar Jami was also known as Mir Baba Dost, who belonged to the lineage of Ahmad Jami Zinda-fil. Hamida Bano's mother was Mah Afraz Begum, who married Ali Akbar Jami in Paat, Sindh. As suggested by her lineage, Hamida was a devoutMuslim.
She met Humayun, as a fourteen-year-old girl and frequenting Mirza Hindal's household, at a banquet given by Dildar Begum, Babar's wife and Humayun's stepmother in Alwar. Humayun was in exile after his exodus from Delhi, due to the armies of Sher Shah Suri, who had ambitions of restoring Afghan rule in Delhi.
When negotiations for Humayun's marriage with Hamida Bano Begum were going on, both Hamida and Hindal vehemently opposed the marriage proposal, possibly because they were involved with each other. It is seems probable that Hamida was in love with Hindal, though there is only circumstantial evidence for it.  In her book, the Humayun-nama, Hindal's sister and Hamida's close friend, Gulbadan Begum, pointed out that Hamida was frequently seen in Hindal's palace during those days, and often attended parties organised by their mother, Dildar Begum.
Initially, Hamida refused to meet the Emperor, eventually after forty days of pursuit and at the insistence of Dildar Begum, she agreed to marry him. She refers to her initial reluctance in her book the Humayunama,
" I shall marry someone; but he shall be a man whose collar my hand can touch, and not one whose skirt it does not reach." "
The marriage took place on a day chosen by the Emperor, an avid astrologer, himself employing his astrolabe, at mid-day on a Monday in September, 1541 (Jumada al-awwal 948 AH) at Patr. Thus she became his junior wife, after Bega Begum (later known as Haji Begum, after Hajji), who was his first wife and chief consort.
Two years later, after a perilous journey through the desert, on 22 August 1542, she and Emperor Humayun reached at the Umerkot ruled by Rana Prasad, a Hindu Sodha Rajput, at a small desert town, and the Rana gave them asylum. Two months later she gave birth future Emperor, Akbar on the early morning of 15 October 1542 (fourth day of Rajab, 949 AH), he was given the name Humayun had heard in his dream at Lahore – the Emperor Jalal-ud-din Muhammad Akbar.
7) Shahzadi Khanum
8) Chand Bibi
Major Battles
Humayun was not well known for being a great military leader. However, he recognized his limitations and therefore placed his army under the leadership of Bairam Khan while attempting to reclaim the throne of Delhi from the descendants of Sher Shah Suri. This proved to be a wise move as Bairam Khan was successful in recapturing the capital for Humayun.
Personal Life Legacy
Humayun had several wives and concubines, the most notable ones being Hamida Banu Begum, Mah Chuchak Begum, Bibi Gunwar Begum, Khanish Aghacha, Shaham Aghacha, and Maywa Jan Aghacha. He fathered a number of children including son Akbar who would one day become known as one of the greatest Mughal emperors.
He was descending the staircase from his library with his arms full of books when the muezzin announced the Azaan (the call to prayer). The emperor tried to kneel in reverence on hearing the summons, but tripped and fell down the stairs. He was seriously injured as a result and died three days later on 27 January 1556. He was succeeded by his son Akbar.
Humayun was known for his peaceful personality and patience which earned him the title 'Insān-i-Kamil (Perfect Man), among the Mughals[8] Personal life and legacy