Mubarak Haveli is one of the oldest and historic building of walled city of Lahore. Mubarak Haveli is no doubt a masterpiece of Mughal architecture.
| Title | Description |
| --- | --- |
| Information | |
| Location: | Pakistan |
| City: | Lahore |
| Adress: | Qadimi Shehr,(old city), inside Bhatii gate, near bazar Hakeeman, Lahore, Punjab |
| Nearest Place: | Data Darbar |
| Nickname: | Mubarak Haveli |
| In Urdu: | مبارک حویلی |
| Type: | Historical Bulding, Imam Bargah |
| Care takers : | Qazalbash family |
| Constructed by: | Nawab Ali Raza |
| Constructed in: | 1863 |
| Local Language Name: | Mubarak Begum Haveli |
| Restored in: | 1927 |
| Coordinates : | 31.5790° N, 74.3089° E |
| Details | |
| Architectural style: | Mughal Architecture |
| Built by: | Mir Nadir Ali, Mir Bahar Ali and Mir Bahadur Ali. |
| Named After: | Bahadur Ali was blessed with a son and thus the haveli was named Mubarak Haveli. |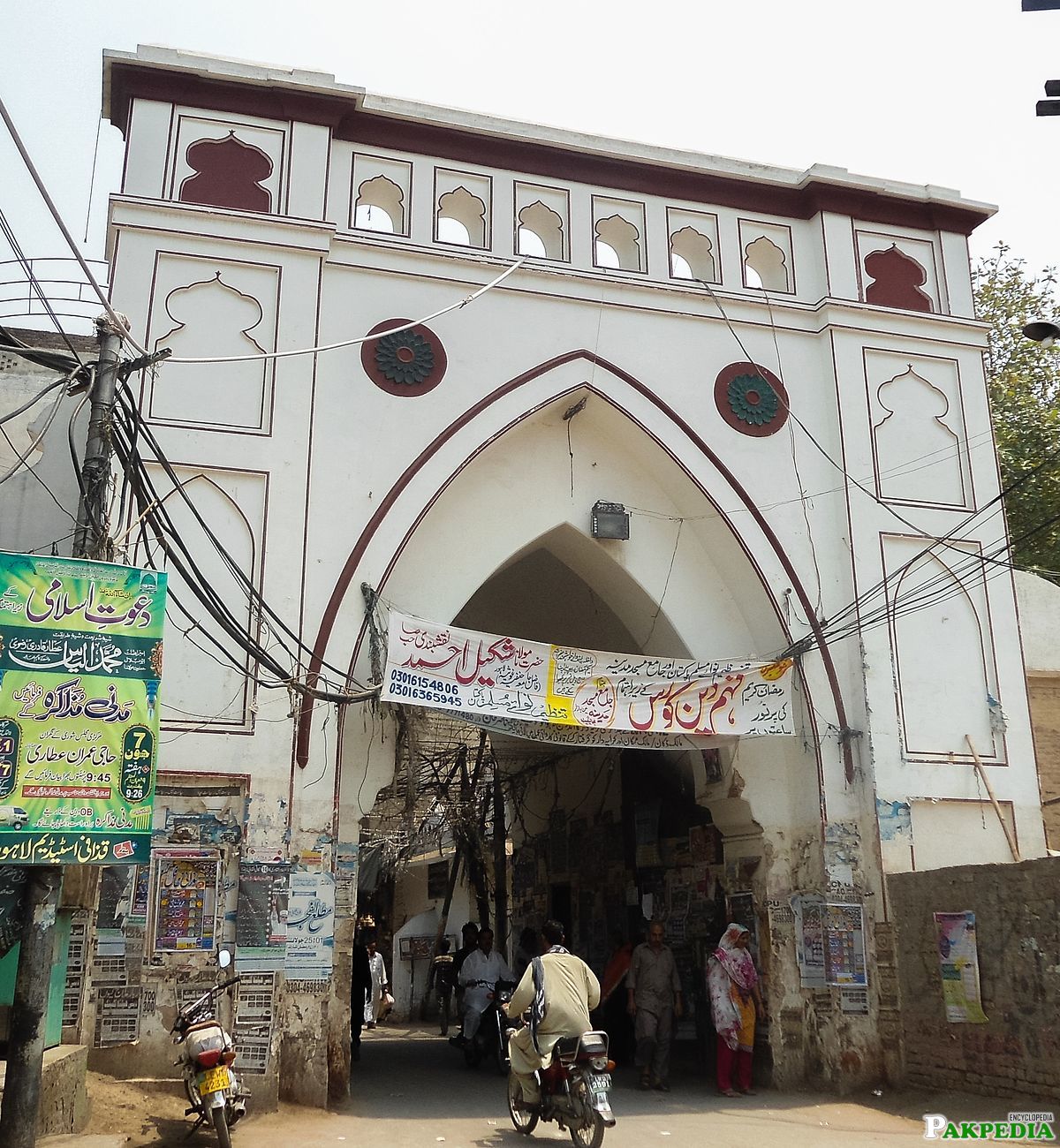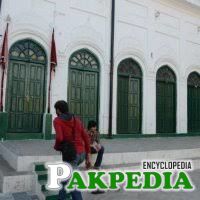 History

It is a colossal haveli which was built during the reign of Mughal emperor Muhammad Shah. The haveli was built by three brothers; Mir Nadir Ali, Mir Bahar Ali and Mir and Mir Bahadur Ali. After the death of their father who was well known hakeem and tabeeb at that time, they built the haveli. [1] History  
Location
Haveli Mubarik Begum or Mubarak haveli is situated near the Hakeeman Bazaar inside the Bhati gate.
Why it is named Mubarak Haveli
During the rule of Muhammad Shah, three amirs namely Bahadur Ali, Nadir Ali, and Babur Ali constructed a haveli in Mochi Gate area. Coinciding with its completion Bahadur Ali was blessed with a son and thus the haveli was named Mubarak Haveli. The family continued to prosper in the field of medicine and hikmat. Later, the family was divided as Syed Family and Fakir Family. [2] mubarak
Mubarak Haveli and Koh-i noor diamond

Shah Shuja Durrani of Afghanistan had to flee his home and came to Maharajah Ranjit Singh's court for help in 1813. The Maharajah kept the deposed king in this Haveli under house arrest and forcefully took the Kohinoor diamond and other crown jewels from Durrani. The Afghan king had to escape in disguise with his family to save his life. 
Architecture
The haveli has a remarkable history that makes it unique as well as a must place to visit in Lahore. Mubarak Haveli has the finest architecture and it has multi foil arches which are supported with pillars. These give aesthetic and artistic sense to the Mubarak Haveli. The courtyard is made up of bricks. It s surrounded by number of rooms that make it more beautiful and add more charm to the Mubarak haveli.
Inside the Haveli

Walking through narrow alleyways, you will approach Mubarak haveli's large, wooden and green front gate, from where, a tapered corridor with whitewashed brick walls led you to the inner courtyard.
It was a big courtyard, and had the feel of a timeworn lifestyle about it. The floor was covered with rectangular stone tiles. On the other side, the courtyard opened into a heavily incensed living area. The walls were painted brick red. The top floor had wooden arches while the ground floor had vaulted wooden windows. Green ivies and bushy shrubs dangled on the red wall. From that area, you will enter  into a huge open area. This place had white marble walls and lofty arches, with a small square clean water pond having lampposts around it. It had black alams lining the wall on one side, and a four feet silver ta'zia with intricate engravings. [3] architecture  
Qazalbash Familys Takeover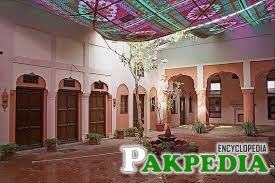 Mubarak haveli was constructed by Nawab Ali Raza in 1863. Today, the haveli is looked after by Mr Mansoor Ali Qazalbash, his great grandson. Nawab Ali Raza had come from Azerbaijan to Lahore through Afghanistan and settled here. At that time, Mohalla Shia'an Kashmirian was already a predominantly Shia community, but gradually, this haveli attained the status of the main gathering place for all of them. In his ancestors' times, there was an ardent ritual of frequent pilgrimages to Najaf, and some of his forefathers had breathed their last in Najaf.
Even though Mubarak haveli and Nisar haveli lie adjacent to each other and were once owned by a single family, they are now under the ownership of two separate members of the same family. 
Restoration of Haveli

When the British came they returned the Haveli to the rightful owners, the Qazalbash Family. They restored the building and obtained the license to turn it into a Shia Imambargah. Since 1927 every year a huge procession is led out of this mansion on the martyrdom anniversary of Caliph Ali a.s. 
Procession Held at Mubarak Haveli

Two main procession are carried out from Mubarak haveli. These are:
 In Lahore, the traditional Tazia Alam procession was held from Mubarak Haveli inside Bhati gate early in the morning and it culminated at Karbala Gamay Shah in the evening after passing through its traditional route. The route of the procession included Imambargah Ghulam Ali Shah, Chowk Nawab Sahab, Mochi Gate, Lal Khoo, Fazal Haveli, Takia Nathay Shah, Koocha Shian, Chuhatta Mufti Baqar, Old Kotwali, Kashmiri Bazaar, Dabbi Bazaar, Sunehri Masjid, Paniwala Talab, Chowk Nogaza, Chowk Tarannum Cinema, Chowk Tibbi, Bazaar Hakeeman, Chowk Novelty, Mohalla Jogian, Oonchi Masjid and Bhaati Gate. 
Another procession to commemorate the martyrdom of Hazrat Imam Ali (A.S) on the 21st of Ramadan, which starts from Mubarak Haveli, also concludes at Karbala Gamay Shah, making it the final destination of all mourning processions in the city. [4] Processions