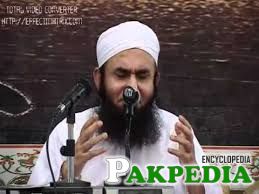 Molana Tariq Jameel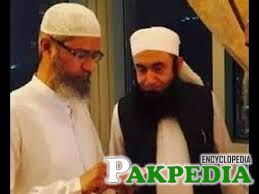 Moulana Tariq Jameel with [/size][size=2]Dr.Zakar Naik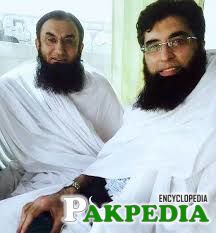 Tariq Jameel SB [/size][size=2]with Junaid jamsheed(Late) during Haj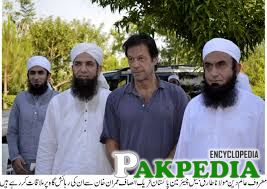 Mulana with Imran Khan and Compainions
Education
In His Childhood He Lived A Relatively Modest Life But Religion Was Not A Major Part Of His Life And His Family In Particular. It Wasn't Until He Pursued His M.B.B.S. In
Lahore
That His Focus Shifted Towards Islam. After Completing His Higher Secondary School Education (A.K.A. F.Sc In Some Regions Of Pakistan) In Pre-Medical (Equivalent To A 'Levels') From Government College, Lahore, He Took Admission In King Edward Medical College In Lahore. He Intended To Do His M.B.B.S., But He Soon Switched To Islamic Education. He Then Went On To Receive Islamic Education From Jamia Arabia, Raiwind (Near Lahore), Pakistan Where He Studied Quran, Hadith, Sharia, Tasawwuf, Logic And Fiqh.
[2]
Education of Moulana Tariq Jameel
Transition towards Islam
Maulana Tariq Jameel proclivitards Islam grew during hostel life in Lahore and can mainly be attributed to the group members of Tablighi Jamaat who he became friends with during his college life. He regularly delivers lectures and speeches encouraging people to follow Islamic values and principles and put them into practice in their everyday life. He emphasizes non-political, non-violent, non-sectarian Islam. Maulana Tariq Jameel has travelled extensively for this cause and delivered thousands of lectures all over the world. To quench his thirst for knowledge, he mastered the ability to understand and fluently speak Arabic and travelled extensively to numerous Islamic countries. His charming appearance combined with a strong voice and a fine ability to deliver religious lectures soon catapulted him to fame and within a few years he became one of the most profound and inspiring preachers of Islam in the Urdu language.
[3]
Transition towards Islam of Moulana 
Rise to fame
Due to his sermons and simple and modest lifestyle, Tariq Jameel commands respect from Muslims all over the world. He has a simple, eloquent and distinctive style of explaining the purpose of human life and its creation and often uses scientific examples to support his argument. He has delivered lectures to all types of communities in the society with the attendees being doctors, engineers, professors, businessmen, landlords, government officials, TV/film artists, ministers/politicians and sports celebrities. He has delivered lectures to all types of communities in the society with the attendees being doctors, engineers, professors, businessmen, landlords, government officials, TV/film artists, ministers/politicians and sports celebrities.  
[4]
Travel towards fame of Moulana
As a best Teacher
There are many Scholar in Pakistan but Maulana Tariq Jameel is one of  top Scholar .In his video he tells us our teacher should be like friend and parents should treat  love with their children and there should be love anywhere.
He is one of the few hundred scholars who reached Gilgit from various parts of Pakistan to participate in the Ijtima being held in Gilgit from June 9 to 11. Ijtima is a Sunni religious congregation held over a couple of days, where often hundreds of thousands gather to hear sermons. The one in Gilgit was organised under the banner of the Tablighi Jamaat.
[5]
Moulana Is a best teacher.
.
Moulanas Life story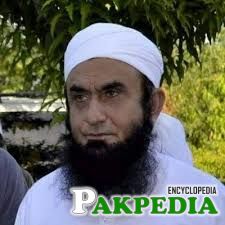 He is a son of a Fudel Lord (famous but unknown for us). His parents were not tablighi at all and wish him to become a doctor. After matriculation, he was admitted in the college at lahore and lived in hostel with number of friends. There was one person lived in the hostel, a tablighi, who approached Moulana Tariq Jameel. He said that on number of times, tariq jameel kick him(tablighi) out of his room. There was a disbaled person also in the hostel who was a namazi and tableegi too. Tariq Jameel sahab inspired by that disabled person how he perform namaz even he lived on fourth floor and come to namaz. At first, he went to three days jamat, after that he continues going with tableeghu jamat. After his four month (teen chillay), he decided to leave the studies(medical) and become an Alim at Raiwand Madrasah. His parents were angy and call him a stupid,idiot to leave the studies and become a moulvi. His father kick him out of the house, and told him never to come to him again. He left his house (1972-75) i guess, and admitted in raiwand Madrasah. Moulana Jamshed Ahmed was his teacher. He spent alomost 10 years in Madrasah and became an Alim. One of his brother is a heart surgeon and one is a zameendaar.Both of his parents died. He is the person behind the change of Saeed Anwar,
Junaid Jamshed,
Yousuf Youhana, (one actor from film industry,punjabi, I dont remember his name) and many others. He even asked to take over the government by some army generals and leaders of some religious political parties but he refused. As far as I listen his bayans, I think his major rivals are Barailvees. He is respected by all major sunni scholars and even shia scholars too. He build his own Madrasah in Faisalabad.
[6]
Life story of Moulana
Moulana Mostly Insist on TAWBA
Maulana Tariq Jameel repeatedly asks Muslims to do tawba (to be penitent for past sins and to retreat from wrong ways of life-leading) and to come back to the right path leaving the wrong one. He is a staunch critic of moral degeneration, indecent practices and shamelessness that have established its stronghold among young generation of Muslims.[7] Maulana Tariq Jameel repeatedly asks Muslims to do Tawaba
He said that towba removes every sin of a life.Allah Pak likes that his creation bow them against Him and said towba.
Maulana Tariq Jameel Hospitalized due to Chest Pain
The religious Scholar Maulana Tariq Jameel who came from Canada last night has been hospitalized today on 1st January 2019 in Lahore after complaining of chest pain. He will go through angiography procedure today.