Pakistan Monument located in Islamabad is conceived as the National Monument of Pakistan. The monument was constructed as a tribute to the people who sacrificed their lives for the independence of Pakistan. It represents the history, civilization and culture of Pakistan and mainly focuses on historical events of Pakistan Movement.4  petals stand for the 4 provinces of Pakistan which are standing united and together. .The murals on the petals of flower shaped architecture features  Pakistans  cultural heritage and historic events of Pakistan Movement.Pakistan Monument was built by Ministry of Culture.All petals are protecting the crescent and star which represent the whole Pakistan. So it is a symbol of progress and the unity of the nation.
The other essential part of this structure is the Pakistan Monument Museum. It was the most focusing part of this plan. It includes the history of the country with the heritage, traditions and future plans. Different time periods of the Pakistan was shown in this museum with the help of many sculptures. All these things take you the past and you feel like existing in that age and everything is happening in front of you.After the completion of this project this fact was found that these sculptures are of low standard and do not meet the standards then this project was given to the Lok Virsa team. Under the supervision of Mr. Kamran Javed the team of Lok Virsa completed this task so fast.
When you enter in this museum you can clearly see that it is divided into different parts. You can find the history of Pakistan in one part while future on the other part. The sculptures of Muslim heroes and the freedom fighters are available here. The personal room of Iqbal and Quaid are also present. A library is also present to facilitate the visitors with the old time videos.
Fatimah Jinnah also contributed a major role in the fight of freedom. Here you can find her with the Quaid-e-Azam on different occasions. This all was arranged to educate the youth and youngsters about our history and culture. Without any doubt this one was a grand project which was completed perfectly.[1] Pakistan monument museum
Gandhara Art, Buddha statue, Muhammad bin Qasim, Mahmood Ghaznavi, war of freedom, Gandhi, Tilak, Gokhale, Chandra Pal, Dadabhai Naoraji and few more great leaders and places are presented here through the sculptures. Maps of Pakistan are also fixed here for the visitors.  After the approval of the idea of a National Monument the Ministry of Culture with the help of Pakistan Council of Architects and Town Planners (PCATP) organized an all Pakistan competition to design an architecture around the theme representing history, culture, and civilization of Pakistan mainly focusing on Pakistan Movement. The foundation stone for the architecture was laid on 25 may 2004. Pakistan Monument was completed on 23 March 2007 with a total cost Rs. 580 million. The blooming flower shape of the structure represents Pakistan as a rapidly progressing country.[2] Pakistan Monument pakistantoursguide.com
| Title | Description |
| --- | --- |
| Details | |
| Location: | Islamabad, Pakistan |
| Main contractor : | Universal Corporation Private LTD. |
| Other designers: | Khizar Hayat Asghar |
| Civil engineer : | Wasim Rajput |
| Structural engineer : | Muhammad Naeem Khan Lodhi |
| Architect : | Arif Masoud |
| Landlord : | Ministry of Culture, Pakistan |
| Owner: | Ministry of Culture, Pakistan |
| Completed: | March 23, 2007 |
| Construction started : | May 25, 2004 |
| Coordinates: | 33°41′36″N 73°04′06″E |
| Type: | Public monument |
| Foundation: | The foundation stone was laid on 25 May 2004 and the complex was completed by the end of 2006 for inauguration on 23 March 2007. The total cost incurred was more than Rs.580 million |
| Address: | The monument is located at the west viewpoint of the Shakar Parian Hills, and is spread over a total area of 2.8 hectares. |
| Rules Inside Museum: | No Eatables Allowed. No touching artifacts. |
| Owner: | Ministry of Culture, Pakistan |
| Entry Fee Museum: | Rs20 for Adults and Rs10 for Children. |
| Type: | landmark |
| Region : | PK |
| UTM : | 43S 320961 3729842 |
| Geo URI : | Geo:33.69345,73.068309 |
| Decimal: | 33.69345, 73.068309 |
| Hours: | Sunday 8AM10PM Monday 8AM10PM Tuesday 8AM10PM Wednesday 8AM10PM Thursday 8AM10PM Friday 8AM10PM Saturday 8AM10PM |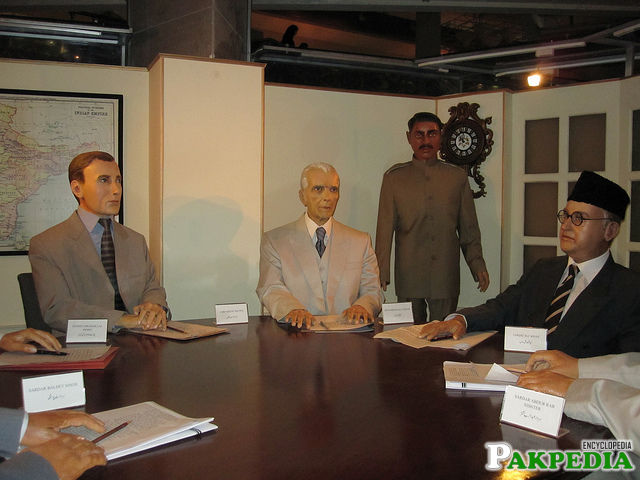 Conception

During the initial stages the plan was envisioned and started by Uxi Mufti son of Mumtaz Mufti [3] Mumtaz Mufti wikipedia  in 2005 later the plan to build a national monument in the capital city of Pakistan was undertaken by the Ministry of Culture which was under Hamad Kashif at that time. In this respect, Pakistan Council of Architects and Town Planners (PCATP) organised a national competition around the theme of signifying strength, unity and dedication of the people of Pakistan into an icon representing an independent and free nation.
From a total of twenty submissions, three were short-listed. Finally, the design proposed by Arif Masoud was selected for construction, that revolved around the creation and development[4] Creation and development pakistan movement of the country. The cost of the complex was Rs600 million.
Design
The monument is shaped like a blossoming flower. It is spread over an area of 28000 square meters. The design of Pakistan Monument consists of four large petals and three small petals. The four large blossoming flowers petals are made of granite. They represent four provinces  Balochistan , Khyber Pakhtunkhwa,  Punjab  and  Sindh of  Pakistan  three smaller petals represent three territories Azad Jammu & Kashmir, FATA and  Gilgit Baltistan .
Murals

The inner walls of Pakistan Monuments granite petals are decorated with murals. These murals are mainly based on Islamic Art. The decorating team led by Zarar Haider Babri and Kausar Jahan spent 119,000 hours of artwork.[5] Pakistan monument murals
The first petal starting from the right side depicts the images of Shah Faisal Mosque, Malki Tombs, Rohtas Fort , Shahjahan Mosque and Gawadar.
The second petal features  Quiad-e-Azam Muhammad Ali Jinnah , Fatima Jinnah, Badshahi Mosque , Minar-e-Pakistan, Karakorum Highway , Shila Tunnel, and a crowd cheering at  Muhammad Ali Jinnah public appearance.
The third petal features features the images of Allama Iqbal, the Tomb of Shah Rukn-e-Alam, Civilization of Indus Valley, Mahabat Khan Mosque, Indus River Delta  and Lahore Fort .
The fourth and last petal reflects Uch Sharif Tomb,  Islamia College Peshawar , the Ziarat Residency , Shalamar Gardens,  Sheesh Mehal , Lahore, the Khyber Pass and a polo match.
Importance
The artistically designed architecture of Pakistan Monument is National Monument of Pakistan. It provides information about  Pakistan culture, heritage and history in a unique way. It reminds us of all the sacrifices our ancestors made to achieve the goal of an independent country for us. Pakistan Monument Museum is also a worth visiting place.[6] Pakistan Monument importance
Pakistan Monument Museum

Pakistan Monument Museum is Located in Front of  Pakistan Monument  at Shakarparian,  Islamabad , Pakistan. Museum is created to give tribute those who sacrificed there all life for a separate homeland. The  government of  Pakistan   built this museum to showcase some special movements in the making Pakistan. Pakistan Monument Museum is a best place for history lovers there timings are 10 Am to 8 PM. The museum facilities are including audio documentaries, books of history, researches and media centre