Mohmand Agency, also known as Momand, is adjacent to Bajaur, and one of the RLCIP project areas along with other two agencies.Mohmand agency takes its name from the Mohmand tribe that lives in the area. The agency was established in 1951. Earlier this area was under the administrative control of political agent Khyber. The agency headquarters is located in Ghalanai. It is bounded on the north by the Bajaur agency, on the east by Malakand protected area and Charsadda, on the south-east by Peshawar districts, on the south by Khyber agency and on the west by Afghanistan. The total area of the agency is 2,296 square kilometers.Mohmand agency is the area of rugged mountains with barren slopes and widespread along the banks of the Kabul river. The sources of income are very limited in general except from agriculture and some trade/businesses. Most of the locals are earning their livelihood in the foreign countries especially at Gulf States.The current population of Mohmand Agency is approximately 627,120 (while 334,453 persons as per 1998 census with a density of 146 persons per square kilometer). The annual growth rate of the population was calculated as 4.28.The project targeted areas/Tehsils are Halimzai, Pindiali and Khwazai-Baizai. With 24,453 households and average 07 persons per HH, the total population of the three selected tehsils is 171,174 with 392 confirmed disabled persons. As compared to Bajuar, Mohmand agency is less densely populated area.[1] Mohmand Agency
| Title | Description |
| --- | --- |
| Information | |
| Location: | Pakistan |
| Details | |
| Founded: | 1951 |
| Country: | Pakistan |
| Area: | 2,296 km² |
| Headquarters: | Ghalanai |
| Main language(s): | Pashto (99.8%) |
| Time zone: | PST (UTC+5) |
| Population Density: | 150/km2 (380/sq mi) |
| Population (1998) Total: | 334,453 |
| Area Total: | 2,296 km2 (886 sq mi) |
| Government Political Agent: | Mr. Mehmood Aslam |
| Region: | PK |
| UTM: | 42S 714229 3820069 |
| Geo URI: | geo:34.5,71.333333 |
| Decimal: | 34.5, 71.333333 |
| Occupation: | The sources of income are very limited in general except agriculture and some trade/business. Most of the locals are earning their livelihood in the Gulf States. |
| Climate: | The climate in Mohmand agency is hot in summer season while cool in winter. The summer season commences from May and continues for 4 months till 31 August. The winter season starts from November and continue till February. The rainfall is scanty. Most of the rainfall is during winter season. |
| Major tribes in Mohmand agency are: | Isa Khail Mosa Khail Malikyar Shalizi Tarak zai Halim zai Khwae zai Bai zai Utman Khel Ambar Utman Khail Laman Utman Khail Daud zai Aleem zai Mohammadzai |
| Coordinates: | 34° 30′ 0″ N, 71° 20′ 0″ E |
| Latitude/longitude: | 34°27′49″N71°21′04″E |
| In Urdu: | Mohmand Agency |
| In Urdu: | مہمند ایجنسی |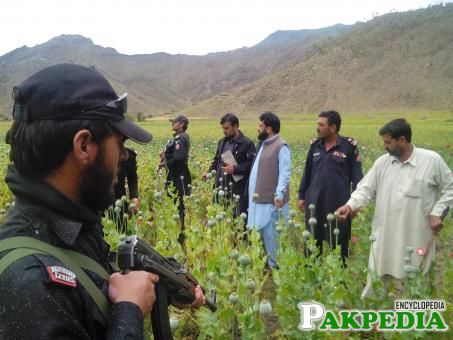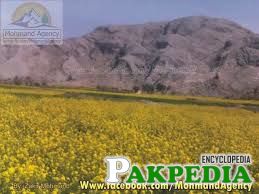 History
Mohmand Agency. District map of FATA and Khyber-Pakhtunkhwa- Districts of FATA are shown in orange, the Mohmand Agency is located in the north. The Mohmand Agency  is a district in the Federally Administered Tribal Areas of Pakistan created in 1951.
Population
The current population of Mohmand Agency is 466,984 as per 2017 Census report with an annual growth rate of 1.77. Population of Mohmand Agency was 334,453 as per 1998 Census.[2]  Population 
Location
Mohmand is bounded by Bajaur Agency to the north, Khyber Agency to the south, Malakand and Charsadda districts to the east and Peshawer district to the south east.
Total Population of Mohmand Agency is about 600,000.
Tribes
The agency is inhabited by many tribes, mostly the Mohmands, the Clans, Baizai, Khwaizai, Halimzai,Babazai, Tarak Zai, Safi. and Utman Khel. They all fought against the British and British called them as a Stone. The Safis, because of their association with the Mohmand, are also called Safi Mohmands but actually they are not Mohmand in Legacy. The tribe has been divided in upper Mohmand and lower Mohmand. The central bazaar of Mohmand is Ghalanai. Mohmand Agency is divided into four Clans, the Baizai, Halimzai, Khwaizai and Tarakzai.[3] Tribes of Mohmand Agency
Rivers
The following two rivers pass through the area of the Lower Mohmand:-
Kabul River forms the boundary between the Khyber and Mohmand agencies after entry into Pakistan territory. The flow of the water is from the west towards the east. On entry into Pakistan territory, the course of the Kabul River is through high mountains gorges till after it passes through the Warsak Dam, where after it starts running through the Peshawar valley area.
Swat river flows from the north towards south after entering the agency limits from the Malakand and passes through the area of Prang Ghar/Pindiali Tehsil. The course of this river is also through mountainous territory till it reaches the Munda Headworks wherefrom it starts running through the plains.
Places of Interest
Warsak Hydel Power station is situated on the river Kabul about 32.2 km from Peshawar. The construction of the project was started in 1955 and the power station was commissioned in 1960. Before commissioning of Mangla Power station, it was one of the major sources of power.
Munda dam is being constructed on Swat River to the east of the agency which is an ideal site for a hydro power station.
This historic valley is situated in the Mohmand agency and shoots forth in the north- west direction from Pir Killa, a village on the main Michni Shabqadar road, and 32 km to the north of Peshawar. It runs parallel to a dry bed of a nullah; it is inhabited by the Halim zai section of the Mohmand tribe.[4] Places of interest in Mohmand agency
Girls school blown up in Mohmand Agency
Suspected militants blew up Government Girls Primary School in Mohmand Agency on Friday. The school building in the Zargar area was partly damaged. Sources said militants have so far destroyed 92 schools in the last three years.[5] Girls school blown up in Mohmand Agency 
War on Terror

 
Despite its attraction to tourists, Mohmand Agency has been an area of conflict between Pakistan Army and some militant groups. In a recent exchange of fire between the two, media reported that at least 18 militants were killed and 25 others were injured.
On September 16, 2011, security forces had cleared ninety percent of Mohmand Agency from the militants, normal life was restored and development activities have been launched. The Pakistan Army maintains an 8,200-man presence in Mohmand Agency following military operations to clear the region of militants.In 2012, the Pakistani Army declared full control of Mohmand agency and de-notified it as conflict zone.[6] War on terror
General Raheel Sharif Chief of Army Staff visited Mohmand Agency
General Raheel Sharif, Chief of Army Staff  visited Mohmand Agency, FATA . COAS was given detailed briefing about progress of stabilization operations including the ongoing development projects by Army Engineers.While speaking to officers and men on this occasion, COAS appreciated their professionalism, dedication and the sacrifices in fighting terrorism and bringing stability in Mohmand Agency. COAS emphasized on the need to follow a comprehensive and uniform reconstruction and rehabilitation policy across FATA after areas have been cleared of terrorists. He expressed hope that such projects will help root out terrorism on long term basis by providing education and economic opportunities to the youth.Appreciating the tribal brethren for playing a significant role in expelling terrorists from their area, COAS reiterated that We will never abandon these areas without fully restoring them to functional normalcy.
Referring to recently launched sanitization operations by Afghan National Army in area opposite Mohmand and Bajaur, COAS hoped that such measures would help check cross border terrorism incidents and underlined the need to further enhance border coordination.[7] General raheel sharif chief of army staff visited mohmand agency
Schools in Mohmand border areas lack basic facilities
GHALANAI: Despite tall claims of the government to promote quality education in Fata, schools in border areas of Mohmand Agency lack even basic facilities like teachers and furniture.The Fata education department and the local administration have failed to allocate proper funds for provision of needed facilities in these schools.The only government middle school in the border Toor Khel Shandara valley of Biazai tehsil was built by Pak Army in June 2016 with more than 100 students, boys and girls, enrolled. But the school lacks teaching staff, furniture, boundary wall and others basic facilities."It is the only school in the area for a population of 3,000 people, but the schools is short of teachers and other facilities" Malik Zar Jan, a local resident, lamented. He said the school had no woman teacher for girl students Rahat Khan, who teaches in the school, said there were no boy or girl schools in Shandara, Toor Khel and Jarobi Darra border areas. He said there was also no playground facility in the Toor Khel Shandara school.[8] Schools in Mohmand border areas lack bascis facilities