Near the seashores of Karachi, there is a mesmeric building, which always captures attention of people visiting sea view. Just across the street of Karachi's Famous Shrine of Sufi Saint Hazrat Abdullah Shah Ghazi, there is a pink Anglo Mughal style building known as Mohatta Palace Karachi.[1] Mohatta Palace Karachi
| Title | Description |
| --- | --- |
| Information | |
| Location: | Karachi, Sindh, Pakistan |
| Mini Info: | As mentioned earlier, in 1995 it was purchased by the Government for its conservation and then it was converted into a museum. The Museum is operated by the trust, which manages the Mohatta palace and activities in it. |
| Name: | Mohatta Palace |
| In Urdu: | موہٹہ پیلس‎ |
| Nickname: | Mohatta |
| Type: | Palace |
| Architectural style: | Indo-Saracenic architecture |
| Established: | 1927 |
| Client: | Shivratan Chandraratan Mohatta |
| Structural system: | Pink Jodhpur stone in combination with the local yellow stone from Gizri. |
| Area: | 18,500 sq ft (1,720 m2) |
| Design and construction: | Agha Ahmed Hussain |
| Built: | Seaside locale of Clifton by Shivratan Chandraratan Mohatta |
| Mohattas, belonged: | Maheshwari community |
| Mohatta Palace: | Luxurious home |
| Mohatta Palace Levels: | Three levels, basement, ground floor, first floor till you reach the roof |
| Large square hall: | With seven openings leading into a corridor. |
| Hall acts: | Datum and around it the corridors are connected to the rooms where different activities are held. |
| Local Language Name: | Urdu, Punjabi |
| Coordinates : | 24.814°N 67.032°E |
| Website: | http://www.mohattapalacemuseum.com |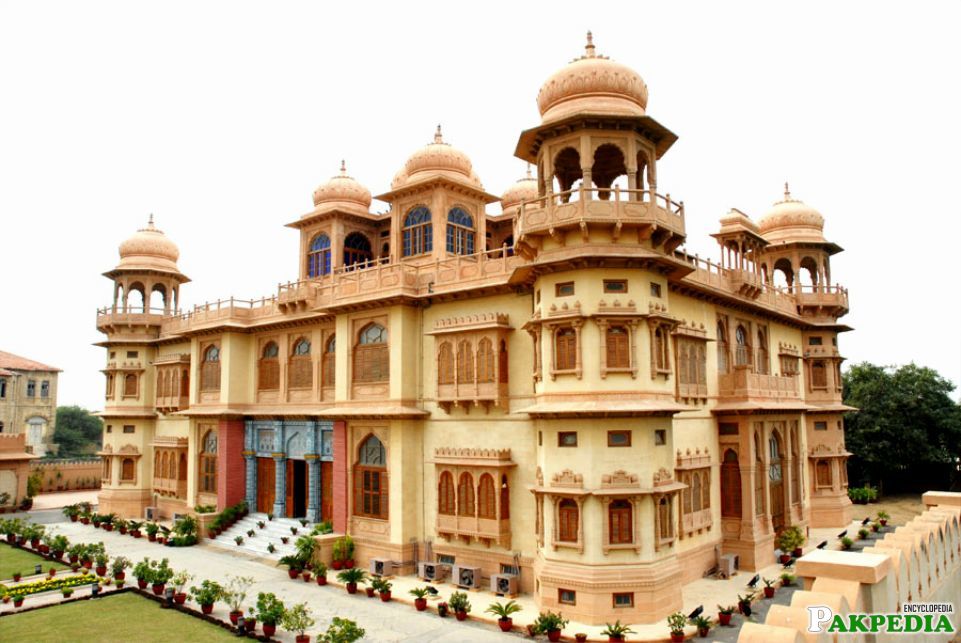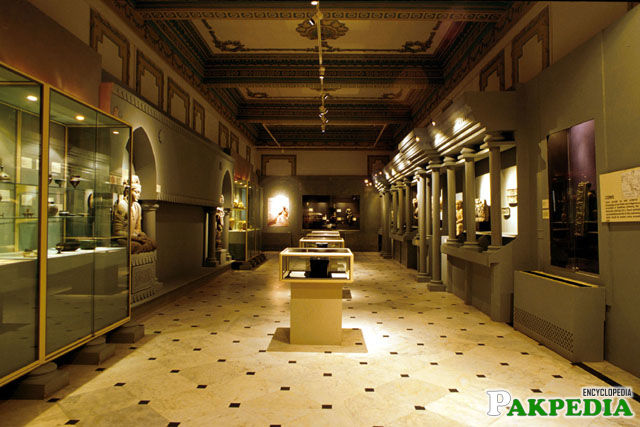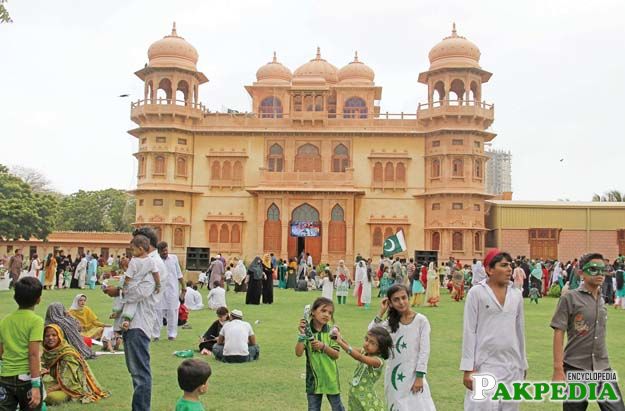 History
After the British annexed Sindh in 1843, their presence and authority began to manifest itself in the architecture of the city of Karachi. Army cantonments, municipal buildings, churches and bungalows were built using a new style of architecture. A fusion of European, Victorian, Gothic and Mughal elements were adapted to local materials. Karachi rapidly rose to prominence as an important trading port, attracting people from Kashmir, Central Asia, Iran, the north west and north east India, principally Bombay, parts of Kutch and Rajasthan.
In 1927 Shiv Rattan Mohatta, a successful Marwari entrepreneur, commissioned a palatial house in the affluent neighbourhood of Clifton. Mohatta had made his fortune as a ship chandler and trader. 
The Architect Commissioned
The architect commissioned for his palace, Agha Hussain Ahmed, had come from Jaipur to take up an assignment as chief surveyer for the Karachi municipality. He designed a number of buildings in Karachi and Mohatta Palace was to prove the coup de maitre of his professional career. Working in a Mughal revival style with a combination of locally available yellow Gizri stone and pink stone from Jodhpur, he sought to recreate the Anglo Mughal palaces of the Rajput princes.
Mohatta Palace has an area of 18, 599 sq. feet and its façades are adorned with windows, stone brackets, spandrels, domes, balustrades, carved floral motifs and railings. It consists of stately rooms designed originally for entertainment on the ground floor and more private facilities on the first floor with a balcony facing the Arabian sea. An elegant configuration of five domes adorns the rooftop while octagonal towers stand proudly at the corners.[2] Mohatta Palace History
Introduction

Mohatta Palace was built by Agha Ahmad Hussain, first Renowned Muslim Architect of that time in 1927 by the orders of local businessman Shivratan Chandratan Mohatta, who lived in Marwar town India and wanted to built a summer house for his family, Mr. Shivratan choosed this place because of its prime location near seashores of Karachi, but unfortunately he didn't spend much of his summers in this Palace as after two decades of its construction, Independence of Indo-Pak occurred and he decided to shift to India. Named after Mr. Shivratan Chandratan Mohatta, this Palace is still known as Mohatta Palace.
Mohatta_Palace
After Mr. Mohatta's shifting, this Palace became a property of newly formed Government of Pakistan who used it as an office of Ministry of Foreing Affairs. After that, it was handed over to Mother of the Nation Mohtarma Fatima Jinnah, Sister of Quaid e Azam Muhammad Ali Jinnah, as her residence in 1964. Mohtarma Fatima Jinnah stayed there till she lasts in 1967 and at that time this palace was also knowned as Qasr e Fatima (Palace of Fatima). After her death, her sister Mohtarma Shireen Bai used it as her residence and after her death, it became disputed property between the generations of two sisters and for more than 10 years this building remained closed which affected the structure of the palace. Cracks were visible during that time as there was no one to take care of this historical Building. In 1995, Government of Pakistan took controls of this palace back and decided to build a museum in this historical palace. Therefore, Ministry of Culture spent 70 Lac rupees on this palace from which 61 Lac Rs were spent in buying this Palace and rest were spent on its renovation.[3] Mohatta Palace Introduction
Architecture
Mr. Agha Ahmad Hussain designed Mohatta Palace in pure Anglo Mughal Style, the Palace is constructed on 18,500 Square feet area with the help of Gizri Lime Stone and Rajhistani Pink Jodhpuri Stone that grants this building a mesmeric look and provides it strength against weather as it was built near sea shore.
Its prominent element is its octagonal domes, which are built in every corner of the palace, designed purely in Anglo Mughal Style, and Pink Jodhpuri Stone provides it elegance.
mohatta palace.
Two domes are located near the head access have curved stairways, which drive up to the rooftop. At the far end, opposite the entry is a room for amusement, which has few steps on each side, commanding directly into the gardens at the back of the palace.
Providing Mohatta Palace
Providing Mohatta palace great looks, its front is paired with openings, Stone braces , spandrels, cupolas, railings with flower-patterned designs and good-looking fences. There are nine domes in Mohatta palace, while the intros in the forward-facing portion opening into the park are of blue color and those in the back-end area are curved windows with tainted glass.
On the ground floor, large rooms are designed for entertainment purpose, and on first floor private rooms, like bedrooms were built. There is a balcony stipulated with a shade from extreme sunlight on the first floor of this Palace. On terrace, there is also a beautiful temple dedicated to Hindu god "Shiva"
The palace is exclusively completed with teak wood, a graceful staircase, long hallways and doors built with teak wood.
There are three plans of Mohatta Palace. Basement, ground floor and first floor. In Basement there is a hot water pool chamber connected with changing room. This water pool was provided with the facility of hot on cold water according to the weather conditions. With Pool, few opening were designed too so that the steam can go out of the chamber. It is also claimed that from the basement, a tunnel was designed towards nearly located Hindu temple so that Mr. Mohatta can use a safe passage to offer his Worship.
Inside The Palace
Upon moving inside the palace, there is a hallway, which joins each room located on the ground floor. This floor includes large majestic rooms proposed for entertainment, from which two are located on the right side and two on left.
When observed from outdoor, the ground floor has two very decorative openings on each side of the entry, containing of three closes in each. Same Openings were designed on the south side of the palace as well.
The first floor is designed for private living unlike the ground floor. Though there is a large hall in the center of this floor which have ten doors which opens in a hallways that are located in north and south, while the rooms were deigned on east and west side of this hallway. Four large rooms designated as bedrooms can be seen here along with attached rest rooms and every room has two doors. Hallway stairs were designed in the south part of this floor, which leads towards octagonal towers on the rooftop.
Windows were built similar to ground floor. One can take pleasure in the cool breeze and can have a look of beautiful scenes of seashore from the windows built on first floor towards terrace. Staircases coming all the way up from the ground floor, through the frontal north and south octagonal towers attach the rooftop.[4] Mohatta Palace Architecture
Museum
As mentioned earlier, in 1995 it was purchased by the Government for its conservation and then it was converted into a museum. The Museum is operated by the trust, which manages the Mohatta palace and activities in it. The museum was inaugurated in 1999 and first exhibition held here was of the "treasures of Talpurs" on 15th of September 1999.This Palace is now a protected Heritage and links us with our past.[5] Mohatta Palace Museum
Exhibitions
Wildly Ours
Sand and Silk 
Sand and Silk 
Tale of The Tile
Benazir Bhutto Gallery
Jewel in The Crown
Ghilaf-e-Ka'aba 
Sadequain
Threads in Time
Qalam
Labyrinth of Reflections
Rebel Angel 
Birth of Pakistan
There and Then
Art for Charity
Jamil Naqsh
Manasarowar to Manora
Miniature Painting
Vision of Divinity
Treasures of the Talpurs[6] Mohatta Palace Exhibition
Opening Hours
Tuesday – Sunday
11.00 am – 6.00 pm
Monday closed
The Museum is also closed on certain public holidays. 
Please telephone the Museum before visiting it on a public holiday.
Timings change in Ramzan.[7] Mohatta palace opening Hours
Contact Detail
Feel free to contact me or please fill up below in the following details and I will be in touch shortly
Address:7 Hatim Alvi Road, Clifton, Karachi 
Telephone:+9221 35837669, 35374879
FAX:+9221 35837669, 35374879
E-mail: [email protected]
[email protected][8] Mohatta Palace Contact Detail