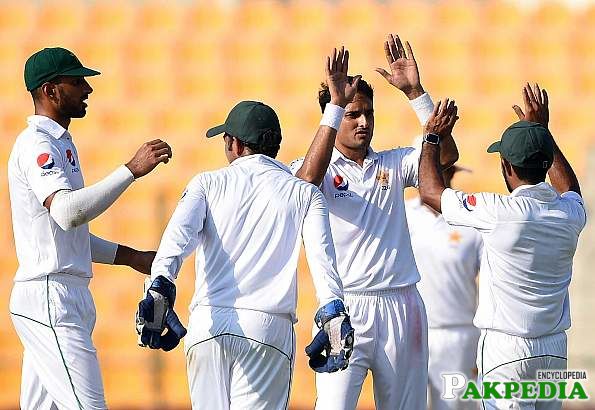 Career
Mohammad Abbas belongs to a small village Jethi of Sambrial district in Punjab. He initiated his early education and cricket from there and has experienced a lot of ups and downs through this phase. The main reason of preferring him for the national team was his brilliant performance,
Inzaman ul Haq
and fellow selectors did not have to give a lot of thought in considering Mohammad Abbas for the team. Due to his bright performance in Quaid e Azam trophy, he acquired 71 wickets this season. Last year, the bowler gained 61 wickets and even while playing for Pakistan television he showed outstanding performance. Mohammad Abbas takes Shaun Pollock and Glenn McGrath as his inspiration. He has been playing in Sialkot region's team with fast bowler Mohammad Asif for two years now and frequently seeks advice from him. 
[2]
Career Career
His Journey From Factory Worker to Cricket Team
Earlier, Abbas thought of moving out of the country for a job search, he said, "I am the eldest son to my parents, hence for earning I even planned to move out of the country but my friends advised me to stay, conditions will get better here." He added, "Earlier I worked for a welding and leather factory for eight months and also worked for registering properties of the court for approximate of 2 years. I never wanted to quit cricket." Finally, the tables turned for him and he said, "I was offered to play in district 19 and my lawyer friends did not permit me but they allowed me to play the match later." 
[3]
Cricket Team
Interview
Like most children, I used to watch cricket on TV and I also started playing cricket in my village using tape ball. I guess it was the same as how
Sohail Tanvir
started his career but regardless, I started to play in the streets and local fields when I was twelve years old. One of my friends suggested to me that because my action was good, I should go to Sialkot city and play club cricket. Everyone seemed very impressed by my bowling and I started playing club cricket from 2006 onwards with various clubs but then ended up with V.i.p Cricket Club which boasts the likes of Shahid Yousuf, Raza Hasan, Mansoor Amjad in their line-up. At the Under 19 level, Shahid Anwar was my coach and he motivated me to perform better and to work harder towards my goals. Mansoor Amjad also played a key role in my development, however, I would like to make a special mention of a good friend of mine, Ali Raza. He came into the picture at a time when I was seriously contemplating leaving the country for a better life in Europe. To me taking wickets is my job and each one is as important as the other as they help my team to a better position in any game. In terms of most memorable spells, I would say that my bowling against FATA in the recent Quaid-e-Azam trophy was most satisfying. I have never been afraid of a challenge and in the recent game against WAPDA where
Rahat Ali
took six wickets in the first innings, I told everyone that I would match his performance in the second innings and I did that too! I feel that my job is to simply put in all the effort and make sure that I present my best performances for the selectors to decide on my inclusion in the national team. I will not give up on trying to prove to them that I am suited for a spot in the national team. 
[4]
Interview Interview
Summary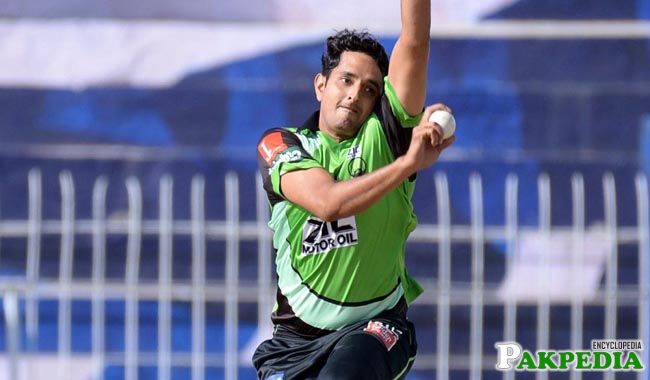 The Quaid-e-Azam Trophy, 2015-16 season, saw Mohammad Abbas topping the bowling charts by picking up 61 wickets in 10 games and from almost a curse of oblivion to back into the reckoning.  
Batting Career Summary
M
Inn
NO
Runs
HS
Avg
BF
SR
100
200
50
4s
6s
Test
4
6
3
7
4
2.33
113
6.19
0
0
0
0
0
Bowling Career Summary
M
Inn
B
Runs
Wkts
BBI
BBM
Econ
Avg
SR
5W
10W
Test
4
8
989
385
20
46/5
77/6
2.34
19.25
49.45
1
0
The Quaid-e-Azam Trophy, 2015-16 season, saw Mohammad Abbas topping the bowling charts by picking up 61 wickets in 10 games and from almost a curse of oblivion to back into the reckoning. The journey started from a village in
Sialkot
and then to be rubbing shoulders with the best in Pakistan and outperforming them was a dream come true for someone like Abbas, who hails from a modest background.  
[5]
Summary Summary
International Record
Test Five Wicket Hauls
| | | | | | | | |
| --- | --- | --- | --- | --- | --- | --- | --- |
|  # |  Figures |  Match |  Against |  City/Country |  Venue |  Year |  Result |
|  1 |  5/46 |  3 |  West Indies |  Roseau, Dominica |  Windsor Park |  2017 |  Won |