Moeed Pirzada is a Geostragetic Analyst, Political Commentetor and Pakistani Journalist. He hosted talk show Tonight with Moeed Pirzada on Waqt News. He is also a writer. He has wrote so many columns many Pakistani newspapers like DAWN, The Daily Time, Friday Time and The News International. Now he is working with Dunya News as a host.[1] Moeed Pirzada Title
| Title | Description |
| --- | --- |
| Personal | |
| Name: | Moeed Pirzada |
| Native Name: | معید پیرزادہ |
| Famous As: | Journalist , AnchorPerson |
| Nationality: | Pakistani |
| Residence: | Rawalpindi , Pakistan |
| Education: | MBBS, Masters in Media & Internet Regulations, London School of Economics & Political Science Britannia Chevening Scholar, (MSc 2003) Masters in International Finance & Economic Policy, Columbia University, |
| Notable credit(s) : | nterviewed leading National & International figures including, Hillary Clinton, Pervez Musharraf, David Cameron, Jaswant Singh, Imran Khan, Richard Holbrooke Mike Mullen |
| Religion: | Islam |
| Profession: | Columnist , Journalist , Political Analyst , Political Commentator |
| As a political commentator appeared on: | BBC, Al Jazeera, NDTV, CNNIBN, Turkish Radio & TV (TRT) and many other international media platforms |
| Height: | 5 ft 8 in (1.7 m) |
| Weight: | 74 kg |
| Website: | https://twitter.com/MoeedNj?ref_src=twsrc%5Egoogle%7Ctwcamp%5Eserp%7Ctwgr%5Eauthor |
| Born | |
| Date: | 29 July 1966 |
| Place: | Rawalpindi |
| Zodiac: | Leo |
| Family | |
| Parents: | Dr Pirzada GM Din (Father) , Najma (Mother) |
| Siblings : | Three |
| Martial Status: | Married |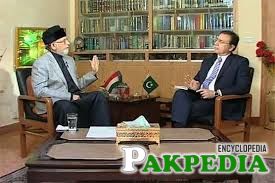 Introduction
Moeed Pirzada is a prominent political commentator, TV Anchor, columnist and influential blogger in Pakistan. He advises government and key public sector organizations on communication strategies and has worked with international organizations as consultant on issues related to policy and governance. He is currently Director of Governance & Policy Advisers (GAPA) and is Editor Strategic Affairs and lead Anchor for Dunya News, where he hosts his popular show:Tonight with Moeed Pirzada.[2] Moeed Pirzada About
About His Family
His father, Dr Pirzada GM Din, a successful physician with roaring practice, wanted to see him as a cardiac surgeon, but his mother, Najma, who was a social activist, and an avid reader of Dale Carnegie and Vincent Peale always encouraged him to be himself and follow a road less travelled. So for his father he became the surgeon, but left shortly after to join Central Superior Services of Pakistan. But found it too stifling for his soul, went on to study international relations at Columbia University and later Law from London School of Economics. Pursuit of road less travelled took him to consulting and finally landed him into media.
Both of his parents were Kashmiri immigrants from Srinagar. While his father, Pirzada GM Din, was a fanatic believer in Jinnah's two nation theory, and faced beatings by Sheikh Abdullah's squads on the streets of Srinagar, his grandfather, Mohd Amin Ghani, was once a close friend and confidant of Sheikh Abdullah and was against partition of India. Father, out of his passion, briefly joined Pakistan army as a medical doctor; grandfather married into the family of Jammu's Muslim leader, Ghulam Abbas, Azad Kashmir's first President, migrated reluctantly under pressure of his wife and was Accountant General Azad Kashmir when Najma, Ghulam Abbas's niece, was married to Dr. Pirzada. Sharply conflicting beliefs and ideals of both men defined Moeed's own views on politics and his sense of history.[3] Moeed {irzada About Family
Education Training
School of International & Public Affairs, Columbia University, New York; Masters International Affairs, 2001-2; Concentration: International Economic Policy.London School of Economics, UK: MSc. Regulation; Department of Law; 2002-03, Research Analysis of the Law and Politics of Economic, Network, Media & Internet Regulation.University of Punjab, Pakistan; MBBS; 1983-89.London School Of Economics: New Europe in World Economy; EU Economic Integration;1999.Directorate of Training and Research, Pakistan: Constitutional Law, Policy & Procedure 1991-92.Civil Services Academy, Pakistan: Economics, Political Science & Regional Studies 1990-91[4] Moeed Pirzada Education & Training
Columnist
Dr. Pirzada has been a columnist for major Pakistani publications like the Karachi based, The Dawn, and The News; his policy papers have appeared in the Journal of Islamabad Policy Research Institute (IPRI); has been invited to international conferences, seminars and symposia across the US, UK, South Korea, Turkmenistan and Pakistan.[5] Moeed  Pirzada Columnist
International Institute of Strategic Studies IISS
In UK he has been a member of the International Institute of Strategic Studies (IISS), and has worked as external consultant with Commonwealth Business Council, and India & Pakistan Relations Study Group (INPAREL).[6] Moeed Pirzada IISS
BBC
He has assisted BBC with its documentaries on South Asia and was selected by Ford Foundation and Foreign & Commonwealth Office for the under forty leadership of South Asia at "Third South Asia Forum" at Wilton Park.(2003).
Central Superior Services CSS
In Pakistan he worked with Central Superior Services (CSS) and was awarded for meritorious services by the Federal government in 1998.
Professional Experiences Over view
Civil Services of Pakistan 1990-2001
Selected for the Central Superior Services, after a distinct position in the nation wide competitive exams in 1989; and worked in different areas of public policy at increasing levels of responsibility. My job involved: assisting the top management in regional centers and federal capital with the overall process of strategic planning and decision-making: policy input papers; political analysis; economic assessments and forecasting; trade policy formulation; tax policy implementation; organizing conferences, seminar and expert panels; interacting with chambers of commerce and trade, regulatory bodies, and public Accounts Committee; administering first stage quasi-judicial proceedings and representing the government in courts and federal tribunals on technical matters related to policy and international commitments. Later selected by British Foreign & Commonwealth Office as a Britannia Chevening Scholar-a scheme reserved for potential leaders in government and industry.
Research Consulting Assignments
Commonwealth Business Council: As external consultant researched and wrote the chapter on Pakistan in Commonwealth Business Council FDI report, "Insight 2003; Foreign Direct Investment Report (London: 2003) Ed. Richard Synge". Publication is to assist global business and governments with investment decisions.
United Nations Development Program: External consultant, with the core team that brought out UNDP's major publication "Making Global Trade work for People" (Earthscan; London, Virginia, 2003); Conducted seminars with other UN agencies, academics and civil society NGO's; Researched and wrote chapters on Antidumping and Trade Facilitation for this UNDP publication and contributed to other chapters.
World Economic Forum (Davos Group): External Consultant from Columbia University to World Economic Forum, Davos Group, during its annual conference in New York, Jan-Feb 2002.
India and Pakistan Relations Study Group, Leicester University (INPAREL):
As external Consultant assisted with the conferences and seminars:
University College London, Jan 2003;
Kings College March 2003;
Georgetown University October 2003 and with the conference at International Institute of Strategic Studies in March 2004.
Investment Bank Goldman Sachs:
Consulting Assignment on a joint workshop between School of International Affairs and investment Bank Goldman Sachs on institutional problems in West African Oil & gas industry. (Jan-May 2002) Focus:
Nigeria, Angola, Ivory Coast and Ghana.
Assisting the 'Asia Pacific Center for Security Studies' Honolulu, with the planned conference, Media, terrorism and the battle of ideas.
World Today Ptv-Prime
World Today, Ptv-Prime's flagship program on current affairs, attracts a diverse viewer-ship across four continents. A daily broadcast from London, (6-7pm, BST) it provides an interactive platform for Pakistani Diasporas spread across UK, Europe, Middle East, and Central Asia and will soon be available in North America. It is available on cable in Pakistan.This program aims to follow the political, social and cultural developments around the globe that affect the interests and consciousness of Pakistani state, society and its Diasporas. An ambition, such large in scope, instils a variety that makes, World Today, unique among all programs of its kind: one program may offer an in-depth analysis of South Asian politics, Indo-Pakistani relations or a rape case in a village; another may focus on the implications of new legislation on British Muslims and yet another will look at the developments in Middle East or the changing patterns of global media.[7] Moeed Pirzada Professional Overview
Media achievements
Mr. Pirzada recently moderated the famous interaction of US Secretary of State, Hillary Clinton with young Pakistani civil society activists and entrepreneurs on 21 October 2011, in Islamabad's Serena Hotel where a student called Ms. Clinton the 'mother-in-law of all Pakistanis'. Pirzada had also moderated Clinton's first controversial interaction with TV anchors in October 2009, when Clinton had remarked that if Pakistanis do not want the Kerry Lugar Bill aid then they should boldly reject it. As TV journalist he has interviewed leading Pakistani and international decision makers including former Prime Minister Benazir Bhutto, British Prime Minister David Cameron, President of Afghanistan Hamid Karzai, AfPak point man Ambassador Richard Holbrooke, Admiral Mike Mullen and George Galloway. He also covered the strategic dialogue between US and Pakistan as well as several talks between India and Pakistan including the famous meeting of former President Pervez Musharraf with Indian Prime minister Manmohan Singh at the Non-Aligned Summit in Havana, in 2006. In Sept. 2009, the then US Ambassador to Pakistan, Anne W. Patterson, appeared in his program and denied the existence of US Contractors "Black Water" in Pakistan; a claim that was proved untrue when Raymond Davis was arrested in Lahore in January 2011.[8] Moeed Pirzada Media Achievements