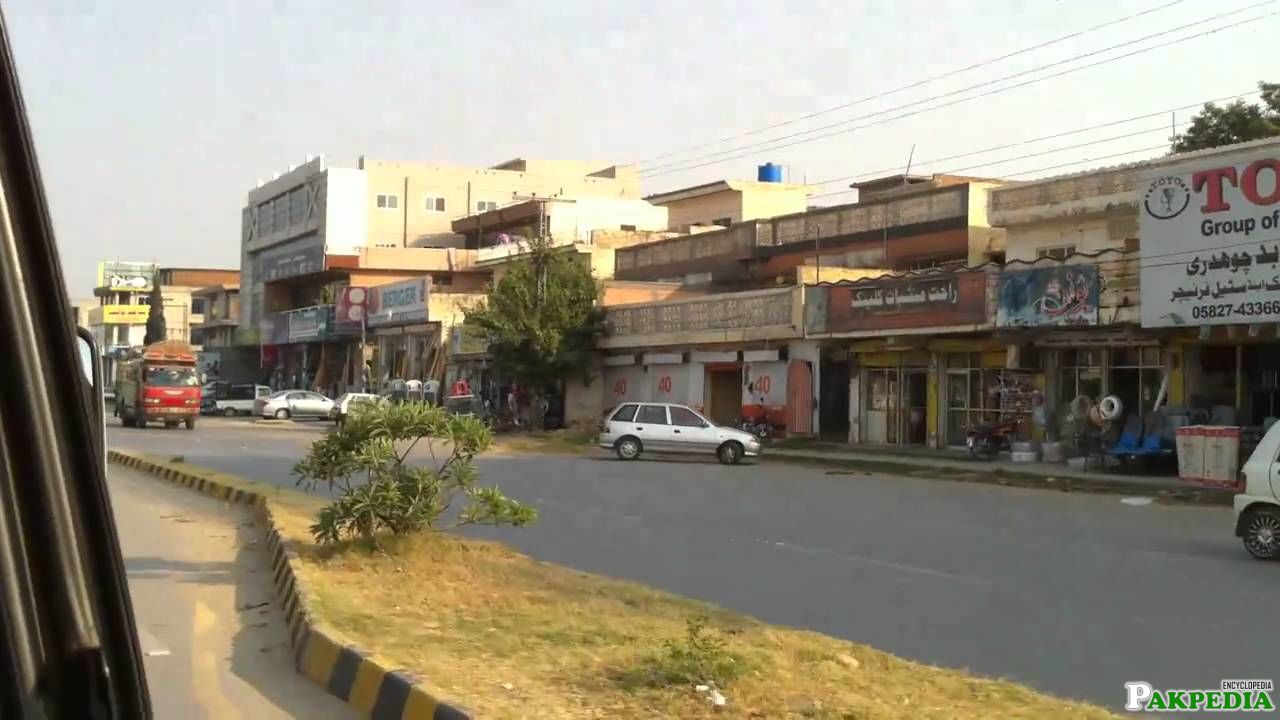 Mirpur city centre in Azad Kashmir
Quaid e Azam Square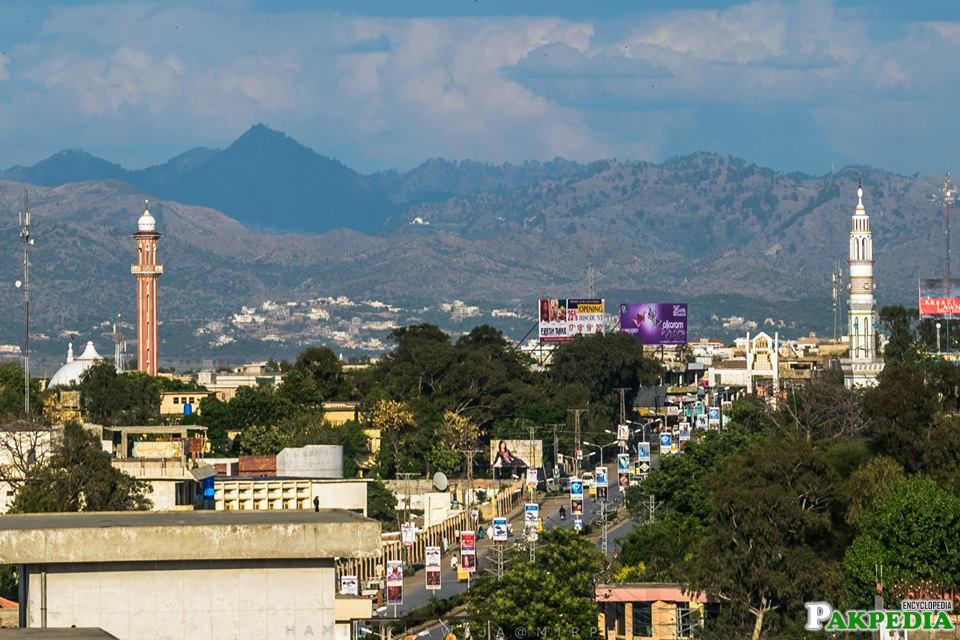 Mirpur city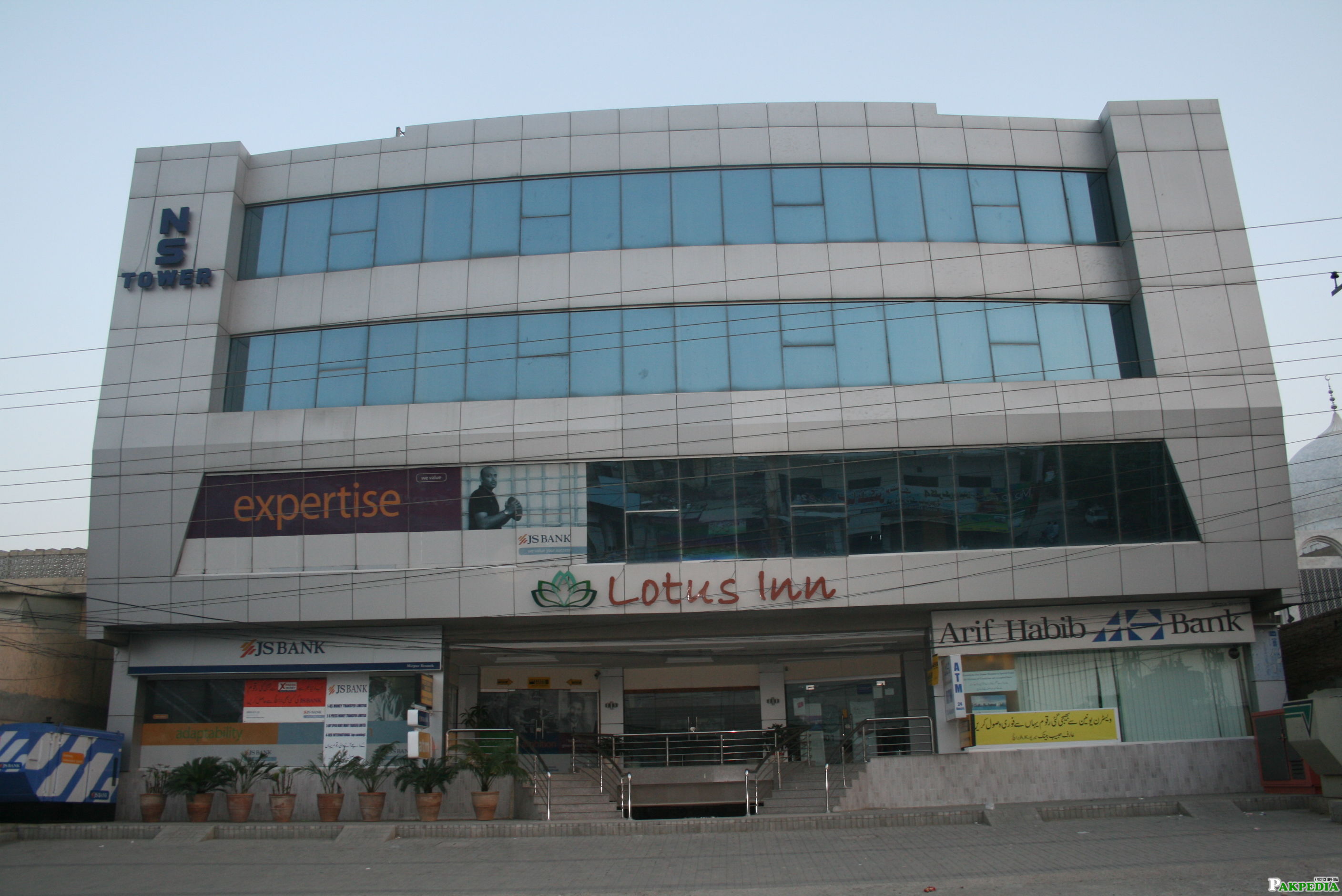 Guest house in Mirpur
Mirpur Stadium
New Mirpur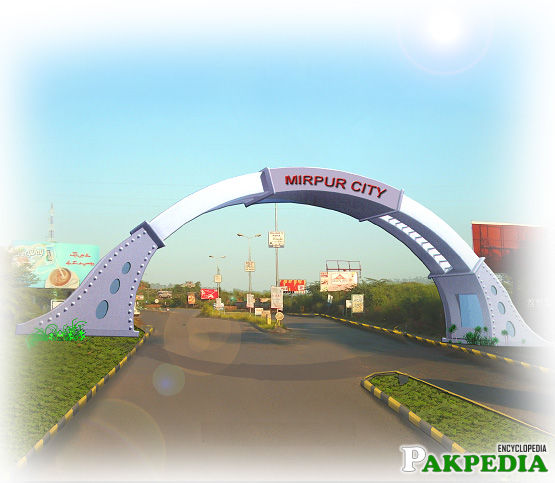 Mirpur Pakistan  is the capital and largest city of Mirpur district. Since Mirpur Pakistan adjoins the northern plains of the Punjab, the climate is quite hot during the summer times. The city itself has gone through a process of modernization while most of the surrounding area remains agricultural. The production of electricity, through Mangla Dam (منگلا ڈیم) makes this district somewhat unique in the entire region which provides energy needs for Azad Kashmir and Northern Punjab province. A significant portion of the population is settled in England (UK) – mostly in West Yorkshire and the West Midlands. For this reason Mirpur is sometimes known as "Little England". Many products from the UK are found in this city. 
[2]
Biography Biography
Old Mirpur
The remains of the old city (old Mirpur) are underneath the waters of the Mangla Lake; during the colder months of March and April, the water level recedes to such an extent that one can travel on motorcycle on old Mirpur Pakistan road which still exists. Holy Shrines of Syed Abdul Karim  and Meeran Shah Ghazi  become visible and so do the remnants of a Sikh Gurdwara (گورودوارہ) as well as a Hindu Mandir (مندر) possibly dedicated to the "Mangla Mata" (Mangla mother goddess). The remains of old houses, water wells, Graveyards reappear too. People from surrounding areas visit old Mirpur Pakistan during these months to pay homage to their ancient land they lived on and pray on graveyards of their loved ones. Urs Mubarak (عرس مبارک) of Meeran Shah and Syed Abdul Kareem are also arranged in these months in old Mirpur Pakistan. 
[3]
Old Mirpur
Neighbouring cities to visit
Muzaffarabad  – the capital of the state and close to the epicenter of the 2005 earthquake
Mirpur  – is the second largest city of Azad Kashmir, popular for its nearby Mangla view resort.
Dadyal  – consists of more than 70 smaller villages. Rawalakot Its Kashmir heaven on earth
Climate of Mirpur
The climate in Mirpur is warm and temperate. When compared with winter, the summers have much more rainfall. This location is classified as Cwa by Köppen and Geiger. The average annual temperature is 23.1 °C in Mirpur. The average annual rainfall is 1033 mm. There is a difference of 256 mm of precipitation between the driest and wettest months. The variation in annual temperature is around 21.6 °C. 
[5]
Climate of Mirpur
Language
The dominant language spoken in Mirpur is Pahari Potohari language which is also named as the Mirpuri language. Although now due to the vast immigrations to England, English is also becoming popular. Many institutions have started spoken English courses currently. Urdu is also spoken but Mirpuri is mostly preferred by the inhabitants. There are words like kutha for where, kiyaan for why, miki for I, mara for my, julayan for going etc. Mirpur is a part of Kashmir but very little population of it knows Kashmiri language. 
[6]
Language Language
Religion and Belief
The religion of majority in Mirpur city is Islam. They follow mostly the practices of the Punjabi Potohari culture due to the closeness with the Potohar plateau. Islmiyat is compulsory subject till graduation level. Mirpur has a very famous darbaar they visit occasionally, that is the shrine of Baba Peer Shah Ghazi and Mian Mohammad Baksh who were famous sufi saints. They have named this darbaar as Chechiyaan Darbaar or Khari Shareef. People of Mirpur have a firm believe that if one wants some prayer or wish to be accepted, he or she must promise to give some money, give a daaig or put a chadar on the shrine of Peer Shah Ghazi once the wish is granted. Not only people of Mirpur but people from
Punjab
also believe this and visit this place whole heartedly. 
[7]
Religion and Belief
Food
People in the said city have the same taste as that of Punjabis. They like the same spicy dishes like biryanai, pulao, korma etc. But the most famous and favorite dish of Mirpur is laal lobia with white rice.  There are many restaurants, food stalls and stands on road selling this dish by the name "pothi chaaval" or "lobia chaaval" and people from all social classes be it a lower class person or an elite class chaudry likes being here and eating this dish. Even expats from UK love this dish and try it every time they visit Mirpur.
Dresses
Shalwar and Kameez is the basic dress of Mirpur city but due to the huge immigration to England, now jeans have added to the culture of Mirpur too. Many of the girls are now seen wearing jeans with long shirts or kurtas. Some of the elder members of the family wear a turban too and consider it as a part of their culture. 
[8]
Dresses Dresses
Events and Festivals
Eid Milad un Nabi: This event is celebrated on 12th Rabi ul Awal according to lunar calendar. It is the date of birth of Prophet Muhammad (S.A.W). In Mirpur this religious festival is celebrated with high enthusiasm. People all over the city decorate their houses with lights and other decoration. Every person from an old man to a school boy participates in it. Young boys decorate their cars with lights. Streets are decorated with garlands, sprig, festoons and colorful shinning papers. Masajid are decorated with lights and there are Naats and Hamds played throughout the city on radios and decks. There are also some peaceful processions in evening.
Urs celebration of Baba Peer Shah Ghazi: This is another celebration of the people in Mirpur. It is a three day celebration which starts at 20-22nd Zil Hajj according to Islamic calendar. People from all over Mirpur and other small villages near it combine and a procession with dhol and dancing reaches the shrine at 20th, and then this festival continues till the 22nd. There are Naats, poems and kalaams for the saint during these days and food is served in huge amount to the people who take part in this urs.
Elections: This is hard to believe but elections are one of the most exciting events in Mirpur. As it is a small city, almost everyone knows each other. So at the time of election, there are groups of girls and ladies going house to house at time of election and persuading people to vote for their party. They have flag of their party on their arms and they enjoy it very much. Especially the girls have fun in this event as this is the only event when they have full permission to roam around the whole city. One of them also has a load speaker in their hand and raises slogans for their parties. And then when the counting is done and result is announced, there is a lot of celebrations by the winning party, they send sweets and gifts to all the people all over and celebrate their winning enthusiastically. [9] Events Events
Traditions and Customs
Inter family marriages: It is a custom of people in Mirpur to marry their children in their family and if there is no one suitable in family, marriage is to be done in baradari or same cast. It is a very strict custom and people follow it. Even sometimes they do not consider the choice and will of their children and get them engaged at a very small age. It is forbidden strictly to marry their daughters with someone outside their family. Although sometimes the male members marry girls outside family but it is also something they avoid mostly.
Female education: Females in Mirpur are considered to work at home mostly so there are very less institutions for their education. There are schools, colleges and universities having co-education and some families do not like it so avoid educating their daughters. They also have a perspective that females do not require education but should be taught household chores. Although this point of view has been changing over time but still there is a large population who still has this type of mind set.
Nepotism: Jobs are mostly given on the basis of family relation rather than abilities, skills and education. An intermediate (FA) pass boy can have a good job in a bank if he has an uncle at high post. This is not only practice in the government sector but also in private and multinational companies operating there.
Family comes first: People in Mirpur believe that family is the most important asset of their life. They always give first priority to family no matter what. Even if there family is at wrong, still they will be standing with them. They have very strong affiliations with their family be it the ones living in Mirpur or the ones in England. [10] Traditions and Customs
Attributes of Inhabitants
Mirpur has people who are very loving and kind by nature. They are helpful at time of needs even for their enemies. They consider their guests as "rahmat and barkat" (good omen). They welcome their guests warmly and treat them with whole heart. Most of the people in Mirpur are lazy and do not want to work hard, so they make malls, shops, bungalows, buy cars and give them on rent which is their source of income. In this way they don't have to work hard and by sitting at home and doing nothing they earn. 
[11]
Attributes Attributes