While attending seminar
While submitting no-confidence motion against zehri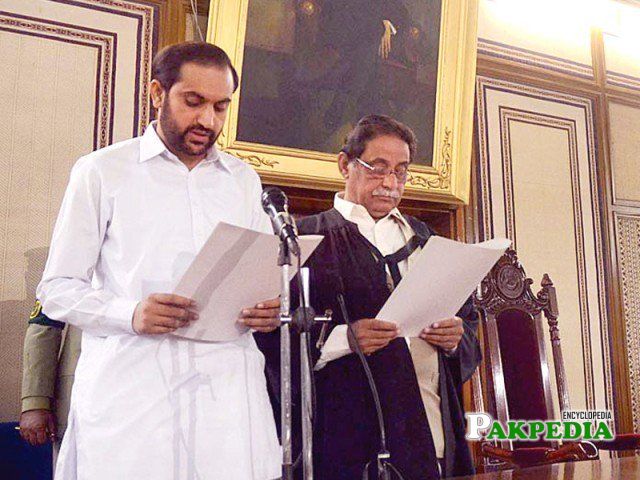 With jan mohammad jamali while taking oath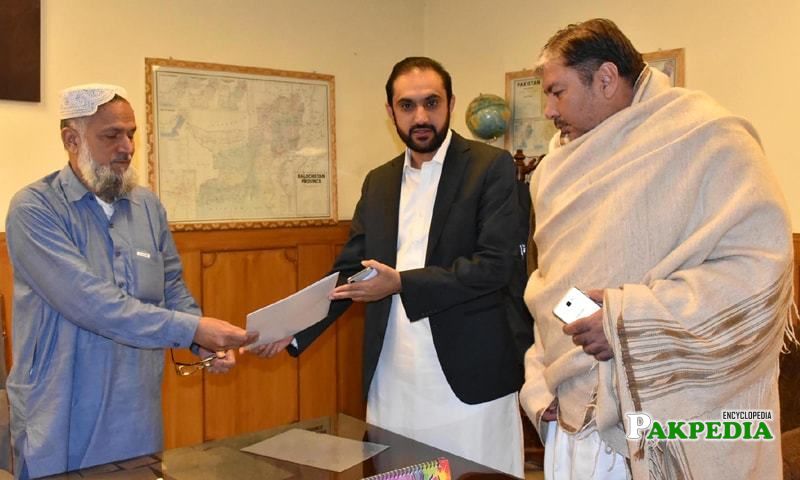 With MPA Syed Agha
With Asif Zardari
Biography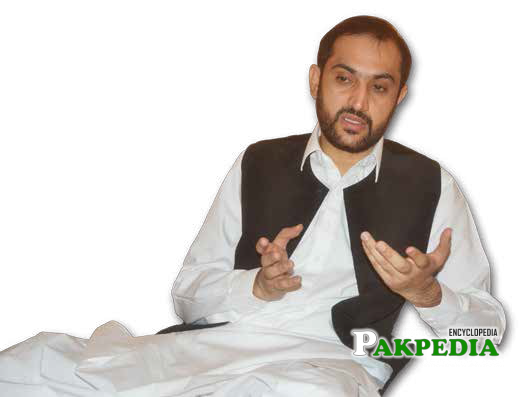 Mir Abdul Quddus Bizenjo is the current Member of Provincial Assembly (MPA) from Awaran district and also happens to be the Deputy Speaker of Balochistan Assembly. Born in 1974 in a political family of Awaran, Abdul Quddus Bizenjo was elected to Balochistan assembly for the first time in 2002 and again in 2013. Balochistan Insights conducted an interview with him while he was the acting Governor of Balochistan. He is a grandson of Abdul Kareem Bizenjo who was also the politician and he is a son of Abdul Majeed Bizenjo  who became parliamentary secretary in cabinet of Jam Ghulam Qadir and provincial minister in cabinet of Nawab Akbar Bugti.
[1]
Biography Biography
Abdul Kareem Bizenjo
Abdul Kareem Bizenjo was the grandfather of Abdul Quddus Bizenjo and he was the first one who entered in Political field in the family. In 1970, he stood against Shashak a tax imposed by Tribal chiefs of Balochistan. During the government of
National Awami party
(NAP), He refused to pay Shashak tax and was arrested by the provincial government with the help of
Army
. After dismissal of NAP government he formed Mazdoor Kissan Party and later merged it with Pakistan People's Party (PPP). In 1977, He was elected Member of Balochistan Assembly from
PPP
ticket. 
As Deputy Speaker
In January 2017 Quddus Bizenjo resigned as Deputy speaker. On asking about the reason of resignation he said '
Jan Mohammad Jamali
, had completely separated me from the proceedings of assembly. He never provided me the chair to preside over the sessions of Balochistan assembly and I was only receiving my salary and doing nothing. I resigned because I was not allowed to perform my duties as deputy speaker.' Than after sometime he withdrew his resignation because according to him Parliamentary leaders of major political parties including Jaffar Khan Mandokhail of PML-Q, Zamaruk Khan Achakzai of ANP and Molana Abdul Wasay of JUI-F came to his home and asked him to withdraw his resignation. They told him that Jan Jamali has resigned and therefore there is no reason that he can't go resume his duties as Deputy Speaker. So, on their request he withdrew his resignation and resumed his job as deputy speaker. 
Nominated As New CM
PML-N dissidents and PML-Q legislators — who forced Nawab Sanaullah Zehri to resign — have nominated former Balochistan Assembly deputy speaker Mir Abdul Quddus Bizenjo as the new chief minister of the province on 11 January 2018. The decision to this effect was taken during an important meeting held at the residence of a senior politician and former senator, Saeed Ahmed Hashmi, "Yes, Qudoos Bizenjo will be the new leader of the house," Hashmi confirmed to
DawnNews
. The formal announcement in this regard will be made shortly, he added. While speaking to the media, Bizenjo confirmed his candidacy and said that he will reach out to all political parties, including Pakhtunkhwa Milli Awami Party (PkMAP) and National Party (NP) for parliamentary consultation. "We will try to resolve issues in the province by keeping everyone together."  
[2]
Nominated as CM
Other Nominees
Sarfraz Bugti
Mir
Sarfraz Bugti
son of Mir Ghulam Qadir Bugti was born on 1st June, 1980. He is a Graduate. He is a prominent politician from bugti tribe of Balochistan. Now he is serving as Minister of Balochistan for Interior, which is titled by the provincial government as 'Home Minister'. He is also nominated as a Next CM of Balochistan.
Nawab Changez Khan
Nawab
Changez Khan Marri
was elected to the Provincial Assembly of Balochistan as a member of Pakistan Muslim League (N) in Pakistani general election, 2013.He was a contender for the Chief Minister of Balochistan and is the eldest son of  late Nawab Khair Bakhsh khan Marri. He is also in the list of Nominees.
Sardar Muhammad Saleh Bhutani
Sardar
Muhammad Saleh Bhutani
 is politician from Lasbela, Balochistan, Pakistan.  He took the oath as caretaker chief minister of Balochistan at a ceremony that was held at the Governor's House at 11am on November 18, 2007.  He is also in the list of Nominees.
Mir Jan Muhammad Jamali
Mir Jan Mohammad Khan Jamali of the PML-N ,was elected unopposed as speaker and deputy speaker of Balochistan Assembly.Muhammad Khan Jamali remained the Speaker of the Balochistan Assembly with time period 4 June 2013 to 2015.He served two terms as Deputy Chairman of the Senate of Pakistan from March 2006 to March 2012.
Gratitude On His Nomination
Pakistan Muslim League President and former Prime Minister
Ch Shujaat Hussain
, senior central leader and former Deputy Prime Minister
Ch Pervaiz Elahi
and Central Secretary General and MNA Tariq Bashir Cheema have heartily expressed gratitude on nominating PML's MPA Mir Abdul Quddus Bizenjo as joint candidate for the office of Chief Minister Balochistan to the leaders of all parties and all Members of Balochistan Assembly. All three leaders have described nomination of Mir Abdul Quddus Bizenjo as welcome development for national politics in a joint statement issued here tonight (Thursday)and said that Insha-Allah on being elected as the Chief Minister he will render better service to the people of the province without any discrimination, will take all members along so that problems of the province and people could be solved collectively and the province is on the path so that best facilities of education and health become available to the people, their deprivations are eliminated and their relation and love with Pakistan is further strengthened. 
[3]
Gratitude on nomination
Submission Of Papers
Pakistan Muslim League-Quaid (PML-Q)'s Mir Abdul Quddus Bizenjo submitted his nomination papers for the provincial chief minister to the Balochistan Assembly secretary today on 12 January 2018. The nomination papers, which had to be submitted before 3pm today with the secretary of the assembly, will be scrutinised and a final list of candidates issued later.  The election for the new provincial chief executive will be held in the assembly session, set to begin at 10am, on  13 January 2018. Pashtunkhwa Milli Awami Party's Agha Syed Liaquat Ali and Abdul Rahim Ziaratwal also submitted their nomination papers today. The election follows the resignation of chief minister Sanaullah Zehri, who quit on January 9 before a no-confidence motion against him could be taken up in the assembly. 
[4]
Submission of Papers
Elected As New CM
Amid stringent security in the provincial capital, the Balochistan assembly on 13 January 2018 morning voted to elect PML-Q's Mir Abdul Quddus Bizenjo as a new leader of the House in
Quetta
. He is expected to take oath as Balochistan CM at 3pm today. Bizenjo won over 41 votes of the 54 votes cast. The Pakhtunkhwa Mill Awami Party's (PkMAP) Syed Liaquat Agha received only 13 votes. Thousands of policemen were deployed around the assembly hall , and surrounding roads were also sealed off for regular traffic. Chances were obvious that Bizenjo would become the new chief minister of Balochistan after more Muslim Leaguers announced support for him against the PkMAP nominee. 
[5]
Elected as CM