Minar-e-Pakistan is situated in Iqbal park Lahore, at the intersection of circular road and Multan road, surrounded by the modern park where people visit day and night, which includes mountains and artificial lake as well. Visitors can climb up stairs for a beautiful view of Lahore city and its surroundings.[1] Minar-e-pakistan Location
When you come to Lahore I suggest its first place that you want to visit, it very beautiful and huge tower depicting the memories of memorandum of Pakistan.[2]Minar-e-Pakistan summary
| Title | Description |
| --- | --- |
| Information | |
| Location: | Lahore, Punjab, Pakistan |
| In Urdu: | مینار پاکستان |
| Nickname: | National Tower of Pakistan |
| Address: | Iqbal Park, Lahore, Pakistan |
| Type: | Historical |
| Local Language Name: | Arabic,Urdu,English |
| Open: | 21 October 1968 |
| Coordinates : | 31.5925°N 74.3095°E |
| Basic Information | |
| Affiliation: | Goverment of Pakistan |
| Construction Started: | 23 March 1960 |
| Construction Completed : | 21 October 1968 |
| Builder: | Goverment of Pakistan |
| Open hours : | 8 am to 9 pm (saturday to Friday) |
| Inscriptions: | 99 attributes of Allah in Arabic calligraphy, text of Lahore Resolution in Urdu, Bengali and English, and Delhi Resolution's text, Quranic verses, National Anthem of Pakistan in Urdu and Bengali, speeches of Muhammad Ali Jinnah, in Urdu, Bengali and English. |
| Specification | |
| Architecture : | Nasreddin Murat-Khan |
| Floor: | 5 |
| Main Contractor: | Mian Abdul Khaliq Company |
| Structural Engineer: | Aun Muhammad |
| Height : | 70m |
| Construction started: | 23 March 1960 |
| Architectural styles: | Modern architecture, Mughal architecture |
| Construction Completed: | 21 October 1968 |
| Height Roof: | 62 metres (203 ft) |
| Diameter: | 9.75 meter |
| Tiles: | Patterned tiles |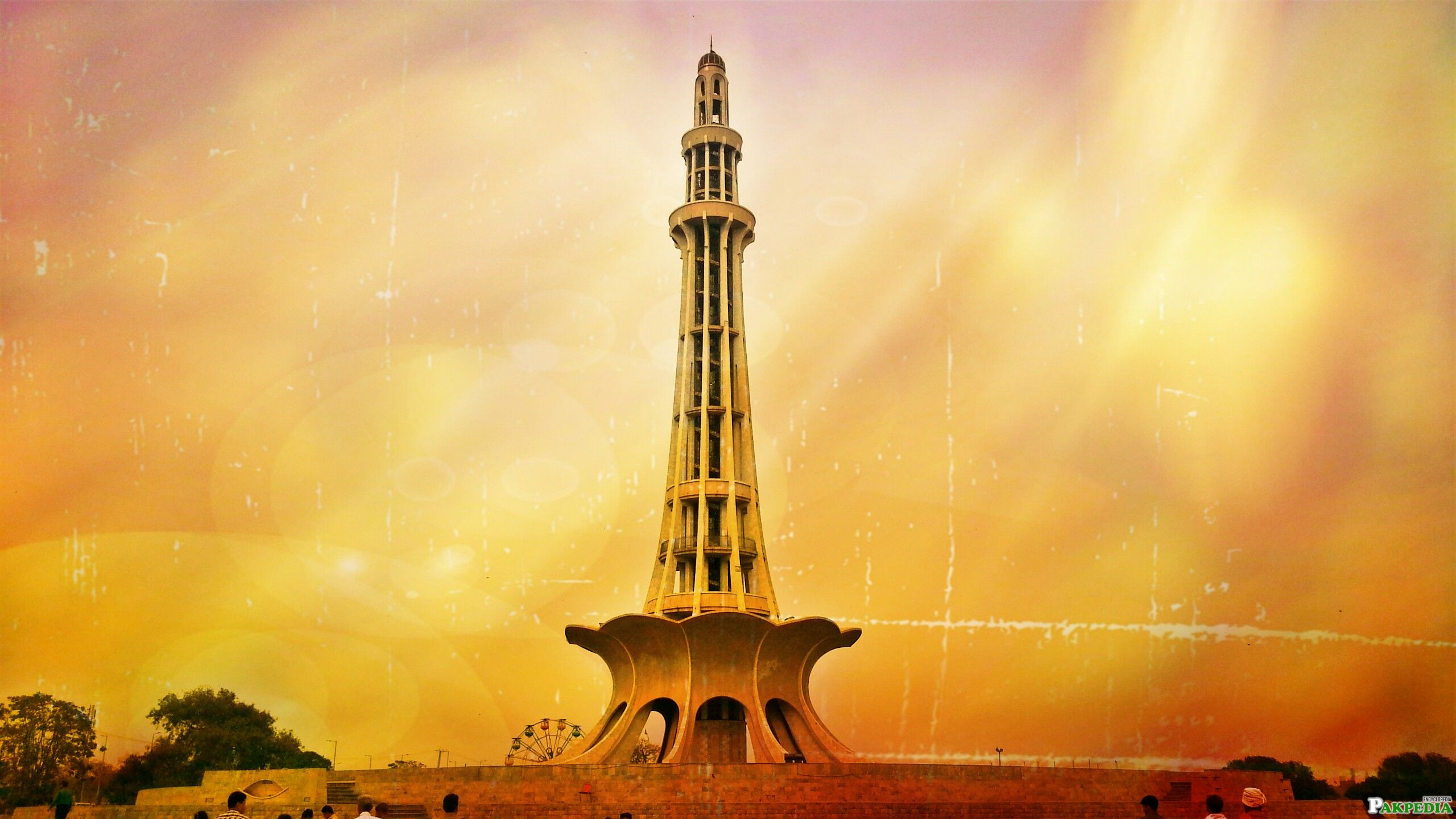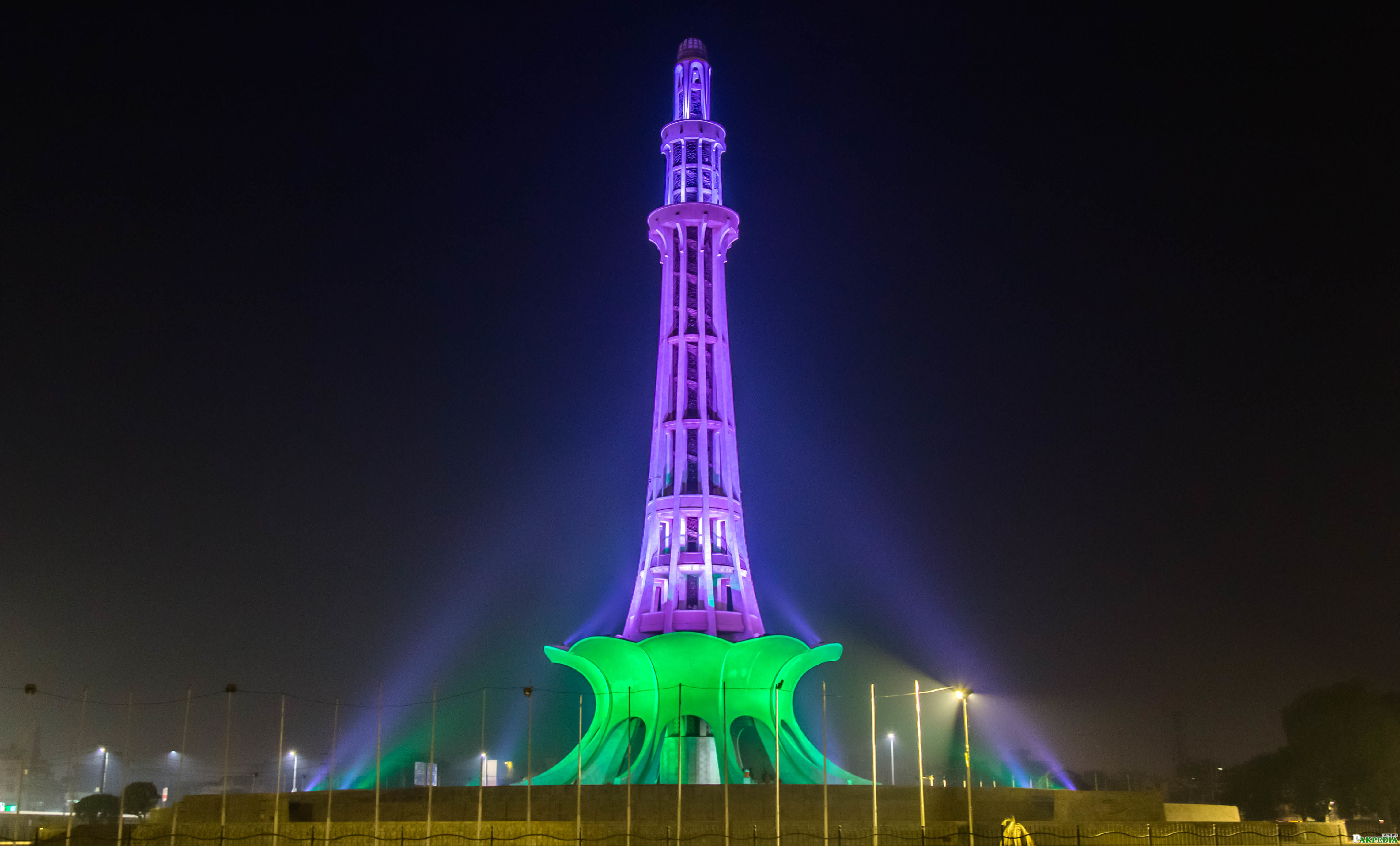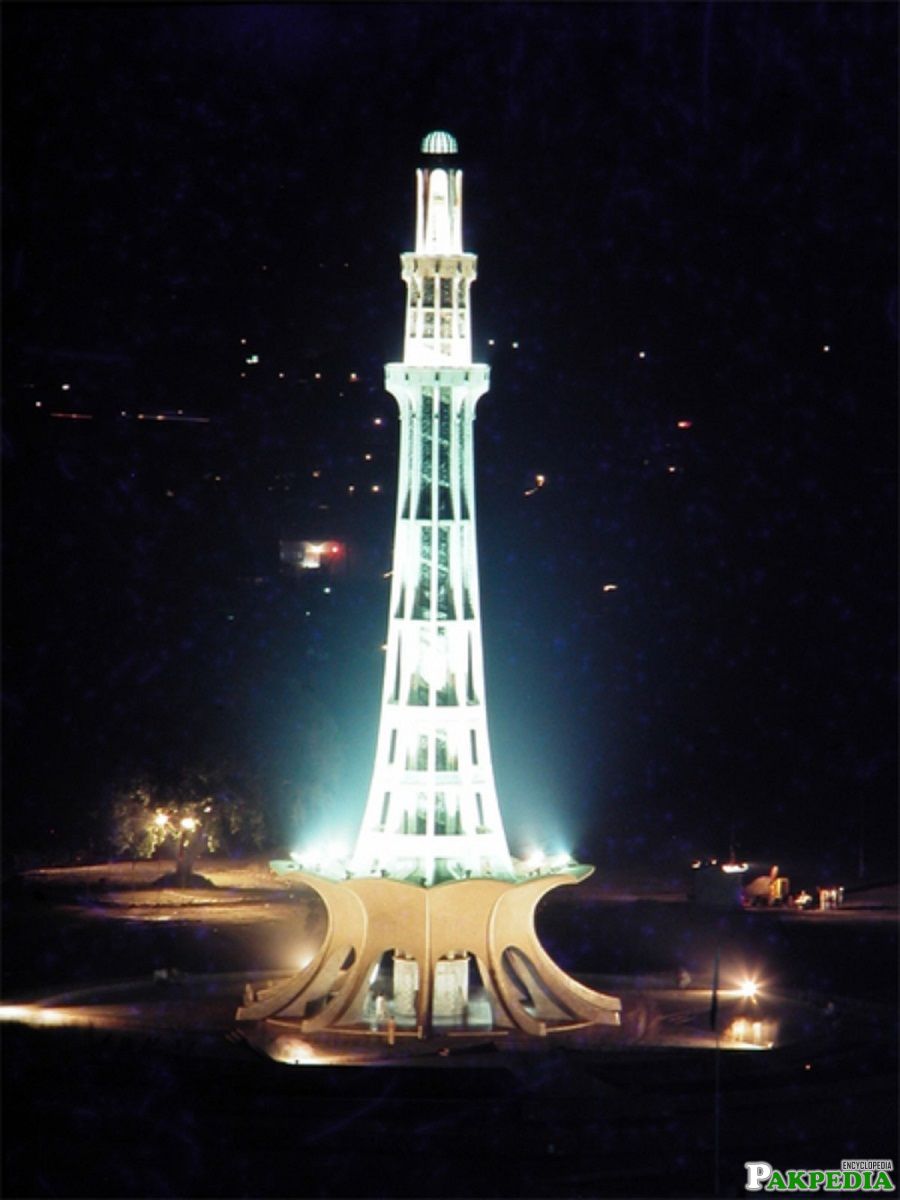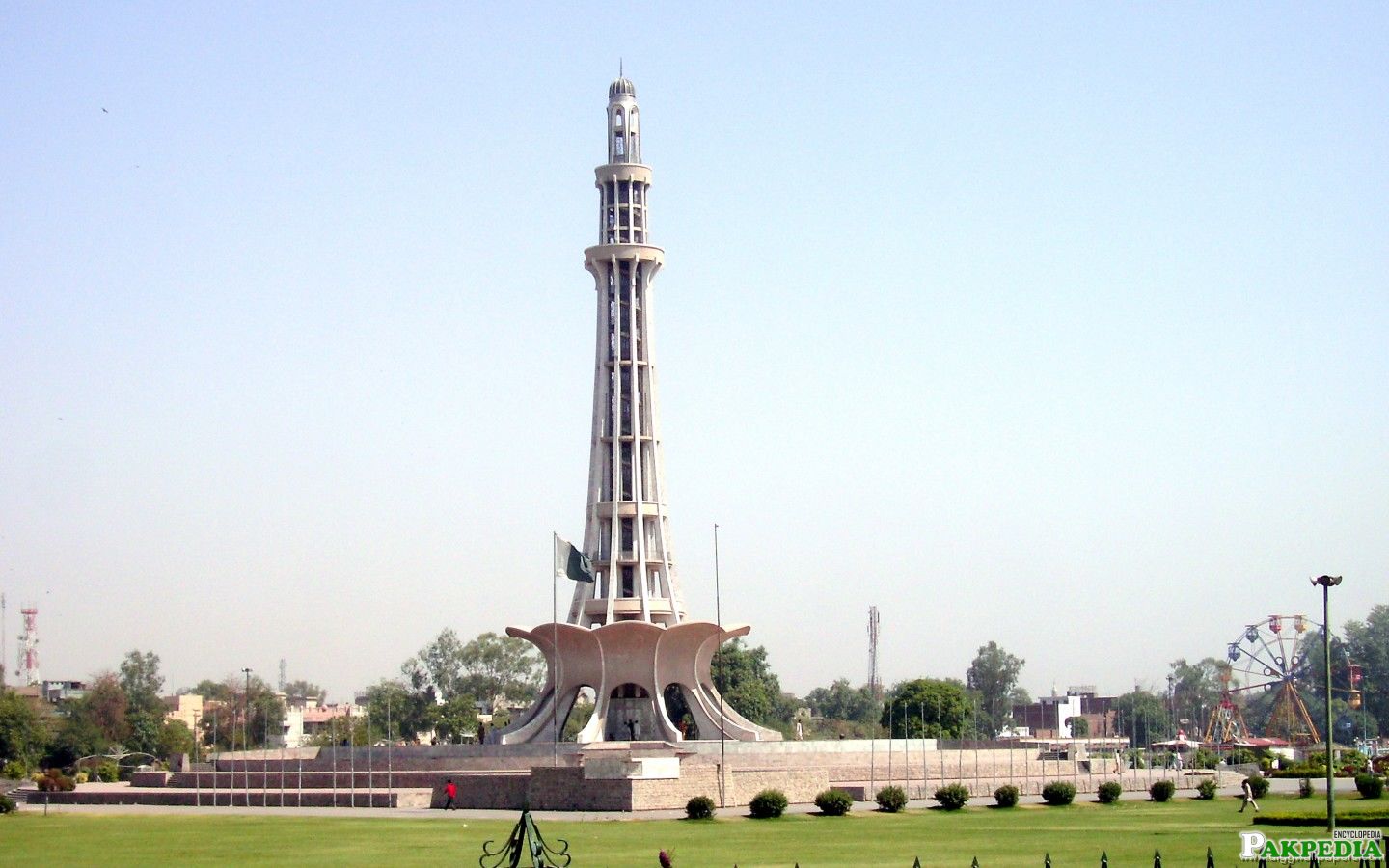 History
Minar-e-Pakistan was built to commemorate the Lahore resolution which on 23rd march 1940, in which Muslim league, only Political party of Muslims of the Indian sub-continent, demanded the separate home land for Muslims of sub-continent.
Minar-e-Pakistan was built on 1960, in memory of the Pakistan resolution, at the site where on 23rd March 1940, Pakistan Resolution (Qarardad-e-Pakistan) was passed, which demands separate home land i.e Pakistan for the Muslims of Indian sub-continent.[3] Minar-e-Pakistan History
Lahore Resolution Qarardad-e-Lahore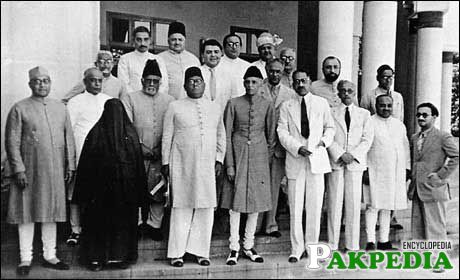 It was a formal political statement adopted by the Muslim League at the occasion of its three-day general session on 22-24 March 1940 that called for greater Muslim autonomy in British India. This has been largely interpreted as a demand for a separate Muslim state, Pakistan. The resolution was presented by A. K. Fazlul Huq.
Although the name Pakistani had been proposed by Choudhary Rahmat Ali in his Pakistan Declaration in 1933, Muhammad Ali Jinnah and other leaders had kept firm their belief in Hindu-Muslim unity. However, the volatile political climate and religious hostilities gave the idea stronger backing.
The session was held between 22 March and 24 March, 1940, at Manto Park (now Iqbal Park), Lahore. The welcome address was made by Nawab Sir Shah Nawaz Mamdot. In his speech, Jinnah recounted the contemporary situation, stressing that the problem of India was no more of an inter-communal nature, but manifestly an international.He criticised the Congress and the nationalist Muslims, and espoused the Two-Nation Theory and the reasons for the demand for separate Muslim homelands. According to Stanley Wolpert, this was the moment when Jinnah, the former ambassador of Hindu-Muslim unity, totally transformed himself into Pakistan great leader.[4]Laore Resolution
Sikandar Hayat Khan, the Chief Minister of the Punjab, drafted the original Lahore Resolution, which was placed before the Subject Committee of the All India Muslim League for discussion and amendments. The Resolution text unanimously rejected the concept of a United India on the grounds of growing inter-communal violence and recommended the creation of an independent Muslim state.
After the presentation of the annual report by Liaquat Ali Khan, the Resolution was moved in the general session by A.K. Fazlul Huq, the Chief Minister of undivided Bengal and was seconded by Choudhury Khaliquzzaman who explained his views on the causes which led to the demand of a separate state. Subsequently, Maulana Zafar Ali Khan from Punjab, Sardar Aurangzeb from the North-West Frontier Province, Sir Abdullah Haroon from Sindh, and Qazi Esa from Baluchistan, and other leaders announced their support. In the same session, Jinnah also presented a resolution to condemn the Khaksar massacre of 19 March, owing to a clash between the Khaksars and the police, that had resulted in the loss of lives.[5]�Qarardad-e-Lahore by story of pakistan
Design

The tower reflects a blend of Mughal/Islamic and modern architecture.
The tower was designed and supervised by Nasreddin Murat-Khan an architect and engineer hailing from Daghistan The structural design was performed by Nasreddin Murat-Khan (a qualified engineer himself), assisted by Engineer Abdur Rehman Khan Niazi, who was working as Structural Design Engineer for Illeri N. Murat-Khan & Associates. Approved by the President, the design was built by Mian Abdul Khaliq and Company. The foundation stone was laid on 23 March 1960. Construction took eight years, and was completed on 31 October 1968 at an estimated cost of Rs 7,058,000. The money was collected by imposing an additional tax on cinema and horse racing tickets at the demand of Akhtar Hussain, governor of West Pakistan. Today, the minaret provides a panoramic view to visitors who can't climb up the stairs or access the top by means of an elevator. The parks around the monument include marble fountains and an artificial lake[6] Minar-e-Pakistan Design
Architecture
 The structural design was given by a civil engineer Abdur Rehman Khan Niazi, is working with Murat Khan. The foundation stone was laid on 23rd March, 1960. The whole construction ends on 31st October 1968, which costs Rs 500,000. This money was collected by imposing additional tax on cinemas and horse racing.
Total height of the Minar-e-Pakistan is about 92 meters above the ground, base is about 8 meters above the ground, and the unfolding petals are 9 meters high. Base comprises four platforms, first is built with Taxila stones, second with hammer-dressed stones, third with chiselled stones and fourth with white marble. These platforms depict the freedom struggle. There are 324 stairs to go to the top, besides the lift. The resting place of Hafeez Jalandhari, writer of national anthem is also in the courtyard of the Minar. From the rostrum you can view the Badshahi Mosque.
Many Quran verses, National Anthem, speeches of Quaid-e-Azam and Allama Iqbal, and the Resolution of Pakistan in various languages, Arabic, Urdu, Bengali and English are written on white marbles attached on the base of Minar-e-Pakistan. On the base, ten marble slabs of 7/2 feet are attached on which 99 names of ALLAH are written. On the entrance ALLAH o AKBAR is written.[7]Minar-e-Pakistan Architecture
99 Names Of Allah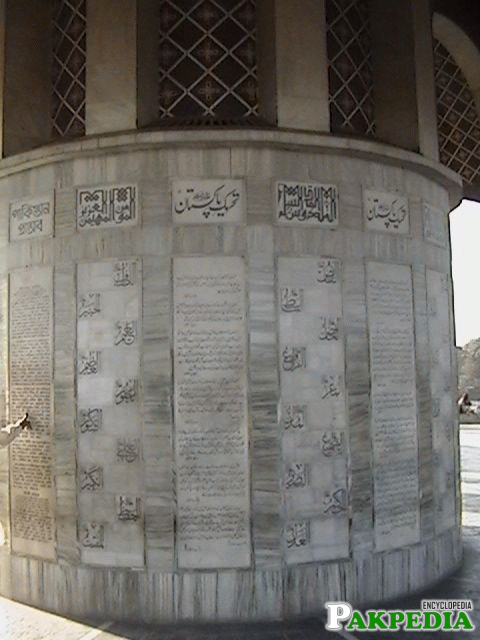 On the base, all around the Minar are ten marble slabs of seven feet tall and two feet in width, on with 99 names of Allah have been written. Other inscriptions include excerpts from the speeches of Mr. Muhammad Ali Jinnah, the founder of Pakistan related to ideology of Pakistan, in Urdu, Bengali and English, besides the National Anthem in Urdu and Bengali and a verse from Dr Allama Iqbal. Some Quranic verses (Surah Baqarah, Surah Al e Imran, Surah Myedah and Surah Ra'ad) have also been inscribed. On the main entrance "Allah o Akbar (Allah is the Greatest) and "Minar-e-Pakistan" are inscribed.
There are 324 stairs to go to the top, besides a lift. The first balcony is 30 feet high, second at 50 feet. There is a separate "Chabootra" about 12 feet high some distance away from the Minar, on which Quranic aya "Allah al mashriaq wal maghrab" is inscribed. The resting place of Hafeez Jalandhari, the writer of the national anthem of Pakistan, is also in the courtyard of the minar.[8] 99 Names of Allah
Inscriptions
At the base, there are floral inscriptions on ten converging white marble Commemorative plaques. The inscriptions include the text of Lahore Resolution in Urdu, Bengali and English, and Delhi Resolution's text, which was passed on 9 April 1946. On different plaques, Quran verses and 99 attributes of Allah are inscribed in Arabic calligraphy, whereas National Anthem of Pakistan in Urdu and Bengali, excerpts from the speeches of Muhammad Ali Jinnah, in Urdu, Bengali and English, along with few couplets of Allama Iqbal include the other important inscriptions[9] Minar-e-Pakistan Inscriptions
Pollution around Minar e Pakistan
With the development of the city and location of Minar e Pakistan, air pollution from overcrowded traffic is continuously damaging the marble structure which is now in need of renovation. The top of  Minar e Pakistan has been closed to the public to deter suicides by people jumping from the top.
As of 2005, at least 26 people had committed suicide by jumping from the minaret. It is the responsibility of the public to take care of this great treasure and they should not use the monument for destructive purposes.[10]  Pollution around Minar e Pakistan 
Depiction of Various Phases of Struggle

Concrete and steel is used from base to about 181 feet height whereas the top portion of the tower is built with stainless steel to evade corrosion. For the lower portion, coarse marble is used to indicate the initial rough days of the movement, while smooth marble is used on the walls and upper portion of the minar to depict gradual development and prosperity.[11]  Depiction of Various Phases of Struggle 
Inscriptions in English Urdu Bengali and Arabic

The base of the minar has ten marble slabs all around it. Each slab is seven feet tall and two feet wide, with 99 names of Allah written on them. Other inscriptions include National Anthem of Pakistan in Urdu and Bengali, excerpts from Muhammad Ali Jinnah's speeches and a few couplets of Dr Allama Iqbal. Some Quranic verses from Surah Ra'ad, Surah Myedah, Surah Baqarah and Surah Al e Imran are also carved on these slabs. The main entrance of the tower bear inscriptions like Allah O Akbar and Minar-e-Pakistan.[12] Inscriptions in English, Urdu, Bengali and Arabic 
10 Interesting Facts About Minar-e-Pakistan
1

Minar-e-Pakistan also known as "Tower of Pakistan" the location where tower is placed is called Iqbal Park.
2

It is built on the location where Pakistan resolution was passed.Every visitor who visits Lahore first time would like to visit Minar-e-Pakistan.
3

Tower construction was started on 23rd march 1960.Construction took eight years and was completed on 3 October 1968 at an estmate cost of Rs 7,058,000.
4

The money was collected by imposing an additional tax on cinema and horse racing tickets at the demand of Akhtar Hussain, Governer of West Pakistan.
5

The base is about 8 meter above the ground.The tower rises about 62 meters on the base, the total height of minar is about 70 meters above the ground.
6

Minar-e-Pakistan is a unique kind of place.It is a combination of Islam and Pakistan cultural combination.
7

You can climb the Minar though elevator or stairs.Base is built like a flower shape.There is also a big park around the Minar.
8

The park around the monument include marble fountains and an artificial lake.
9

Other main building near it is Badshahi Mosque, Shahi Qila and Allama Iqbal Tomb.
10

Minar-e-Pakistan has always served as the location a number of political protests and rallies including recently those arrange by PTI.[13] 10 Interesting Facts About Minar-e-Pakistan 
Map