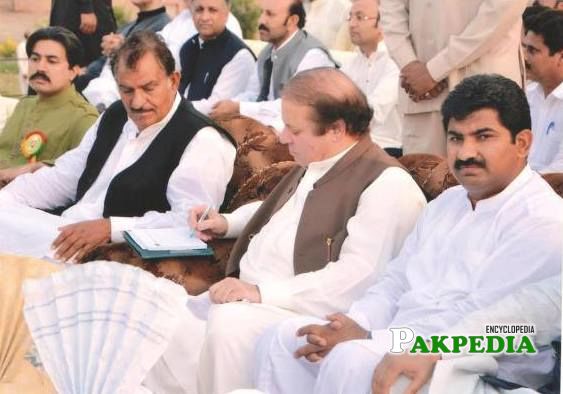 Biography
Mian Muhammad Farooq hails from Faisalabad
Pakistan
.His father name was Mian Muhammad Hussain.Mian Muhammad Farooq associated with Pakistan Muslim League (N).
[1]
Biography
Political Career
Mian Muhammad Farooq of
PML-N
was elected as the Member of National Assembly for the second time from NA-80 in the General Elections 2013. Previously, he was elected MPA four times in general elections held in 1985, 1988, 1990 and 1993. He is also a member of the Standing Committee on Information Technology and Telecommunication.
[2]
Political Career
Election 2013
Mian Muhammad Farooq contested general elections as PML-N candidate and defeated PML-Q candidate, former MNA, Mr. Rana Asif Tauseef.He bagged 96039 votes to win while Rana Asif Tauseef got 54427 votes and remained runner-up in his constituency.
[3]
Election 2013
PML-N MNA Resigns
PML-N MNA Mian Muhammad Farooq has resigned from his National Assembly seat after the party refused to grant district council chairman ticket to his son.According to details, Farooq has sent his resignation to PML-N Former President Prime Minister
Nawaz Sharif
.In his resignation, addressed to the prime minister, Farooq said he had started his political career 32 years ago under the leadership of Nawaz Sharif and was ending it when he was the premier. He stated that he was elected MNA for the sixth time in the general elections of 2013. "There should be a difference between a loyal person and an opportunist. I will remain loyal to you till my death," he said in the letter.The PML-N leader, who was elected an MNA from NA-80,
Faisalabad
, was annoyed with the party leadership as his son was not given the party ticket to contest the election of the district council chairman.
[4]
PML-N MNA Resigns
Contact Information
Permanent Address: Chak No.247 RB Miani Faisalabad
Local Address: Lyallpur Flour Mills 13 KM, Jhang Road, Faisalabad.
Contact Number: +92 300 7215200
Email: farooq.na80@na.gov.pk[5]  Contact Information