Big Mac Combo Deal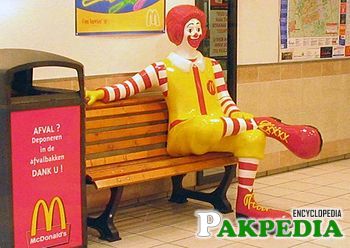 Ronald Mcdonald
Jinaah Park McDonald
New MsDonald Special Coffee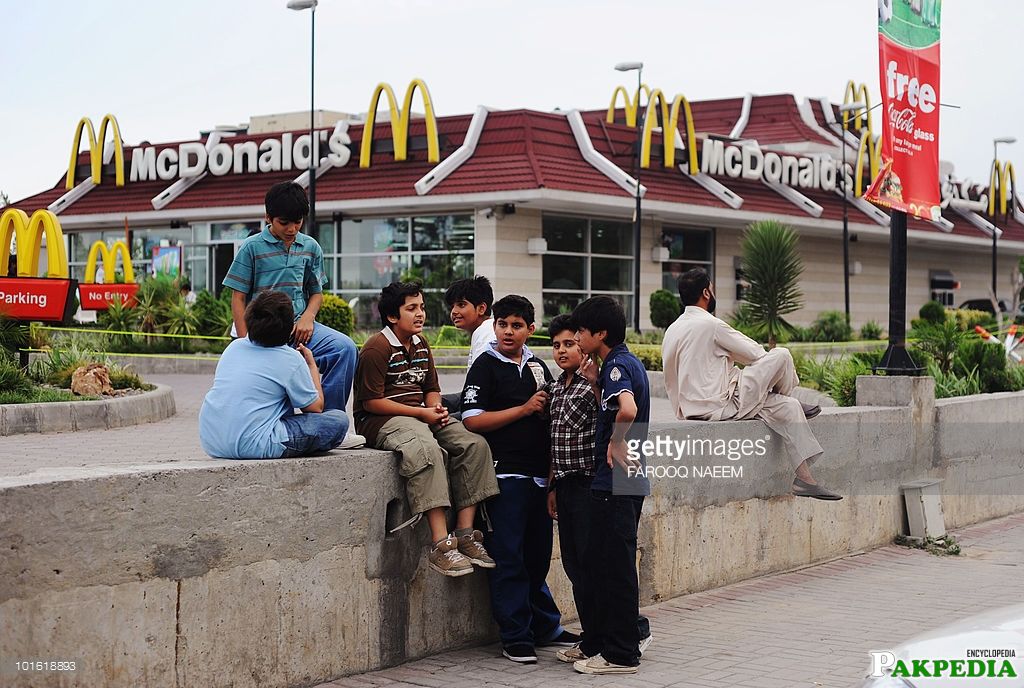 Outside the McDonald
History
McDonald's first restaurant opened its door to the people of Pakistan in September 1998 in Lahore. This launch was met with unprecedented enthusiasm from the citizens of Lahore, who are known for their liveliness, vigor and penchant for quality food. Karachi opened its first restaurant a week after Lahore. Ever since we opened the doors of our restaurants both in Karachi & Lahore, we have been proud to provide our customers the same great taste, outstanding value and superior service that is synonymous with the Golden Arches all over the world. There are now 44 restaurants in 16 major cities of Pakistan. (Karachi, Hyderabad, Lahore, Multan, Faisalabad, Kala Shah Kaku, Sialkot, Gujranwala, Gujrat, Islamabad, Rawalpindi,
Jhelum
, Peshawar, Quetta, Sahiwal and Bhera) Today millions of Pakistanis place their trust in McDonald's to provide them with food of a very high standard, quick service and value for money. So next time you walk into one of our restaurants, please remember, McDonald's Pakistan is here now, to put a smile on your face, each and every time you visit us. McDonald's is firmly committed to giving back to the community where it operates. We are happy to become involved because we recognize that organizations have a role to play in helping communities to work successfully. The contribution we enjoy most is the experience of working together with others in the community to achieve worthwhile benefits for those who need it most. 
[2]
History History
Mission and Vision
"McDonald's Mission is to be the world's best quick service restaurant experience. Being the best means providing outstanding quality,service, cleanliness and value, so that they make every customer in every restaurant smile" McDonald's vision is to make every customer  in every store smile. This is a vision which maybe easy to acquire through other ways but to do it professionally is a totally different thing. 
[3]
Mission and vision
Long Term Objectives
McDonald's vision is to be the world's best quick service restaurants experience.
McDonald's is committed to maintaining and developing the best food products in the quick service restaurant market.
In order to deliver this, the company has made a number of commitments to food safety and Nutrition [4] Objectives Objectives
Products
BreakFast
Big BreakFast (BreakFast Meal)
Chicken Muffin
Chicken Muffin with Hash Brown
Chicken Sausage with McMuffin
Chicken Sausage McMuffin with Egg and Hash Brown
Egg and Cheese McMuffin
Egg Muffin
Hash Brown
Extra Value Meal
Double Beef and Cheese Burger
6 Piece Chicken McNuggets Meal
McChicken Burger Meal
Chicken Big Mac Meal
McArabia Meal
Big Mac Meal
Quarter Pounder Meal
CheeseBurger Meal
Club House Chicken Burger
Sandwiches And More
Beef Burger
Cheese Burger
Spicy Chicken Burger
McChicken
McArabia
Big Mac
Chicken Big Mac
Chicken McNuggets
McChicken with Cheese Double
Desserts
McSwirl
McFlurry
Sundae
Apple Pie
Waffle Cone
[5]
Products Products
CEO Of McDonalds
Amin Muhammad Lakhani is the CEO of McDonald's Pakistan, and CEO Accuray Surgicals Limited.
Honorary Consul General of Singapore in Pakistan
MBA from the Wharton School of Business with a concentration in Finance and International Business.
B.S. in Industrial Engineering from Stanford University
Contact Details
McDonald's is the largest and best known global food services retailer with more than 30,000 restaurants in 121 countries. Our outstanding brand recognition, experienced management, high-quality food, site development expertise, advanced operational systems and unique global infrastructure ensure a position that enables us to capitalize on global opportunities. We plan to expand our leadership position through great tasting food, superior service, everyday value and convenience. McDonald's Pakistan is part of the Lakson Group of Companies, a leading business house in Pakistan.
Karachi Office
Address: SIZA Foods (Pvt) Ltd. Lakson Square Building # 2, Sarwar Shaheed Road, Karachi. Phone: (+92-21) 35698 0000
Lahore Office
Address: Gam Corp. (Pvt) Ltd. McDonald's Restaurant, Fortress Stadium, Opposite Khyber Block,Lahore Cantonment. Phone: (92-42) 3662 3333-6 Fax: (92-42) 3662 3337
Faisalabad
Address: 329-330 B, Peoples Colony, Satyana Road,
Faisalabad
. Phone: (0300) 8663122 – Mobile and (041) 8734812-3 – Telephone Phone - Delivery: 111-BIG-MAC OR 1112-44-622 Foodtype / Cuisine: Fast Food, Burger Email: contactus@mcdonalds.com.pk Serving Hours: Mon - Sun: 12:00 pm - 01:00 am 
[7]
Contact Details