Maryam Nawaz
Going for Press Conference
Adressing with Party members
Her wedding pic
Her daughter's wedding
With her son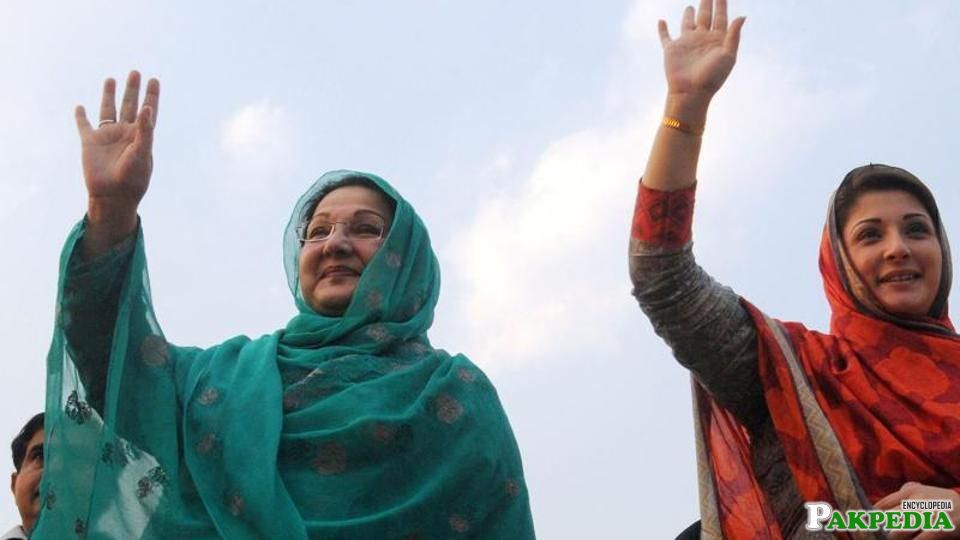 With Kulsoom Nawaz
While speaking to public
Biography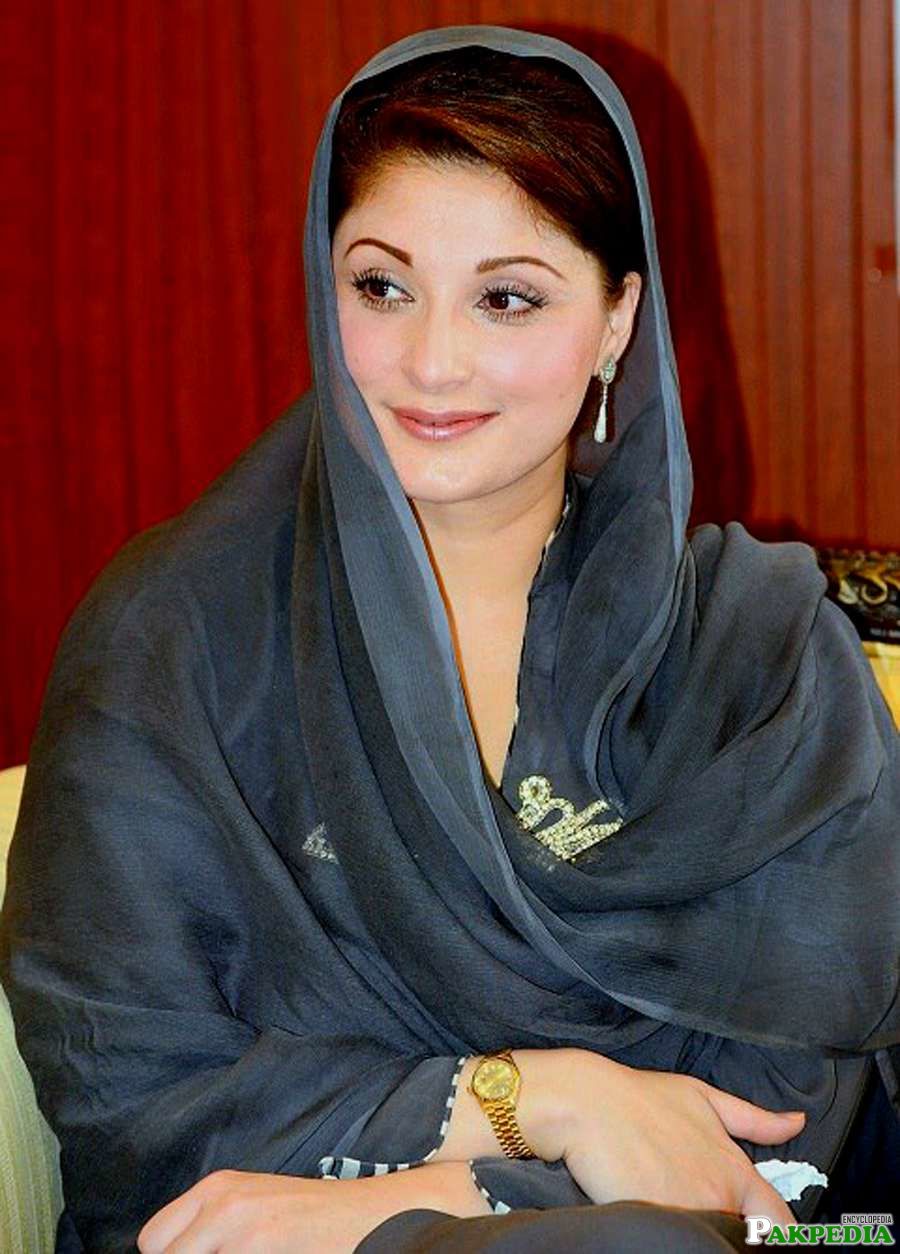 Maryam Nawaz is a Pakistani politician, activist and the daughter of former Prime Minister of Pakistan Nawaz Sharif and his wife
Kulsoom Nawaz
 Sharif. She has been married to Muhammad Safdar Awan since 1992. They have 3 children 1 son (Muhammad Junaid Safdar) and 2 daughters ( Mehr-un-Nisa Munir) and ( Mahnoor Safdar). She got her earlier education from Convent of Jesus and Mary, Lahore than she did her bachelor's and master's degree from the University of Punjab. As per political background, all of her family member's are in politics that's why she decided to enter in politics
Political Career
She announced her intention to participate in politics to assist her father in November 2011. She is now a worker of PML-N. In the April 2012 article in Newsweek Pakistan Maryam Nawaz was described as the new face of the 
PML-N
 political party. In November 2013, Maryam was appointed as the chairperson of Prime Minister's Youth Programme and took responsibility for coordination, management, finalization and supervision of the implementation of the program. She said about the program that the "focus of this scheme is to chisel and brush up the latent talent of the youth of the country and also to provide equal opportunities for acquiring higher education to the students of underdeveloped areas". 
Personal Life
Maryam Nawaz is second of the four children of Nawaz Sharif. Maryam Nawaz was married to Capt. (r) Muhammad Safdar Awan in 1992. She was 19 years old when she got married. 
Safdar
, her husband, was serving as a Captain in Pakistan Army when they got married. Maryam Nawaz and Capt (r) Safdar have three children. Her eldest daughter is Mehr-un-Nisa Munir who got married in November 2015. Her wedding was a big function and was held in Islamabad, and then her son, Muhammad Junaid Safdar, is a student in London and the youngest daughter, Mahnoor Safdar, is also a student of fine arts in Pakistan. 
Victory of PMLN
Maryam Nawaz, daughter of ousted prime minister Nawaz Sharif,  congratulated supporters of the ruling Pakistan Muslim League-Nawaz (PML-N) on the party's victory in NA-120 by-polls. "People of NA-120 have decided in favor of Nawaz Sharif. They have rejected his disqualification," Maryam told a charged crowd of supporters in Lahore ."You fought and defeated the forces which ousted an elected Prime Minister. You are the lions of Nawaz Sharif," she added. Maryam had spearheaded the PML-N campaign for her mother Kulsoom, who won NA-120 polls after bagging almost 60,000 votes. 
Grooming in Politics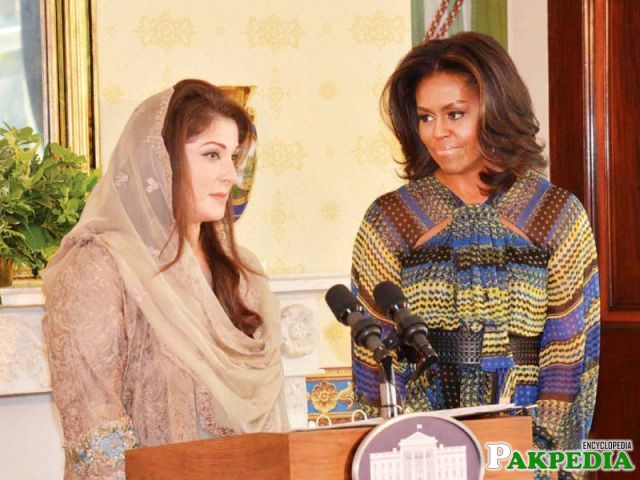 Maryam Nawaz's meeting with Indian External Affairs Minister Sushma Swaraj was apparently part of the conscious efforts of Prime Minister Nawaz Sharif for her slow and steady but apt grooming for a likely future greater political role. The pinnacle of such endeavours in the international circuit came in October when the first daughter had held a meeting with the US first lady, Michelle Obama who was accompanied by her mother and two daughters at the White House during the prime minister's official visit to Washington. It so happened that prime minister's Washington visit was a success that dashed the hopes of his detractors. So was the Heart to Asia conference in the sense that Pakistan and India made a breakthrough by committing to start the comprehensive bilateral dialogue to discuss all outstanding issues including the core Kashmir dispute. Although Maryam is not publicly known doing much in or for the government, she is engaged in a number of offstage activities including political affairs and media and information matters, knowledgeable Pakistan Muslim League-Nawaz (PML-N) circles say.
Expected to be the next Prime Minister
Ousted prime minister Nawaz Sharif's daughter Maryam Nawaz has suggested that she might run for prime minister in 2018 general elections, subject to a decision in this regard by her family. In an interview with The New York Times, Maryam stated that people in her social circle see her in a position of leadership. "People around me tell me I was meant for a certain role," she said in response to whether she ever sees herself as the future leader of the country. Maryam, tweeted that a statement that the Sharif family has decided that she should lead her family's ruling PML-N was wrongly attributed to her. She said Nawaz Sharif will continue to lead the PML-N and that she is "not even an aspirant" for the position and would rather serve as a party worker. In the NYT interview, Maryam insisted that reports of differences within her family were exaggerated. "It's not a divided house," she said referring to her family, adding that that family takes pride in family values and ethos. 
Most Powerful Woman
The daughter of three-time Prime Minister and Pakistan Muslim League Nawaz (PML-N) chief Mian Muhammad Nawaz Sharif, Maryam Nawaz Sharif, named among the top 11 powerful women of the world in a 2017 ranking issued by New York Times. The newspaper ranked the uprising political figure as the most courageous, determinant and powerful woman of Pakistan. It further mentioned that Maryam is the most suitable successor to the political empire that her father and disqualified prime minister Nawaz Sharif has constructed.
Imprisonment
On 6th of July 2018, the  Accountability court announced its decision about the Avenfield reference where Sharif family including Nawaz Sharif , Maryam Nawaz and Retired Captain Safdar got imprisonment with fine of many millions. Maryam Nawaz got imprisonment of 7 years including fine of 20 lakh pound. Whereas Maryam Nawaz won't be able to contest Elections for 10 years. On 13th July Maryam Nawaz and Nawaz Sharif retured from London and shifted to Adiala Jail.
Released from Adiala Jail
Maryam along with her father Nawaz Sharif and husband Capt Safdar has been released from the Adiala Jail on 19th September 2018 after the decision of Islamabad High Court has been announced. They were in the jail from almost 2 months. A large number of their supporters welcomed them after their release. Still the decision of the Supreme Court is yet to announce but for now, they are free to live in Jati Umrah. .