Marvi memon in a talk show
Marvi Memon in a university for giving lecture
With Mariam Nawaz
Awarded with French National order of Merit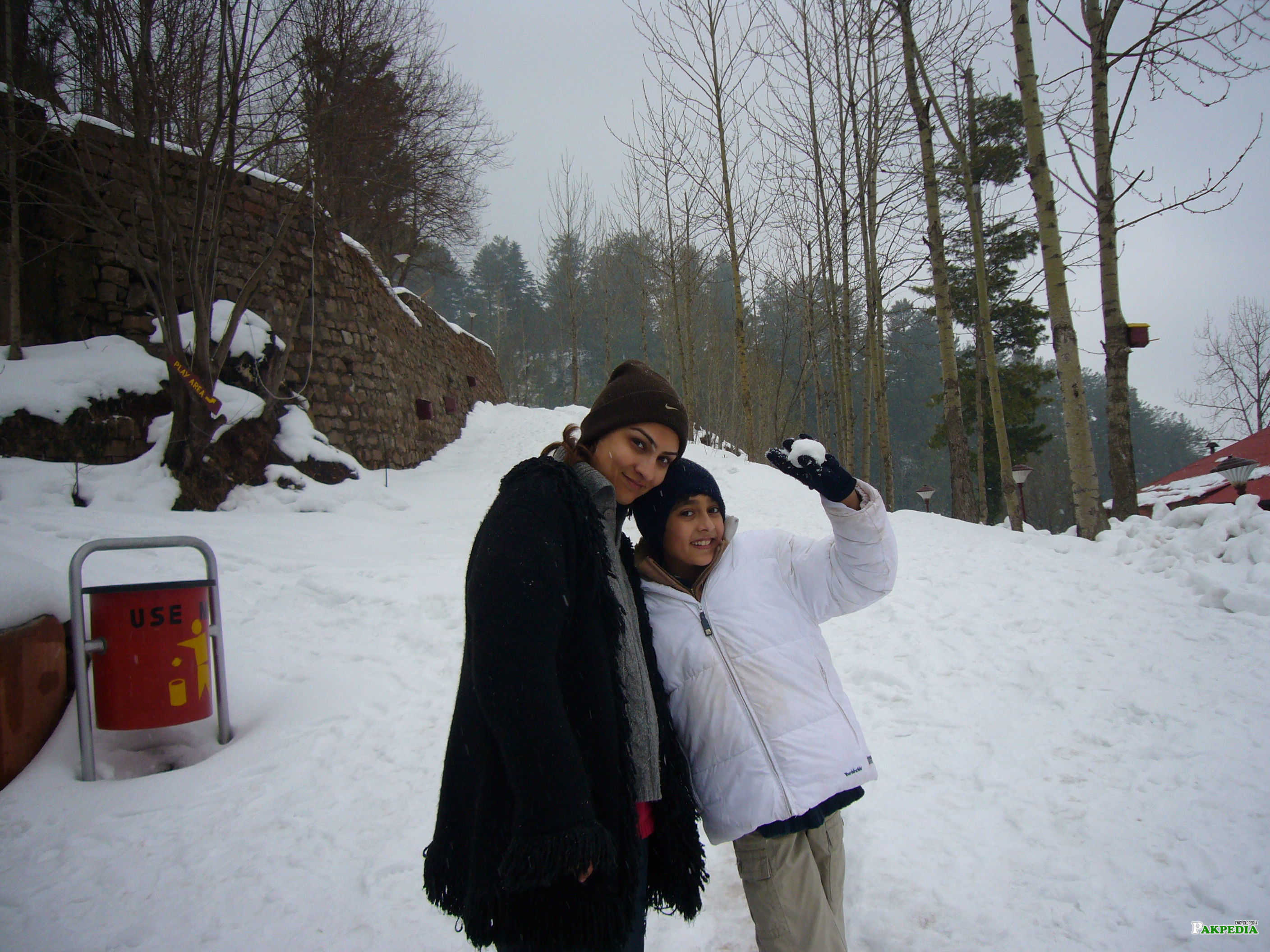 With her son in Murree
Biographyand Education
She is famous politician and businesswoman who represent PML. This conservative female politician groomed under Pervez Musharraf regime and today one of the front line female politicians in Pakistan. Her brilliant academic and family backgrounds are the main reasons why she is popular in politics.Marvi Memon was born on 21 August 1972 in Karachi, Sindh, Pakistan. Her father Nisar Memon is prominent businessman and politician. She completed her school education from Karachi, Kuwait and Paris. Marvi was graduated from London School of Economics with B.Sc in International Relations. After completing her studies she joined Citi Bank of Pakistan and later on became the youngest female CEO of multinational firm in Pakistan "Trakker". In 2003 she joined military staff of ISPR as an Executive Media Officer and eventually she advised the Musharraf administration on both civil and military affairs. She entered into politics under PML Q but in 2012 she joined PML N. overall she is one very talented and also one of the beautiful female Pakistani politicians. 
[1]
Biography and Education
Career
Marvi Memon is a Pakistani politician who is the member of National Assembly from Pakistan Muslim League (N). she always has been seen defending her political party on all sorts of issues. That's why every party's media cell wants her to attend more talk shows than other female politician. She started her political career in 2007 when she joined PML (Q) and fortunately she was selected as a member of National Assembly on the reserved seat from PML (Q) in Punjab. She remained in the office from 2008-2011 and resigned from her National Assembly position due to her party joining the coalition government with Pakistan People's Party (PPP), in 2011. Before joining politics, she worked as a marketing and quality control manager in Citibank. Then she launched herself as an entrepreneur & started Pakistan's largest Vehicle tracking company "TRAKKER". 
[2]
Career Career
Contribution To Pakistan
Marvi is an intellectual lady & has advised the President on the media affairs and later became an advisor on investments.
In an interview, she said that she will work with all youngsters as they are the future. She believes that youngsters have incredible creativeness and vision & can transform any system and soceity.
She has worked on various issues such as indirect tax rates growth in IT and technology and women empowerment.
The next big issue, Marvi tried to tackle was the Water crisis. She tried to collaborate to Information technology and solve the issue of water crisis.
Represent Pakistan in Austrian Leadership Programs
Minister of State and Chairperson Benazir Income Support Programme (BISP) MNA Marvi Memon and CEO M/s Careem Pakistan, Junaid Iqbal, were chosen to represent Pakistan in Austrian Leadership Program (ALPs) 2017, organized by the Austrian government for the potential leaders of the world.  Ms. Memon attended the 7th edition of ALPs in Vienna, which is being participated by representative from many countries including Pakistan. ALPS – Austrian Leadership Programs – bring together leaders from around the globe to establish a strong long-term network while spending a unique week in Austria. Under the Austrian Leadership Programs (ALPS), decision-makers from around the globe have shared their experiences of leadership in their respective areas of intervention. The young and dynamic leaders interacted and connected with top leaders from business and public life in Austria.  During the course of the program, Ms Memon called on the Secretary General of the Ministry for European Integration and Foreign Affairs,  Ambassador Michael Linhart. She interacted with Political Consultant Mr. Thomas Hofar; Member of Parliament, Ms Dorothea Schittenhelm and Ms Janina Nolz, General Secretary of  OVP Frauen, organization working for women rights.  Ms Memon also visited United Nations Headquarters in Vienna for a briefing on Sustainable Development Goals (SDGs) and UN Peace Keeping. 
[4]
Represent pakistan in leadership programs
Publications
She is the first parliamentarian of Pakistan to author parliamentary diaries "My Diaries" published in 2012. Her last assignment within parliament was Chairperson for the National Assembly Committee for Information, Broadcasting and National Heritage and Member of the Standing Committee of the National Assembly on Foreign Affairs. Her committee made record recommendations and published record reports in 15 months of her tenure to improve media management and media standards. Her strength is her close contact with grassroots, youth and discriminated populations of society in all provinces and territories of Pakistan as Pakistan's most widely campaigning parliamentarian. Currently MNA Marvi Memon is serving as Chairperson of Benazir Income Support Program, with the status of Minister of State, since February 25, 2015.
Award and Honours
She received Speaker's Democracy Award conferred by U.K Parliament. 
She was also the Member of World Bank Advisory Council on Gender & Development 
Taunts Party Leadership
Benazir Income Support Programme (BISP) Chairperson Marvi Memon expressed her anguish towards her party's top leadership on Saturday 24th March 2018 after reportedly being refused the ticket for the upcoming general elections. Memon took to social media site Twitter to register her protest against the Pakistan Muslim League-Nawaz (PML-N) leadership in a series of tweets saying, "Ghalti aur gunah kissi aur ka, aur saza kissi aur ko. Wah leadership wah." In another tweet, she targeted the party leadership as well as her close friends for not helping her cause. Memon also tried to play the woman card in an apparent bid to attract attention. "Women take so much nonsense, it's when they recover from trauma that they are most lethal not when they are down and under. There is nothing beyond one's self-respect n yet women sacrifice that in the trauma. But when they surface they vow never to compromise on that self-respect."  
[6]
Taunts party leadership