With Adeel Hussain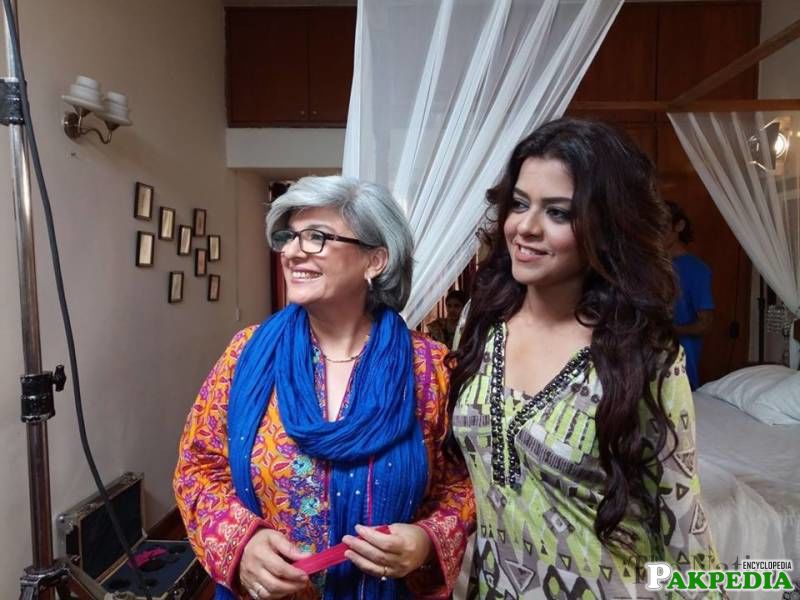 with Maria Wasti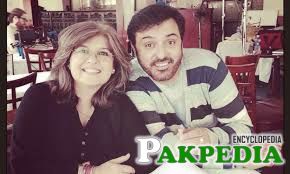 With Noman Ijaz
Old Pic of Marina Khan
Marina Khan
Biography
Marina Khan was born in Peshawar on December 26, 1962. Khan's mother is English and her father Pakistani ,who served in the Pakistan Air Force. True to her Capricorn star sign, Marina is a lively, humorous, romantic, committed and sensitive person, with a special love for cats and dogs. Marina remembers her childhood fondly : "My father was in the Forces so we practically had to shift base every two years. Each time we moved, there was a new school and environment. The real friends that I made during my school days were when I got into class eight. I don't have what would you call 'childhood friends'. The thing with so much shifting around is that one never develops any deep association for any institute. Otherwise, I enjoyed the process of packing, going to a new home, decorating my new room and all. It was fun but I am sure my parents got fed up with all the shifting. My brother, Zarak, was not around the house as he was sent to a boarding school to ensure he had steady schooling. I guess I did feel lonely. Despite the fact that we fought a lot, it was wonderful when he used to come home." 
[2]
Biography Biography
Showbiz Career
Marina started her career in the PTV drama named "Rashid Minhas Shaheed." The drama serial "Tanhaiyaan" was the real breakthrough of her career. Everyone liked her acting in this drama so much, and career journey begins from here. After that she played many unforgettable roles in the drama serials. There are some of her hit serials; Rashid Minhas Shaheed on PTV, Nishan-e-Haider on PTV, Tanhaiyaan (1985) on
PTV
, Ehsaas (1987) on PTV , Dhoop Kinare (1987) on PTV , Padosi (1992) on NTM channel, Nijaat (1993) on PTV, Wafa Ke Mausam on PTV , Farar (1996), Tumse Kehna Tha (1995), Khali Haath Marina is also a good Director and she directed many serials like; Tum Hii To Ho on (PTV), Baji Dixit -Telefilm on (ARY), Tanhayan Naye silsaly on (PTV), Dhool on (ARY), Azar Ki Ayegi Baraat on (GEO), Dolly ki Ayegi Baraat on (GEO), Umeed e Sehr on (PTV), and many more. She is also the owner of Fat Cat Productions, a joint venture with her husband, Jalil Akhtar. Marina has served 25 years of her life working on the Pakistani media industry. Marina is regarded as the best and a great actress of our industry, but she is also a TV presenter. She also had her cooking show. However, she has started production and direction as part of her professional skills. 
[3]
Showbiz Career
Marital Life
Marina was madly in love with Jalil Akhter during the making of Dhoop kinaray. They both were in love with each other Marina married with Jalil Akhter. They love each other, and there was a relation of give and took love, respect, humor and understanding. There was a space for each other to grow. There was trust between them and finally they get married. They are very happy with there married life. According to Marina, she is very lucky to have such a wonderful husband. Her life has not changed one bit. She has an advantage that her husband is also in the same field. They have no kids, but they are very happy with there life. 
[4]
Marital Life
List of TV Dramas
Tanhaiyaan (1985)
Dhoop Kinare (1987)
Nijaat (1993)
Tanhaiyan Naye Silsilay
Jackson Heights (2014)
"Tumse Kehna Tha"
"Faraar"
"Khali Haath"
"Abba Amma aur Ali"
"Parosi"
"Kohar"
Marina Khan As a Director
Azar Ki Ayegi Baraat
Dolly Ki Ayegi Baraat
Takkay Ki Ayegi Baraat
Annie ki Ayegi Baraat
List of Movies
Na Maloom Afraad 2
Parwaaz Hai Junoon
Interview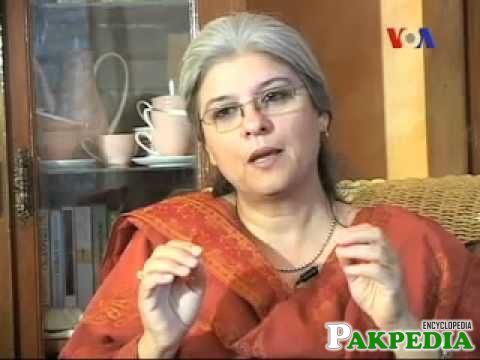 "My friend, Kehkashan Awan was working in the serial, Jungle, and I used to go with her to the studios just to see what it was all about. The assistant director to Shehzad Khalil (who produced and directed Rashid Minhas) had met me and I think at that point he was looking for a new face and asked me if I had ever acted or had thought about it. I replied that I had acted once in a while in school and college. I also told him that Urdu was my weak point. He was quite fine with it and named five people who have problems speaking in Urdu! He managed to convince me. After that came Tanhaiyan, which was also Shehzad Khalil's production." Marina has fond memories of those days. 'Tanhaiyan' was a classic, it just became one of those plays. Though we hardly had any competition way back then, it was a huge success. Shehzad Khalil was the main force behind Tanhaiyan; that is one reason why I chose to work in this play. He was an amazing director. "The script writer, Haseena Moin, was very apprehensive - obviously, there was this nobody (me) from nowhere, but Shehzad sahib had full confidence in me and saw beyond my Urdu. To convince Haseena Apa, he gave me a scene from Ankahi and made me rehearse. Shehzad sahib had made up his mind that he wanted me in Tanhaiyan. I went early to the studio and kept on rehearsing so when the moment came, there I was and there was Haseena Apa, sitting in one corner. I was so nervous!" And how did she manage to overcome her problem with Urdu? "I used to go two to three hours early for rehearsals and sit with the assistant director, Shaheen Ansari, and rewrite on the script itself, reading it along the way. By the time the actors would come, I was quite prepared. I remember Qazi sahib once commented, 'Yeh ladki khoon thukwaya gi.' We had a lot of fun during Tanhaiyan and we were like one big happy family." Marina recalls with a smile: "There was this scene where Shehnaz comes late and I am very upset with her and start shouting, 'Bilcul tumhay koi fikar nahin hai, hum toh samjahy kay tum kissi rickshi taxa kay nichay ah gayee.' Suddenly there was silence and then everybody started laughing and I was left wondering what I said. They asked me: Marina what is a rickshi-taxa?!" Earlier in the conversation, Marina mentioned that she was madly in love during the making of Dhoop kinaray. Considering her marriage was based on love, does Khan subscribe to the institution of marriage and where does her marriage to Jaleel Akhtar stand? "Yes, I totally subscribe to the institution of marriage. It is a two-sided affair. There has be give-and-take from both sides. There should be humor and understanding, allowing the other person to grow by giving him/her space. Trust is the most important element in a marriage. Never try to change your partner as you are marrying the person you met and saw. If you do that, then your spouse will try too hard to change and he/she will not be the same person. Certain things do bind us together while other things change automatically." 
[5]
Interview Interview
Conversation With Marina Khan
In my relatively short time frame of conducting interviews, I have done a fair amount - and that too with some fantastic artists of our industry. Never had I ever been star struck though; never until I interviewed Marina Khan.
Why Did You Decide to join AB
I think I've been wanting to work in a nine to five type of work environment for a while. This, in contrast to the irregular production regimen that I had been involved with for so many years. You know … sit in a chair and boss people around!! (she says jokingly). No, like I said, I had been looking for something solid and regular for a while and when this opportunity came up, I thought it was great. Business Unit Head at GEO A&B Productions is my title at work now.
You played the older woman in Jackson Heights how was the experience
Very challenging, as I usually run away from any kind of romantic stories. Even in Tanhaiyan 2 Haseena Apa wanted Saniya to get married, but I said "no no, that's not happening!" (poor Qabacha). But you reach a certain point in life and you think ke chalo yeh bhi ker ke dekhte hain. Adeel is a great actor and the comfort level was there. Shoots in NY were a lot of fun; we'd wake up every morning and take the train to work instead of being driven there. Very different production experience than what we're used to here in Karachi.
How do you deal with criticism and the high expectations people have of you
I don't deal with it actually. I just do my best. I don't have any problems with failures. I'm never conscious about projects failing. I try and live up to my own expectations and do the best that I can do … and that's it.
What do you think has been your best work so far
The work I've enjoyed the most was Tanhaiyan; it was like a dream for me. We were suddenly around all these people who are such giants … and just being around these people was so much fun. After that was Nijat, and then the adaptation of While You Were Sleeping. Jackson Heights was definitely a big challenge for me. Oddly enough, the one I didn't enjoy or don't remember most was Dhoop Kinare. It was a time when my husband and I were courting each other and all I wanted to do was be with him, not on set. How ever it turned out was all due to the efforts of Sahira (Kazmi). I don't know how she managed it, but she did. I actually saw it a few years ago, and I didn't even remember doing some of the scenes. Another project I really enjoyed was one with Yasmin Ismail (She played the "Veeda" character in the original Tanhaiyan). She was an accomplished theatre director and used to do kid's plays with social themes. These were German plays adapted into Urdu and put up by The Gripps Theatre. Imran Aslam adapted the stories. Having been part of these plays is something I am very proud of. 
[6]
Conversation Conversation