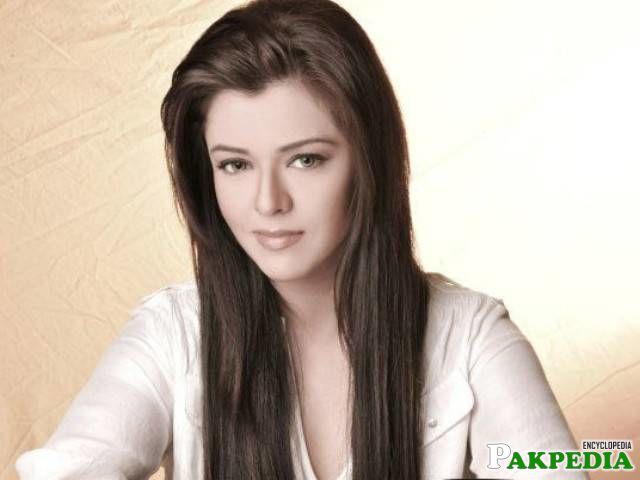 Profile
Maria Wasti is one of the most liked drama celebrity of
Pakistan
. She has got fame within no time. She started acting at that time when there was only one channel in Pakistan. There was tough competition at that time. She is very decent lady. Maria is considered blunt in showbiz industry. She is very talkative. She has got all help from her family and she feels very lucky to have such family. She wants to be a business graduate and her parents want her to be a doctor.
Early Life
Maria has spent nearly seven years of her life in Dar es Salam Tanzania. Her father was doing job there at that time.  She is very hardworking and talented as well. She has got success in all fields of life. As her parents wanted her to be a doctor and PTV was the only channel at that time. Then in early nineties National Television Marketing (NTM) country's first private channel was launched. This channel specially showed the content which has targeted youth at that time and this was the main reason that Maria Wasti got interested in acting.
Parents
Details about her parents are very less known. But she reveals in an interview that her parents are very supportive to her throughout her life. Even when she travelled out of country or city, her mother travelled with her.
Other Notable Family Members
Maria is niece of famous TV actress
Tahira Wasti
. Tahira was well known writer as well. She was famous for her role as Isabella of Castile in drama Shaheen. She was wife of famous newscaster Rizwan Wasti. TV Actress Laila Wasti is also her cousin.
Siblings
Maria has 3 sisters and she is the elder one. She once reveals in an interview that she misses her late night gossips with her sisters very much as they both are married now.
Breakthrough
In early nineties Maria got her first chance of acting when she got a call from PTV Lahore Program Manager, Mr.Bakhtiar Ahmed who has asked her to play a role alongside film star Resham in a Drama serial named "Sarah aur Ammarah". This was the big moment of her life as after this project people started knowing her. At that time PTV was the only channel so she became famous with in no time and never looked back.
Career in Dramas
Maria is a versatile actress and she has worked in more than 50 drama serials till date. Maria once told in an interview that she loves any art work at that time, so she has acted in a drama due to her passion. . After her first drama serial, she started receiving good roles in various other plays in all centers of PTV. She recalls that people have reservations when I have started acting, but once I have worked hard, they all have admired my work. Maria considers Kaloo by
Bano Qudsia
one of her best drama. In other dramas like Baadlon Par Basaira which got huge success, she has done role of a girl of village. She has played role of a girl who was forced to marry with someone, she hasn't seen in her entire life. Maria has played roles which are called unglamorous. She loves to play roles involving women related issues. She has played roles of many famous women including Bilquis Edhi  .
Maria is very open to speak about issues related to women. She has done number of drama serials, details are as follow:
List Of Daramas
Aashiyaana
Ahsaas on PTV
Dharkan
Kaali Ankhain
Aurat Ka Ghar Konsa
Baadlon Par Basaira
Boota from Toba Tek Singh
Kabhi Kabhi
Ain
Sarah aur Ammarah
Neend
Dil
Bojh
Buri Aurat
Behkava
Barish ke Aansu
Dil
Kalmohi
Kaisay Hoye BeNaam
Jalebiyan
Kalmohi
Khuda Ki Basti
Malika-e-Aliya
Ruswa
Kuch Dil Nay Kaha
Uff Ye Muhabbat
Sheeshay Ka Mahal
Court Room
Moorat
Riyasat
Teray Liye
Teri Chah Main
Tujh Pe Qurban
Meri Ladli
Khaut
Kuch Ankahi Batain
Khoat
Khaandan
Diya Jale
Band Baje Ga
Angan Bhar Chandni
Aey Ishq Hamain Barbad Na Kar
Rehai
Love Ke Liey
Kitni Girhain Baaqi Hain
Who Chaar
Rehaai
Thori Door Sath Chalo
maria-wasti-marriage
Famous Dramas
Most of her projects have gone hit but there are some dramas which will be remembered forever. One of them is Boota from Toba Tek Singh. It was written by famous writer Khalil ur Rehman Qamar. Other notables in drama were:
Faysal Qureshi
Mishi Khan
Khalil ur Rehman Qamar
Kashif Mehmood
Farah Shah
Deeba Kashif
Khalid Butt
Another drama serial which people will remember forever is Malika e Aliya. She has played role of Malika e Aliya in this drama. It was written by Nida Akhter. Other starrers were:
Anoushay Abbasi
Sohail Asghar
Faiq Khan
Sohail Raza
Yasra Rizvi
Afshan Qureshi
Ahmed Zaib
Zuhab Khan
Arisha Razi
maria-wasti-modeling
List Of Movies
Ramchand Pakistani, 2008 - Kamla
Yarana 2009 - Pashto
As Producer
Maria has also opened her production house in 2002 named "Creativity". Her production house has also produced many hit dramas as well.
As Host
She is now a day's hosting a morning show from Istanbul Turkey. This show goes on air on See TV. The program is of unique style as it includes food, guests and music.