Mansoor Amjad a important member of the 2004 Under-19 team that won the World Cup in Bangladesh.He was regarded as the next big hope in Pakistan cricket at one stage.The leg-spinner came through the ranks in Under-15 and Under-19 cricket. Mansoor Amjad  was earmarked as a cricketer who had every chance to play for Pakistan on a regular basis in the shorter formats.
| Title | Description |
| --- | --- |
| Personal | |
| Name: | Mansoor Amjad |
| In Urdu: | منصور امجد |
| Famous As: | Cricketer |
| Nationality: | Pakistani |
| Teams : | Sialkot Stallions |
| Batting Style : | Right Handed Bat |
| Bowling Style : | Right-arm legbreak |
| Role : | Bowling Allrounder |
| Religion: | Islam |
| Profession: | Cricketer |
| 2004–2005 : | Zarai Taraqiati Bank Limited |
| 2004–present : | Sialkot |
| 2005–present : | National Bank of Pakistan |
| 2006–2007 : | Leicestershire |
| Only T20I (cap 23) : | 20 April 2008 v Bangladesh |
| Only ODI (cap 170): | 29 June 2008 v Sri Lanka |
| National Side : | Pakistan |
| Born | |
| Date: | 25 December 1986 |
| Place: | Sialkot Punjab Pakistan |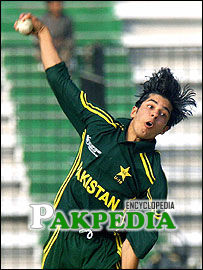 Biography
One of the prominent members of the 2004 World Cup winning U-19 Pakistan side, Amjad is another classical example of a talent.The leg-spinner played a huge role in Pakistan's triumph.Mansoor Amjad's leg-spin was at one stage the next big thing in Pakistan cricket.[1] U-19 Pakistan
Took Five Wickets
Former Pakistan coach, the late Bob Woolmer, rated him highly, and that faith was justified when he took five wickets against an England XI at Lahore in 2005-06.
All Rounder
Since then, on the fringes of national selection, Amjad has turned into an all-rounder of sorts, particularly suited to the limited overs game. He averages nearly 30 and has four first-class hundreds. On his international debut, in a T20I against Bangladesh in April 2008, he took 3-3 in his only over. He was finally rewarded with an ODI debut in June in the Asia Cup.[2] Biography
Sialkot Stallions
Mansoor Amjad's form this season captaining Sialkot Stallions has been exceptional. In six innings in the One-Day Cup, he has scored over 300 runs at an average of 81.50, including two centuries and one half century. He has also done well with the ball, taking 12 wickets at just over 18 apiece. Whilst being delighted with his current form, Amjad stated that he wasn't just chasing individual goals but also keen to ensure that Sialkot went on to lift another domestic crown.
Leicestershire in English County
He played for Leicestershire in English County cricket in 2007 and made his international debut in a T20 international against Bangladesh at Karachi in 2008 taking three wickets for three runs in a solitary over. But since his T20I debut, Amjad has only featured for Pakistan on one further occasion, the Asia Cup One-Day International, against Sri Lanka in June 2008 where he took one for 44 and was dismissed for five runs.[3]  Leicestershire in English County 
Amjad Spoke Candidly
25-year-old Amjad spoke candidly about how his career has developed, how a finger injury hampered his progress and his confidence, and his hopes for another chance in international cricket.
"I played for Pakistan at Under-15 and Under-19 levels and the desire like anyone else who has played for their country at junior levels was to play for my country at the highest level for a long time. Being part of the successful 2004 Under-19 squad in Bangladesh was a fantastic time and yes it would be fair to say that a lot of that group of boys had very high hopes for their individual careers, whilst realising that a lot of hard work lay ahead in order for us to be successful.
Finger Injury
The injury that caused Amjad a lot of discomfort and concerns was a finger injury on his bowling hand. The injury lingered and failed to fully respond to treatment and the all-rounder continued to play cricket despite not being fully fit. However, treatment in the UK whilst playing league cricket  has resolved the issue and could prove to be the turning point in his career.
Career Information
ODI debut vs Sri Lanka at National Stadium, Jun 29, 2008 
Last ODI vs Sri Lanka at National Stadium, Jun 29, 2008 
T20 debut vs Bangladesh at National Stadium, Apr 20, 2008 
Last T20 vs Bangladesh at National Stadium, Apr 20, 2008
Batting Fielding Averages
Batting & Fielding Averages are : [4]  Batting & Fielding Averages 
| | | | | | | | | | | | | | | |
| --- | --- | --- | --- | --- | --- | --- | --- | --- | --- | --- | --- | --- | --- | --- |
| Career | M | In | R | NO | HS | Avg | BF | SR | 100s | 50s | 4s | 6s | Ct | St |
| Test | 0 | — | — | — | | — | — | — | — | — | — | — | — | — |
| ODIs | 1 | 1 | 5 | 0 | 5 | 5.000 | 10 | 50.00 | 0 | 0 | 0 | 0 | — | — |
| T20s | 1 | 0 | 0 | 0 | 0 | — | 0 | — | 0 | 0 | 0 | 0 | 2 | 0 |
| World Cup | 0 | — | — | — | | — | — | — | — | — | — | — | — | — |
Bowling Averages
| | | | | | | | | | | | |
| --- | --- | --- | --- | --- | --- | --- | --- | --- | --- | --- | --- |
| Career | M | B | R | W | Avg | EC | SR | 5WI | 10WM | BBI | BBM |
| Test | 0 | — | — | — | — | — | — | — | — | — | — |
| ODIs | 1 | 48 | 44 | 1 | 44.00 | 5.500 | 48.00 | 0 | 0 | 1/44 | 1/44 |
| T20s | 1 | 6 | 3 | 3 | 1.000 | 3.000 | 2.000 | 0 | 0 | 3/3 | 3/3 |
| World Cup | 0 | — | — | — | — | — | — | — | — | — | 1/44 |
Recent Matches
| Bat & Bowl | Team | Opposition | Ground | Match Date | Scorecard |
| --- | --- | --- | --- | --- | --- |
| 0, 19, 1/101 | WAPDA | v Sui Sthn Gas | Karachi | 15 Dec 2017 | FC |
| 0, 1/49, 14*, 0/3 | WAPDA | v United Bank | Karachi | 9 Dec 2017 | FC |
| 2/44, 1, 2/29 | WAPDA | v National Bnk | Rawalpindi | 21 Oct 2017 | FC |
| 40, 0/11, 3 | WAPDA | v Peshawar | Abbottabad | 15 Oct 2017 | FC |
| 0 | FATA | v Rawalpindi | Islamabad | 10 Jan 2017 | LA |
| 17 | FATA | v Peshawar | Rawalpindi | 8 Jan 2017 | LA |
| 11, 0/35 | WAPDA | v Sui Sthn Gas | Karachi | 31 Dec 2016 | LA |
| 5, 3/31 | WAPDA | v Khan RL | Hyderabad (Sind) | 29 Dec 2016 | LA |
| 41*, 0/50 | WAPDA | v PIA | Karachi | 27 Dec 2016 | LA |
| 1/58, 46 | WAPDA | v Sui Sthn Gas | Karachi | 25 Dec 2016 | LA |