Mango trees are deep-rooted, symmetrical evergreens that attain heights of 90 feet and widths of 80 feet. Mango trees have simple alternate lanceolate leaves that are 12 to 16 inches in length and yellow-green, purple, or copper in color when young. Mature leaves are leathery, glossy, and deep green in color. New leaves arise in terminal growth flushes that occur several times a year. Mature terminal branches bear pyramidal flower panicles that have several hundred white flowers that are about a 1/4 inch wide when open. Most of the flowers function as males by providing pollen, but some are bisexual and set fruit. Pollination is by flies, wasps, and bees.
The fruit weighs about 1/4 pound to 3 pounds. Fruit may be round, ovate, or obovate depending on the variety. The immature fruit has green skin that gradually turns yellow, orange, purple, red, or combinations of these colors as the fruit matures. Mature fruit has a characteristic fragrance and a smooth, thin, tough skin. The flesh of ripe mangos is pale yellow to orange. The flesh is juicy, sweet, and sometimes fibrous. Some undesirable seedlings or varieties are described as possessing a turpentine-like off-taste. The fruit has one seed that is flattened and sticks to the flesh. The seed contains one or more embryos depending on the variety or type.[1] General Crop information extento.com
| Title | Description |
| --- | --- |
| Details | |
| Type: | Fruit |
| Magnesium: | 2% |
| Vitamin B-6: | 5% |
| Kingdom: | Plantae |
| (Unranked): | Angiosperms |
| Order: | Sapindales |
| Family: | Anacardiaceae |
| Genus: | Mangifera |
| Species: | M. indica |
| Amount Per: | 100 gram |
| Calories: | 60 |
| Total Fat: | 0.4g |
| Saturated fat : | 0.1 g |
| Polyunsaturated fat : | 0.1 g |
| Monounsaturated fat : | 0.1 g |
| Cholesterol : | 0 mg |
| Sodium: | 1 mg |
| Potassium: | 168 mg |
| Total Carbohydrate : | 15 g |
| Dietary fiber : | 1.6 g |
| Sugar: | 14 g |
| Protein: | 0.8 g |
| Vitamin A: | 21% |
| Calcium: | 1% |
| Vitamin D: | 0% |
| Vitamin B-12: | 0% |
| Vitamin C: | 60% |
| Iron: | 1% |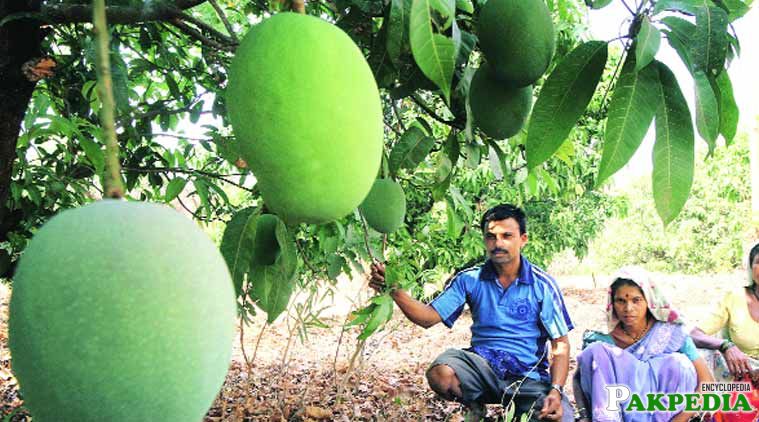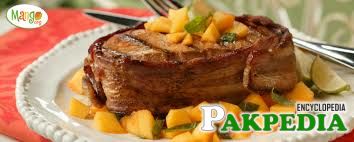 Uses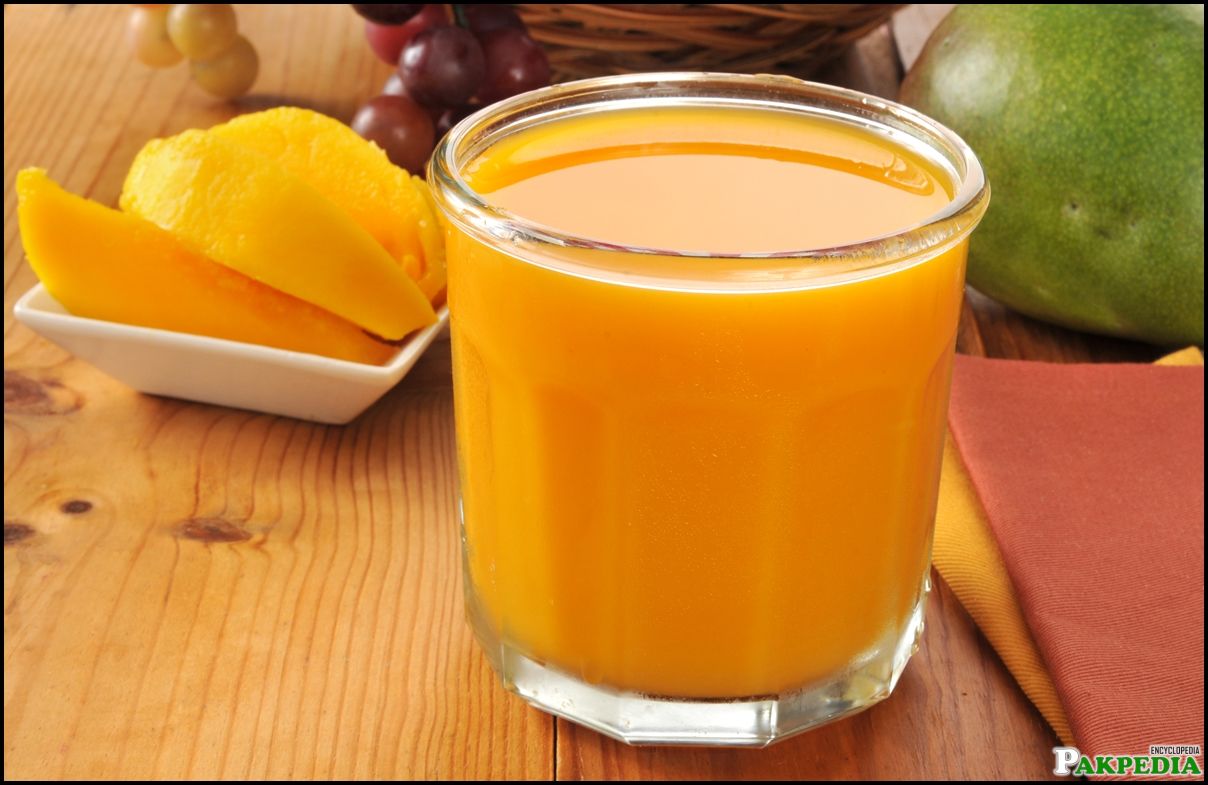 Mango can be eaten raw as a dessert fruit or processed to various products. Ripe fruits can be sliced and canned or processed to juice, jams, jellies, nectars and preserves. Eastern and Asian cultures use unripe mangos for pickles, chutney and relishes. In India, unripe mangos are sliced, dried, and made into powder for amchoor, a traditional Indian preparation used for cooking.
In India, flour is made from mango seeds. Seeds are also eaten during periods of food shortages. The timber is used for boats, flooring, furniture and other applications.
Raw mango consists of about 81.7% water, 17% carbohydrate, 0.5% protein, 0.3% fat, and 0.5% ash. A 100 g (3.5 oz) serving of raw mango has 65 calories and about half the vitamin C found in oranges. Mango contains more vitamin A than most fruits.
Propagatiion
Monoembryonic mango varieties, like the varieties recommended for Hawaii, have single embryos of hybrid origin and do not produce true from seed. They are propagated by grafting onto seedling rootstocks. Polyembryonic mango varieties, like the so-called common or Hawaiian mango varieties, produce two or more plants of nucellar (maternal) origin from each seed. These plants are predominantly true to type, and may be grown from seed without the necessity of grafting.
Grafted trees grow more slowly than seedling trees and are often smaller. Grafted trees usually produce fruit in 3 to 5 years in dry areas, while seedling trees usually take at least five years to come into bearing. Mango trees can remain in production for 40 years or more. Inarching is sometimes done to propagate mango varieties, and older trees may be topworked. Mangos are not propagated from cuttings or by air layering because the resulting trees are weak rooted.
Fun Facts
Mangos are one of the most popular fruit in the World
Mangos were first grown in India over 5,000 years ago
Mango seeds traveled with humans from Asia to the Middle East, East Africa and South America beginning around 300 or 400 A.D.
The paisley pattern, developed in India, is based on the shape of a mango
A basket of mangos is considered a gesture of friendship in India
Legend says that Buddha meditated under the cool shade of a mango tree
Mangos are related to cashews and pistachios
A mango tree can grow as tall as 100 feet
The bark, leaves, skin and pit of the mango have been used in folk remedies for centuries
Nutrition
In addition to sumptuous tropical flavor, mangos deliver a host of nutrients and make healthy eating a delightful sensory experience. The Dietary Guidelines for Americans recommend that healthy adults consume 5 to 13 servings of fruits and vegetables every day (based on a daily consumption of 1,200 to 3,200 total calories). That's where mangos come in! The versatile mango is available year round and adds delicious flavor to a balanced diet. [2] Mango nutritiion mango.org
Selection and Ripening
Don't focus on color. It is not the best indicator of ripeness.
Squeeze the mango gently. A ripe mango will give slightly.
Use your experience with produce such as peaches or avocados, which also become softer as they ripen.
Ripe mangos will sometimes have a fruity aroma at their stem ends.
The red color that appears on some varieties is not an indicator of ripeness. Always judge by feel
Eating Mangos
In many Latin American countries, mango on a stick with the skin peeled back is sold by street vendors
Mangos can be enjoyed with salt, lime juice or chili powder for a unique flavor experience
Mangos have natural tenderizing properties, making them a perfect ingredient for marinades
Try the versatile mango in smoothies, salads, salsas, chutneys, on fish, chicken or pork, as a dessert or just plain as a delicious snack
Cuisine
Mangoes are widely used in cuisine. Sour, unripe mangoes are used in chutneys[3] Chutney wikipedia athanu, pickles, side dishes, or may be eaten raw with salt, chili, or soy sauce. A summer drink called aam panna comes from mangoes. Mango pulp made into jelly or cooked with red gram dhal and green chillies may be served with cooked rice. Mango lassi is popular throughout South Asia, prepared by mixing ripe mangoes or mango pulp with buttermilk and sugar. Ripe mangoes are also used to make curries. Aamras is a popular thick juice made of mangoes with sugar or milk, and is consumed with chapatis or pooris. The pulp from ripe mangoes is also used to make jam called mangada. Andhra aavakaaya is a pickle made from raw, unripe, pulpy, and sour mango, mixed with chili powder, fenugreek seeds, mustard powder, salt, and groundnut oil. Mango is also used in Andhra to make dahl preparations. Gujaratis  use mango to make chunda (a spicy, grated mango delicacy).
Mangoes are used to make murabba (fruit preserves), muramba (a sweet, grated mango delicacy)[4] Muraba wikipedia amchur (dried and powdered unripe mango), and pickles, including a spicy mustard-oil pickle and alcohol. Ripe mangoes are often cut into thin layers, desiccated, folded, and then cut. These bars are similar to dried guava fruit bars available in some countries. The fruit is also added to cereal products such as muesli and oat granola. Mangoes are often prepared charred in Hawaii.
Unripe mango may be eaten with bagoong (especially in the Philippines), fish sauce[5] Fish Sauce wikipedia.com vinegar, soy sauce, or with dash of salt (plain or spicy). Dried strips of sweet, ripe mango (sometimes combined with seedless tamarind to form mangorind) are also popular. Mangoes may be used to make juices, mango nectar, and as a flavoring and major ingredient in ice cream and sorbetes.
Mango is used to make juices, smoothies, ice cream, fruit bars, raspados, aguas frescas, pies, and sweet chili sauce, or mixed with chamoy, a sweet and spicy chili paste. It is popular on a stick dipped in hot chili powder and salt or as a main ingredient in fresh fruit combinations. In Central America, mango is either eaten green mixed with salt, vinegar, black pepper, and hot sauce, or ripe in various forms. Toasted and ground pumpkin seed (pepita) [6] Pepitta wikipedia.com with lime and salt are eaten with green mangoes.
Pieces of mango can be mashed and used as a topping on ice cream or blended with milk and ice as milkshakes. Sweet glutinous rice is flavored with coconut, then served with sliced mango as a dessert. In other parts of Southeast Asia, mangoes are pickled with fish sauce and rice vinegar. Green mangoes can be used in mango salad with fish sauce and dried shrimp. Mango with condensed milk may be used as a topping for shaved ice.[7]Shaved ice wikipedia
Potential for contact dermatitis
Contact with oils in mango leaves, stems, sap, and skin can cause dermatitis and anaphylaxis in susceptible individuals. Those with a history of contact dermatitis induced by urushiol (an allergen found in poison ivy, poison oak, or poison sumac) [8] Urushiol wikipedia.com may be most at risk for mango contact dermatitis.Cross-reactions may occur between mango allergens and urushiol.During the primary ripening season of mangoes, contact with mango plant parts is the most common cause of plant dermatitis in Hawaii. However, sensitized individuals are still able to safely eat peeled mangos or drink mango juice.