President of Pakistan, Mamnoon Hussain exchanges views with Afghan President, Hamid Karzai during meeting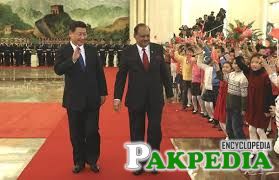 Chinese President Xi Jinping (L) holds a welcoming ceremony for visiting Pakistani President Mamnoon Hussain prior to their talks at the Great Hall of the ...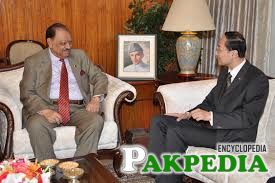 Chinese ambassador to Pakistan Sun Weidong calls on President Mamnoon Hussain
Nation stands united against terrorism: President Mamnoon Hussain
President Mamnoon Hussain (L) and Chinese Premier Li Keqiang shake hands prior to their meeting at the Great Hall of Peoples in Beijing, China.
Mamnoon Hussain entered the Pakistani politics
President Mamnoon Hussain entered the Pakistani politics with a missionary and reformative zeal in 1968. He joined Muslim League in
Karachi
and soon became Joint Secretary of the City Organization. He entered the national politics by joining Pakistan Muslim League (N) in 1993. In view of his integrity and commitment, he was appointed the Finance Secretary of the PML (N) Sindh. In 2001, he was given the portfolio of the General Secretary of the PML (N), Sindh and he continued in that office until 2005. His formidable stature as a veteran politician earned him the honour of the Acting President of the PML (N), Sindh. In recognition of his meritorious services for his party, he was appointed Senior Vice President (SVP) of the PML (N) and Member of the Central Executive Committee in 2005. In 1997-98, he was appointed Advisor to the Chief Minister of Sindh. In 1999, he was elected to the coveted position of the President of the Karachi Chamber of Commerce & Industry (KCCI).In June 1999, he went on to become the Governor of Sindh, but his term was cut short on October 12, 1999 when the
PML (N)
government was removed. His credentials as a politician devoted to the cause of democracy were established when he became a political prisoner after raising his voice against the totalitarian regime of the then military dictator.
[2]
President Mamnoon Hussain
In landslide victory, Mr. Mamnoon Hussain was elected as the 12th President of Pakistan through his official nomination made by PML (N). He took the oath of office on September 09, 2013. Since he has a firm belief that the office of the President of Pakistan is a symbol of Federation and should be apolitical, therefore, he has resigned from the PML (N). Mr. Mamnoon Hussain is known as a man of impeccable integrity and courage against all odds. He is married and has three sons and six grand children.Mr. Mamnoon Hussain has keen interest in promotion of education, eradication of polio from the country and mainstreaming
FATA
regions in order to bring about qualitative change in the lives of the people of tribal areas.
Personal life
Mamnoon Hussain  and his family migrated to Karachi in 1949 after the Partition of India in 1947. He earned his degree from the Institute of Business Administration (IBA) in Karachi  in the 1960s. Hussain was once president of the Karachi Chamber of Commerce and Industry. He briefly served as Governor of
Sindh
in 1999.
[3]
Personal life  Mamnoon hussain
Political career
Azhar Haroon, current president of the Karachi Chamber of Commerce and Industry is quoted to have said: "He had no political affiliation until 1999 but his polite discourse and professional ability impressed Nawaz Sharif, who made him governor of Sindh" He is a relatively less known figure, a
Nawaz Sharif
loyalist, and was elected as 12th President of Pakistan as the official nominee of the PML-N in the July 2013 presidential election. Hussain secured 432 votes and his only rival Wajihuddin Ahmed received 77. He took oath on 9 September 2013 in a prestigious ceremony held at Aiwan-i-Sadar, attended by main stream Political and Military leadership along with Foreign dignitaries, Media personals and his close relatives. 
[4]
Political career  Mamnoon hussain
Urged students to pursue higher education
He urged students to pursue higher education for the growth and development of Pakistan and not be influenced by internal and external propaganda.He said the nation has many expectations from the younger generation and said he was confident they were being given ideal training in the cadet college.He added that the China Pakistan Economic Corridor will be a game changer for the whole region and said students should be prepared to benefit from the opportunities that will emerge from it.The president said the nation was indebted to the victims of the attack on
Army Public School Peshawa
r and paid tribute to their bravery and courage and said the nation should resolve to never let a similar situation arise in the future.The president also visited an exhibition at the college and appreciated the models displayed by various hobby clubs of the institute.He also reviewed the annual parade in the college grounds, which was followed by a PT show, gymnastics show and a riding display.The Champions Trophy was given to the Jinnah Wing for best performance in academic and co-curricular activities.The college principal, retired Maj Gen Najeeb Tariq mentioned the various activities that were part of the college training programme and also mentioned the results produced by cadets.
[5]
I have never gone to school say president mamnoo hussain
Pensioners Cell
Presidents Secretariat (Public)
Aiwan-e-Sadr
Name  - Mr. Shahzad ahmad
Designation  -  Director General (Admn & Coord)
Contact Number -  051-9010122
Fax No - 051-9215117
Email Address - dg_admn@president.gov.pk
Dispensing Justice at the door step
The President of Pakistan in addition to his Constitutional roles also exercises an exclusive appellate jurisdiction under various laws, in particular, Law(s) relating to Federal Ombudsmen. Each year hundreds of Appeals/Representations arising out of complaints against mal-administration in various government departments are decided and thus wrong done to a person, citizen or an entity is remedied by an effective implementation mechanism.
Nature of cases range from a complaint by a consumer against utility companies to tax payer aggrieved of action of tax authority, or, an appeal/Representation by a requester deprived of information sought under Freedom of Information Ordinance, 2002.
A detailed examination of complaint/case, appraisal of evidence and hearing the parties in person, through their Representatives or Advocates is done before the concerned Ombudsman/Ombudsperson, whereafter Decision in the form of Findings and Recommendations for implementation is announced. If a party is aggrieved of such a Decision, a Representation can be filed before the President of Pakistan. At the Law Department, President's Secretariat (Public), the Representations are processed in terms of the relevant Statute Federal Ombudsmen Institutional Reforms Act, 2013 (Act No. XIV of 2013) and the Order is finally communicated to all the parties concerned. Unless there is an exceptional circumstance, in terms of Section 15 of the above cited Law, Orders on the Representations are passed after the examination of case record and consideration of the written submissions of the parties concerned by way of Representations and Replies/comments. [7] Dispensing justice justice at the door step