Makhdoom Muhammad Javed Hashmi is a well known political figure of pakistani politics. He is an agriculturist and an experienced politician. In his political career, he has been affiliated with different political parties. He had also faces imprisonments which depicts that he is a blunt and courageous politician.
| Title | Description |
| --- | --- |
| Personal | |
| Name: | Makhdoom Muhammad Javed Hashmi |
| Alternate name: | Javed Hashmi |
| In Urdu: | مخدوم محمد جاوید ہاشمی |
| Famous As: | Politician |
| Nationality: | Pakistani |
| Residence: | Multan |
| Education: | LLB, MSC, M.phil |
| Alma Mater: | Punjab University |
| Religion: | Islam |
| Profession: | Agriculturist and politician |
| Height: | 5'8 |
| Weight: | 75 kg |
| Born | |
| Date: | 17 July 1951 |
| Zodiac: | Gemini |
| Place: | Multan |
| Family | |
| Ethnicity: | Makhdoom |
| Children: | Mamoona Hashmi |
| Career | |
| Political Party: | PML(N), PTI |
| Serve As: | Federal Minister of Youth Affairs, Minister of Health |
| Old Political Affiliations: | Part of General Zia's government |
| Member of the National Assembly | |
| Constituency: | NA-149 (Multan-II) |
| Role: | President of Pakistan Tehreek-e-Insaf (PTI) |
| Date: | 19 March 2012 – 23 September 2014 |
| Preceded by: | Position established |
| Succeeded by : | Position Abolished |
| In Office | |
| Role: | Federal Minister of Health |
| Dates: | 17 February 1997 – 12 October 1999 |
| President: | Rafiq Tarar Farooq Leghari |
| Prime Minister: | Nawaz Sharif |
| Political Party: | PML(N) |
| In Office 2 | |
| Role: | Federal Minister of Youth Affairs |
| Dates: | 26 May 1993 – 18 July 1993 |
| President: | GHulam Ishaq Khan |
| Prime Minister: | Nawaz Sharif |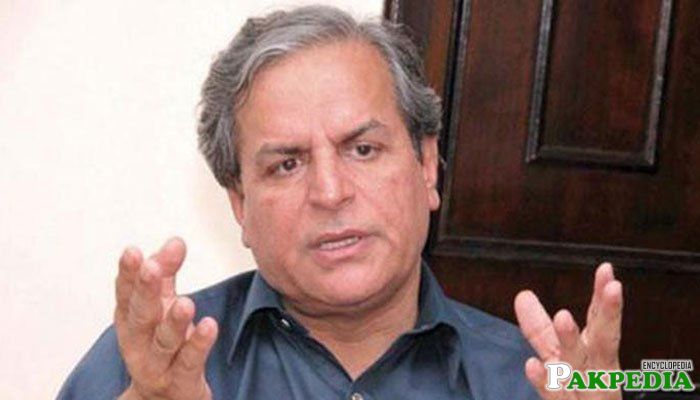 Biography
Makhdoom Muhammad Javed Hashmi (born January 1, 1948 in Makhdoom Rashid, Multan) is a Pakistani political geostrategist, statesman, and the central public figure of the Pakistan Tehreek-e-Insaf, which he joined on 24 December 2011 and left the presidency in 2014 for some reasons. Previously, he served as Senior Vice-President of the Pakistan Muslim League (Nawaz Wing) led by former Prime minister and party's President Nawaz Sharif.
Education

An agriculturist by profession, Hashmi attended Punjab University where he was part of the student wing of Jamaat-e-Islami . He took his BSc in Political Science in 1969, followed by MSc in 1971, and Master of Philosophy in 1973, in the same academic discipline from the same institution. [1] education  
Political Career
He turned to politics in 1985 and joined hands with Nawaz Sharif,who later became Prime minister. He was the senior most leader of N league.
From 1985 till 1988, he was elected to the National Assembly for the terms of 1985 till 1988.
From 1990 till 1993, Hashmi was the Minister of State for Youth Affairs, and
Elected as Parliamentarian for the terms of 1993–1997. 
From 1997–1999, he served as Federal Minister for Health in Nawaz Sharif's cabinet during his second term.
Hashmi was Jailed more than once
After the Nawaz's government was overthrown in 1999 in a coup d'état staged and led by then Chairman of the Joint Chiefs of Staff Committee and Chief of Army Staff of Pakistan Army General Pervez Musharraf, Hashmi was thrown in Central Jail Rawalpindi, along with Nawaz Sharif and other members of his party on false accusations made by General Pervez Musharraf.
On October 29, 2003, he was arrested from Parliamentary Lodges on charges of inciting mutiny. Earlier, in a press conference on October 20, 2003, he had read a letter that he received in mail, signed anonymously by some military officers at GHQ calling for an investigation into the corruption in the armed forces and criticizing General Pervez Musharraf and his relationship with George W. Bush. His trial was held in the Central Jail, Adiala instead of a 'District and Sessions court', which raised doubts among human rights groups about its fairness. On April 12, 2004 he was sentenced to 23 years in prison for inciting mutiny in the army, forgery, and defamation.
The verdict has widely been considered as a willful miscarriage of justice by the government. All opposition parties in Pakistan, including Pakistan Peoples' Party of the former Prime Minister Benazir Bhutto, 6 party-alliance Muttahida Majlis-e-Amal, regarded it to be politically motivated by the ruling military with malicious intent, declaring him to be a political prisoner.
On August 3, 2007, a three-member bench of the Supreme Court of Pakistan under Chief Justice of Pakistan Iftikhar Muhammad Chaudhry granted him bail after serving approximately three and a half years in prison. Javed was released from the Central Jail Kotlakhpat in Lahore on August 4, 2007. [2] jailing
He was again placed under arrest at the declaration of a state of emergency on November 3, 2007. 
Han Men Baghi Hn

Makhdoom Javed Hashmi is the author of the books  "TAKHTAEY E DAAR K SAAEY TALAY" and "Haan Main Baghi Hoon" (Yes i am a rebel) The author described his political career and family background in the book. He told about his achievements and the struggle for the democracy. He discussed the legislative history of Pakistan in the book. The book was written when Hashmi was sentenced to Jail in 2003. 
Elections 2008
In the 2008 general and parliamentary elections, Javed Hashmi won a record three seats out of the four contested; he only lost out to Shah Mehmood Qureshi in his home city of Multan. Hashmi won National Assembly seats from Multan, Lahore and Rawalpindi beating PML-Q leader Shaikh Rasheed Ahmad in the latter one.
Javed Hashmi got Brain hamorrhage

On 20 July 2010 Javed Hashmi suffered from Brain hemorrhage and was admitted to hospital. After recovering, he was shifted to Islamabad and went to Parliament, where he served as a Chairman of the Standing Parliamentary Committee on Foreign Affairs and the member of the Standing Parliamentary Committee on Labour, Manpower and Overseas Pakistanis. [3] hamorrhage  
2008 elections
It is believed that Hashmi was personally asked by party chairman Nawaz Sharif to contest from Rawalpindi for the National Assembly seat, where Sheikh Rasheed Ahmed of the PML was undefeated since 1988. Makhdoom Javed Hashmi as a result won three National Assembly seats, one from Rawalpindi, one from Punjab Capital Lahore and one from his hometown Multan which where all Muslims League's strongholds. Hashmi beat PML-Q's political stalwart Sheikh Rasheed Ahmed in Rawalpindi, the same Sheikh who would later on be defeated by two PML-N candidates, Hanif Abbasi and Malik Shakeel Awan. Hashmi's that time group the PML-N dominated the national and provincial assembly in Punjab. They finished second behind the PPP and made a coalition with its one time fierce rivals.
After 2008 elections
Despite winning 3 seats, Hashmi refused to take oath from President Musharraf and thus did not get a place in the federal cabinet. Hashmi was one of the few people who decided not to take oath as it was against his principle. Hashmi is the senior vice president of the party and is always seen in important meeting between the PML(N) and PPP. Hashmi is considered a political heavyweight and is well respected throughout Pakistan. He is seen many times representing the views of his party the PML-N on various talk shows. It was widely reported that in the by-elections, Hashmi supported an independent candidate who was running against Makhdoom Mureed Hussain Qureshi, brother of Hashmi's old rival Makhdoom Shah Mehmood Qureshi. Unfortunately, Mureed Hussain lost the eelctions.Hashmi is a strong supporter of the judges who have been sacked and it is said that Hashmi is one of the few people in the PML-N who are trying to convince the senior leadership of the PML-N to stop supporting the PPP as they believe the PPP is not serious and sincere when they say that they will restore the judges. [4] election 2008
Resignation from the parliament 2011
On 7 May 2011 Hashmi submitted his resignation from Parliament, claiming that is a dummy and not passing real legislation, his resignation has yet to be accepted by Chaudhary Nisar Ali Khan the leader of Pakistan Parliamentary affairs.
Hashmi says bye to PML N

Despite having been a loyal PML-N member for over two decades, it began to become apparent in recent years that Hashmi was slowly being sidelined within the party – he was greeted by a relatively small group of party workers on his release from Kot Lakhpat Jail in 2007.
Distance between him and the Sharif brothers continued to widen and he was continually kept away from party meetings. This coincided with his open disagreements with the party's positions on a number of occasions. Eventually, when Hashmi publicly called for Nawaz to apologise to the nation for going into exile in exchange for a pardoned conviction, it seemed only a matter of time until the senior leader called it quits. [5] bye pml n  
Javed Hashmi joinsPTI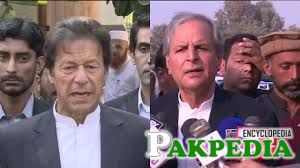 Javed Hashmi joined Pakistan Tehreek-e-Insaf on December 24, 2011 saying that he has made no deal with Imran Khan and has become a member because Imran Khan has an agenda of a change, but analysts say that various reasons caused this act, like Nawaz Sharif refused to make Hashmi the leader of opposition, refused to let Hashmi run for President as Nawaz did not want the PML(Q)'s vote for Hashmi and the PML(N) did not give Hashmi's son-in-law, Zahid Hashmi a ticket for the elections. While addressing a mega political rally at the tomb of Quaid-e-Azam in Karachi on December 25, 2011 He said, "The youth of today have to move forward,Karachi is mini Pakistan. It represents all shades of the people of Pakistan." Quoting Quaid-e-Azam he said, "Minorities are our blood." Hashmi straight forwardly addressed to PTI Chairman Imran Khan, "Yes, I'm a rebel (Baghi); you invited a rebel to join PTI, Now if you have not delivered as per your manifesto I will be first person to rebel against your Party" He has a very famous chant to his name in the Pakistan Tehreek-e-Insaf, "baghi hun main", I'm a rebel Hashmi and his daughter Memoona Hashmi resigned from National assembly of Pakistan on December 29, 2011. [6] joining to Pti  
Diffrences with PTI leadership

On 14 August 2014, the chairman of Pakistan Tehreek-e-Insaf, Imran Khan, lead a protest to Islamabad from Lahore against the alleged rigging in the last general elections. Hashmi voiced serious concern over any extra-constitutional measures that might ensue. Days before the protest, he left a party meeting and went to his residence in Multan, apparently disgruntled. However, he made an appearance in the protest caravan and addressed the audience in Islamabad as well.
On 31 August 2014, when Khan ordered his followers to move in front of the prime minister's residence from the Constitution Avenue, Hashmi appeared visibly irritated and left the side of Imran Khan. 
Hashmi quit PTI
On 29 August 2014, it was reported that Hashmi was "unhappy" with the party leadership, and the party was criticised due to its failure of control on its president.On Imran Khan's decision of moving toward Prime Minister house, he left PTI sit-in and the next day arranged a press conference.
Hashmi is expected to rejoin PMLN

A meeting is expected to take place between former prime minister Nawaz Sharif and senior politician Javed Hashmi in the capital on December 4, 
Hashmi, who was formerly associated with Pakistan Tehreek-e-Insaf,  revealed that since days he has been in contact with 'friends from the Pakistan Muslim League-Nawaz'. Sources close to Hashmi said that the meeting between the two leaders has been scheduled for Monday.It was also claimed that Hashmi will make a formal announcement to join the PML-N. According to sources, Hashmi is hopeful to contest from NA-149 (Multan). [7] rejoins