He was born on 4 April 1938 in Dingha, Gujrat District.  He was commissioned in the Frontier Force Regiment on 13 October 1963. Major Muhammad Akram and a company of 4 Frontier Force Regiment, which he commanded in the forward area in Hilli district, in East Pakistan in 1971, came under incessant air, artillery and armour attacks. But for an entire fortnight, despite enemy superiority in both numbers and fire power, he and his men repulsed every attack, inflicting heavy casualties on the enemy. Major Muhammad Akram embraced martyrdom during this epic battle on 5 December 1971[1]  Was born –  4 April 1938
| Title | Description |
| --- | --- |
| Personal | |
| Name: | Muhammad Akram |
| In Urdu: | محمد اکرم |
| Nationality: | Pakistan |
| Religion: | Islam |
| Profession: | Soldier |
| Awards : | Nishan-e-Haider |
| Born | |
| Date: | 4 April 1938 |
| Place: | Dinga, Gujrat District, British India belongs to village Nakka Kalan District Jhelum |
| Died | |
| Date: | 5 December 1971 |
| Rest Place: | Hili, Dinajpur, East Pakistan (present-day Bangladesh) |
| Buried at: | Bogra, East Pakistan (present-day Bangladesh) |
| Details | |
| Allegiance: | Pakistan |
| Service/branch: | Pakistan Army |
| Years of service: | 1956–1971 |
| Rank: | Major |
| Unit: | 4 Frontier Force Regiment |
| Battles/wars: | Indo-Pakistani War of 1965 Bangladesh Liberation War. Indo-Pakistani War of 1971 |
| Awards: | Nishan-e-Haider |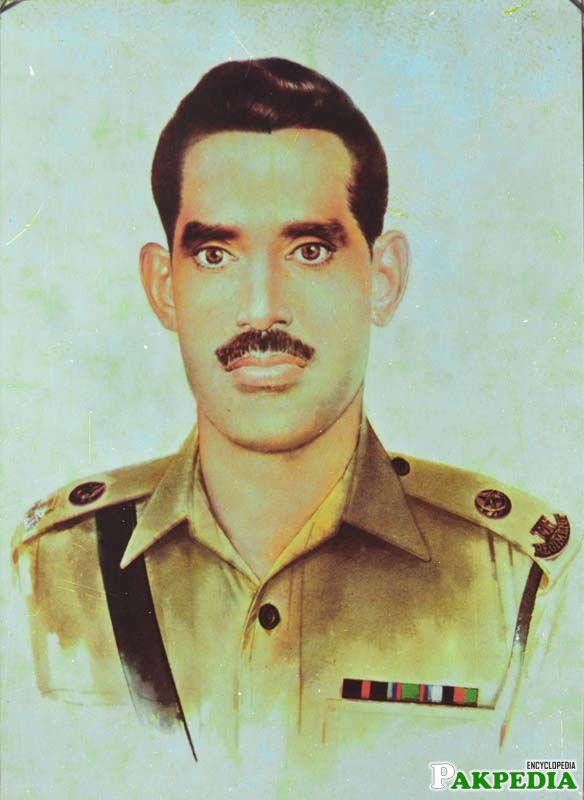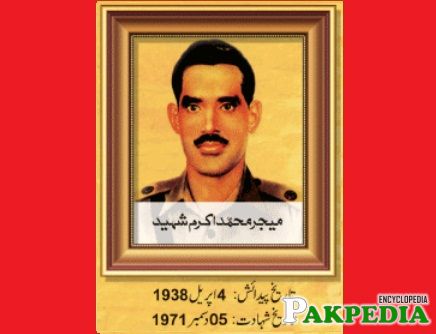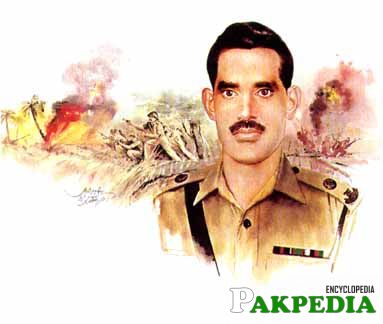 About
History
In 1959 he joined PMA kakul and graduated in 1963. He was part of 4th Frontier Force Regiment in 1963 and got commissioned. When he was Captain he participated in indo-pak war in 1965 and also he serve in many operations against Indian army. When he was in Lahore and commands a small company and handles many critical operations against armed forces of Indian.[2] Joined PMA – Muhammad Akram 
Nishan-e-Haider
Major Muhammd Akram Shaheed was Born 4 april 1938 in Dinga Gujrat Districtand.[3] Hawaldar –  Pakistan His Father name was Malik Shakhi Muhammad and he was naik(hawaldar) of pakistan Army and his Mother name was aysha BiBi. he also member of village Nakka kalan in jhelum District he was Awan Family. after Matric he joined and toke Pakistan Military Academy in 1959 in and took his Graduation Digree from Military Academy in 1963. He joined the commission in 1963 as a part of 4th frontier force Regiment in jhelum and there he spent 3 year .He was posted first time Estern Pakistan(Bangladesh) as a naike.  In 1969 He Major Muhammd Akram Shaheed was promoted to the Rank of Major in Pakistan Army.Akram Shaheed fought in the war against India in the battle of hills with his leadership. His Regiment was facing both aerial Bomberdment and heavy fire from anemy during 5 days. Major Muhammad Akram Shaheed was martyrdom in Eastern Pakistan(Bangladesh) on 5 Decenber 1971. He was Our Great Hero of Paksitan Army we Proud of Muhammad Akram Shaheed He Awarded the Great Award of Nishan e Heider. [4] Nishan e Heider.  –  Award
Martyrdom On 1971
He was promoted from captain to Major rank in 1969 of the Pakistan Army. Major Akram fought in the battle of Hilli against India. He and his soldiers repulsed many attacks from Indian army. Indian army attacks with heavy air, armor attacks and artillery. Major Akram bravery, leadership and competent planning kept enemies at howl for five days and nights. At the end he received martyrdom on 1971.
He received the highest military award "Nishan.e.haider" with full honour and on his competent bravery. He was buried in the village of Boaldar, District Dinajpur. He is called the "Hero of Hilli". There is monument, his memorial in Jhelum city. The time period of his service was from 1956 to 1971.
May Allah increase his rank in Jannah.[5] Highest military –  Award
Hilli district
Major Muhammad Akram and a company of the 4th FF Regiment which he commanded in the forward area of the Hilli district, in East Pakistan in 1971, came under continuous and heavy air, artillery and armor attacks. But for an entire fortnight, despite enemy superiority in both numbers and fire power, he and his men, in near super human ability, repulsed every attack, inflicting heavy causalities on the enemy.[6] Every attack –  Pakistan
Major Muhammad Akram got Shahadat during this epic battle in 1971.