Majid Khan in Cricket Academy
Majid Khan on Pitch
Majid Khan in Somewhere
Majid Khan Batting With Smile
Majid Khan and Imran Khan
Career
Early Career
All grace and fluency, Majid Khan played in the spirit of an English amateur of a bygone era. He had a distant air which sometimes gave the impression that he wasn't really trying. Majid was a Cambridge Blue and he followed his father
Jahangir Khan
into Test cricket, though he never matched his father's feat of hitting a sparrow in flight at Lord's.He started his career as a pace bowler, but a back injury and doubts over the legitimacy of his bouncer turned him into an occasional offspinner. His batting prowess quickly moved him up the order, and he eventually formed one half of a highly successful opening partnership with Sadiq Mohammad. Majestic driving and hooking were his hallmarks, and he could score effortlessly at speed.
Test career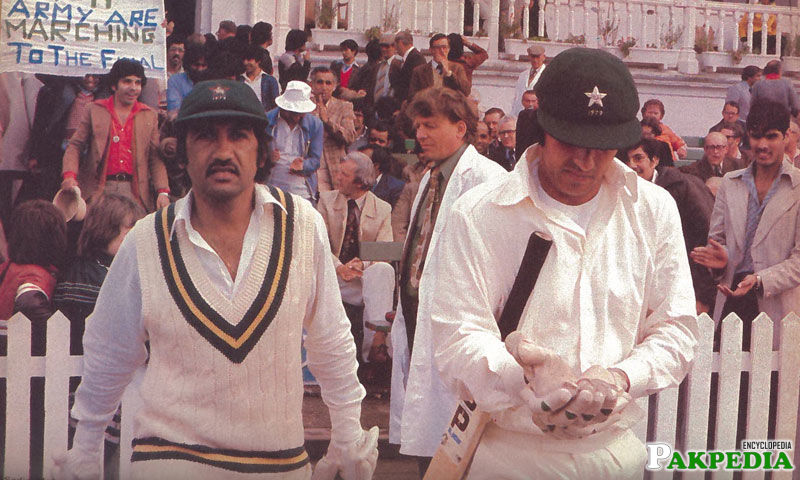 Majid's Test career started in 1964 against Australia at
National Stadium
, Karachi. Khan is one of only four batsmen (the other three are Trumper, Macartney and Bradman) to have scored a century before lunch in a test match, scoring 108 not-out off 112 balls against New Zealand in Karachi during the 1976-77 test series.
[2]
Records-Test matches- Cricinfo
Khan made his ODI debut against New Zealand in 1973 at Lancaster Park, New Zealand. He also holds the unique honour of scoring the first one-day century for Pakistan, in an ODI against England at Trent Bridge on 31 August 1974.Khan scored 109 from 93 balls with 16 fours and a six.
[3]
England v Pakistan- CricketArchive
Majid had played for Lahore since 1961/62 and had made his Test debut against Australia in 1964/65 and toured England and Wales with the 1967 Pakistanis. During a match with Glamorgan, Majid blasted a rapid 147 in 89 minutes, hitting Roger Davis for five sixes in one over. Wilf Wooller, the club secretary, had been a close friend of Majid's father when Dr Jahangir Khan had been up at Cambridge, and the influential Glamorgan secretary persuaded Glamorgan county to sign him as the overseas player from 1968. In 1972 he won the Walter Lawrence Trophy for the season fastest century which he scored in 70 minutes for Glamorgan against Warwickshire. He captained the Welsh county between 1973 and 1976, scored over 9000 runs punctuated with 21 first-class centuries for them. Imran Khan, the legendary Pakistani ex-captain and fast bowler, and Javed Burki are his cousins. Bazid Khan, Majid's son, has also played for Pakistan, making the family the second, after the Headleys, to have three consecutive generations of Test cricketers.
[4]
Bazid keeps- BBC
One Day International
Initially, Majid Khan continued to boost Pakistan's middle order, until he was promoted to fill the opener's slot with Sadiq Mohammad in 1974.He was the first century scorer for Pakistan in One Day International Cricket, scoring 108 runs against England at Trent Bridge, Nottingham in the same season. Majid Khan was also a specialist slip fielder and made most catches look easy. Khan was also well known as a "walker", maintaining the standards of the game in an era when professionalism was straining at the game's traditional etiquette.The 1976-77 tour of West Indies was the most remarkable period for Majid Khan, where he scored 530 test runs against one of the most powerful bowling attacks in the history of the game. His best innings was perhaps the 167 in Pakistan's second innings at Georgetown that saved Pakistan from likely defeat. Pakistan lost that series 2-1.
Post Retirement
After retirement from International Cricket, Khan became an administrator with the
Pakistan Cricket Board
, becoming the CEO of the board in mid-1990s.
[5]
Profile: Majid Khan- lords
He now lives in Islamabad.