Liberty Market is one of the most popular markets in Lahore located on besides Main Boulevard Gulberg. The liberty market is an all time favorite place for shopping lovers. If you are going to Lahore you must visit this market. In Liberty Market you can buy everything for men, women and kid. Find expensive watches, toys, music, enjoy food and much more.Address: liberty market – carryon through gulberg road [1] Liberty Market, Lahore   
| Title | Description |
| --- | --- |
| Information | |
| Location: | Lahore |
| Nickname: | LM |
| Residential area: | Many of Pakistan's leading industrial clans, entrepreneurs, and pro-establishment social elite maintain residences in Gulberg, making it the civilian epicenter of Lahore, as Military families of high rank either reside in the city of Rawalpindi, or in the Cantonment (Cantt) district of Lahore. Gulberg's posh reputation is well-deserved. |
| Hours: | Wednesday, 9AM–3AM Thursday, 9AM–3AM Friday, 9AM–3AM Saturday, 9AM–3AM Sunday ,9AM–12AM Monday (Independence Day) 9AM–3AM Hours might differ Tuesday, 9AM–3AM |
| Type: | Shopping Market |
| Local Language Name: | لبرٹی مارکیٹ لاہور |
| Parking plaza: | Chief Minister Punjab Shahbaz Sharif today inaugurated state-of-the-art parking area constructed by a Turkish company at Liberty Market, with a capacity of parking 700 vehicles. Representatives of the Turkish company, Member National Assembly Pervaiz Malik, Member Provincial Assembly Hafiz Mian Nauman, |
| Coordinates : | n/a |
| Address: | 1 – Liberty Market Noor Jehan Rd, Lahore 54000 |
| Website: | www.Liberty Market Lahore.pk |
Liberty Market Lahores Hub

Pakistan is a country of historic and cultural importance. Lahore, the heart of this throbbing culture and history, was referred by Max Robinson as the Pearl of the Punjab in his article Rebranding Lahore. So what is Lahore to the common foreigner? Unfortunately nobody knows because we have an out-dated website of the Pakistan Tourism Development Corporation which does nothing to attract tourists. Lahore is claimed to have existed 4,000 years ago and history has established records of its existence go back at least 2,000 years. This city of vibrant culture, with its outlandish monuments and its commercial centers has changed over the years whilst still keeping the essence of the city itself. This change is reflected in the changes brought about in Liberty Market, the commercial hub of Lahore, set in the center area of Gulberg (originally the Gul-Bagh).
How does a commercial center signify the importance of any city, or its cultural out-look? Relatively! Any shopping center is designed according to the social and cultural needs of its citizens. Lahore is a modern city steeped in a history of thousands of years. It is the crown of Pakistan, originally the crown of Northern India. This is reflected in the architecture of its bazaars, and its modern shopping centers and malls. Liberty Market fits the bill of reflecting Lahore's modern society. It is a half-souq/bazaar half mall in structure, where you have a huge plaza dominating the area, and then you have rabbit paths very much like those in Anarkali, those that twine from within the closed structure and out to the back where a bazaar like scenery hits you with food stalls, the embroiders, the tailors, walk back inside and you're inside a branded shop. Liberty Market is the middle-class chic center, where you can find anything and everything, from clothes and accessories to shoes and restaurants. You can go there in the middle of the night and still find a place to sit and relax with a cup of chai and a shwarma. You can enjoy your shopping, breaking it with cool slushes from anyone of the cafes. You think of any type of food, from the traditional to the westernised or Arabian snacks and you have them, all in one area.
The facelift planned has come in handy. The parking space planned and worked on is made more secure, and with parking meters set rather quaintly, coupled with assistants to put in the quarter for you (only in this case it's not a quarter). You have less bombardment of traffic-well; actually there is still the tiresome bombardment, but more controlled. This has helped induce discipline in our public which was lacking miserably these past years.[2] Liberty Market , Lahore's Hub
one of the best shopping area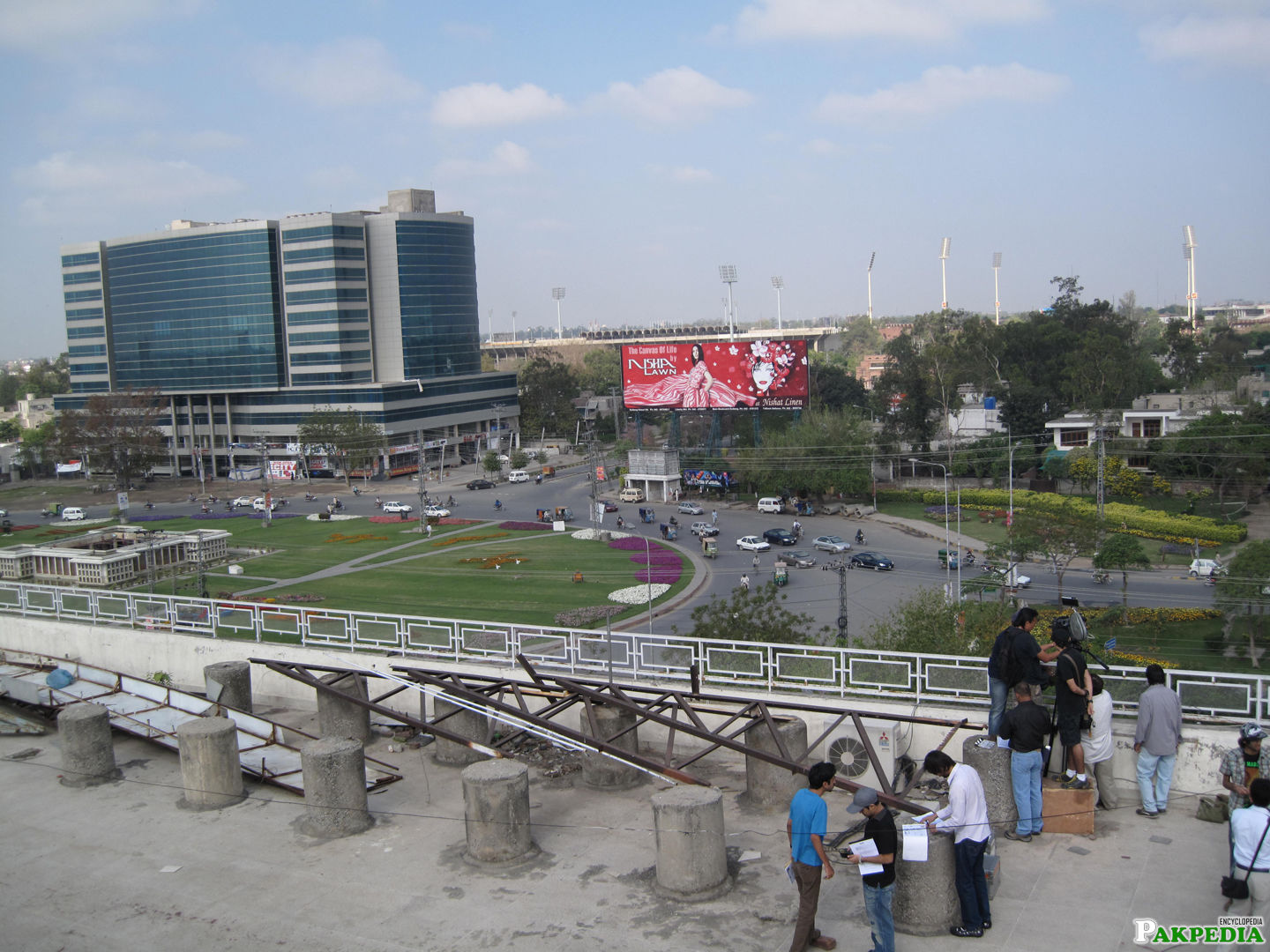 Liberty Market is one of the best shopping areas in Lahore. You'll find best quality of jewelery, fabrics, electronics and much more. One of the leading Jewelery stores, "Mahfooz Jewellers"  has three branches in the main liberty market.
At first Liberty Market appears to consist only of the large stores in a huge loop, however be aware that there is an entire backside to Liberty Market where shopping gets a lot more fun. You can access the backside of the market from any number of points– at first glance the backside can look like the backside of a western market, i .e. service doors, garbage pick-up points, etc. However, there are separate shops back here that sell everything from jewelry to lace to chappals. Silver jewellery is also available, best shop of 925 sterling silver jewellery is "Choice Jewellers" in meena bazar plaza Chocie Jewellers also deals in gold plated bridal jewellery with a excelent range of designs. Facebook page of Choice Jewellers is facebook.com/choicejewellerslahore . Also at Liberty is the supermarket, Alfatah. Alfatah is located across the road from most of Liberty Market, in the second alley. If you ask around, people can direct you to this grocery store. Alfatah stocks every Pakistani and Western brand of grocery items that you could ever dream of– especially for those staying in Lahore for a while, it is a must visit. Finally, don't miss the famous samosawalla who sells aloo samosa chat for seven rupees each (and chickenwallas for a bit more). He is right off the main road and is usually surrounded by people enjoying their samosas in their air-conditioned, private cars. All products available at Liberty Market are now available online at  Liberty Market Lahore to facilitate shoppers across globe! [3] Liberty Market is one of the best shopping area
CM inaugurates parking plaza in Liberty Market
Chief Minister Punjab Shahbaz Sharif today inaugurated state-of-the-art parking area constructed by a Turkish company at Liberty Market, with a capacity of parking 700 vehicles. Representatives of the Turkish company, Member National Assembly Pervaiz Malik, Member Provincial Assembly Hafiz Mian Nauman, District Coordination Officer Lahore and a large number of people were present on the occasion.
Talking to media representatives, Muhammad Shahbaz Sharif said that Turkish company has constructed this state-of-the-art parking area in which latest machinery and cameras have been installed. He said, after the success of this model, it would be replicated all over Lahore and other cities of the province. He said, this project will result in safe and transparent parking facility for the traders of Liberty Market and buyers. Muhammad Shahbaz Sharif said that there is an excellent system of security here, due to which the citizens would get rid of the exploitative system of parking. He thanked the Turkish company for completing this splendid parking project through its own investment and said that such projects would also be operationalized in other areas of Lahore and cities of the province on BOT basis. He suggested that under this project playground for children should also be constructed along with toilets for which the district government must extend its all out assistance to the Turkish company. He said that parking committees have been formulated to streamline parking system and, under the chairmanship Member Provincial Assembly Hafiz Mian Nauman, these committees would take necessary steps for this purpose. Answering a question regarding investigation by FIA, Muhammad Shahbaz Sharif said that, under the leadership of Rehman Malik, FIA is the most unsuccessful institution of Zardari. [4] CM inaugurates parking plaza in Liberty Market
Residential area
Many of Pakistan's leading industrial clans, entrepreneurs, and pro-establishment social elite maintain residences in Gulberg, making it the civilian epicenter of Lahore, as Military families of high rank either reside in the city of Rawalpindi, or in the Cantonment (Cantt) district of Lahore.
Gulberg's posh reputation is well-deserved. Leading athletic competitions, health and fitness gyms, as well as bi-gender swimming pools are easily accessible to the wealthy inhabitants of the district. The area is known for its cultural centrality for the modern pro-establishment elites of Pakistan, as well as the presence of nearly all of Lahore and Punjab's prestigious non-military families. Hafez Center is the one of the famous Mobile and computer market of the province Punjab. Asia under one roof. There are more than 1500 shops of mobile phones. [5] Gulberg and Liberty Market Lahore 
By Sonya Rehman
Rolls of fabric in every hue, shawls and scarves sporting intricate designs, slippers, pumps and heels, chunky gold and silver jewelry, lace, buttons and borders – Liberty Market in Lahore, Pakistan is where DIY fashion meets great bargains.
Located in Gulberg  the heart of the city's commercial/shopping area, the market comprises of scores of boutiques, shops and tailoring outlets nestled closely together.
And every winter, the pace of the market seems to multiply many-fold.
This is because wedding season within the city is in full swing  yards of fabric for elaborate wedding apparel are bought and cut, the buzz of countless sewing machines hard at work drowns out excited chatter, and shoes and jewelry are vociferously haggled over the hustle-bustle and racket of the busy, pulsating market.
Here is a pick of some of the stalls and shops worth visiting should you make it to the market. [6] Sonya Rehman is a writer/journalist