He was born on 25 October 1944 in Pind Malikan (now Mahfuzabad), Rawalpindi district. He was enlisted in the Army on 25 October 1962. Serving in 'A' Company of 15 Punjab Regiment when war broke out in 1971, Lance Naik Muhammad Mahfuz was deployed on the Wagha-Attari Sector where his company was pinned down by unceasing frontal and crossfire from automatic weapons. Although his machine gun was destroyed by an enemy shell, Muhammad Mahfuz advanced towards an enemy bunker whose automatic fire had inflicted heavy casualties. Even though wounded in both legs by shell splinters, when he reached the bunker he stood up and pounced on the enemy, in the encounter he was hit with a bayonet. Although unarmed, he got hold of the enemy and did another bayonet strangling with him. Due to serious injuries he embraced martyrdom on the night of 17 December 1971.[1] born on 25 October –  Muhammad Mahfuz 
| Title | Description |
| --- | --- |
| Personal | |
| Name: | Muhammad Mahfuz |
| Name: | Lance Naik Muhammad Mahfuz |
| In Urdu: | لانس نائیک محمد محفوظ |
| Nationality: | Pakistan |
| Mini Career: | Muhammad Mahfuz was born in Pind Malikan (now renamed Mahfuzabad in his honour) in a Jatt family in Rawalpindi district . He joined the Pakistan Army on 25 October 1962 as an infantry soldier |
| Religion: | Islam |
| Profession: | Soldier |
| Awards : | Nishan-e-Haider |
| Born | |
| Date: | 25 October 1944 |
| Place: | Pind Malkan, Rawalpindi District, British India |
| Died | |
| Date: | 17 December 1971 |
| Rest Place: | Pul Kanjri, Amritsar district, India |
| Details | |
| Allegiance: | Pakistan |
| Service/branch: | Pakistan Army |
| Years of service: | 1962–1971 |
| Rank: | Lance Naik |
| Unit: | 15 Punjab Regiment |
| Battles/wars: | Indo-Pakistani War of 1965 . Indo-Pakistani War of 1971 |
| Awards: | Nishan-e-Haider |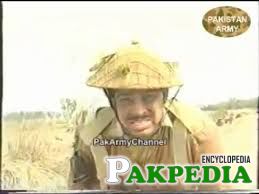 About
History
Muhammad Mahfuz was born in Pind Malikan (now renamed Mahfuzabad in his honour) in a Jatt family in Rawalpindi district . He joined the Pakistan Army on 25 October 1962 as an infantry soldier[2] He joined –  Pakistan Army
Nishan-E-Haider
A memorial reflecting the battle actions leading to the award of Nishan e Haider. The inscription reads:[3]  Battle actions –  Pakistan
During the Pakistan India war of 1971, 33 Muhammadi (15 Punjab Regiment) was part of 10 Division and was deployed at Wagah Atari sector, Lahore. Lance Naik Muhammad Mahfooz was the Firer on Light Machine Gun in No. 3 Platoon of Alpha Company of 15 Punjab Regiment. On night 17-18 December 1971, Alpha Company was ordered to attack and capture "Pul Kanjri" village in enemy area. The enemy troops had prepared fortified defenses and were in advantageous position. The attack was delayed and was eventually launched near first light (early morning) on 18 December. Enemy was engaging our troops effectively due to the advantage of light. Such demanding situation required more than courage and steadfastness to execute the attack. Lance Naik Mahfooz was engaging the enemy through effective fire of Light Machine Gun. A shell that burst near him not only injured him, but also neutralized his Light Machine Gun. Another Light Machine Gun firer of the same platoon was lying dead about 3 yards away from Lance Naik Mahfooz. The injured Mahfooz crawled to the weapon and started effective fire onto enemy position. He spotted an automatic weapon effectively firing from enemy trenches onto own troops. Displaying extraordinary valor, Lance Naik Mahfooz dashed towards the enemy trench 10 yards away without any covering fire. With a battle cry of "Naara e Takbeer Allah O Akbar", Mahfooz jumped inside the enemy trench and strangulated the enemy firer using enormous force of his hands. The other two enemy soldiers inside the trench attacked Mahfooz with rifle bayonets critically wounding him. Mahfooz did not let his grip loose and killed the automatics firer and embraced martyrdom. The grip of Mahfooz's hand was so fierce that even after his death the enemy soldiers could not free the neck of their doomed accomplice. The sight of Mahfooz himself dead yet clinching the dead body of enemy soldier was a treat of courage and steadfastness in itself.
Lieutenant Colonel Puri was commanding 3 Sikh Light Infantry Battalion (opposing force) and witnessed the gallantry action of Lance Naik Muhammad Mahfooz from the forward enemy trenches. After cease fire, enemy soldiers themselves carried the body of Mahfooz and handed it over to Alpha Company, 15 Punjab Regiment. Lieutenant Colonel Puri accompanied the body and remarked, "DURING MY ENTIRE SERVICE, I HAVE NOT SEEN SUCH A COURAGEOUS BEING. HAD HE BEEN IN MY FORCE, I WOULD HAVE RECOMMENDED HIM FOR THE HIGHEST GALLANTRY AWARD IN INDIAN ARMY."[4] Hghest Gallantry –  Muhammad Mahfuz
On 23 March 1972, Lance Naik Mahfooz was posthumously awarded the highest Gallantry Award of Pakistan "NISHAN E HAIDER".
Incident leading to Death Shahadat
At the time of India-Pakistan War of 1971, Lance Naik Muhammad Mahfuz was serving in Company "A" of 15 Punjab Regiment deployed on the Wagah-Attari Sector. On the night of December 17-18, his company was assigned the task of occupying Phul Kanjri village located in the same sector. Lance Naik Muhammad Mahfuz was assigned to Platoon No. 3, which was designated as the forward unit in the assault. [5]  India-Pakistan –  War of 1971 Thus this Platoon had to face torrential volleys of enemy fire from concrete Pill boxes. When the entire Company "A" was about 70 yards from the Indian position, it was pinned down by an unceasing frontal and cross fire from automatic weapons. On top of that the enemy artillery also opened up its fire with the break of dawn. Mahfuz, whose machine-gun was destroyed by an enemy shell, ran blindly, yet courageously towards the Indian line. Through luck, he got through the Indian ranks and was able to take out the machine gun and help out his platoon. At the same time the Indian soldier was able to fire shots into Mahfuz but Mahfuz who was still alive, with his last effort managed to kill the Indian soldier. However another Indian soldier coming to the aid of his fellow soldier killed Mahfuz who was soon taken by the assaulting platoon of Pak Army. [6] Military award  –  Pakistan
Lance Naik Muhammad Mahfuz Shaheed
Lance Naik Muhammad Mahfuz Shaheed was posted in Company "A" of 15th Punjab Regiment deployed in Wagah-Attari sector to defend motherland. The stakes were high and there was no option except to do and die for these Pakistani men of courage. They were ordered to advance and capture a village Pul Kanjri a village 35 km distant from both Lahore and Amritsar remote to wagah border.[7] Amritsar remote –  wagah border Lance Naik Muhammad Mahfuz Shaheed was member of Platoon 3 (of 15th Punjab Regiment) which was leading the mission. The Indians troops sheltered themselves inside concrete bunkers. They were firing consistently but even with all the enemy aggression Lance Naik Muhammad Mahfuz Shaheed and his men kept advancing forward to capture village stealthily. When the bold and brave team of Lance Naik Muhammad Mahfuz Shaheed reached just touching distance away from Indian bunkers they were faced with burst of Automatic Indian Weapons. The Indian Heavy Guns also started firing on Lance Naik Muhammad Mahfuz Shaheed and his company. Even with all odds the brave and courageous Lance Naik Muhammad Mahfuz Shaheed filled with spirit of Jazba e Jihad advanced towards enemy bunker whose consistent firing had inflicted casualties on Pakistani side. Even Lance Naik Muhammad Mahfuz Shaheed was wounded due to splinters of enemy shell exploded near him he entered inside enemy bunker and pounced upon Indian Solider who was firing installed automatic weapon. He managed to neutralize enemy bunker but in the skirmish hit by enemy soldiers bayonet and succumbed.  But he did what he was meant to do. His regiment succeeded that battle due to him. For his bravery Lance Naik Muhammad Mahfuz Shaheed was honored with Nishan e Haider the prestigious Pakistani Military Award and the desire of many living soldiers.[8] Honored  –  Nishan e Haider