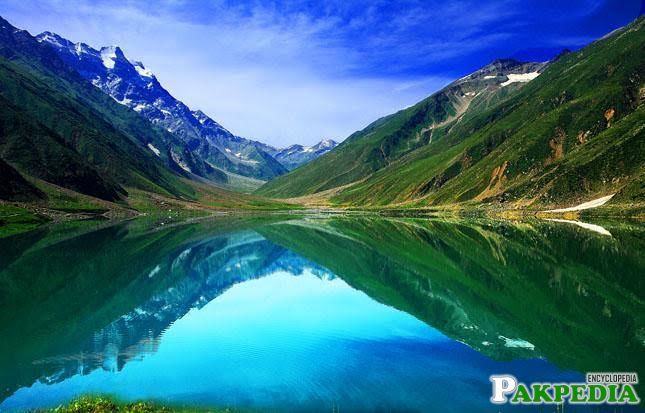 Lake Saiful Malook Magestic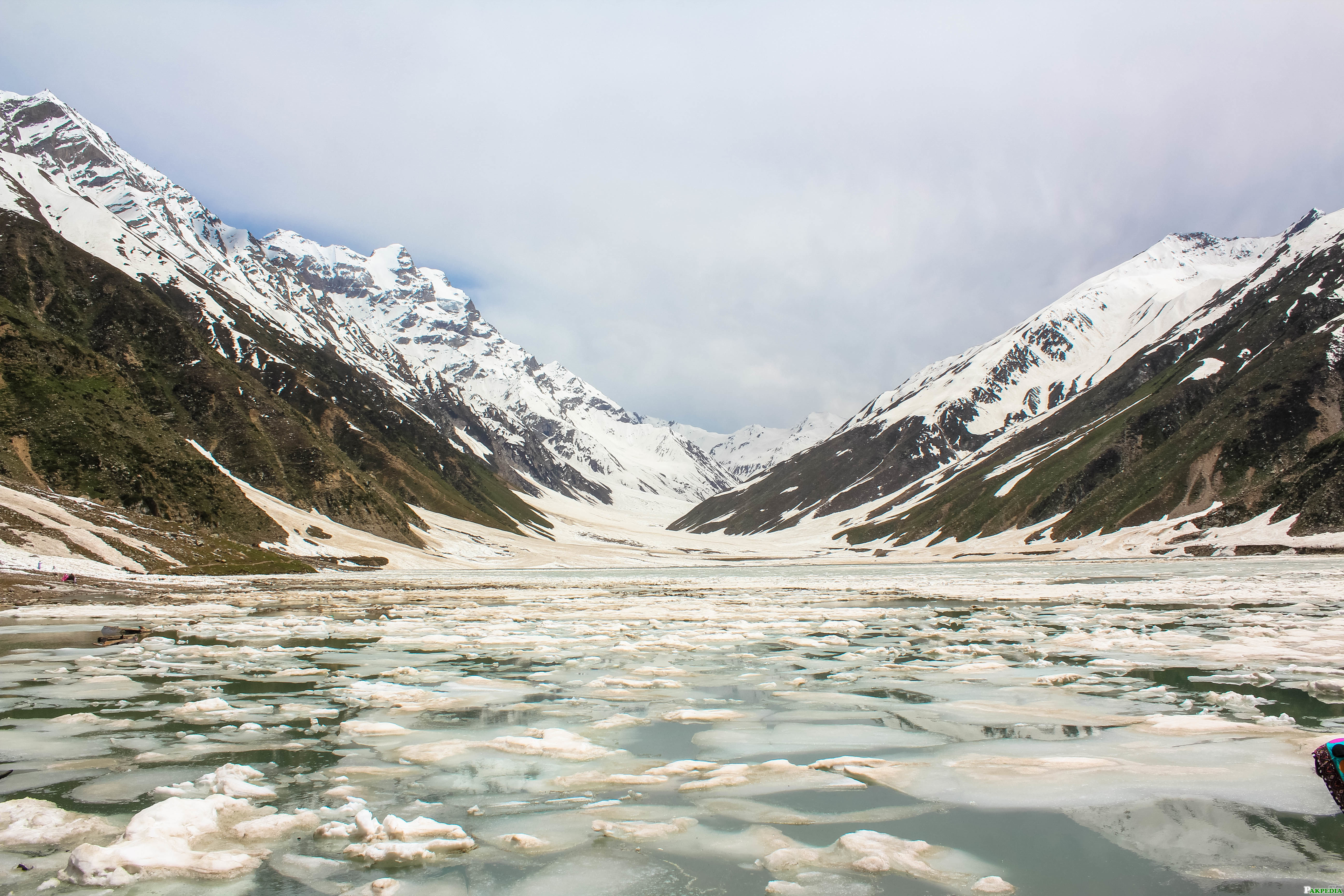 Lake Saiful Malook in Winter
Lake Saiful Malook Tourist Point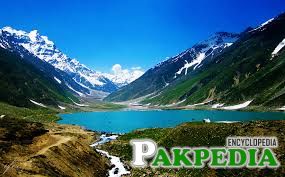 Lake Saiful Malook Beautiful View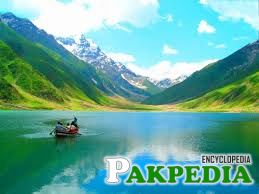 Lake Saiful Malook in Summer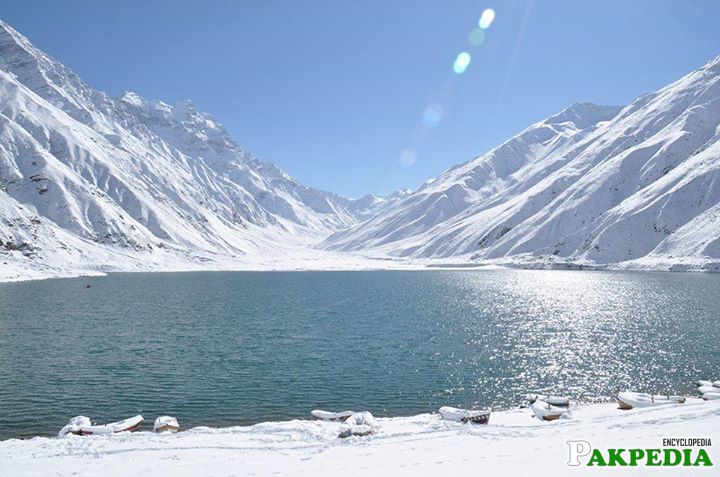 Lake Saiful Malook
About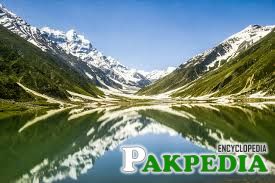 Altitude
Lake Saif ul Malook is one of the highest alpine lakes of Pakistan. It is located at an altitude of 3,224 meters (10, 578 feet) above sea level.
Depth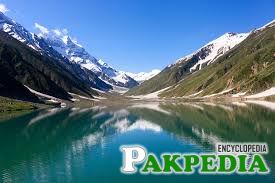 There are lots of controversies about the depth of Lake Saif ul Malook. In fact, there is no authentic source to tell the exact depth of lake. The local people of the valley say Lake Saif ul Malook is 1 kilometer deep, some of them says it is 1.7 kilometers. However, a team which recently conducted a survey on all alpine lakes of Northern Areas of Pakistan told that the depth of Lake Saif ul Malook is 50 feet. If we take a look at figures given above, the one (50 feet) provided by the team which conducted survey seems to be more realistic, as if we consider the geography of the area surrounding the lake, it would be marvel of nature for a lake to be 1-1.7 kilometers deep at an altitude of 3 kilometers above sea level.
[2]
controversies about the  -   depth of Lake
Story of Lake Saif ul Malook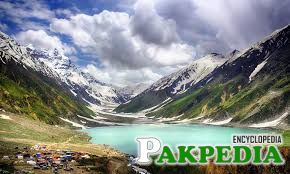 The story is about a Persian prince named Saif ul Malook who fell in love with a fairy named Badi ul Jamal (transformation in English: Glory of the moon), whom he saw in his dreams. The prince thus started his journey to find his beloved fairy Badi ul Jamal. He was clueless in his restless journey until he met a Devish (holy man), who told him how he can find her. Devish also told him that he had to go through many exams before he could find and marry Badi ul Jamal, because she was a fairy and prince was human. The prince then starts his journey for the impossible in the name of his love. The rest of the story chronicles the challenges he faced during his journey and the spiritual lessons he learned on the way. 
[3]
The story is about a   ---   Persian prince
Leisure Activities for Tourists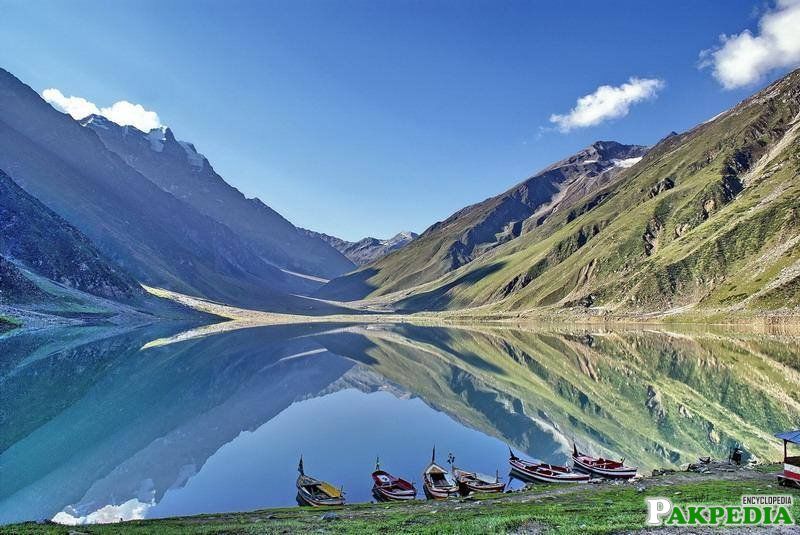 The lake is kind of a bowl where multiple glacial waters accumulate. However, it consists of large eco-diversity which includes a rare brown trout fish, bulk amount of blue-green algae, and a variety of water-plants and phytoplankton. Trout fishing is quite popular in Kaghan and in Naran as well. The magical lake is completely frozen during winters due to heavy snowfall. The ideal time for tourists starts from June to September. The weather of this divine place is extremely pleasant during day time (about 15-20 degree centigrade), whereas at night the temperature drops to three degrees centigrade. Boating facility is also available for adventure enthusiasts. The experience may be full of excitement but one should be careful because the lake's depth is still unknown, and there aren't rescue equipments. So do boating at your own risk! Ponies and horses are also available if one doesn't want to travel on foot. Camping at the time of the full moon is like sitting in a fairyland. It is highly recommended for those who want to see the moon shining at it brightest amongst five billion stars in the sky.
[4]
multiple glacial waters  -----   accumulate
Fairy tale of Saif-ul-Malook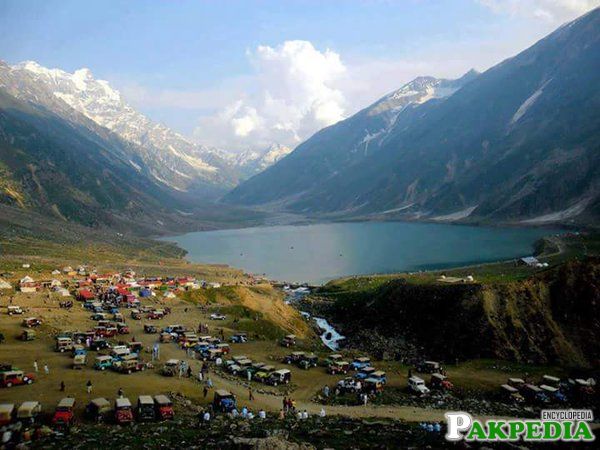 The tale was transformed into a poem by Sufi saint and Punjabi Hindko poet, Mian Muhammad Bakhsh. The same poem was translated into Urdu language by a resident of Balakot, Ahmed Hussain Mujahid. According to the locals it is a place of fairies and demons, who through the extremity of weather display their anger. A story teller narrated: "I have not seen the fairy, but I've seen the glory of God. Every month, on the 14th night of the lunar month, the lake is like a mirror - cradling the mountains, the sky, the innumerable twinkling stars, the glowing orb of the moon – so still, so clear, you can scarcely tell the between reality and reflection. It is a sight to behold! Many a night I have also seen lights, floating lights, a thousand floating lights, here on the slope, where and watched them disappear under the rocks. I have not seen the fairy, Badi-ul-Jamal, but I have witnessed the glory of God." Saif-ul-Malook was a prince of Egypt. He had a handsome amount of treasure which he inherited from his forefathers. Inscribed on the treasure were two seals; one bearing the image of Said and the other one being that of Badi-ul-Jamal. When Saif saw the picture of the fairy he immediately fell in love with her. He then left his home to search for her, a journey that took six years to complete. One day a saint met Saif in a street of Egypt and gave him a Sulemani cap, telling him that it will take the prince to his desired place. The saint told the prince that he would find the fairy in a lake but he had to pass several daunting exams and also pray in order to achieve her, as she was a fairy queen and prince was human. A human eye can never see a demon or fairy as they are "fire borne". Saif reached the place and started a Chilla (pray for 40 consecutive days). Day by day his health get worst but he didn't give up and prayed. After praying for 40 consecutive days without food and rest he became exhausted and weak. It was the 14th night of that month and he thought, "Maybe tonight I'll see her." Then suddenly he saw the fairy queen coming along with her maids towards the lake for bath. She was extremely beautiful with dark black hairs and radiant eyes. She was truly a sight to behold. After talking to Badi-ul-Jamal, Saif came to know that she was trapped in a castle at Koh Qaf by Safaid Deyo (white giant) for the past 10 years. The white giant was also in love with the fairy. After listening to the story of the fairy queen, Saif took her and tried to escape from this valley. When the white giant came to know of this he created turbulences out of anger in this lake, as a result of which flood came in Kaghan Valley. They (the fairy and the prince) hid in a cemetery few miles away from Naran, but due to the flood Saif and Badi-ul-Jamal took shelter in a cave near the lake. 
[5]
Saif reached the place - started a Chilla
Main Features About Jheel Saif ul Malook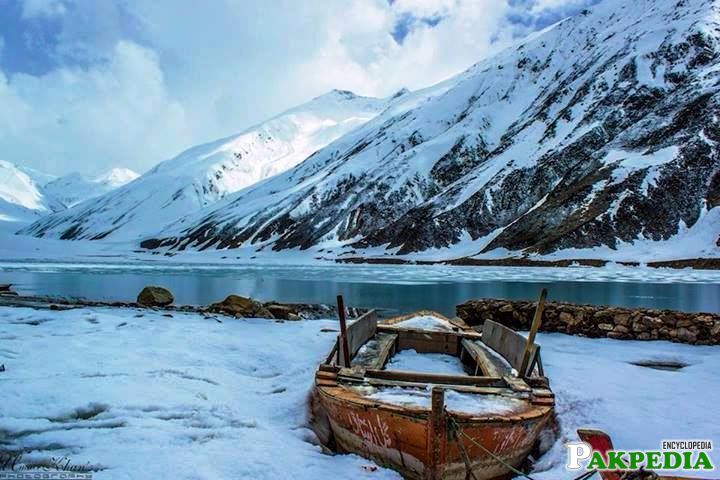 Jheel Saif ul Malook was all formed up by the glacial moraines that are even involved to block up the water of the stream passing all the way through the valley.
The fairy tale of Saiful Muluk was written by the famous Sufi poet Mian Muhammad Bakhsh. This fairy tale was linked with this lake. The story was all about the prince of Persia who fell in love with a fairy princess at the place of lake. Since that time this lake became the favorite spot for all the loved ones to come at this spot in the night time in the full moon.
In this place you will even be finding the large brown trout whose weight is around 7kg.
Around 26 species of vascular plant are found in the area in the company of Asteraceae that is the most commonly found specie. Some of the other species that are found in this lake are Ranunculaceae, Compositae, Ranunculaceae, Cruciferae, Gramineae, Apiaceae, Leguminosae, and Scrophulariaceae and Polygonaceae. [6] Main Features About - Jheel Saif ul Malook