Director Cricket Operation
Captain of Lahore Qalandars
Mudassar Nazar
Paddy Upton Coach of Lahore Qalandars
Lahore Qalandars
Ideology - Message Of Love
Qalandar is an honorific title given to a saint who is at a very high level of spirituality. They are different from other saints and have very strong feelings of love for God's creation. Qalandars, among the saints, are those persons who may enjoy freedom from the ties and bounds of time and space. Qalandars spread the message of love and humanity & have strong connection & RECALL with  Lahore /Punjab/ Pakistan .
[2]
Message Of Love
Responsibility
I strongly feel that it is our responsibility to provide a strong engagement platform to our youth which gives them a chance to show and shine on the horizon of international cricket. Having said that,  Pakistan Super League  is a step in the right direction and comes at the right time. It is the platform we have been looking for that could represent and revive Pakistani cricket. I congratulate
Pakistan Cricket Board
for making this dream come true by giving Pakistan a Cricket League of its own. The power of PSL will lead our cities and provinces rise above individual interests and create an atmosphere of national harmony, peace and hope.
[3]
Responsibility
Details About QALCO
With QALCO being the owner of Lahore Qalandars, it is for the first time for a Qatri Company to boost full ownership a of a Twenty20 team playing in a foreign tournament. There is so much in common here with the 'Q' standing for Qalandars, QALCO and Qatar. Our investment is in-line with the vision and message of our CEO H.E Sheikh Sultan Bin Jassim Al Thani who said "Qatar aims to be advanced society capable of sustaining its development and providing a high standard of living for its people". Through our investment in PSL and franchise of Lahore Qalandars, we have taken this vision one step further to share our success and message of love beyond Qatar.
Details About Lahore Qalandars
We choose the name "Lahore Qalandars" for the  Lahore  Team to highlight the sufi culture of
lahore
, Punjab and  Pakistan  which is all about love, tolerance and peace. 'Qalandar' is a true representation of what Pakistan stands for, a country for its people regrdless of their cast, ecthnicity or religious affiliations.
[4]
Details
To Our Sponsors
We have played our part by creating Lahore Qalandars team and I invite you to be part of this great success story and to create new history in  Pakistan .
[5]
To Our Sponsors
Objectives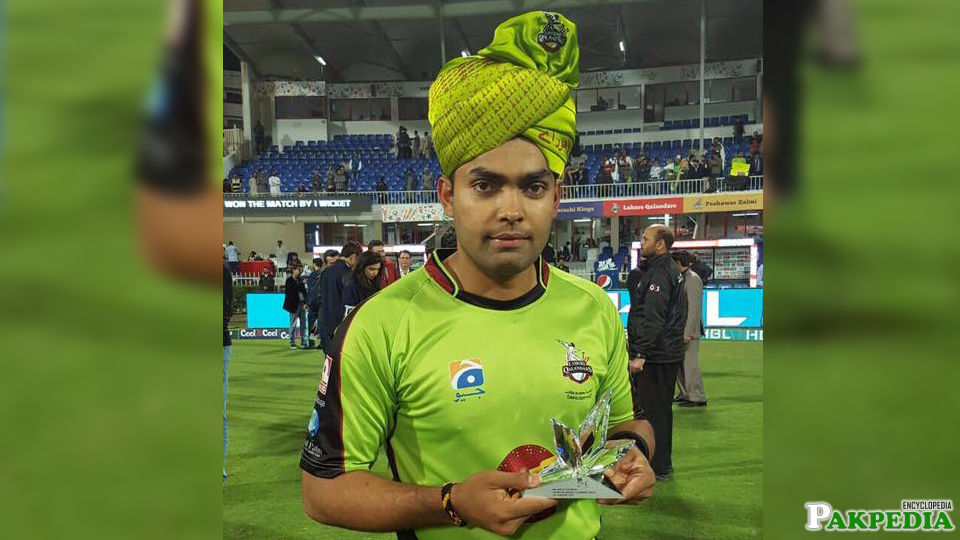 Long Term Objectives
To establish cricket pathway for young LQ & Pakistan future stars, proper guidance starting from the grass root & to laydown a proper structu through LQ Talent Hunt Program
Players Development & Education support right from the age group of U-13 to International Cricket
To produce well educated & groomed cricketers through collaboration with esteemed educational institutes for Cricket & Education exchange programs
Exchange Programs with other franchise's for specialized skills development of Players and Support Staff
Management and Coaching Staff
Owner: Rana Fawad
CEO: Rana Atif
Manager: Rana Sameen
Head Coach/Fitness Trainer: Paddy Upton (South Africa)
Assistant Coach: Shahid Aslam
Fielding Coach: Shawn Bradstreet (Australia)
Batting Coach & Consultant: Ijaz Ahmed
Director:  Aqib Javed 
Advisor & Icon: Mudassar Nazar
Physio: John Gloster (Australia)
Team
Lahore Qalandars - 2016
Brendon McCullum (c)
Sunil Narine
Jason Roy
James Franklin
Mohammad Rizwan 
Cameron Delport
Zafar Gohar
Bilawal Bhatti 
Ghulam Mudassir
Lahore Qalandars - 2017
Lahore Qalandars squad 2017 has been finalized for the 2nd season of  Pakistan Super League .
[6]
 Lahore Qalandars - 2017 
The squad of Lahore Qalandars include a total of 20 players (7 foreign and 13 local players). Lahore Qalandars (LQ) is a Pakistan Super League franchise cricket team representing the city Lahore and is owned by Qatar Oils Lubricants Company.Lahore Qalandars 16-Member Squad:
Brendon McCullum (c)
Sunil Narine
Umar Akmal 
Sohail Tanvir 
Jason Roy
Yasir Shah 
James Franklin
Mohammad Rizwan 
Cameron Delport
Azhar Ali 
Aamer Yamin
Zafar Gohar
Fakhar Zaman 
Ghulam Mudassir
Usman Qadir
Management and Coaching Staff
Owner:
Rana Fawad
CEO:
Rana Atif
Manager:
Rana Sameen
Head Coach/Fitness Trainer:
Paddy Upton (South Africa)
Assistant Coach:
Shahid Aslam
Fielding Coach:
Shawn Bradstreet (Australia)
Batting Coach & Consultant:
Ijaz Ahmed
Director:
 Aqib Javed
Advisor & Icon:
Mudassar Nazar
Physio:
John Gloster (Australia)
Lahore QalandarsSquad 2018
| Pakistani Players | International Players |
| --- | --- |
| Umar Akmal  | Brendon McCullum (Captain) |
| Sohail Khan  | Sunil Narine |
| Bilawal Bhatti  | Cameron Delport |
| Aamer Yamin | James Franklin |
| Yasir Shah  | - |
| Fakhar Zaman  | - |
Match Scheduled - 2016
Karachi Kingsvs Lahore Qalandars 2nd Match
Feb 05, Fri
Dubai International Cricket Stadium , Dubai
Karachi Kings   won by 7 wkts
4:30 PM
11:30 AM GMT / 03:30 PM LOCAL
Lahore Qalandars vs Peshawar Zalmi 5th Match
Feb 06, Sat
Dubai International Cricket Stadium , Dubai
Peshawar Zalmi  won by 9 wkts
9:00 PM
04:00 PM GMT / 08:00 PM LOCAL
Lahore Qalandarsvs Quetta Gladiators 8th Match
Feb 08, Mon
Dubai International Cricket Stadium , Dubai
Lahore Qalandars  won by 63 runs
9:00 PM
04:00 PM GMT / 08:00 PM LOCAL
Islamabad Unitedvs Lahore Qalandars 9th Match
Feb 10, Wed
Sharjah Cricket Association Stadium, Sharjah
Islamabad United  won by 8 wkts
9:00 PM
04:00 PM GMT / 08:00 PM LOCAL
Karachi Kings  vs  Lahore Qalandars , 12th Match
Feb 12, Fri
Sharjah Cricket Association Stadium, Sharjah
Karachi Kings  won by 27 runs
4:30 PM
11:30 AM GMT / 03:30 PM LOCAL
Lahore Qalandars  vs  Peshawar Zalmi , 15th Match
Feb 13, Sat
Sharjah Cricket Association Stadium, Sharjah
Lahore Qalandars  won by 4 runs
9:00 PM
04:00 PM GMT / 08:00 PM LOCAL
Lahore Qalandars  vs Q uetta Gladiators , 18th Match
Feb 16, Tue
Dubai International Cricket Stadium , Dubai
Quetta Gladiators  won by 2 wkts
9:00 PM
04:00 PM GMT / 08:00 PM LOCAL
Islamabad United  vs  Lahore Qalandars , 20th Match
Feb 17, Wed
Dubai International Cricket Stadium , Dubai
Islamabad United  won by 5 wkts
9:00 PM
04:00 PM GMT / 08:00 PM LOCAL
Match Schedule - 2017
Lahore VS Quetta
PSL Schedule 2017, 2nd T20
February 10 2017 ( Quetta Gladiators  won by 8 runs)
Lahore VS Islamabad
PSL Schedule 2017, 4th T20
February 11 2017 ( Lahore Qalandars  won by 6 wickets)
Lahore VS Peshawar
PSL Schedule 2017, 6th T20
February 12 2017 ( Peshawar Zalmi  won by 3 wickets)
 Lahore VS Karachi
PSL Schedule 2017, 8th T20
February 16 2017 ( Lahore Qalandars  won by 7 runs)
Lahore VS Quetta
PSL Schedule 2017, 11th T20
February 18 2017 (Quetta won by 5 wickets)
Lahore VS Islamabad
PSL Schedule 2017, 14th T20
February 20 2017 ( Lahore Qalandars  won by 1 wicket )
Lahore VS Peshawar
PSL Schedule 2017, 16th T20
February 24 2017 (Peshawar won by 17 runs)
Lahore VS Karachi
PSL Schedule 2017, 18th T20
February 25 2017 (Karachi won by 5 wickets)
Team Identity
Year
Kit Manufacturer
Front Branding
Back Branding
Chest Branding
Sleeve Branding
2016
Millat Sports
Jazz
Al-Karam Textiles
Geo News
QALCO, Mobilink
2017
QALCO, Huawei, Royal Palm
Captains
| No. | Player | From | To | Mat | Won | Lost | tie | NR | % |
| --- | --- | --- | --- | --- | --- | --- | --- | --- | --- |
| 1 | Azhar Ali  | 2016 | 2016 | 7 | 2 | 5 | 0 | 0 | 28.57 |
| 2 | Dwayne Bravo | 2016 | 2016 | 1 | 0 | 1 | 0 | 0 | 00.00 |
| 3 | Brendon McCullum | 2017 | present | 8 | 3 | 5 | 0 | 0 | 37.50 |
Result Summary
| Year | Pld | Won | Loss | NR | Tied | SR(%) | Position | Summary |
| --- | --- | --- | --- | --- | --- | --- | --- | --- |
| 2016 | 8 | 2 | 6 | 0 | 0 | 25.00 | 5/5 | Group Stage |
| 2017 | 8 | 3 | 5 | 0 | 0 | 37.50 | 5/5 | Group Stage |
| Total | 16 | 5 | 11 | 0 | 0 | 31.25 | - | - |
Head-to-Head Record
| Opposition | Span | Mat | Won | Lost | Tied | NR | SR% |
| --- | --- | --- | --- | --- | --- | --- | --- |
| Islamabad United  | 2016–present | 4 | 2 | 2 | 0 | 0 | 50.00 |
| Karachi Kings  | 2016–present | 4 | 1 | 3 | 0 | 0 | 25.00 |
| Multan Sultans  | 2018 | 0 | 0 | 0 | 0 | 0 | 0.00 |
| Peshawar Zalmi  | 2016–present | 4 | 1 | 3 | 0 | 0 | 25.00 |
| Quetta Gladiators  | 2016–present | 4 | 1 | 3 | 0 | 0 | 25.00 |
Lahore Qalandar Squad 2018 - Drafts Pick
AB De Villiers - Platinum
Muhammad Hafeez - Platinum
Carlos Braithwaite - Diamond
Corey Anderson - Diamond
Sandeep Lamichhane - Gold
Haris Sohail - Silver
Mohammad Imran - Emerging
Umair Masood - Emerging
Maaz Khan - Emerging
Brendan Taylor - Silver (Supplementary)
Gohar Ali - Emerging (Supplementary)
Harris Rauf - Emerging ( Supplementary)
Aizaz Cheema - Supplementary
Lahore Qalandar Squad 2019 - Retained Players list
Fakhar Zaman
Yasir Shah
Shaheen Shah Afridi (Ambassador)
Anton Devcich
Rahat Ali
Agha Salman
Sohail Akhtar
Hassan Khan