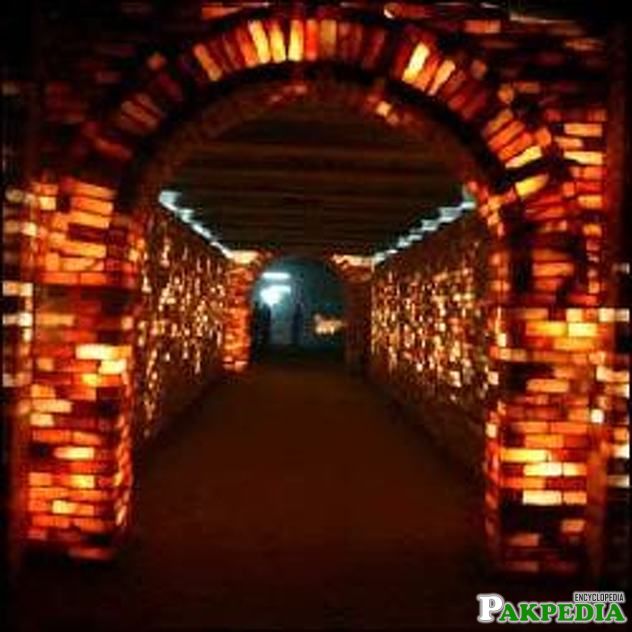 Khewra Salt Mines
In 326 BC, Alexander the Great, the Greek King famous for conquering an empire ranging from Asia into Africa and Europe, was making his way across Pakistan. Stopping his army for a rest in the area now known as Khewra, Alexander's horse began licking the stones on the ground. Seeing that all the horses were doing so and taking note, a soldier himself tried one and found that the rocks were quite salty. The Khewra salt deposits had been discovered. Today, some 2330 years later, the Khewra salt mines are the second largest in the world  behind the Sifto Canada, Inc., salt mine in Goderich, Ontario  turning out 325,000 tons of salt per year, and an estimated 220 million tons over its lifetime. This is barely even a dent in the massive salt stores here, which are said to be 6.687 billion tons. Officially, salt mining wasn't recorded until the 1200s under the Janjua-Raja tribe, but salt has probably been mined and traded here since Alexander's time. Covering an area of 110 sq. km, 228 meters or 748 feet deep (with 11 separate stories), the massive mine has over 40 kilometers of tunnels running some 730 meters, or nearly half a mile into the mountain under which the salt deposits are found. To keep the huge space from collapsing in on itself, only fifty percent of the salt found is mined; the other half serves as support columns to hold up the mine. With such a massive area, a large workforce, and the ease of carving and building with salt bricks, some interesting sights have been built within the salt mine.
[2]
Khewra Salt Mines
Overview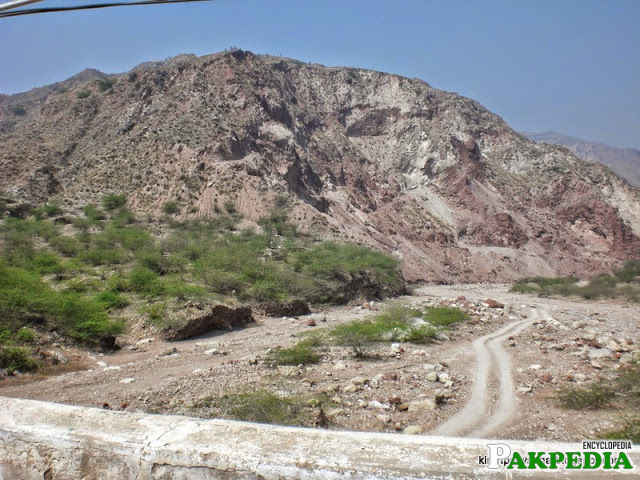 Khewra Salt Mine is a very popular tourist attraction with nearly 250,000 visitors each year. There are several artistic carvings of salt stones placed in different areas of Khewra Salt Mines for amusement of tourists. There is an electric train available to take visitors inside the mine. It is told that engine of this train belongs to 1930. Male and female guides are available to guide tourists about the Khewra Salt Mines.
There are several small ponds of thick salty water in different areas of mine. When light is projected on the liquid in these pools it is refracts and produces different colors that look very beautiful. Most popular carvings of salt stone among tourists are a replica of Minar-e-Pakistan made with colorful salt bricks, a model of the Great Wall of China, a statue of national poet Allama Muhammad Iqbal, a beautiful mosque made up of colorful bricks of salt stone, a model of Sheesh Mahal made up of pink salt bricks, and a model of Mall Road of Murree.
There is cafeteria for visitors that meet immediate refreshment needs. There are also two souvenir shops offering decoration pieces and lamps made up of salt stones of Khewra Salt Mines. Inside the mine is a tunnel named crystal valley by tourists. It is a tunnel with shining salt crystal in the roof and walls illuminated by colourful lights. There are some rooms inside the Khewra Salt Mines that were mined during the Mughal times. [3] Khewra Salt Mine is a very popular
Description
Within the Salt Range there is a dense clustering of historical sites and places ranging in date from the 4th c. when Alexander the Great fought his last battle with Raja Porus at the bank of Jehlum River, through the Hindu Shahi period, the Mughal Empire to the era of Sikh rule and the British Colonial occupation. Fortresses, monasteries and temple complexes such as Kafirkot and Malot (9th to 19th c.), Nandna, Tilla Jogian and the World Heritage site of Rohtas perch on high mountain platforms overlooking important passes through the Salt Range. Habitation sites and ancient centers of religious pilgrimage such as Katas Raj and Mari Indus, early Mughal sites such as Takht-e-Babri, the throne of Emperor Babar and his Bagh-e-Safa considered to be the first Mughal Garden in Asia, are found in Kallar Kahar in the middle of the Salt Range. Step wells, stone lined tanks, sacred ponds and banyans (Ficus indica) and groves spanning many periods are scattered across the landscape. However, the place which best illustrates the interplay between culture and nature, man and the geology of the Salt Range, is Khewra, one of the world's richest salt deposits, where salt has been exploited for at least a thousand years. The Precambrian salt reserves at Khewra were known when Alexander the Great crossed the Jhelum and Mianwali region during his Indian campaign. During the Mughal era the salt was traded in various markets, as far away as Central Asia. On the downfall of the Mughal empire, the Khewra mine was taken over by Sikhs and then by the British who industriaized its running and it continues to function on a large scale today as a mine, research and tourism centre.
[4]
The Salt Range and Khewra Salt Mine
facts and figures
Khewra is famous for having world's second largest salt mine, which is the largest by area-wise in the world.
Official sources told APP during a visit to the saltmine here on Thursday that the reserves contain rock salt in the form of halite (98 percent) and is said to be of pre-Cambrian age.
It is estimated that the mine contains more than 82 million metric tons of reserves of rock salt. It has an annual output of around 0.35 million tons of which 60 percent is sold to a soda ash manufacturing factory in Khewra.
The salt is being mined from this location for centuries. However, the British government in 1872 introduced improved mining practices.
This factory also pumps out accumulated brine from the mine while Pakistan Mineral Development Corporation (PMDC) also exports salt on order-to-order basis.
The rock salt is extracted by using pillar and room technique and the total length of tunnels is 40 km. The mine has 12 levels, out of which six are below the surface and currently 400 miners were working in the mine.
A portion of Khewra salt mine has been converted into tourist spot by the PMDC, wherein visitors have an opportunity to visit a portion of tunnel, developed in 1914 at level 06. Restaurants, parking, public health facilities, shops, etc have been constructed by the PMDC to facilitate the visitors.
More than 250,000 people visit the saltmine each year. During the last week of January 2016, the PMDC in collaboration with Tehsil Municipal Administration organised a three-day salt festival that attracted a large number of visitors and media attention. [5] salt mines facts and figures
Floodwaters enter Khewra Salt Mines
Owing to poor policies and managements from PTDC Floodwaters have entered in to the historical Khewra Salt Mines. According to details owing to prevailing torrential rains across the country floodwaters reached to salt mines of Khewra and at the protest from tourists and visitors Mines-Administration closed the mines when two-feet waters entered from the entrance gate of the mine. It is worth mentioning that PTDC has leased Gypsum-rocks on lease along Nullah Bhinder of Salt mines and floodwater from that nullah entered from gate no 4 and 9 into the saltmine. The laborers of the salt mine also informed that exit-ways of accumulated water inside the mine have been closed and if the authorities concerned didn't ensure immediate action, the salt-mine could be affected seriously.
[6]
Floodwaters enter Khewra Salt Mines