Khayyam Sarhadi was a Great Legend
Khayyam Sarhadi's personal photo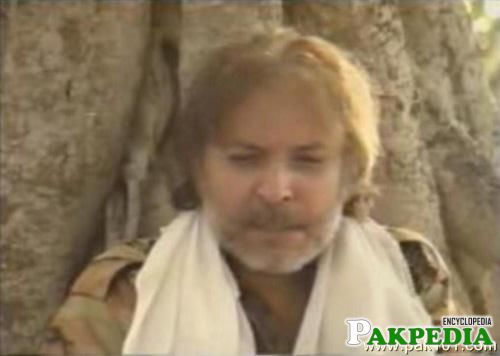 Khayyam Sarhadi act in TV serial
Khayyam Sarhadi is looking nice
Khayyam Sarhadi;s photo in the shooting set
Detail
Early Age
Khayyam had it in his genes to become an entertainer par excellence. His maternal grandfather, Rafiq Ghaznavi, was a musician and since  his parents were writers, he was into showbiz from an early age. When the
Ayub Khan
regime imprisoned his father for his political views, the young Khayyam was packed off to the United States to study. From there, he received his Masters degree in cinematography and he travelled through Europe making documentaries before returning to Pakistan in the '70s, after the death of his mother.
[2]
 Early Age 
About Family
Khayyam Sarhadi's father, Zia Sarhadi, the famous writer-director-lyricist, had Indian classics Hum Log (1951), Baiju Bawra (1952), Footpath (1953) and Awaaz (1956) to his credits as a writer, lyricist and director, whereas he wrote Laakhoon Mein Aik in Pakistan. Carrying the Sarhadi legacy was a challenge for Khayyam who made his debut in the '70s.
[3]
 About Family 
Early Career
Once back home, Khayyam did some theatre before he was picked up by noted TV producer Yawar Hayat to act in his plays. Not only did he portray roles of substance throughout the next three decades, he also worked in Jamil Dehlavi's films — he had a minor role in The Blood of Hussain (1980) and he portrayed Sardar Abdur Rab Nishtar in Jinnah (1998).
[4]
 Early Career 
Khayyam Sarhadi bid adieu to Lollywood
Despite his father's long-standing association with films, Khayyam Sarhadi bid adieu to Lollywood after some experiences turned sour. He bowed out after acting in a handful of films which included Bobby, in which he had a small role. His co-star from the film,
Javed Sheikh
, remembers him as a versatile actor, "Khayyam was a lovely person to be with and he was an institution into himself due to his vast experience. He portrayed every possible role an actor could wish for. One of his last plays — Anokha Laadla — is produced by my brother Saleem (Sheikh) and we are all saddened by his death."
[5]
 Sarhadi bid to Lollywood 
Views of Ahsan khan
Actor
Ahsan Khan
remembers Khayyam Sarhadi as an actor who always improvised, "I always benefited from his fatherly figure as he cooperated with the juniors on the sets. Even in two of his last plays — Parsa and Dastaan — he was there to guide us and make us learn from him. His scripts were always written in Roman since he couldn't read Urdu. Even that didn't stop him from improvising, speaking his own lines at times which gave his acting the natural touch we all would die for. I am honoured to have shared the screen with him in Dastaan, Ghuroor and Imtihaan. Sadly, in Parsa, his character Joseph dies of a heart attack and that is also how he left us for good."
[6]
 Khayyam Sarhadi as an actor 
Filmography
Bol
Jinnah
The Blood of Hussain
Television
Anokha Ladla (TV Series)
Daddy
Dastaan – guest
Deep Sey Deep Jalay
Dil-e-Abad
Eendhan
Ghulam Gardish
Khali Aankhen
Kisi Ko Maan Liya Apna
Man Chale Ka Sauda
Makan
Meri Zaat Zarra-e-Benishan
Manzil
Mirza and Sons
Mujhe Hai Hukum-e-Azan
Mutthi Bhar Mitti
Paranda
Parsa
Saiqa
Suraj Kay Saath Saath
Waris
Yariyan
Zeenat Bint-e-Sakina Hazir Ho
angar wadi
Jhumka Jaan (HUM TV DRAMA)
Awards
Pride of Performance Award – (1991)
 
Death
Sarhadi died with a sudden heart attack on 3 February 2011 at the age of 62 in Lahore. His funeral was held at his residence in Defence Housing Authority, Lahore.
[7]
 Death -  Death