Khawaja Muhammad Asif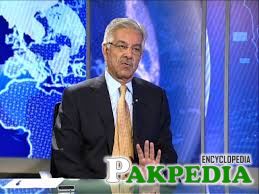 ISLAMABAD: Minister for Defence and Water and Power Khawaja Muhammad Asif
Khawaja Muhammad Asif
Khawaja Muhammad Asif in national assembly
Khawaja Asif Speaks about Steel Mill Karachi issue
Political Career
Before getting into politics, Khawaja Asif lived in the UAE for many years, and worked in the Bank of Credit and Commerce International. He quit and moved back to Pakistan in 1991, shortly before the death of his father, and took his place in politics, standing from the same constituency and city (
Sialkot
), and has won every election since 1991. In the 2008 general election, he was elected for the fourth term as a member of the National Assembly on PML-N's ticket. He was previously elected as an MNA for in the years 1993, 1997, 2002, 2008 and 2013. He also served as a senator during years 1991–1993. In the Nawaz Sharif cabinet of 1997–1999, Khawaja Asif held the portfolio of Chairman Privatization Commission, with the status of a federal minister.
[2]
Political career muhammad asif
Early life
Khawaja Asif is the son of Khawaja Muhammad Safdar, a life long Parliamentarian and an active politician of the Pakistan Movement. Asif was born in Sialkot to Khawaja Muhammad Safdar, a politician and a parliamentarian.Khawaja Asif is married, and has a son and three daughters. He has extensively travelled across the world including the U.S.A, U.K, France, Germany and Japan. Before getting into politics, Khawaja Asif lived in the UAE for many years, and worked in the different banks. He left his job in UAE in 1991 and moved back to
Pakistan
, shortly before the death of his father, and took his place in politics, standing from the same constituency and city (Sialkot), and has won every election since 1991. By virtue of his portfolio as Honourable Minister for Water and Power, Khawaja Asif is the Chairman Private Power and Infrastructure Board.
[3]
Early life khawaja asif
Controversies
Asif, considered close to PML-N chief Mian Nawaz Sharif, evolved differences with
Chaudhry Nisar Ali
Khan who is known for his assertiveness within party affairs. Reports of a widening rift between Asif and former PML-N MPA-now-PTI candidate from Sialkot, Engineer Imran Ashraf, also surfaced in March 2013 over the halting of development funds for PP-123.The PML-N leader also faced court proceedings for allegedly having dual nationality. The charge was dropped by the Supreme Court after the accusation levelled against Asif was retracted. In the run up to the 2013 election, objections were raised on the candidacy of the PML-N leader during scrutiny of his nomination papers. The objections alleged that Asif had failed to declare the actual worth of his assets. However, he was later cleared by the returning officer.Asif has been a severe critic of rival party Pakistan Tehrik-i-Insaaf (PTI) and has hurled allegations of misusing charity funds and money laundering on its chief, Imran Khan. The cricket legend-turned politician in response filed Rs10 billion law suit against the PML-N leader. Asif also dubbed PTI's 2012 "peace march" to Waziristan a drama and was reported to have actively pursued Sardar Ghulam Abbas, a political heavyweight from Chakwal, to part ways with PTI and join PML-N 
[4]
Controversies Khawaja Muhammad Asif
Disqualification
A three-member special bench of the Islamabad High Court (IHC) on Thursday 26th April 2018 disqualified Khawaja Asif as a member of the parliament. Petitioner Usman Dar of the Pakistan Tehreek-i-Insaf (PTI), who lost elections to Asif in 2013, had filed the petition last year, seeking Asif's disqualification for holding a UAE iqama (visa). Asif, while talking to Geo's Hamid Mir, said that he will challenge the verdict in the Supreme Court. "I never concealed my iqama," he told the anchor. The bench, comprising Justice Athar Minallah, Justice Aamer Farooq and Justice Mohsin Akhtar Kayani, had reserved the verdict on April 10. 
[5]
Disqualification Disqualification