Many of us has heard of Karbala Gamay Shah, the famous imambargah in Lahore-heart of Pakistan. But very few people know why it is called Karbala Gamay Shah. Although 'Karbala' is the name of the plain where the Grandson of Holy Prophet Hazrat Muhammad (S.A.W.W), Hazrat Imam Hussain (AS) was martyred, here the word signifies a place of mourning where people assemble in Muharram. "Gamay Shah" is the epithet of Hazrat Baba Syed Ghulam Ali Shah.
| Title | Description |
| --- | --- |
| Information | |
| Location: | Pakistan |
| City: | Lahore, Punjab |
| Adress: | N-5, Lahore 54000 |
| Nickname: | Karbala Gamay Shah |
| In Urdu: | کربلا گامے شاہ |
| Type: | Imambargah, Shrine |
| Built in: | 1877 |
| Built by: | Qizilbash Family |
| Shrine of: | Baba Ghulam Ali Shah |
| Local Language Name: | Karbala Gamay Shah |
| Coordinates : | 31.5769° N, 74.3069° E |
| Details | |
| famous as : | Center of Muharram Processions |
| Started: | 200 years ago |
| Route of Procession: | started from Nisar haveli to Masjid Wazir Khan, Rang Mahal Chowk, Akbari Mandi, Paniwala Talab, Bazaar Hakiman, Imambargah Syed Wajid Ali Shah, Chowk Nawab Sahib, Koocha Qazi Khana, Imambargah Molvi Feroz Ali, Koocha Miskeenan, Mohalla Peer Gillanian, Imambargah Syed Rajab Ali Shah, Chauhatta Mufti Baqir, Chowk Kotwali, Kashmiri Bazaar, Sonehri Masjid, Dabbi Bazaar, Gumtti Bazaar, Syed Mittha Bazaar, Tehsil Bazaar, Bazaar Hakimaan, Ucchi Masjid and end at Gamay shah Karbala Bhatti Gate Chowk |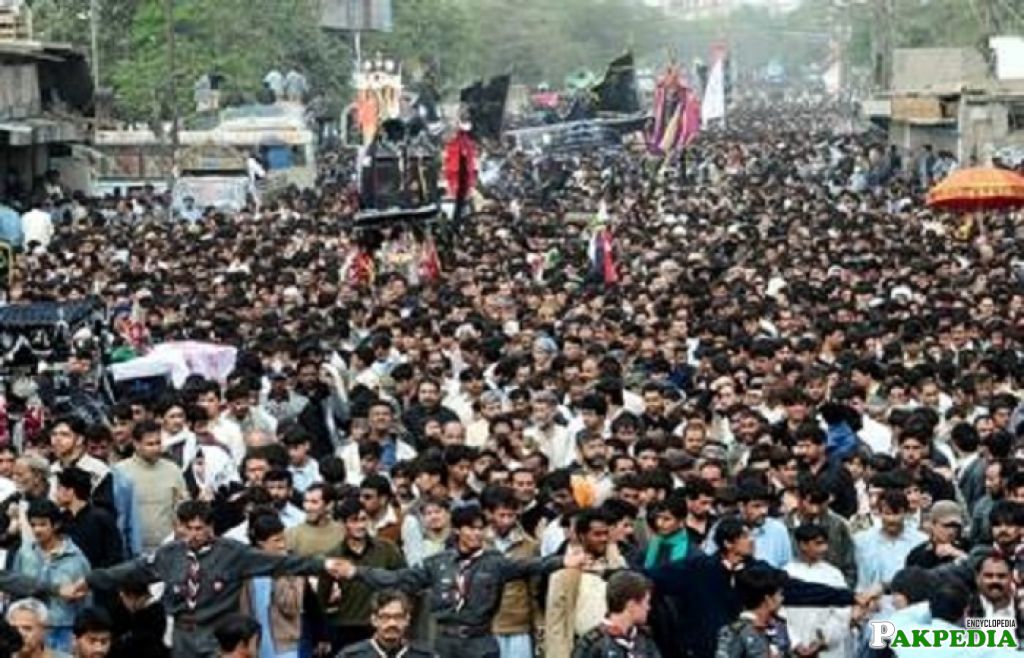 History
Gamay Shah' is the nickname or epithet of Hazrat Baba Syed Ghulam Ali Shah. It is said that Hazrat Baba Syed Ghulam Ali Shah was buried at the place presently known as Karbala Gamay Shah.
Who is Gamay Shah

According to history, Gamay shah was the first man who launched the session by carrying a black flag (Alm) and Tazia in his hand 200 years ago, not knowing that his example would be followed so reverently after him and his grave would mark the point where all the mourners would gather. Baba Gamay Shah was a Sufi who lived during the reign of Maharaja Ranjit Singh at the beginning of the 18th century. He remained celibate all his life.Always attired in black, Baba Gamay Shah was known for his incessant mourning for the Ahle Bait (AS), descendants of Prophet Muhammad (SW). Baba Ghulam shah also carries a taaziya over his head while mourning on the roads. [1] Gamy shah  
Mai Aghia
According to history, beside Gamay Shah another female devotee, Mai Aghia, who was a resident of Mochi Gate, was the first person who joined him with tears in her eyes and with loud slogans to condemn the Yazidi forces who martyred the Prophet's (PBUH) family. Together they marched through the city, crying and flagellating, mourning the death of Hussain ibn Ali(AS). People mocked them, back then, but soon many started joining them and now every Shiite mourner's greatest wish is to become a part of the Gamay Shah procession. [2] mai aghia  
Hazrat Ghulam shah and Maharaja Ranjit Singh

Sufi Gamay Shah lived during the reign of Sikh ruler Maharaja Ranjit Singh. So long as the procession of Gamay Shah and Mai Aghia remained small, Sikh Maharaja never opposed it .But when Gamay Shah's procession grew bigger,  Maharaja got arrested  grieving Gamay Shah  and sent him behind the bars. However, Maharaja could not sleep after the arrest of Baba and had frightening dreams whole night. The following morning Ranjit Singh came to Baba Gamay Shah  along with another Sufi, Syed Aziz-ul-Din. He enquired from him the reason for his incessant mourning and its public display. The oral traditions reveal that at the question of Maharaja, Baba just smiled and said  the procession was meant to demonstrate his sorrow over the martyrdom of Imam Hussain a.s and mayhem of the Holy Prophet's SAW descendants at Karbala with three days hunger and thirst. Upon coming to know the tragic events of Karbala, Maharaja immediately released him and even used to visit him for spiritual solace at his Chilla where currently famous Karbala Gamay Shah is is located.
Ahle-Bait a.s has blessed the Karbala Gamay Shah with unparallel popularity ands respect surely because of his unflinching love for them and starting azadari rituals in adverse circumstances without any fear. Allah taa'la turned his gentle smile with so much charisma and power that maharaja not only allowed him to display publicly his love and affection for Ahle-Bait a.s but also sought his spiritual guidance in case of need. [3] Maharaja  
Shrine of Baba Gamay Shah

When the Qizilbash family migrated to Lahore in 1877, they came to know about Gamay Shah. The Qizilbash family's Nawab Muzaffar Ali Khan Qizilbash purchased the land around the resting place of Gamay Shah and built an imambargah there, currently known as Karbala Gamay Shah. A zarih of Hazrat Imam Hussain (AS) has also been fixed next to the grave place of Baba Gamay Shah. [4] shrine  
Karbala Gamay shah- destination of all city processions

Processions at imambargah Karbala Gamay Shah have been held here since the pre-colonial period, when Gamay Shah began walking around the Walled City, holding a taziah on his head and mourning for the martyrs of Karbala. According to reports, almost 100 processions get merge in the procession that started from Nisar haveli and together they move towards their final destination- Karbala Gmay Shah.
During Muharram, one of the country's largest processions, the Nisar Ali Haveli procession of Mochi Gate, which begins on the night of 9th Muharram, makes its way to Karbala Gamay Shah, along with all other such processions from the city, on the evening of 10th Muharram .
On Safar 20, a chehlum procession – forty days after Hazrat Imam Hussain (AS)'s martyrdom, makes its way from Haveli Alif Shaheeyan in Mochi Gate, ending at Karbala Gamay Shah.
Husseini mourning end on Rabiul Awal 8 with a procession that originates from an imambargah in Islampura, concluding at Karbala Gamay Shah.
Another procession on 21st Ramadan of the martyrdom of Imam Ali (AS) which starts from Mubarak Haveli also finishes at Karbala Gamay Shah. [5] Procession