Exhibitions are one of the most effective tool of trade Promotion. Leading trade centers of the world provide permanent exhibition facilities to encourage buyer-seller interaction. Karachi Expo Centre is located in the commercial Capital of Pakistan. It has a distinction of being in the back yard of CAR countries, accessible to Middle East and a gate way to other Asian Countries. Karachi being cosmopolitan, adds flavor for international marketing geopolitically. Karachi Expo Centre is equipped with modern facilities based on international standards creating a market and a world of its own. It comprises of three independent linked halls measuring 6690 Sq.m base area. Two halls contain mezzanine floor measuring 445 Sq.m each, while the third hall has a space of 1270 Sq.m on its two mezzanine floors. Congress centre houses the press, secretarial services, a large modern kitchen and a cafeteria on its first floor. The second floor is available for conferences/seminars for a sizeable gathering. The whole complex is centrally air-conditioned. Adequate warehousing and parking facilities are also available. [1] Karachi expo center
| Title | Description |
| --- | --- |
| Information | |
| Nickname: | Karachi Expo Center |
| Type: | Conference centre/Arena |
| Local Language Name: | urdu,punjabi |
| Address: | University Rd, Karachi, Pakistan |
| Coordinates : | 24°54′5″N 67°4′33.9″E |
| Halls: | 8 |
| Genre(s): | Exhibitions, Conferences |
| Owner: | Trade Development Authority |
| Hour: | Open today · 9:30AM–6PM |
| Phone: | +92 21 99232667 |
| Third hall has a space of: | 1270 Sq.m |
| halls measuring : | 6690 Sq.m |
| Website: | www.tdap.gov.pk |
| Email: | tdap@tdap.gov.pk , tdap.support2@tdap.gov.pk |
| Phone No.: | +92 21 99206487-90 |
| Fax No: | +92 21 99206461 |
| UAN: | 111 444 111 |
| Ground Floor: | 900 Sq.m |
| First Floor Hall: | 900 Sq.m |
| Congress Centre: | 2,710 Sq.m |
| Exhibition Hall No.2 : | Hall, Toilets, Services, Restaurant |
| Exhibition Hall No. 1: | Hall, Toilets, Services, Restaurant |
| Parking : | 2400 Cars |
| Restaurant Seating : | 250 Guest |
| Second Floor : | Conference Room |
| First Floor Hall: | Hall, Restaurant, Coffee shop, Office and Toilets |
| Ground Floor: | Hall, offices, ticket booths, Information center,Waiting Area, Toilets |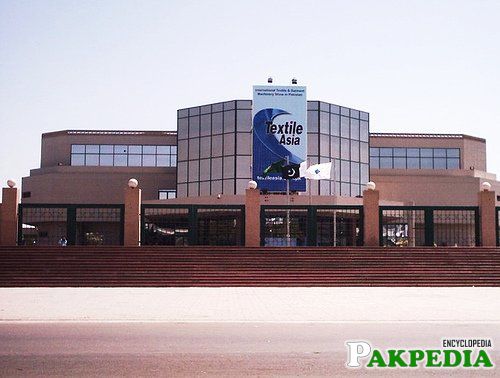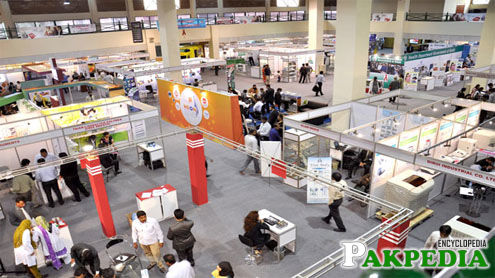 Facilities
   Parking 2400 Cars.
Public address system inside each hall.
More than 250 Telephone lines internal telephone exchange.
Pay Card phone
Centrally Air conditioned.
Premises security.
Conference / Seminar area.
Restaurant seating 250 Guest
Three halls with Extra mezzanine space
Painting display area in corridor.
Ware housing facilities.
Open display area.
Facilitation Division
Primarily responsible for trade policy implementation, with specific emphasis on simplification and harmonization of procedures with the objective of achieving a competitive edge in the context of emerging business realities, Facilitation Division is devoted towards helping exporters in availing the opportunities as well as in the removal of obstacles in expansion of the country exports. It also collects processes and, disseminates information to different stakeholders. The Division is also responsible for organizing Expo Pakistan, the mega event to showcase Pakistani products to foreign buyers, held annually at Karachi Expo Center.[2] Facilitation Division
Trade Policy
his section is deputed to formulate and implement various trade policy initiatives announced annually by the Ministry of Commerce. Proposals are developed after consultation with various stakeholders for consideration by Ministry of Commerce. The Initiatives announced in the Trade Policy are then implemented and business procedures of schemes are worked out. In order to devise a proper implementation mechanism and to install an effective evaluation system, a close coordination and liaison with Pakistani Missions/Consulates/Embassies abroad, is established that not only enables the smooth flow of the processes involved but also ensures transparency of the schemes.[3] Trade Policy
Trade Dispute Settlement
In the course of the business of international trade, disputes often lead to conflicts between parties involved. These conflicts/disputes are forwarded via our Commercial Sections abroad to TDAP. The trade dispute section of Facilitation Division is tasked with investigating and if possible, bringing both the parties to common point and resolving the issue through amicable agreement. In extreme cases where the matter requires specialized investigations, the complaints are referred to concerned regulatory authorities for further processing. [4] Trade Dispute settlement 
Expo Center
Expo Centre, having an area of more than 15,000 sqm including 6,000 sqm of exhibition area, is the only place of its kind in the city which offers state of the art facilities for the large scale events like Expo Pakistan, Ideas etc. Besides Expo Pakistan, Expo Centre also hosts more than 35 local and international exhibitions throughout the yearExpo Pakistan is the biggest trade fair, organized by Trade Development Authority (TDAP), which is a premier trade promotion organization of Pakistan. The platform of Expo Pakistan provides opportunity to showcase the largest collection of country's Export Merchandise and Services. Foreign Buyers are invited from all over the world by Government of Pakistan, not only to see the product potential but also to avail the option of having on-spot B2B meetings with Pakistani exporters. Foreign exhibitors, also use this platform to launch & display their products. Held annually, this 4 day Expo Pakistan has become primary sourcing point for a large number of businesses worldwide, giving them a head start on sourcing for coming seasons. First held in 2005, the success of last event in 2013 was manifested by participation of large number of local and foreign buyers who settled business deals estimated more than USD 700 million. TDAP invites you to 9th EXPO PAKISTAN (February 26 – March 1st 2015), at Karachi Expo Center and provides you an opportunity to become part of the largest ever showcase of Pakistan Exportable Goods. . [5] Expo center
WTO CELL
The Cell provides importers and exporters in Pakistan with data on market conditions related to WTO obligations (import and export barriers) and trade flows (import and export volumes, value and shares) in a form and context that is useful to traders. The Cell is also equipped to provide specific analytical support to entrepreneurs for identifying market access opportunities in existing as well as new markets and will respond promptly to general enquiries and requests for advice about the WTO trading system, the status of multilateral and bilateral negotiations, availability of trade information from multilateral agencies (WTO, UNCTAD and ITC) and access to selected publications that provide more background on these issues.
Since its inception, the Cell has been actively involved in some substantive projects and activities, some of which are listed below:
   Seminar on 'Exploring Pakistan's Export Potential in China & Malaysia in the context of the Free Trade Agreements' held at the Karachi Chamber of Commerce and Industry (KCCI) on 25th March, 2008 and Islamabad Chamber of Commerce and Industry (ICCI) on 14th April, 2008.
Overview of Pakistan – China Trade download brochure
Overview of Pakistan – Malaysia Trade download brochure
Seminar on 'Clinical Research Management in Pakistan' in association with Ministry of Health and JPMC, on 26th April, 2008 download report
WTO Workshop on 'Trade Facilitation Self Assessment of Needs & Priorities for Pakistan', from 23rd to 27th June, 08
WTO Workshop for the Training of Trade Officers on 3rd September, 2008 download presentation
 Highlights of the Trade Policy 2008-2009 download report
R.A.D. Research Analysis Directorate
The RAD was formed to provide in-house research support and analysis on trade matters to all Divisions of TDAP, as well as the trader community.  The RAD thus undertakes the following specific tasks:
Maintaining Trade Statistics of Pakistan
Making fortnightly presentation to the senior management on the 'State of the Trade',
Preparing country reports and commodity reports;
Preparing research reports on international trade issues;
Preparing position papers for senior management on trade issues confronting Pakistan; e.g.
Pakistan's Import Management Strategy 9th August 2008 download report
Providing input to the Ministry of Commerce, Government of Pakistan on bilateral and regional trade agreements.
Contact
Address Trade Development Authority of Pakistan
3rd Floor, Block A, Finance & Trade Centre
P.O. Box No. 1293, Shahrah-e-Faisal,
Karachi 75200 Pakistan.
View Larger Map