Kaghan is a medium sized town situated in upper kaghan valley which is a part of Khyber Pakhtun khwa province of  Pakistan . It is one of the most beautiful part of northern areas in pakistan which is elevated 2500 meters above sea level. Its beauty captures a lot of people towards itself and thus it is a famous resort for tourists and trekkers. The weather of Kaghan is very cold. The ice on the moutain tops never melts, even in months of June and Jully there are glaciers and mountains are covered with snow[1] Naran valley – history [2] history – pak.com
| Title | Description |
| --- | --- |
| Information | |
| Location: | Pakistan |
| In Urdu : | وادی کاغان |
| Nickname: | Heaven on Earth, Land of The Fairies |
| Type: | Valley |
| Local Language Name: | Pothohari |
| Coordinates : | 34°50′N 73°31′E |
| Details | |
| Province: | Khyber Pakhtunkhwa |
| District: | Mansehra District |
| Elevation: | 2,500 m (8,200 ft) |
| Time zone: | PST (UTC+5) |
| Area dialing code: | +92-33 |
| Languages: | Urdu,Pothohari,Pushto,English |
| Situated : | Mansehra District |
| Valley extends: | 155 kilometers (96 mi) |
| Highest point: | Babusar Pass |
| Babusar Pass Hight: | 13,690 feet (4,170 m) |
| Highways : | N-15 |
| Average Annual Temperature: | 10.1 °C |
| Transportation: | Public transport runs daily between Manshera and Kaghan |
| Available Transport: | Jeeps, rent a cars and taxis |
| Accommodation: | Kaghan has more than 100 hotels |
| Types Of Hotels: | High-end luxury hotels |
| Popular Places: | Kawai, Shogran, Siri Paye, Manna Meadows, Sharan, Khanian, Danna Meadows, Lake Saif-ul-Muluk, Aansoo Lake, Babusar Pass |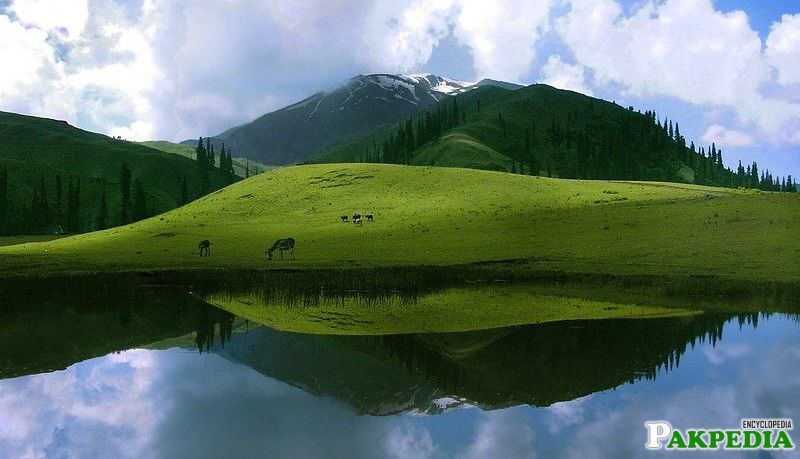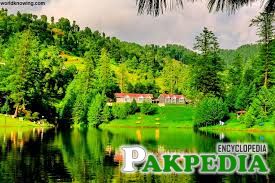 About
History
Kaghan valley is the most beautiful & picturesque valley. That's why it is called virtual paradise, unbelievably in pristine state and still unspoiled by the human. You'll find the Himalayan peaks hidden with clouds or snow, somewhere you'll find the beautiful fairy tale lakes, which will attract you toward them, and you might decide not to leave this at any cost. Where Kaghan is full of scenic beauty there it is full of thrill and excitement for the mountaineers and treks.[3] visitors – heaven.com Kaghan Valley is a 155 kms long scenic wonderland. Lofty peaks crown the mountains ranges on either side like turrets, ranging in height from 12,000 to 17,000 ft and more, with the eastern range higher than the western. The bed of valley slopes up from 3,000 ft at Balakot, which, as it were, the gateway of the valley, to 12,000 ft at Gittdas beyond which the valley crosses at Babusar Pass 14,000 ft. The first ten miles or so are largely barren, but when the valley raises to about 5,000 ft forests of pine and fir appear, densely overgrown with a variety of plants, which has won for Kaghan the epithets of 'the botanists paradise'. The forests continue till about Naran 8,000 ft.[4] Vistors points – Naran 
Location
The road to naran valley travells alongside with River Kunhar which Starts from the glaciers of Kaghan and flow deep down in  Mansehra .  The local languages of Naran Valley are Hindko and Gojri but every individual overthere can speak and understand urdu. The dress is  Shalwar Kameez  with long bottom shalwars. Most of the people are tall. Average height of males was about 5"8' or 5"9'.[5] Location – Naran Valley
People
The Inhabitant of Kaghan Valley are basically Gujars and I found them very generous and good natured. They welcome the tourists very nicely and treats them like their own friends.Their main source of income is the tourists and their occupations include tour guides, resthouse managers, shop keepers, restaurant workers, jeep drivers,  some of them also grow crops and some of them are shepherds. But their whole fortune is just gathered up in the summer season as in winters the whole area is covered up in snow and they have to move down to mansehra or some other hoter place. For that reason the prices over there are bit higher. For example the price of 100 rupee mobile card is about 107 up there. But i think that is fair enough as they this source of income just for limited time.[6] People – naran 
Women are housewifes mostly stays at home. I found only one govt primary school where some of the local's children went for studying. Beside that there was no system of education overthere. Mostly teenagers were working as travel guides and shopkeepers alongwith their fathers or uncles etc.
Main Items
The main items of Kaghan  valley are dry fruits and Handicrafts. One of the handicrafts you should buy are the artistically carved Walnuts and another famous thing is the Namdas, the woolen felt rugs while woolen shawls, embroidered shawls and shirts are also avalibale.These places have cottage industries running and you can find yourself having excellent bargains. Hand made articles are displaced in the shops at the main market.Naran also has a small bazaar like Murree mall road. The basic necessities of life are readily available at there. Cellular networks, mobile shopes, bakery, general store, tailors and even barbers are available in the main bazar. It has over 100 hotels of various types ranging from high-end luxury hotels to very low priced motels. Tent motels are also present which rent family size tents to tourists to stay in.[7] newtab – tv.com
Tourist Places
Naran
Naran is the most visited and densely populated tourist attraction of the valley. It is home to a number of hotels, restaurants and tent villages. Naran is situated at an altitude of 2427 meters or 7693 feet above sea level. The approximate distance from Balakot is 82 kilometers (51 miles).[8] Naran is situated at an altitude –   of 2427 meters  Naran is the center of tourism in the Kaghan valley yet there is no bank in Naran. From the lake one can trek up to the Saif-ul-Muluk glacier which is located southwards. Once can also trek over a 4300 meter pass and reach the settlements on the other side of the lake.
Kawai
After entering into Kaghan, the first town that comes our way is Kawai. Kawai is situated at a distance of 24 kilometers (15 miles) from Balakot and is home to a small number of people. The track that passes through Kawai winds through thick forests of pine and can be extremely prone to landslides in wet weather.[9] Kawai is situated at a distance of – 24 kilometers
Shogran
After crossing Kawai, visitors find themselves in Shogran, a heavenly place with beautiful views. Shogran is situated at an altitude of 2400 (7500 feet) meters above sea level. At this altitude it stands well above the valley. Shogran has a number of guest houses that can be used as an abode for the night. Most well-known is the forestry department rest and guest house.
Shogran offers magnificent views to three beautiful snowcapped peaks, namely:
Musa ka Musalla
Makra
Malika Parbat
Siri Paye
Once you cross Shogran, a steep climb leads you the stunning plateau of Siri and Paya. Siri and Paya is a plateau right above the scenic Shogran. Paya is instantly recognized for its beautiful lake that reflects the greenery around it. Further ahead, at Siri the plateau is situated. Siri Paye can be reached through a jeep drive or a 2.5 hour hike from Shogran.[10] Siri and Paya is a plateau ———-   right above Paya is situated at a height of 11,200 feet or3414 meters. The distance between Siri and Paya can be bridged in 15 minutes via jeep. There is a forest rest house situated at Siri.
Manna Meadows
Manna Meadows are situated at an altitude of 8000 feet above sea level. It takes approximately 4 hours from Paya to reach Manna meadows via a hike. The best time to visit Manna Meadows is July/August because it is this time of the year when the flowers are in full bloom. There is also a 3hour hiking track from Manna Meadows to Shogran.
Sharan
A 16 kilometer jeep track from Paras which is situated at the opposite bank of river Kunhar leads to Sharan. Sharan is situated at an altitude of 7872 feet. It is part if the mountain range which boasts Musa ka Musalla as its highest peak at 13,372 feet.
Shinu
Another town in the vicinity of Sharan worth mentioning is Shinu. The town is well known for its Trout hatchery which is a rich source of trout fishes. Tourists can purchase a fishing license at Shinu which allows them to fish in the well-stocked river.
Jared
Jared is a small town known for its handicrafts. The handicraft business is run both privately and in collaboration with the government. The government also runs a handicraft development center at Jared. The handicrafts sold at Jared mainly comprise of:[11] The handicraft business is —   run both privately
Carved furniture
Handmade woolen shawls
Khanian
At a little distance from Mahanderi, comes Khanian. Khanian is situated at the right bank of river Kunhar and serves as a base camp for people venturing into the Kamal Ban forest and Danna Meadows.
Danna Meadows
A ten kilometer jeep track from Khanian leads to Danna Meadows. Despite the track being only 10 km's long it still takes about an hour. Danna Meadows are situated at an altitude of 10,000 feet and present views to a number of snowcapped peaks that are well above 15,000 feet. However, the jeep track is currently inaccessible which requires around three hours on foot to reach Danna Meadows.
Malkandi Forest
Malkandi forest is a densely populated forest abundant with black bears and leopards. It also serves as home to a small number of cattle farmers. Black bears often venture into areas of human population and damage crops, therefore shooting down a bear is thought to be a big thing in Malkandi. Shooters are often rewarded by forest officers.[12] Malkandi forest is a densely —   populated forest Apart from black bears and leopards, a small number of red bears, musk deer, and Ibex's can be found in Malkandi forest.
Aansoo Lake
Aansoo Lake is situated near Malika Parbat in the Himalayan mountain range. The word Aansoo in Urdu stands for 'teardrop'. The lake has been named so because of its tear-like shape. Aansoo Lake has been said to be discovered by Pakistan Air Force Pilots in 1993 while flying at a relatively low altitude. Before this, the lake was unknown even to the locals. Aansoo Lake can be reached via a strenuous trek from Lake Saif-ul-Muluk. However there is an alternate route to reach the lake from Mahanderi but this route is not preferred as it is a less trodden route and the difficulties are unknown. The best season to visit Aansoo Lake is from May to July.[13] Aansoo Lake can be reached —   via a strenuous
Batakundi
Moving towards the Babusar pass, the first town that one stumbles across is Batakundi. The altitude of Batakundi is 2,624 meters or 8607 feet above sea level. It is situated at a distance of 16 kilometers from Naran. A PWD rest house and three other hotels are situated at Batakundi. Batakundi is the last village in the valley to stay open all winter.
Lalazar
A jeep track about two kilometers from Batakundi leads to Lalazar. Lalazar is famous for its meadows full of blooming flowers during the spring season. There are also numerous potato fields situated in Lalazar.
Burawai
Burawai is situated at a distance of around 13 kilometers from Batakundi. The road from Naran to Jalkhad also known as the Manshera-Naran-Jalkhad highway is one of the best roads in the country.
Jalkhad
Further up the road is Jalkhad. It is at a distance of 12 km from Burawai. This is the place where the Jalkhad stream flows into the mighty river Kunhar. From Jalkhad, the MNJ highway bifurcates. One part leads to Chilas and joins KKH.Whereas the other goes to Sharda and ultimately reaches Muzafarrabad in Azad Kashmir.
Pyala Lake
Pyala Lake is situated about 1 kilometer east of Jalkhad. The water of this lake is of bluish hue. Pyala stands for 'bowl' in Urdu. The lake has been named so due to its bowl like shape.
Noori Top Noori Lake
Noori Top is situated at an altitude of 12900 feet above sea level. It remains snowcapped throughout the year. From Noori top two hiking tracks to Ratti Gali and Saral Lake originate. Noori Lake lies at the border of Kaghan Valley and Azad Kashmir. It is at an altitude of 12,780 feet above sea level. The lake can be reached by a Jeep via Jalkhad in 1.5 hours.
Besal
The road north of Jalkhad steeply rises and reaches Besal, a wilderness with treacherous terrain. In stark contrast with the lush green forests of the Kaghan Valley, Besal offers mere views of jagged rocks.
It also serves as a base camp for Lulusar Lake.
Lulusar Lake
The lake is situated at an altitude of 10,000 feet. The water flowing out of the lake flows into the river Kunhar further contributing to its strength. Lulusar Lake is wreathed in blue and gold wild flowers.
Dudipatsar Lake
Dudipatsar is another beautiful lake encircled by snow clad peaks. It is at a height of 3800 meters. The word "dudi" means white and "sar" means lake. This name has been given to the lake because of the white color of snow at surrounding peaks.Dudipatsar Lake is one of the hardest places to reach in the valley. A tough trek of around 6 hours from Besal leads to the lake.
Babusar Pass
The Kaghan Valley is blocked at the end by high mountains but a pass lets the jeep-able road snake over into the Chilas Valley. This is the 4,173 meters high Babusar Pass. Babusar pass is the end of the Kaghan valley which commands the whole Kaghan panorama. Babusar Pass is 161 km from Balakot and 75 km from Naran. A minaret here points to the highest point of the pass as 13,690 ft.
Saifulmalook
Saifulmalook is is situated 8 kilometers north of Naran. It takes 1 hour to reach saiful malook from Naran. One can find a lot of  4×4 jeeps at the outskirts of town. These jeeps takes the tourists from Naran valley to  Saiful Malook. As the road upthere is very rough and there are glaciers all the way up so only those jeeps and the local drivers can take you up there People hire those jeeps and visit Saiful Malook along with their families. Some people prefer trekking over riding the jeep, specialy the youngsters which trek up to Saiful Malook. There are restaurants and shops located at Saiful Malook aswell. People enjoy horse riding at there.Saiful malook is a lake which is situated in the midle of mountains, which throughout the year are covered with snow.  One of the renowned mountains is  Malika Parbat  which is placed on the left of the jheel.Saifulmalook is named after a folk tale. It is the story of the prince of Persia who fell in love with a fairy princess at the lake. The impact of the lake beauty is of such extent that people believe that fairies come down to lake in full moon. The colour of water is blue and it is crystal clear.  An individual cannot put his feet under it for more then 30 seconds.[14] Saiful malook – Naran