Lahore High Court judge Yawar Ali has a close association with former Supreme Court judge Khalilur Rehman Ramday, who is the son-in-law of former chief justice of Pakistan Yaqoob Ali Khan, father of Justice Yawar Ali .
| Title | Description |
| --- | --- |
| Personal | |
| Name: | Justice Yawar Ali |
| In Urdu: | جسٹس یاور علی |
| Famous As: | Judge |
| Nationality: | Pakistani |
| Religion: | Islam |
| Profession: | Judge |
| Appointed a High Court Judge: | 19 February 2010 |
| Seniority List of LHC Judges: | Justice Yawar Ali is at 12th Number |
| Served as : | Deputy Attorney General and Assistant Advocate General |
| Government was: | Nawaz Sharif |
| 7 February 2018: | Justice Yawar Ali takes Oath as Chief Justice LHC |
| Chief Justice of Lahore High Court: | 46th |
| Will Remain in the office: | Eight Months and Fifteen Day |
| Retier On : | 22 October 2018 |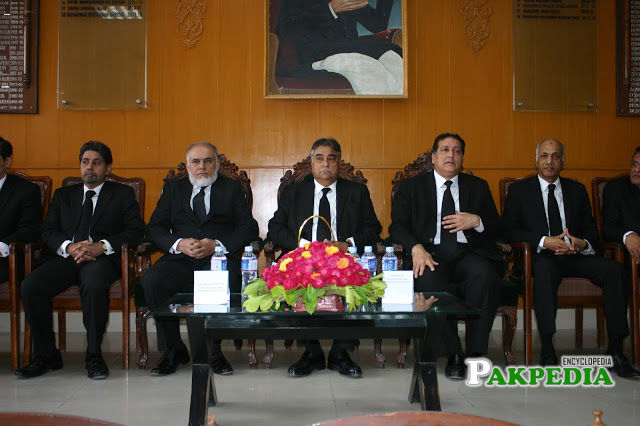 Appointed As
Before he was appointed a high court judge on February 19, 2010, Yawar Ali had his longest tenure as the deputy attorney general for Pakistan.[1] Appointed As
Chief justice of Pakistan
Justice Yaqoob Ali , as the chief justice of Pakistan, had been a pro-democratic person. After the 1977 martial law of Zia ul Haq, he was forced to retire through an amendment to the Constitution by the military ruler. It may be mentioned here that Ramday's family has a political affiliation with PML-N as his younger brother Asadur Rehman is a sitting member of National Assembly from that party.
Position
In the seniority list of LHC judges, Justice Yawar Ali is at number twelve. He just has four-year standing as an LHC judge.
Before Served As
Before being elevating as a high court judge, Justice Yawar Shah had served as deputy attorney general, and assistant advocate general almost during every government since the second tenure of the Nawaz Sharif government.
Member of the Special Court
Justice Yawar is a member of the special court that is hearing the treason case against former military ruler Pervez Musharraf. He may work as LHC CJ till October.[2] Member of the Special Court
46th Chief Justice of Lahore High Court
The chief justice of Lahore High Court, Syed Mansoor Ali Shah, has been appointed as a judge of the Supreme Court, stated a notification issued from the Ministry of Law and Justice.According to the notification, Justice Mansoor Ali has been replaced by a Lahore High Court judge, Justice Muhammad Yawar Ali, as chief justice of the said court.Justice Muhammad Yawar Ali took oath as new Chief Justice of Lahore High Court. Governor Punjab Rafiq Rajwana took oath from him in presence of lawyers and other senior judges. Punjab Chief Minister Shehbaz Sharif was also present at the ceremony. Justice Yawar Ali is46th chief justice of Lahore High Court. He will remain in the offoce for eight months and fifteen day and will retier on October 22, 2018.[3] 46th Chief Justice of Lahore High Court
Ceremony
Justice Muhammad Anwaarul Haq administered the oath to Justice Yawar in a ceremony held at the LHC judges lounge. The acting chief justice is filling in for LHC Chief Justice Syed Mansoor Ali Shah who has left for London.
Attended By
LHC judges, officials, law officers and a large number of lawyers attended the ceremony. LHC judges and court officials congratulated the acting chief justice for being given charge of the honourable office.[4]  Attended By 
Six Other Appoinment
Besides, six persons have been appointed for a year as the additional judges of Sindh High Court. Those appointed include Kausar Sultana Hussain, Irshah Ali Shah, Agha Faisal, Adnan Iqbal Chaudhry, Amjad Ali Sahito and Shamsuddin Abbasi.Moreover, two appointments have also been made for the Federal Shariat Court. The persons appointed include Justice (retd) Syed Muhammad Farooq Shah and Shaukat Ali Rakhshani.
Recommendations
The appointments in the said courts were made on recommendations of the Judicial Commission at a meeting on January 18, which was headed by Chief Justice of Pakistan Justice Saqib Nisar. [5]  Recommendations