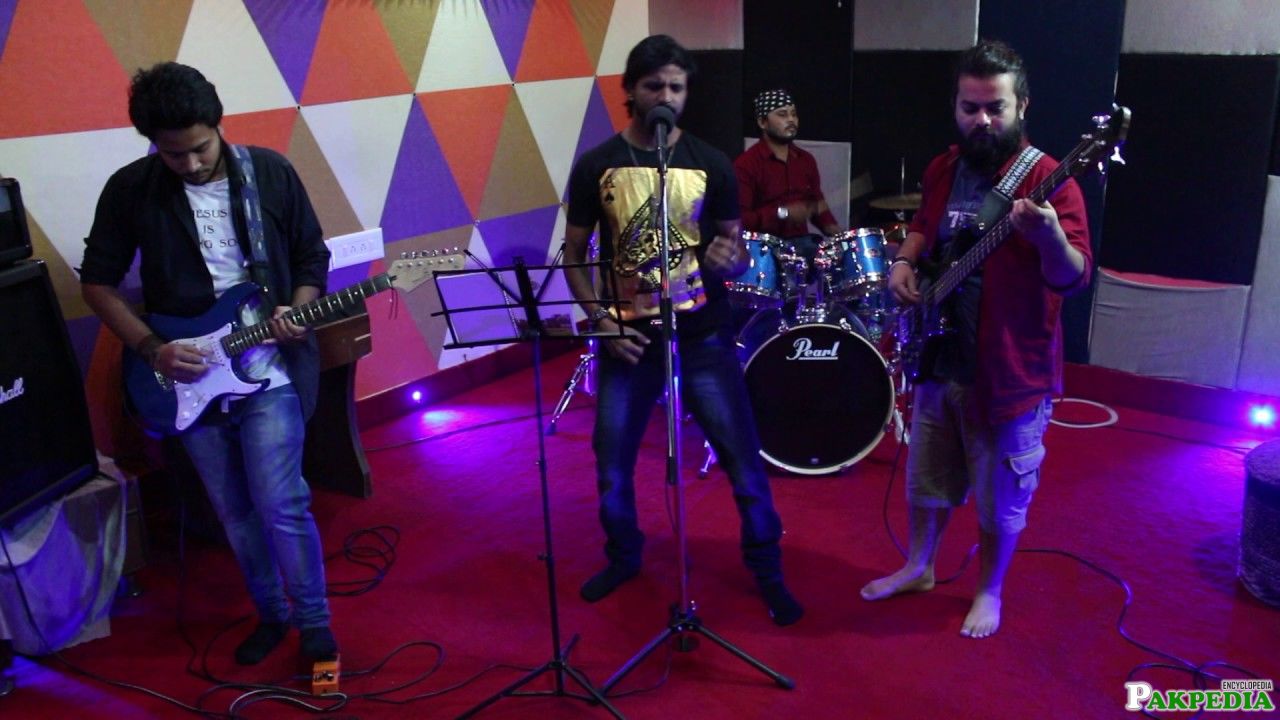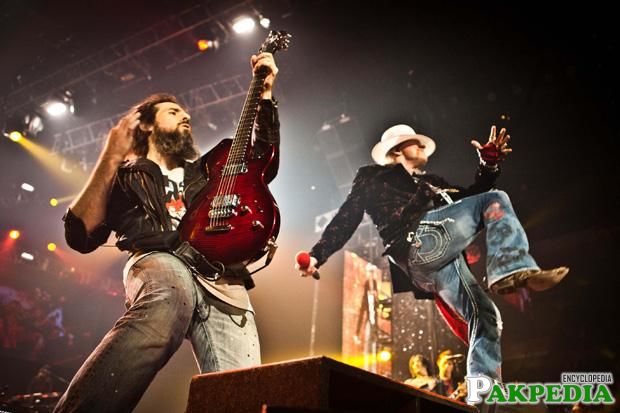 Details
In December 2007, Junoon performed at the Nobel Peace Prize ceremony in Oslo. In May 2008 Junoon defied death threats from militants to perform in the ethereal valley of
Kashmir
. The first ever rock concert to be held in Srinagar.
Jon Pareles of the New York Times describes Junoon as "South Asia's answer to Santana," and the Wall Street Journal called Junoon's eclectic music "a powerful combination of Led Zeppelin and traditional South Asian percussion like tabla and dholak."
Singer and guitar player, Salman Ahmad has recently co-written and recorded a song with academy award winning artist Melissa Etheridge called Ring The Bells which will appear on his new album Rock and Roll Jihad which accompanies the book of the same title being published by Freepress in January 2010. He is co-director of SSGWI a (501) (c) (3) nonprofit based in New York.
[2]
Junoon Band
Connect Share Change the world
Those three things were what Salman Ahmad knew, upon seeing Led Zeppelin perform at Madison Square Garden in June 1977, he wanted to do with music. "By the end of the night my shoulders, head, and feet were in a state of fana," or mystical ecstasy, he writes in his memoir Rock & Roll Jihad: A Muslim Rock Star's Revolution. "I didn't just like rock and roll. I loved it." Twenty five years after the founding of Junoon, the seminal Pakistani rock band, Salman's love affair with music seems stronger than ever. And so, for his fans like me, does the ecstasy of listening to Salman's music. For 25 years, Pakistanis, Indians, Urdu- and Punjabi- and English-speakers and music lovers anywhere have been connecting with what Salman and his band mates have shared.
Changing the World
And changing the world? That, you could say, is Salman's everlasting project even two and half decades after the birth of Junoon. For testimonials, ask those trying to stamp out polio, or a Pakistani politician, or any of the multiple artists Salman has worked with and generously promoted. Ask his students at Queens College, or the audiences in America who could never, if not for Salman, have known how good the mystic poet Bulleh Shah sounds when accompanied by licks from a Les Paul guitar. Knowing Salman and his music has certainly changed my world. As a child of the 1970s growing up in a small town in Pennsylvania, all I knew about the Muslim world were the images I saw on television: angry, rock-throwing Palestinians and frowning, white-robed oilmen. This was typical media fare for pre-cable, pre-Internet days in small-town America, and my first impressions of the Islamic world were far from positive.
Time Changed those Impressions
Time changed those impressions – but nothing changed them as much as working with Salman, and studying his music. I first came to Junoon through a Pakistan-born friend who knew of my interest in music, South Asia and faith. I knew Salman's particular blend of all three – plus the fact he'd spent a good chunk of time in America – would make for a striking profile, and I wrote about him back in 2007 for The Wall Street Journal. I was delighted and honored when he later asked me to collaborate on Rock & Roll Jihad.
Junoons Song Dosti
I never really left the world I came to love during the writing of that book. Nowadays, when the murderers of the Islamic State claim their latest victim in the name of their beliefs, I hear a riposte not just from Salman, but of millions of Muslims, in Junoon's song "Dosti" – "friendship." When I read of the sickening attacks on polio workers by the Taliban in northwest Pakistan, the counter-image that comes to mind is Salman and his friend Shahi Hasan working on a song in support of a campaign to eradicate the disease. And when someone, anyone, casually degrades Islam, I can quote back a collaboration with Peter Gabriel: "Open your eyes," counsel Salman and Gabriel. "Open your heart." You can almost hear the Taliban shudder.
Culture Humanizes
Culture humanizes what politics demonizes, as Salman himself often says. And what culture Salman and his band mates have produced! This peace-mongering band of Muslim (and at least one non-Muslim) brothers has put out an ever-growing and diversifying aural feast of rocking jams and mystic musings over the past 25 years. One got a taste of just how much the music has evolved and grown on the last compilation album, Junoon 20. From the hard-rocking "Talaash" to the quieter "Khwaab" and back to the heavenly stomp of "Must Qalandar," you can hear the band's inventiveness and pioneering melody-making accumulate and delight.
Junooni Explorations
Salman has always been at the forefront of junooni explorations into rhythm and melody. But his recent work, especially, calls to mind a modern-day mushaira, or poetic symposium. There he is performing with qawwali great
Rahat Fateh Ali Khan
on the hypnotic track "Gharya." Now he's reaching new heights in the West by recording with veterans Peter Gabriel and Melissa Etheridge. At the same time, he's jamming with (and thereby promoting) younger artists like Shahjehan of The Kominas and Bilal Khan. Of course, what we have in Junoon's music and Salman's career isn't – with apologies to some of Salman's heroes, The Rolling Stones – only rock and roll. Sure, he loves it, as he confirmed long ago in Madison Square Garden. Yet Salman's activism has developed as much as his music, especially in recent years, as he's gotten more deeply involved with cricketer-turned-politician Imran Khan. Though Salman lives much of the time in New York now, he's agitating for a "Naya Pakistan." Part of that new Pakistan, for Salman, means wiping out polio – as demonstrated most recently by his beautiful, haunting new song "Mushkilain." Watch the accompanying video about overcoming all challenges. Just be prepared to be moved to tears. Twenty five years can be a lifetime in the music business, and many artists don't get anywhere near the silver anniversary. The fact that Salman has is a testament not just to the consuming passion that inspired his band's name. It's also a result, I think, of his succeeding at what he set out to do. Through sharing his music, he has connected with fans, other artists, Pakistanis, Americans, and many more. Along the way, he's helped to change the world, one song at a time.
25 Years of Mystical
So here's to the next 25 years of mystical, magical music-making. You may call Salman a dreamer. But he's not the only one. Robert Schroeder is a writer who lives in Bethesda, Maryland. He helped Salman write Rock & Roll Jihad and has written essays, profiles, travel pieces and reviews for The New York Times Magazine, The Wall Street Journal, The Washington Post, and many other publications.
[1]
Junoon Band
List of Album
Junoon (1991)
Talaash (1993)
Inquilaab (1996)
Azadi (1997)
Parvaaz (1999)
Andaz (2001)
Dewaar (2003)
Door (2016)
List of awards
The Musik Awards
Indus Music Awards
Other Awards
ARY assian/Bollywood Awards
Sahara Awards
BBC Assian Awards
South Assian Journalists Association Awards
The Muslim Public affairs concil annual media Awards
Member Of Janoon Band
Ali Azmat
Ali Azmat
is a name that is known by every child on the streets of Pakistan. He is one of the iconic singers and songwriters of Pakistan who has proved his abilities not only as a musician but as an actor as well. He is best known to many people as the lead singer for the influential Sufi rock band Junoon which redefined Sufi singing for the millennial generation of Pakistan. He is not only famous in Pakistan but across the subcontinent as well. This scale of fame can be judged by the fact that Ali Azmat is the first musician ever to perform at the United Nations General Assembly along with an Indian band choosing to sing his song "Dosti" (English: "Friendship"), an aptly chosen title to promote the UN's mission in bringing peace to the world and ironically between two arch rivals India and Pakistan as well.
Ali Azmat is Best as Solo
Ali Azmat is best as solo because nobody can match up to his standards. His norms, his style, his attitude are purely his. Ali Azmat is one of the persons, whose life is filled with struggles, dares, innovations and rewards to those struggles. He has been gifted with a powerful voice which makes him stand out in the crowd and among his peers. Combined with his versatility and command on musical notes, Ali has become an iconic figure. He has struggled and been tried to be put down, but this only motivated him to rise up to the occasion and overcome all odds to make his mark on the music industry. This multidimensional artist has been called the "Bono" of Pakistan by
MTV
 and has been christened Asia's answer to "Santana" and U2 of South Asia by the New York Times. Today Ali Azmat is an iconic rock singer – mark of excellence and distinction in global music industry. He is now reinventing the South Asian music arena, exhilarating audiences everywhere with his fervent and trademark poetic fusion of east/west musical traditions.
[3]
Ali Azmat Janoon band
Salman Ahmed
Salman Ahmad is a Pakistani musician and former actor, who used to be a member of Vital Signs but left after their debut album due to creative differences. He went on to form Junoon, South Asia's biggest and longest-lasting rock band. While still enjoying the success of Junoon, he was involved in two documentaries with the BBC and is also a UN Goodwill Ambassador for HIV/AIDS. Ahmad is working towards spreading awareness about HIV in South Asia, and helping to bring peace between Pakistan and India. Ahmad is currently teaching at Queens College, City University of New York. Although Junoon's two other core members - Ali Azmat and Brain O'Connell - left the band in 2005, Salman Ahmad continues to perform as a solo artist under the "Junoon" label and has moved to New York after his solo career failed to take off in
Pakistan
. Salman Ahmad has also released one album as a solo artist, "Infiniti" in 2005.
[4]
Salman Ahmed Janoon Band
Nusrat Hussain
Nusrat Hussain started in the music industry with Vital Signs, and he even appeared in the "Dil Dil Pakistan" video. Earlier, he played keyboards with bands that his frieds formed in
Islamabad
. When Salman Ahmed, a member of the band (but who was not in the band when the Dil Dil Pakistan video was released) went his separate way, Nusrat joined him to form a Band with Ali Azmat as lead vocalist, a band called Junoon. If Vital Signs were the pioneers of pop music in Pakistan, Junoon were the pioneer of sufi rock, an eclectic mix of rock'n'roll and traditional ethnic music with religious undertones.
Vital Signs and Junoon
After spending some time with Vital Signs, and Junoon, Hussain ventured on his own and released a solo album titled (Amrit). It was a sincere effort that reflected Nusrat's skills and experience in the music industry. Unfortunately, the album did not do quite as well as expected. It could have been that he was a relatively unknown in the pop music scene. Nusrat Hussain is a professional pilot and flies the Airbus A310 of
Pakistan International Airlines
as a Captain (PIA).
[5]
Nusrat Hussain Janoon Band
Brian OConnell
Brian O'Connell is an American multi-instrumentalist, composer, arranger, record producer and actor. Best known as the bassist and producer for Pakistani sufi rock band Junoon, O'Connell has since gained respect as both a musician and a producer in the Pakistani music industry. O'Connell's musical roots stretch back to Tappan, New York. In 1978, O'Connell, then a sophomore at Tappan Zee High School, was invited by two classmates to join their band Apple Corps", a group that played mostly Beatles covers. Shortly after O'Connell joined the band, Apple Corps changed its name to "Sloke", and modified its repertoire to include Led Zeppelin, Boston, and the Grateful Dead. In early 1979, O'Connell and the other Sloke band members invited their friend Salman Ahmad to join the group. Ahmad had only recently taken up the guitar, but was already good enough to play with the band at a Tappan Zee High School talent festival in February of 1979. That performance marked the first time that O'Connell and Ahmad performed together publicly. Following the departure of Sloke's bassist several months later, O'Connell and Ahmad formed a new band, "Eclipse". Before the two could take their aspirations onto a bigger stage, Ahmad's parents moved back to Pakistan in 1981, and Ahmad began to study medicine at Lahore's King Edward's Medical College. After Junoon released their self-titled debut album Nusrat Hussain departed from the band and then Salman Ahmad contacted O'Connell and invited him to play bass on the band's second album. O'Connell quit his job as a social worker and traveled to
Karachi
, Pakistan, where he reunited with his old friend. It was after ten years the friends reunited. In 1992, the band started working on their second studio album. The album was recorded and mixed at Tahir Gul Hasan's Sound On Sound recording studios in Karachi. While working on their second album at one side, on the other hand the band also featured in a television series,
Talaash
, directed by Atiqa Odho and written by Anwar Maqsood, based on the true story of the band in which the band members acted themselves and due to its novel storyline it became an extremely popular television series in Pakistan. O'Connell continued to play for Junoon until their seventh studio album,
Dewaar
, the album which last featured the trio together. However, after the release of the album O'Connell went back to United States.
[6]
Brian O'Connell Janoon Band
---