Cricketer junaid zia
Tauqeer zia-father of junaid zia
Junaid zia is appealing
Profile
Junaid first made an impression with his medium-fast bowling in Pakistan's junior ranks, and was part of the squad which played in the Under-19 World Cup in 2002.
Domestic teams
He has played with Pakistan, Zarai Taraqiati Bank Limited, Pakistan Customs,
Habib Bank Limited
, Lahore Eagles, Lahore Whites, Lahore Lions, Lahore Ravi, Lahore Shalimar, Pakistan A, Pakistan Emerging Players, Pakistan Inv XI, Punjab Stallions, Punjab (P), PCB Reds, Rawalpindi, Pakistan. 
[1]
teams
International Cricket Debut
Unfortunately Zia was initially brought to the public's attention for all the wrong reasons, as his bowling action was considered by Asoka de Silva to be somewhat suspect. Having honed his bowling skill he made his first international match in 2003-04 against Bangladesh at
Multan
. 
[2]
Debut
Initial Training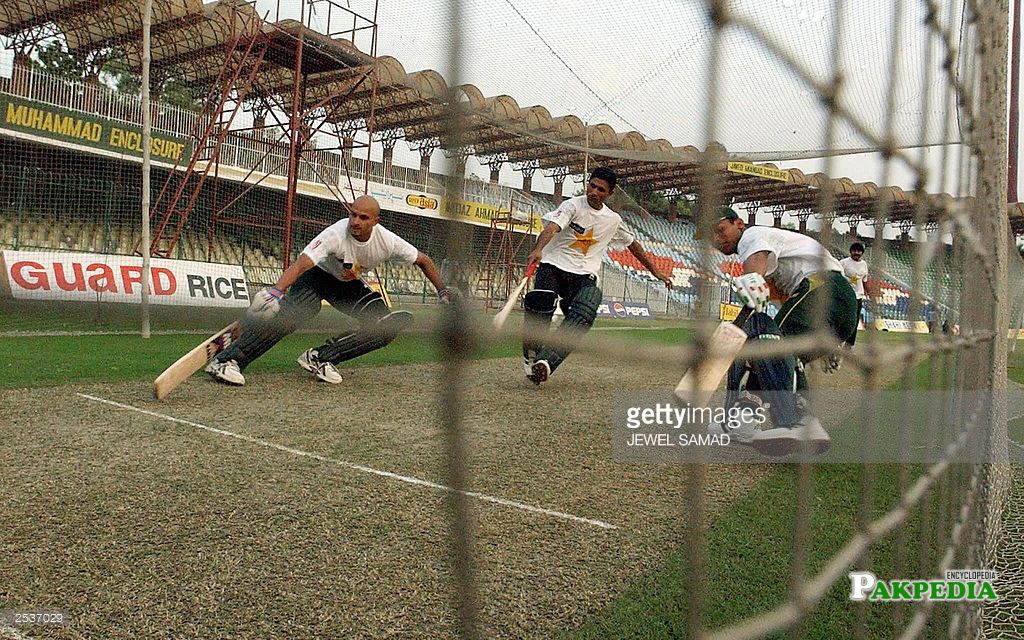 Junaid zia joined the HBL camp held in November 1998. Junaid further said" that was the era of fast bowlers. Unfortunately none of the players from the camp could make it to the international level. I still remember there was a young talented fast bowler from Garrison Academy named Shahrukh who was yard faster then me". 
[3]
training
Junaid was recalled
He was recalled to the one-day squad for the home series against Zimbabwe in January 2008 after taking 46 wickets in ten Quaid-e-Azam Trophy matches. In just his second match, he finished with impressive figures of 3/21. Two more expensive outings later, Zia was discarded from the team all together. 
[4]
recall
Amir Sohail praised Junaid Zia
In domestic circles, he is known for his extremely high fitness levels, a fact which came in for much praise from Aamer Sohail,
Pakistan'
s chief selector, who called Junaid one of the most hard-working cricketers he had ever seen. 
[5]
Sohail
Batting and fielding averages
| | Mat | Inns | NO | Runs | HS | Ave | BF | SR | 100 | 50 | 4s | 6s | Ct | St |
| --- | --- | --- | --- | --- | --- | --- | --- | --- | --- | --- | --- | --- | --- | --- |
| ODIs | 4 | 2 | 1 | 2 | 2* | 2.00 | 7 | 28.57 | 0 | 0 | 0 | 0 | 0 | 0 |
| First-class | 90 | 134 | 15 | 2379 | 100 | 19.99 | | | 1 | 8 | | | 25 | 0 |
| List A | 109 | 80 | 14 | 1005 | 59* | 15.22 | | | 0 | 4 | | | 29 | 0 |
| T20s | 35 | 24 | 5 | 171 | 35* | 9.00 | 158 | 108.22 | 0 | 0 | 9 | 8 | 8 | 0 |
Bowling average
| | Mat | Inns | Balls | Runs | Wkts | BBI | BBM | Ave | Econ | SR | 4w | 5w | 10 |
| --- | --- | --- | --- | --- | --- | --- | --- | --- | --- | --- | --- | --- | --- |
| ODIs | 4 | 4 | 145 | 127 | 3 | 3/21 | 3/21 | 42.33 | 5.25 | 48.3 | 0 | 0 | 0 |
| First-class | 90 | | 14992 | 8404 | 282 | 7/7 | | 29.80 | 3.36 | 53.1 | 11 | 12 | 1 |
| List A | 109 | | 4843 | 4315 | 147 | 5/53 | 5/53 | 29.35 | 5.34 | 32.9 | 6 | 1 | 0 |
| T20s | 35 | 35 | 663 | 858 | 41 | 5/31 | 5/31 | 20.92 | 7.76 | 16.1 | 0 | 1 | 0 |
Career statistics
ODI debut Pakistan v Bangladesh at Multan, Sep 9, 2003 
Last ODI Pakistan v Bangladesh at Rawalpindi, Sep 18, 2003 
First-class debut 2002/03
Last First-class United Bank Limited v Zarai Taraqiati Bank Limited at Islamabad, Nov 26-29, 2012 
List A debut 2000/01
Last List A Zarai Taraqiati Bank Limited v Pakistan Television at Rawalpindi, Jan 27, 2014 
T20s debut Lahore Eagles v Sialkot Stallions at Karachi, Feb 24, 2006 
Last T20s Bahawalpur Stags v Lahore Lions at Karachi, Sep 25, 2014
Matches with domestic teams
| Bat & Bowl | Team | Opposition | Ground | Match Date | Scorecard |
| --- | --- | --- | --- | --- | --- |
| 14, 0/27 | Lahore Lions | v Stags | Karachi | 25 Sep 2014 | T20 |
| 1/21 | Lahore Lions | v DM Jamali | Karachi | 22 Sep 2014 | T20 |
| 8*, 1/13 | L Eagles | v Wolves | Rawalpindi | 11 Feb 2014 | T20 |
| 6, 2/19 | L Eagles | v P Panthers | Rawalpindi | 10 Feb 2014 | T20 |
| 1/18, 3 | L Eagles | v Leopards | Rawalpindi | 7 Feb 2014 | T20 |
| 2/41 | ZTBL | v Pakistan TV | Rawalpindi | 27 Jan 2014 | LA |
| 2/45, 4 | ZTBL | v National Bnk | Islamabad | 11 Jan 2014 | LA |
| 21, 0/69 | ZTBL | v PIA | Rawalpindi | 26 Dec 2013 | LA |
| 2/35, 12* | ZTBL | v United Bank | Islamabad | 18 Dec 2013 | LA |
| 5/31 | ZTBL | v United Bank | Lahore | 2 Dec 2013 | T20 |