Junaid Jamshed with Tariq Jameel
Junaid Jamshed Early Life
Junaid Jamshed Musician and Religious Scholar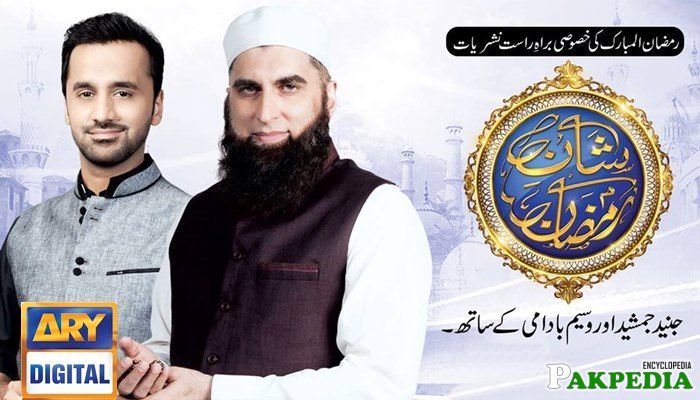 Shan E Ramzan 9th June 2016 Sehr J. with Waseem badami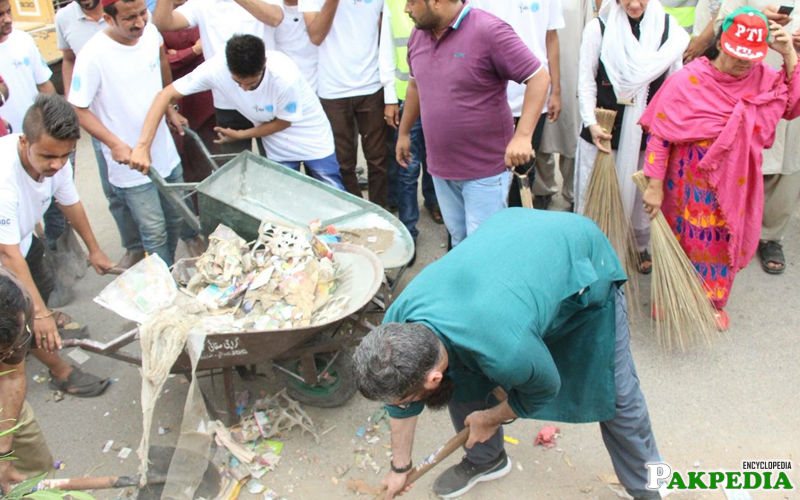 Junaid Jamshed join Pti worker to cleanliness environment
bEarly Lifeb
Junaid Jamshed founder of J. was born in Lahore, Pakistan on 3rd September, 1964. He belonged to a very respectable family of
Punjab
. His father was used to be a Colonel in Pakistan Air Force named Jamshed Akber. He got his early education from a boarding school of locality of Lahore. He wanted to be an aviator and for this purpose he appeared in entry test for aviator in PAF, but he could make it because of eye weakness and eyesight problem. After that he changed his mind and went to the University of Engineering and Technology. He completed his graduation from the University of Engineering and Technology in Lahore in 1990. He had chosen a degree in the field of Mechanical engineering.
[4]
Biography of Junaid Jamshed
bCareer in Pakistan Air Forceb
After completing his graduation, he worked for the Pakistan Air Force. At PAF, he worked as an engineer and a civilian contractor. His carrier at PAF was very short because of his weak eyesight which already kept him away from aviation. His short career at Pakistan Air Force was in the field of aeronautical engineering.
[5]
Junaid Jamshed Biography
bMusic careerb
In 1983, Junaid Jamshed started performing rock music at Peshawar University and Islamabad University campuses while still a student at
UET
in Lahore. During this time, Rohail Hyatt was in town searching for a singer for the newly formed band, 'Vital Signs'.
[6]
Music Career Vital Sign
Bassist Shahzad Hasan and keyboardist Rohail Hyatt
[7]
Royal Hyatt J.
 arrived at the campus of Peshawar University to meet Jamshed but were unable to do so because of severe winter weather in Peshawar. That night, Jamshed sang "Careless Whisper", a 1984 single by George Michael, on the university campus. They would not meet with Junaid Jamshed for a further four years. In 1987, Jamshed joined his engineering university's rock band, Nuts and Bolts as a lead vocalist and performed at Flashman's Hotel in Rawalpindi.
[8]
Junaid Jamshed J.
The band's guitarist, Nusrat Hussain, and Rohail Hyatt were also there in search of new talent at the hotel. When Jamshed came to perform on stage, Nusrat tipped Hyatt saying, "that kid's coming back; the guy you liked" and "perhaps we should go and see him." Hussain urged Hyatt to see him and after Junaid Jamshed's performance. With the help of Hyatt and Nusrat Hussain, Junaid Jamshed was inducted into the singing group Vital Signs and signed a record deal with record executive and producer Shoaib Mansoor to his PTV Music Studio.
bBrand Personalityb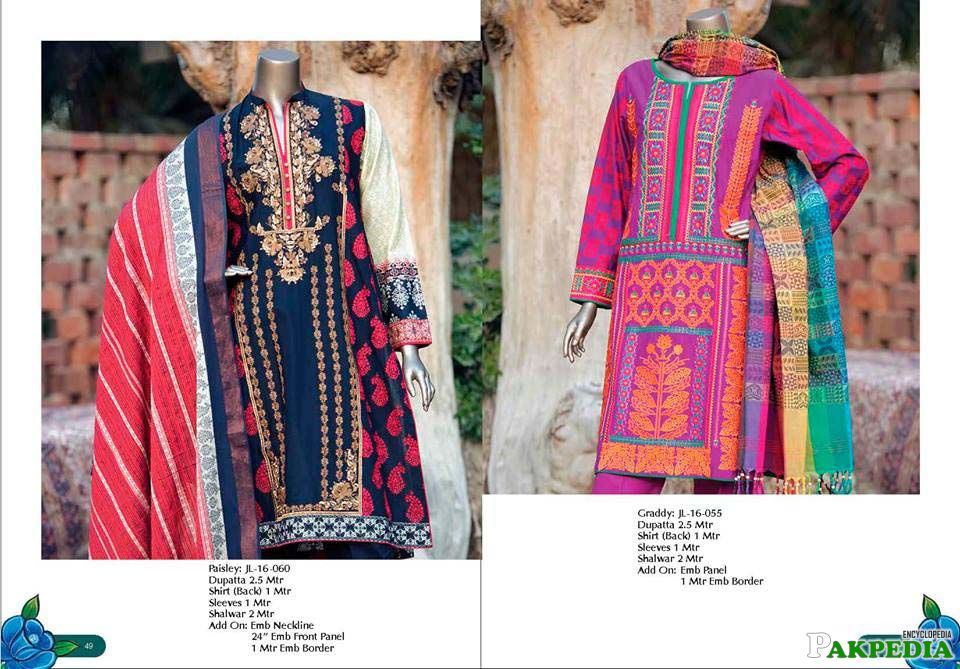 J. can be defined as a fashion retail brand that is rich, elegant and stylish in traditional ensembles. It keeps adding seasonal clothes, machine prints, intricate embroidery and modern cuts to its already extensive collection on a regular basis. For our unique and flamboyant designs for men and women, we depend on a team of highly skilled fashion professionals who come from the country's renowned fashion institutes. They start out by studying the latest trends, carrying out research on how these trends can be adopted, selecting the colors and styles that can make the collection extraordinary and then finalizing both casual and formal designs for every season.
[9]
Brand personality J.
bJ.b
J. is the name of a store or a clothing unit in Lahore,
Pakistan
which is owned by Junaid Jamshed. The main item of this store is products of Khaadis, a form of cloth, and designer Kurtas-Shalwar being supplied by the store in all over the country. It is also known as J. J. which is taken from the initials of his name Junaid Jamshed.
bPresent Lifeb
Apart from a devoted Muslim, he is also involved in so many charitable works within the country. He is working with an NGO Muslim Charity from the year 2003 till now. Although he left the world of music but he remained a vocalist till now and so many albums of Naats are being released by him which became very famous in Islamic world. He also appears on television shows of different channels as an anchor in Islamic shows. In business point of view he is still engaged in running his store of designer clothes.
[10]
Research Peadia.Info J.
bDeathb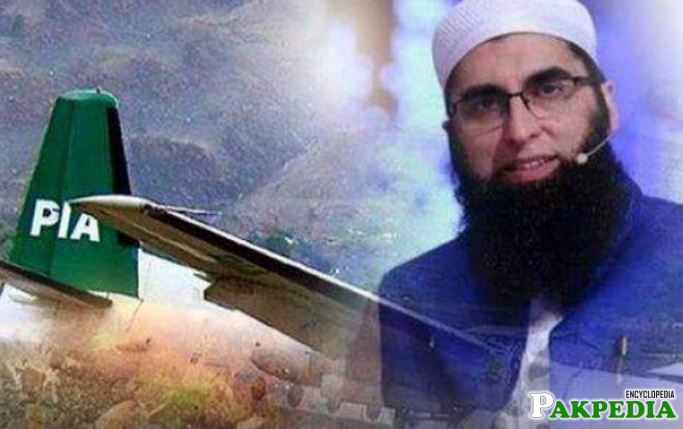 Junaid Jamshed was in Chitral, along with one of his two wives, Nahya Junaid, for a Tablighi Jamaat mission. On 7 December 2016, the two were returning to
Islamabad
aboard the ill-fated PIA Flight 661, which crashed near Havelian, Khyber Paktunkhwa, killing all on board. Junaid Jamshed was enroute to deliver the Friday sermon at the Parliament mosque. The bodies were burnt beyond recognition. He is survived by his remaining wife Ayesha, three sons, and a daughter.
[11]
Junaid Jamshed J.
bList of Naatb
Jaga jee laganay ki dunya nahi hai (jalwa-e-janaan - 2005),
Jalwa e jana (jalwa-e-janaan - 2005),
Madad meray allah (jalwa-e-janaan - 2005),
Muhammad pbuh ka roza (jalwa-e-janaan - 2005),
Multazim par dua (jalwa-e-janaan - 2005),
Rasha makawa (pashto, jalwa-e-janaan - 2005),
Tu ne poochi hai imamat (jalwa-e-janaan - 2005),
Yeh subh-e-madina (jalwa-e-janaan - 2005),
Ae allah tu hi atta ( Mehboob-e-Yazdan - 2006),
Aye rasool e amin (Mehboob-e-Yazdan - 2006),
Aei taiba (Mehboob-e-Yazdan - 2006),
Badee uz zaman (Mehboob-e-Yazdan - 2006),
Meetha meetha pyara pyara (Mehboob-e-Yazdan - 2006),
Mere allah tu kareem hai (Mehboob-e-Yazdan - 2006),
Mohabbat kya hai (Mehboob-e-Yazdan - 2006),
Mujhe zindagi mein yaarab (Mehboob-e-Yazdan - 2006),
Qasida burda shareef (Mehboob-e-Yazdan - 2006),
Sood ki lanat (Mehboob-e-Yazdan - 2006),
Surah al baqarah (Mehboob-e-Yazdan - 2006).