Jilani Park Gate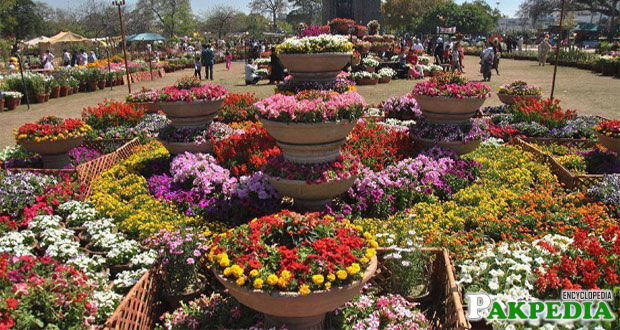 Annual Flower Show Jilani Park  
Jilani Park  
PanoramioJilani Park  
WaterfallJilani Park  
About
Race Course Park and Jilani Park are known interchangeably but I have often listened from people in Lahore that we are going to Race Course park because they think that it looks elegant when we say it in English anyway. This beautiful park in fact is located in in the heart of Punjab province of
Pakistan
–Lahore. It is located in front of Services Hospital on jail Road. Why is it famous for? It find place in the newspapers and television news reports regarding seasonal floral exhibits. There is also an artificial waterfall that attracts the visitors for couples', individual and family photographs. One thing is more significant about the garden that the annual horse racing competitions are held in this park. If you are vising the park for the first time and no one has told you about—then hold on and don't forget to visit the here's popular restaurant called Polo Lounge. Don't forget to get chicken samosas and tea. This park is also not independent of the history.
Zulifqar Ali Bhutto
in the year of 1976 asked to move the Lahore Race Club Resources from Jail Road but nothing happened and they were not moved. As far as the inauguration of the park is concerned, it was done by the then governor of Punjab province Lt. General GulamGillani Khan on third of October 1985. Security officer, sanitary supervisor, estimated sixty five security guard and one hundred and seventeen gardeners are paying their services to look after this park and enhance its beauty.As far as the question of the area is considered it encompasses almost eighty eight canals. Six canals are reserved for the cricketing grounds to provide youth with the opportunities of physical activities. Hold a moment! This is not all! There are also gym and fitness centers who want their bodies in shape and tandem. There is also a study hall for the students. The beautiful lake attracts the people fond of photography and videos to upload on social networks. The other attractions for visitors include: walkway and jogging track, landscaping, artificial hill and a lake. You will be amazed to know that this park has one of the largest jogging tracks in Asia—which is 2.5 kilometers. The landscaping in the park is of Japanese style and approximately eight thousand plants and flowers planted in a small area of six canals. There is a beautiful clock in the hill. This artificial hill is found behind the lake. The lake also provides the pleasure of boating and there is rush of visitors to get their term.  Children can find swings, cradles and slides. In the study hall different Islamic, newspapers and general books are provided. 
[2]
About About
History
Jilani Park (formerly known as Race Course Park) is located in the city of Lahore,
Punjab
, Pakistan. It is on the Jail Road in front of famous Services Hospital. It is famous for its floral exhibitions and artificial waterfall. Annual horse racing competitions are held in this park. Lahore Race Club racecourse was initially at Jail Road, Lahore, the current site of Jilani Park. In 1976, Zulfikar Ali Bhutto's government asked the club to move its races away from the Jail Road course, but it remained there until 1980, when it was compelled to leave. Race Course Park was inaugurated by Lt General Ghulam Jilani Khan at that time Governor Punjab on 3rd October, 1985.
[3]
 located in the city -  Jail Road in front of famous Services Hospital.
Officials
There is one security officer and one sanitary supervisor and 65 security guard and 117 gardeners working for this park.
AREA
This park covers 88 acres and 6 canals containing two cricket grounds, 5 canteens, gym and fitness centers, a study hall, a beautiful lake, small open areas, walking and jogging tracks and a lot of trees, flowers and shrubs
[4]
 This park  - covers 88 acres and 6 canals
Attractions
Walkway and Jogging track: The length of walkway of hard tiles is 5.5 km while jogging track is completely made of clay and its length is approximately 2.75 km and it is one of the larger jogging tracks in Asia which is made up of pure mud and clay only clay. And its maintenance is done properly and is watered 3 times a day, in morning, evening and at night.
Landscaping: The style of landscaping in the park is of Japanese nature. Japanese landscape design reflects the pure beauty of nature. There are about 80000 plants & flowers planted in a small area of 6 canals. Some of the plants and trees are also imported from the foreign countries. About 200 types of trees and the shrubs are imported which are very rare and expensive.
Artificial Hill: An artificial hill is made behind the lake. Hill is decorated with the different types of plants and stairs made up of stones are also provided which gives a different look to the hill. The Hill has two tops and between these two tops a beautiful clock is formed.
Lake: A very attractive and a beautiful lake is provided within the park which has a shape like the map of Pakistan. Lake can be used for boating.
Activities for All: Children swings, cradles and slides are installed at different places in the park. Gent's gymnasium is located behind the lake, which is fully equipped with the fitness and exercising machines. A Fitness Centre for women is also provided, for the security and the privacy of women, the Fitness Centre for women is totally covered from all the sides. Where women feel free, comfort and ease for exercise. A Training Centre is also provided for this purpose where training is given for fitness and health to the new youngsters coming to the gym. A very beautiful study hall is provided in the park. Different Islamic and general books are 
for the readers and also different kind of newspapers are placed there on daily bases which link the readers with whole the world.[5] watered 3 times a day -  in morning, evening and at night For the religious activities and a very beautiful Mosque is also provided in the park.
Lahore Jilani Park CKNP Fair
On March 28-29-30, inside the Jilani Park and in the adiacent Lahore Chamber of Commerce offices take place the promotional fair of Karakorum Region. Stands and several events are organized to present the Central Karakorum National Park, its mountains, specially the K2, and Gilgit Baltistan resources
[6]
 Jilani Park CKNP Fair - On March 28-29-30
THE PROMOTIONAL FAIR
The fair is organized by the Seed Project in collaboration with PATO, the directorate of CKNP and the Lahore Chamber of Commerce. The fair is dedicated to CKNP Park and its stunning mountains, some stands promote production activities typical of the area: mining of precious stones, wooden handicraft production and agricultural production.
Bilawal Bhutto
Hamza Shahbaz inaugurates flowers exhibition at Jilani Park
Lahore: PML-N central leader, Hamza Shahbaz Sharif MNA has said that people of Pakistan want peace and dialogues with Taliban are continuing successfully. He prayed for the safety of Bilawal Bhutto. He said that dialogues with Taliban have entered into an important phase.
Hamza Shahbaz
29-3-14 He said that the journey of development and prosperity cannot be completed without eliminating menace of terrorism from the country. He said that all political forces have been taken on board regarding dialogues with Taliban. He said that Prime Minister Nawaz Sharif and his team are holding dialogues with Taliban sincerely and will certainly give the gift of peace and development to the people.
[7]
 Parks and Horticulture Authority -   at Jilani Park Race Course
He expressed these views while inaugurating the annual exhibition of flowers in connection with Jashan-e-Baharan arranged by Parks and Horticulture Authority at Jilani Park Race Course
Jilani Park Race Course Park Lahore
Race Course Park and Jilani Park are known interchangeably but I have often listened from people in Lahore that we are going to Race Course park because they think that it looks elegant when we say it in English anyway. 
This beautiful park in fact is located in in the heart of Punjab province of Pakistan –Lahore. It is located in front of Services Hospital on jail Road. Why is it famous for? It find place in the newspapers and television news reports regarding seasonal floral exhibits. There is also an artificial waterfall that attracts the visitors for couples', individual and family photographs. 
One thing is more significant about the garden that the annual horse racing competitions are held in this park. If you are vising the park for the first time and no one has told you about—then hold on and don't forget to visit the here's popular restaurant called Polo Lounge. Don't forget to get chicken samosas and tea. 
This park is also not independent of the history. Zulifqar Ali Bhutto in the year of 1976 asked to move the Lahore Race Club Resources from Jail Road but nothing happened and they were not moved. As far as the inauguration of the park is concerned, it was done by the then governor of Punjab province Lt. General GulamGillani Khan on third of October 1985. 
Security officer, sanitary supervisor, estimated sixty five security guard and one hundred and seventeen gardeners are paying their services to look after this park and enhance its beauty.
As far as the question of the area is considered it encompasses almost eighty eight canals. Six canals are reserved for the cricketing grounds to provide youth with the opportunities of physical activities. [8] This beautiful park in fact -   is located in in the heart of Punjab