Irish-born Jennifer Musa has lived in Pakistan for almost as long as the country has existed. She came to her husband's homeland in 1948 and stayed  after he died, becoming a legislator, ice manufacturer and a local legend who refused to wear the Muslim veil. After six decades living in Balochistan, the poorest and most remote of Pakistan's provinces, the 89-year-old tells Islamabad correspondent Danny Kemp she has no regrets that she is unlikely to see County Kerry again.
| Title | Description |
| --- | --- |
| Personal | |
| Name: | Jennifer Musa |
| In Urdu: | جینفر موسی |
| Famous As: | Queen of Balochistan |
| Residence: | Home Town of Pishin Balochistan |
| Education: | Roman Catholic Education |
| Religion: | Islam |
| Profession: | Politician,Nurse |
| Born | |
| Date: | 11 November 1917 |
| Place: | Tarmons County Kerry Ireland |
| Family | |
| Spouse: | Qazi Musa |
| Children: | Five Children(Four Sons and One Daughter) |
| Siblings : | Four Sisters and Two Brothers |
| Died | |
| Date: | 13 January 2008 |
| Rest Place: | Balochistan Pakistan |
| Career | |
| Political Party: | National Awami Party |
| Serve As: | Pakistan's First Parliament |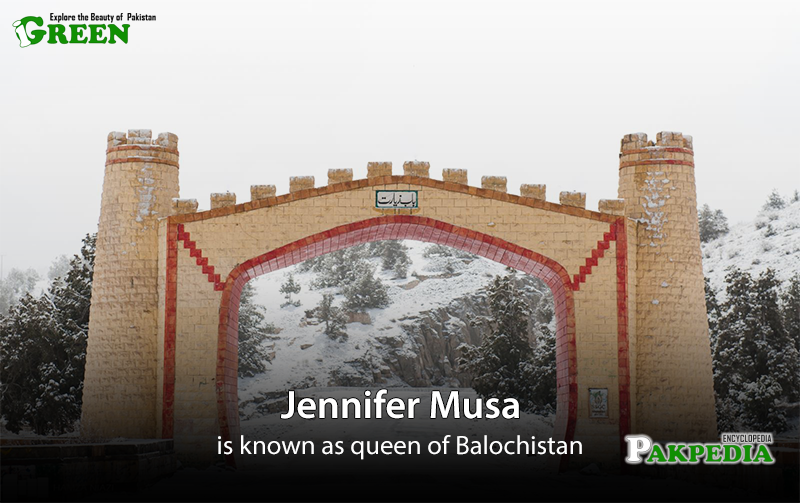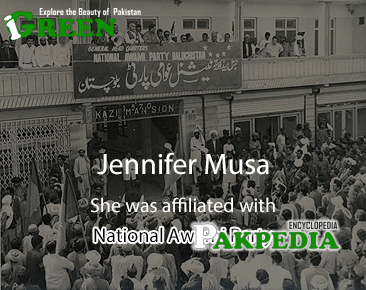 Biography
Irishwoman who married Qazi Musa, a Pakistani politician who was the son of the Kalat District Prime Minister. In 1970, after her husband died, she was elected to Pakistan's first Parliament.Her birth name was Bridget Wren, and she left County Kerry, Ireland in her young adulthood to become a nurse.She was also known as Queen of Balochistan.[1]  Biography 
Born and Family Background
Jennifer Musa was born Bridget Wren at Tarmons, County Kerry in Ireland, the daughter of a smallholding farmer. She had four sisters and two brothers.Known as Bridie, she later changed her name to Jennifer and left for England to train as a nurse. Like many thousands of young Irish men and women Ireland was a poor and desolate place to carve out your future. Jennifer decided to move to Oxford, where she trained to be a nurse. This is where things took an interesting turn.
Education and Marriage
She received a Roman Catholic education. .In 1939 while living in Oxford, she went to Exeter College's May Ball and there Jennifer met and fell in love with a Philosophy student named Qasi Mohammed Musi. Qasi was a prominent Baloch politician and nationalist, tribal leader, brother of Qasi Isa, a prominent activist in the Pakistan Movement. Qasi Musa was the eldest son of the Prime Minister to the Khan of Kalat. Jennifer Musa took the name Jehan Zeba and married Qasi the following year. She had five children: four sons and one daughter. Her son Ashraf Jehangir Qazi is a senior Pakistani diplomat.
Moved to Pakistan
In 1948 (just a few months after Pakistan earned its independence from Britain), they moved to the town of Pishin in Balochistan. Jennifer Musa's arrival in Pishin was dramatic to the local population. Here was this ancient tribal culture that believed pretty strongly in Purdah, the religious belief that women were not allowed to be seen by men in public, and then their entire system was turned upside down by the arrival of this hot-tempered, tough-minded, young women from County Kerry Ireland.[2] Moved to Pakistan 
Refused to Wear the Burka
Jennifer refused to wear the burka, and loved Bailey's Irish Cream, and didn't take being told what to do from anyone. There was a rumour that spread that Jennifer was a British Princess who had been given to Qasi as a gift by the British Royal Family as a reward for the Balochistanian prince killing a wild tiger with his bare hands.
Land of Camels
In a land of camels, her family owned the only car; despite the austere surroundings, they lived in relative security within the thick, mud-walled, colonial-era home that was festooned with daggers, tigers' heads and photographs of her extravagantly whiskered in-laws.
Death of Her Husband
In 1956 tragedy struck. The idyll life ended when her husband died in a motor accident. Despite her wish to return to Ireland, her husband's family persuaded her to stay in Pishin with their 14-year-old son, Ashraf Jehangir Qazi.
Entrance in Politics
Her independence of mind, often attributed to her "Irishness", and often making references to Irish republicanism led her to enter politics. She joined the now-defunct National Awami (Freedom) Party (NAP) of the Pathan nationalist Wali Khan. At what are often called Pakistan's "first and last free and fair elections", in 1970, she won a seat in the national assembly. Her flaxen hair, grey-blue eyes and fair skin caused unease among its more bearded members.
Served As
Jennifer served as a parliamentarian for seven years, during which time she demonstrated her empathy for the underdog. She founded the area's first women's association and its first family planning clinic. "You can't liberate women until you liberate men," she said.
Resisted Strong Pressure
During the seven years she served in Parliament, her relations with Mr. Bhutto deteriorated from the merely frosty to the positively glacial. In his quest to craft a constitution for the country, the Prime Minister required the votes of assembly members from all parts of the country, but he would not concede to Balochi demands for certain amendments. " Bhutto told my brother-in-law to work on me," she said, the memory of the ancient confrontation even now stirring her ire. "He said, 'get her vote.' He thought the weakest link was a woman. He'd never been to Ireland. In the end, Bhutto gave in. He never forgave me." The imposition of martial law in 1977 scuttled democratic politics in Pakistan until 1989, and brought to an end Mrs. Musa's political years. "That's when I started my garden, my house here," she said.[3] Resisted Strong Pressure
Interview
"I don't think I will ever go back to Ireland. I haven't anyone living there any more. If I were to go home I would fell absolutely strange," she says. "Even now as I sit here in Pishin I feel I am home. They don't put me on a pedestal, that would be terrible," she says.
Queen of Balochistan
Jennifer Musa is such an engrained part of this parched wilderness that she is widely known as the "Queen of Baluchistan" and once saw Kalashnikov-wielding feudal lords meekly bow to her will.[4]  Queen of Balochistan 
Six Decades
Jennifer remained in Balochistan for six decades, refusing to leave even when the neighboring Afghan province of Khandahar was overrun by Taliban insurgents.  She raised her son to become a diplomat (he was served a Pakistan's Ambassador to both the United States and Russia) and fight for what he believed in, and when she died in 2008 at the age of 90, her entire village came out to pay their respects to the Irish Queen of Belochistan.[5] Six Decades 
Social Work
Spurred by the plight of young girls in this desperately poor region she took up social work. "I worked with all the people, even with my bad Urdu. They are clever people. I founded a kind of girl guides and the Pishin women's association, I founded that for the education of the girls," she said. She gestures with a smile to a green-spined book of photographs of Ireland, but says she has no intention of leaving the place she has called home for more than half her lifetime.
Death
Jennifer died on January 12 2008. Her funeral procession was attended by thousands of burly, turbaned Pathans (many of them allied to the Taliban) who raised cheers of "Mummy Jennifer!" in her honour as the cortège passed through a shuttered Pishin.