Jemima Marcelle Goldsmith is a journalist, editor, producer and ex-wife of internationally renowned cricketer turned politician, chairman of Pakistan Tehreek-e Insaf, Imran Khan.
| Title | Description |
| --- | --- |
| Personal | |
| Name: | Jemima Marcelle Goldsmith |
| In Urdu: | جمائمہ مارسیل گولڈ سمتھ |
| Famous As: | Jemima Khan |
| Nationality: | British, Pakistani, |
| Residence: | London |
| Education: | MA in Middle Eastern Studies at the School of Oriental and African Studies, University of London, |
| Religion: | Jewish-later converted to Islam |
| Profession: | Journalist, campaigner |
| Height: | 5'7 |
| Eye Color: | Brown |
| Hair color: | Blonde |
| Website: | https://twitter.com/jemima_khan |
| Born | |
| Date: | 30 January 1974 |
| Place: | Westminster Hospital, London, England, |
| Family | |
| Ethnicity: | Anglo- Irish |
| Spouse: | Ex husband-Imran khan |
| Children: | 2 sons from Imran Khan |
| Son's names: | Suleman Isa Khan, Qasim Khan |
| Parents: | Sir James Goldsmith, Lady Annabel Vane-Tempest-Stewart , |
| Siblings : | 6 Brothers, 4 Sisters |
| Brothers : | Zac Goldsmith, Ben goldsmith, Manes Goldsmith, Jethro Goldsmith, Rupert Birley, Robin Birley |
| Sisters: | Alix Goldsmith, Charlotte Goldsmith, Isabel Goldsmith, India Jane Birley, |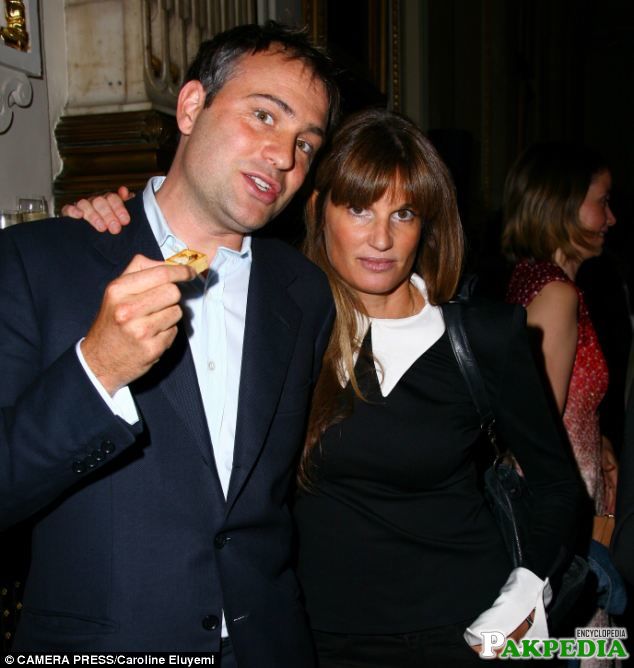 Profile

Jemima Marcelle Khan ( born 30 January 1974) is a British writer and campaigner. She is associate editor of the New Statesman and European editor-at-large for Vanity Fair. She has worked as a charity fundraiser, human rights campaigner and contributing writer for British newspapers and magazines. Khan first gained notice in the United Kingdom as a young heiress, the daughter of Lady Annabel and Sir James Goldsmith. She was married to the retired Pakistani cricketer Imran Khan between 1995 and their divorce in 2004. For the next three years, from 2004 to 2007, Khan gained worldwide media attention for her romantic relationship with British film star Hugh Grant.  [1] family
Birth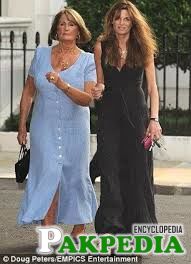 Jemima was born to a financier father Sir James Goldsmith and Lady Annabel Vane-Tempest-Stewart on 30 January 1974.Her mother was of an Anglo- Irish decent and her father's background was French and Jewish. Her parents started a polyamorous relationship in 1964 while they were married to different partners, but in 1978, they married for the sole purpose of legitimizing their children. She has two younger brothers, Zac and Ben, as well as five paternal and three maternal half-siblings, including Robin and India Jane Birley. 
Education
Khan grew up at Ormeley Lodge while attending the Old Vicarage preparatory school and Francis Holland School. Between the ages of ten and seventeen she was an accomplished "equestriene" equestrian in London. Khan enrolled at the University of Bristol in 1993, but dropped out to get married in 1995. Khan eventually submitted her dissertation in March 2002 gaining a 2:1 bachelor's degree in English. She later completed an MA in Middle Eastern Studies at SOAS, University of London, reading Modern Trends in Islam. [2] Education
Jemima wedded Imran Khan

The beautiful socialite with the mane of tawny hair was not to finish her higher education, however. When she met Imran, a dashing Oxford-educated cricketer 42 to her 21 at in London in 1995, the attraction was as mutual as it was instantaneous. She converted to Islam few months before their wedding. In May 1995, the two married in a two-minute ceremony conducted in Urdu in Paris, a civil ceremony at Richmond Register Office the following month. The dinner dance held at Jemima's parents' house that evening was attended by the cream of London society. In place of wedding presents, Jemima, in typical style, asked guests for donations to the cancer hospital in Lahore, named after her husband's late mother. 
Life in Pakistan after marriage

The couple set up home in Pakistan, where Imran set out to carve a career for himself in politics he is the leader of the Movement for Justice Party, which is campaigning to end corruption in the country. Eighteen months later, Jemima, by then speaking Urdu and campaigning to improve the country's literacy levels, presented her husband with his first son, Suleiman. Their second, Qasim, was born in 1999. Jemima appears to have inherited her father's entrepreneurial qualities. As well as developing her own brand of ketchup, she set up a fashion label, the profits from which went to the Shaukat Khanum Memorial Cancer hospital. in 1999 she was charged with theft of antique tiles, which she later rubbished.  But in 2001 the budding entrepreneur, citing the economic downturn, announced the label would close. On June 22, 2004, she divorced her husband and moved to England later citing her difficulty to adapt to Pakistani lifestyle as the main reason for their divorce. [3] marriage and divorce  
Career after divorce
Jemima Khan was a feature writer and a contributing editor for British Vogue from 2008 to 2011.
In 2011 Khan was appointed Vanity Fair's new European editor-at-large. She was Associate Editor at the Independent newspaper which she left to become Associate editor of the New Statesman in November 2011. Khan has contributed op-eds to England's newspapers and magazines such as The Independent, The Sunday Times, The Evening Standard and the Observer 
In 2008, she was granted an exclusive interview with Pakistani President Pervez Musharraf on the eve of the elections, for The Independent. She was a Sunday Telegraph columnist from 21 October 2007 to 27 January 2008.
In April 2011, Khan guest-edited the New Statesman and themed the issue around freedom of speech. She interviewed the deputy prime minister Nick Clegg and included contributions from Russell Brand, Tim Robbins, Simon Pegg, Oliver Stone, Tony Benn, Julian Assange, and cover art by Anish Kapoor and Damien Hirst.
The magazine sold out and the website crashed. According to Nick Cohen in the Observer "Jemima Khan was by a country mile the best editor of the New Statesman that that journal has had since the mid-1970s". Perhaps the most surprising piece in the magazine was "an unexpected scoop" from Hugh Grant who went undercover to hack Paul McMullan, a former News of the World journalist, who had been involved in hacking as a reporter. [4] career  
As a producer

She was the executive producer for the BAFTA nominated documentary film We Steal Secrets: The Story of WikiLeaks by Alex Gibney, released in 2013. She was also the co-executive producer for the documentary film, "Unmanned: America's drone wars" by Robert Greenwald released in 2013 and of Unmanned: America's Drone Wars & Making A Killing: Guns, Greed and the NRA released in 2016.
She co-produced the play Drones, Baby, Drones at the Arcola Theatre, directed by Nicolas Kent and Mehmet Ergen. She founded Instinct Productions in 2016, a London-based content company specializing in high quality TV, documentaries and film. 
A Philanthropist

She established the Jemima Khan Afghan Refugee Appeal to provide tents, clothing, food, and healthcare for Afghan refugees at Jalozai camp in Peshawar.
She became an Ambassador for UNICEF UK in 2001, and made field trips to Kenya, Romania, Bangladesh, Afghanistan and Pakistan, the last of which she later helped victims of the 2005 Kashmir earthquake by raising emergency funds. She has promoted UNICEF's Breastfeeding Manifesto, Growing Up Alone and End Child Exploitation campaigns in the UK. 
In 2003, she visited Palestinian refugee camps in Lebanon, Jordan, the West Bank and Gaza to promote the charity Hope and Optimism for Palestinians in the Next Generation (HOPING). She continues to support various charity efforts in Pakistan mostly from her organisation, the Jemima Khan Foundation. She also supports the Soil Association and the HOPING foundation for Palestinian refugee children. [5] Philanthropist  
Political campaigns

In 2007, Khan set up the Free Pakistan Movement. She, her family and friends, participated alongside hundreds of protestors in three demonstrations outside Downing Street to protest the state of emergency in Pakistan, during which her ex-husband was incarcerated. In 2008, she modeled the relaunched Azzaro Couture fragrance and was a guest co-designer of a Spring 2009 collection for Azzaro, with her fee reportedly donated to UNICEF. Together with John Pilger and Ken Loach, Jemima Khan was among the six people in Westminster Magistrates Court willing to post bail for Julian Assange when he was arrested in London on 7 December 2010. She has campaigned against the wars in Iraq and Afghanistan as well as for freedom of information, attending Assange's extradition hearings and speaking at the Stop the War Coalition's rally in defence of Wikileaks alongside Tony Benn and Tariq Ali. 
Savior of Ex-Husband

Petitioner Hanif Abbasi claimed that Imran Khan concealed facts about his assets, including an offshore company which was opened in London under the name of Niazi Services Limited. Imran's lawyers sought to prove that this company was only used for the purchase and sale of a flat in London but they never had the record of bank transactions. Jemima Goldsmith was divorced by Imran Khan in 2004 but she has emerged as her ex-husband's savior in 2017. Finally Imran Khan called Jemima in London for help. She did a lot of hard work, spent many weeks and even collected all the relevant documents from a bank that was shut down a few years ago. These documents were produced in the Supreme Court of Pakistan and Imran Khan was saved. The whole of PTI is grateful to Jemima for rescuing a would-be prime minister from the ignominy of potential disqualification. [6] savior  
Awards
In 2001 she got The Rovers Peoples Award for the best-dressed celebrity. She also appeared on the Vanity Fair list of best-dressed people and was later put in the best-dressed people hall of fame. In 2011, she became the ambassador of UNICEF UK and went to Bangladesh, Pakistan, Afghanistan and Romania and later to India to help raise fund for the victims of Kashmir earthquake.
Personal and social relationships

Khan is known to be shy, modest, stylish, and levelheaded, with her ex-husband describing her as "very shy".
Khan has two sons from her marriage with Imran Khan, Sulaiman Isa (born 1996) and Kasim (born 1999). Because she wants to have the same last name as her children, she goes by Jemima Khan. On 29 December 2000.,  Khan and her family were on a British Airways jet to Kenya that was temporarily knocked off course and dived thousands of feet, after a mentally ill passenger tried to seize controls in the cockpit. Her mother later said, "Jemima was frightened of flying even before the incident; she's petrified".
Khan, like her two brothers, reportedly inherited around £300 million from her late father's £1.2 billion fortune (at 1997 currency rates). In 2010 Khan purchased the country house of Kiddington Hall near Woodstock in Oxfordshire for a reported £15 million, which is now currently under refurbishment.
Diana, Princess of Wales was a close friend of Khan's, visiting her twice in Lahore, Pakistan the year that she died Khan holds dual British and Pakistani citizenship. [7] social life  
Visit to Pakistan after 15 years
It has been revealed that she's coming to Pakistan next year. Guitarist Salman Ahmed told The Express Tribune that he has invited Jemima to visit Pakistan in 2018. "She has accepted the invitation and will be visiting the country after 15 years,". This news comes right after he announced that he will be producing a Broadway-style show that will pay tribute to Junoon along with Vital Signs and Nazia and Zoheb. [8] Visiting Pakistan