This is an ideal valley for both the domestic and international tourists. The curling river Jhelum passes through from East to West between the high green mountains of this valley and joins the river Neelum at Domel near  Muzaffarabad  city[1] visitors – heaven.comJhelum Valley  is a valley in Hattian Bala District of Azad Kashmir,  Pakistan . It is a 50 kilometers (31 mi) long valley located along with  Jhelum river  surrounded by lush green mountains.[2] Jhelum Valley – Kashmir Hattian Bala is the main town and district headquartered in the valley.
| Title | Description |
| --- | --- |
| Information | |
| Location: | Pakistan |
| In Urdu : | وادی جہلم |
| Nickname: | Land of Saints |
| Type: | Valley |
| Local Language Name: | Kashmiri |
| Coordinates : | 34.1691°N 73.7432°E |
| Website: | http://jvc.ajku.edu.pk/Jhelum.php |
| Details | |
| Province: | Khyber Pakhtunkhwa |
| District: | Hattian Bala |
| Total Area: | 50 kilometers (31 mi) long valley |
| Population : | 230,529 |
| Time zone: | PST (UTC+5) |
| Languages: | Urdu,Pothohari,Pushto,English |
| Situated : | Lcated along with Jhelum river |
| Surrounded by: | Lush green mountains |
| District Headquarter: | Hattian Bala is the main town |
| Popular Places: | Garhi Dupatta, Awan Patti, Chinari, Chakothi and Chikkar |
| Valley connected by: | Metallic road from Muzaffarabad |
| Educational Insitutes: | University of Azad Jammu kashmir & Jhelum Valley Campus |
| Jhelum Valley Campus: | Hattian Bala |
| Part of Muzaffarabad District: | Until 2009 |
| Famous Saints: | Sufia-e-Karams. Hafiz Jamal-ud-Din of Bani Hafiz Shareef, Mian Muhammad Jee, Hafiz Mian Muhammad Younis |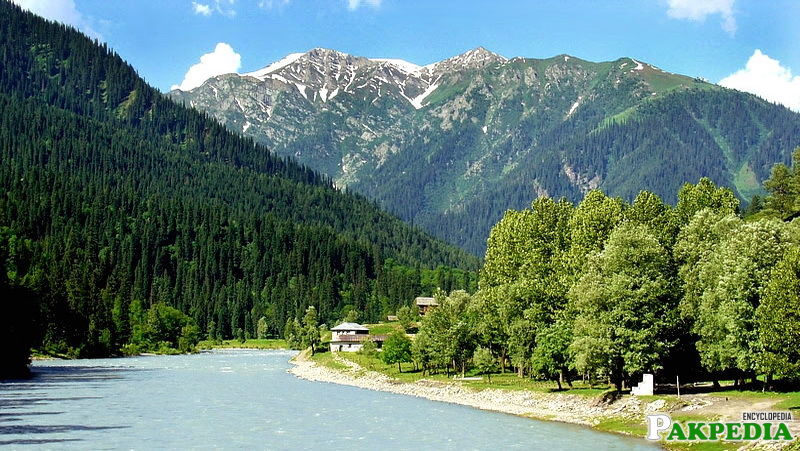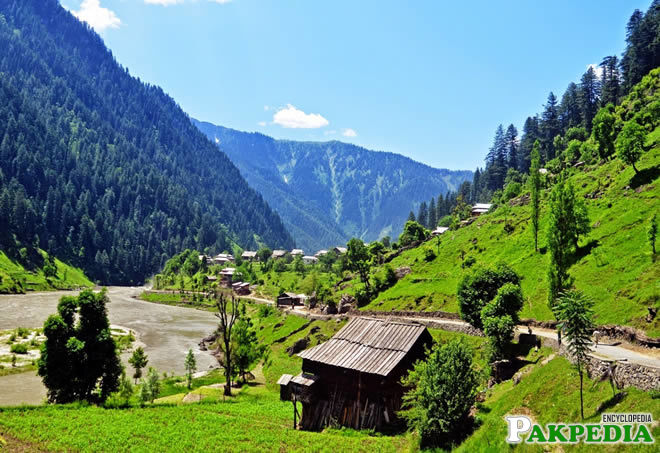 About

Some popular tourist attractions are Garhi Dupatta, Awan Patti, Chinari, Chakothi and Chikkar. The valley is connected by a metallic road from  Muzaffarabad .[3] valley.com – Retrieved Hotels and rest houses with basic facilities are located in towns and villages in valley. Health facilities, education institutes, post offices, and land line phone service are also available.
Education
University of Azad Jammu kashmir
Jhelum Valley Campus
Jhelum Valley Campus in the heavenly scenic Jhelum valley so as to be give people of this area an access to higher education at their door steps. The main setup of the Jhelum Campus will be at Hattian Bala
Junction
beautiful junction of important areas of Bagh, Chanari, Leepa, Chokothi, Gari Dopatha and Muzaffarabad. Jhelum Campus is along the Site of Sirinagar Highway which remained a trade route between Indian held and liberation part of Azad Jammu & Kashmir.[4] JUNCTION – Jhelum.php
Tourist Points
Ghari Dopatta
It is 24 kilometers from Muzaffarabad. The town surrounded by mountains is located on both sides of river Jhelum . Educational, medical, telephone, accommodation and shopping facilities are available here. AJK Government has established here an "Extension Services Management Academy (ESMA)", which provides training facilities of international level.[5] It is 24 kilometers from Muzaffarabad. The town
Chakothi
Chokothi, 8 Kms ahead of Chinari, is a border village. Only domestic tourists can visit this area.
Loon Bagla
10 Kms from Chikkar, situated at an altitude of 2011 meters above sea level, it is another worth seen hill station in the middle of dense green pine forests and is linked by a fair weather road. The ordinary requirements of life are available in the small bazaar.[6] it is another worth seen —– hill station
Dungian
It is located about 5 Kms ahead of Loon Bagla. This place is surrounded by thick silver Fir forests. Its high altitude of 2071 meters and beautiful landscape have a special attraction for tourists. An experimental station for the proliferation of medicinal Herbs has also been established at this place.
Danna
Amidst Muzaffarabad to Kohala, a road bifurcates the highway and leads to Danna, crossing the labyrinthine roads. Dann is known for its healthy climate and alluring scenic beauty. A tourist rest house is available for accommodation. From here one can go to Dheerkot, a known hill station in District Bagh.[7] Amidst Muzaffarabad to Kohala —-, a road
Leepa Valley
This is the most fascinating & loveliest valley in Azad Kashmir. A metalled road branches off for Leepa from Naily, 45 kilometers from Muzaffarabad, climbs over the Reshian Gali 3200 meters high and then descends to 1677 meters on the other side into the Leepa Valley. It spell bounds everyone who visits this valley. The valley remains open for domestic tourists only from May to November. A few places of tourist interest in this valley are:
Leepa
Leepa is a small village about 60 kilometers from Naily and 38 kilometers from Reshian, at an altitude of 1921 meters. Its lush green rice fields in summer and typical wooden Kashmiri houses present a wonderful view to the people visiting the area. Walnut, Apple, Cherry and honey of Leepa are very popular and in great demand.
Dao – Khan
Dao – Khan is situated some 75 kilometers from Muzaffarabad. An unpaved but well maintained road branches off from Reshian to Dao- Khan (4 kilometers from Reshian), which is now well recognized due to its high altitude (2490 meters), calm & peaceful atmosphere, excellent scenic beauty and panoramic views. Accommodation facilities through Tourist Rest House and Forest Rest House are available. Owing to flow of visitors/ tourists in the summer season, AJK Tourism Dept. also provides tent service for accommodation.[8] An unpaved but well —   maintained road
Chananian
Chananian, 62 kilometers from Naily & 36 kilometers from Reshian, is situated opposite to Leepa, near the Line of Control (LOC), at an altitude of 2226 meters. Surrounded by thick pine forests and nullah Qazi Naag flowing near by it, Chananian is also a worth seeing place in Leepa Valley . From Reshian onwards, one has to hire jeeps for journey to Leepa and other places.
Chikar
The hill station of Chikar, 43 km from Muzaffarabad has grown into a fairly large township. Three miles from Chikar is the hill station known as Loonbagla which is situated in the middle of a vast range of densely grown forests. This beautiful summer station at a distance of 46 Kms from Muzaffarabad is situated on top of the mountain on the southern side of Muzaffarabad. A road branches off at Dhanni Baqallan, a place about 33 kilometers from Muzaffarabad and leads to Chikkar, which is at an elevation of 1828 meters. The outstanding features of this beautiful place are its healthy climate and picturesque surroundings. Standing over the hill one can have a fascinating view of the sub- valleys. A Bazaar, hospital, educational institutions, post office, banks, telephone etc provide basic necessities of life to the locals as well as to the visitors. The outstanding features of this hill station are its healthy climate and picturesque surroundings. Chikar is linked with Muzaffarabad by a motorable road and is connected with Bagh in Poonch district via Sudhan Gali.[9] Muzaffarabad has grown into a fairly large
Chinary
Chinary situated some 64 km from Muzaffarabad is a scenic place with a very enchanting Rest House built by the former Dogra rulers. It lies just some twenty yards upward in the Bazaar. All the basic facilities viz. Bazaar, hospital, education, post office, banks, telephone are available here.