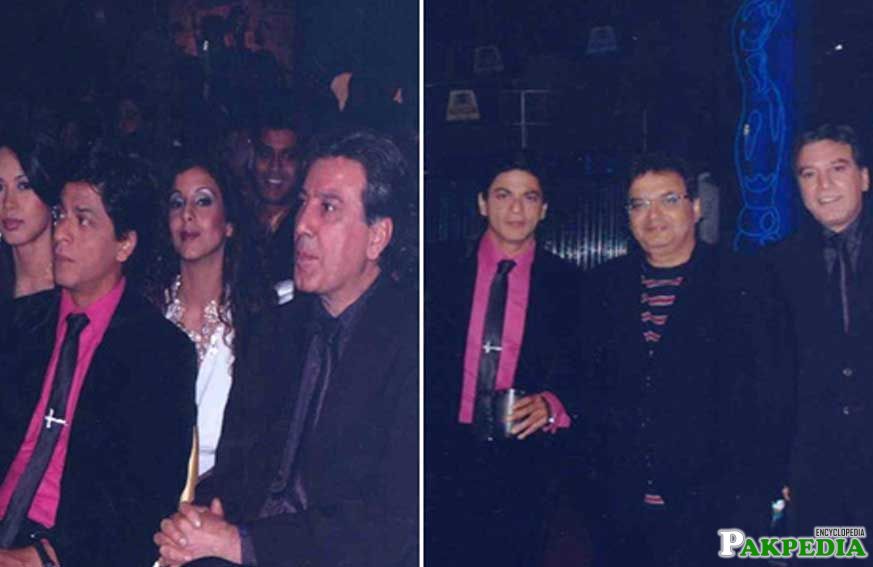 bCareerb
Born in Punjabi family in Pakistan's fourth-largest city, Rawalpindi, Javed Sheikh made his acting debut in the Lollywood film Dhamaka, released on 14 December 1974.
[4]
Javed Sheikh
Sheikh's first movie as actor was the Lollywood film Dhamaka, released on 14 December 1974. He since acted in over 100 Urdu films from the 1970s through to the early 2000s. The first film he directed was Mushkil, released in 1995. In 2002, he directed Yeh Dil Aap Ka Huwa and also had a supporting role in the film. In 2005, he switched to acting in Bollywood films and appeared in the films Shikhar (film) (2005) and Jaan-E-Mann (2006). In 2007 he appeared in Namaste London, Om Shanti Om and the Pakistani film Mein Ek Din Laut Kay Aaoon Ga. In 2008, he played a supporting role in Jannat. His most recent film as director was Khulay Aasman Kay Neechay which was a big-budget film and was shot in four different countries i.e. Pakistan, India, UAE and Australia. The film was a flop at the box-office resulting in a net loss of Rs. 8 Crore. Currently Sheikh is working in a multi-cultural British film, Honour Killings which is based on the burning problem in United Kingdom i.e. killing people in the name of honour. The film is directed by Avtar Bhogal and produced by Harijinder Singh. The film stars a mix of Pakistani, Indian and British actors including famous Pakistani model and actress, Zara Sheikh, Prem Chopra, Gulshan Grover, Tom Alter and newcomer Sandeep Singh. The film's shooting has been completed in England and plans are for a March 2010 release. Premieres will be held in
Lahore
, Mumbai and London. Sheikh will play an supporting role in Syed Faisal Bukhari's Bhai Log. He is filming Syed Faisal Bukhari's second film Saltanat since January 2010 and will star alongside Mona Laizza and Ahsan Khan.
[5]
Javed Sheikh Pak101
bPersonal lifeb
Sheikh's first marriage was with Zinat Mangi, a small time TV/film actress of that era with whom he has a daughter, Momal and a son Shahzad. After divorcing her, he had a long affair but short marriage with Salma Agha, another famous British born Pakistani singer/actress of that time. Since then Javed Sheikh has had several relationships with famous actresses like Neeli and Sana. Although it is widely assumed that he had a brief marriage with Neeli but both parties deny it. Since the divorce from Salma Agha, he is still officially single. In April 2009, in a morning television show on
Geo TV
, Sheikh admitted that he has moved to India to facilitate his working in Bollywood films.
[6]
javed sheikh personal life
He has a brother, Saleem Sheikh,
[7]
Saleem sheikh biography
who is also a television actor. His brother-in-law is Behroze Sabzwari.
[8]
Behroze Sabzwari
As a director and actor
Uqabon Ka Neshaman[9]Uqabon ka neshaman javed sheikh
Kahin Pyar Na Ho Jaye[10] Kahhin payar na ho jaye
Dhamaka(1975)
Jeeva (1995)
Mushkil (1995)
Chief Saab (1996)
Yes Boss (1997)
Yeh Dil Aap Ka Huwa (2002)
Khulay Aasman Ke Neechay (2008)
Wujood (2017)
bAs a film actorb
Films that Javed Sheikh has acted in, since 2000. For a full list of films which Javed Sheikh has been involved with, He has done some really powerful roles in bollywood movies, he played Shahrukh's father in Om Shanti Om. He played a very strong role in Shikhar as well.
List of Movies
| Year | Film | Role |
| --- | --- | --- |
| 1990 | Sarmaya | ISP |
| 1991 | Kalay Chor | Repoter as Javed |
| 1992 | Daku Raaj | Dsp |
| 1993 | Zamana | |
| 1996 | Baazigar | |
| 2000 | Mujhe Chand Chahiye | Tayyab razi |
| 2002 | Yeh Dil Aap Ka Huwa | Jamal |
| 2005 | Dus | Dan's boss (scenes deleted) |
| 2005 | Shikhar | Srinath Vardhan |
| 2006 | Jaan-E-Mann | Piya's father |
| 2007 | Apne | Roy |
| 2007 | Namastey London | Pervez Khan |
| 2007 | Om Shanti Om | Rajesh Kapoor |
| 2007 | Mein Ek Din Laut Kay Aaoon Ga | Khan |
| 2008 | My Name is Anthony Gonsalves | Inspector Khan |
| 2008 | Jannat | Abu Ibrahim (Don) |
| 2008 | Money Hai Toh Honey Hai | Prakash Arora |
| 2008 | Yuvvraaj | Yogendra Yuvvraaj Singh |
| 2009 | Road to Sangam | |
| 2010 | Hum Tum Aur Ghost | Gehna's Father |
| 2010 | Kajraare | Tariq Anwar |
| 2011 | Love Mein Ghum | Haroon |
| 2011 | Bhai Log | jaam Bhai |
| 2013 | Main Hoon Shahid Afridi | Asif Qureshi |
| 2014 | Honour Killing | |
| 2014 | Sultanat | Sikander Khan |
| 2014 | Na Maloom Afraad | Shakeel |
| 2015 | Bin Roye | Saba and Saman's father |
| 2015 | Wrong No. | Haji Abba |
| 2015 | Karachi se Lahore | Tiwana |
| 2015 | Jawani Phir Nahi Ani | Mehboob Khan |
| 2015 | Halla Gulla | Golden Bhai (DON) |
| 2015 | John | Hamza |
| 2015 | Z.E.R.O | Mahaan Singh |
| 2015 | Tamasha | Ved's father |
| 2016 | Sawal 700 Crore Dollar Ka | |
| 2016 | Driven | Danial Khan |
| 2016 | Happy Bhag Jayegi | Javed Ahmed |
| 2016 | Saya e Khuda e Zuljalal | Hamza |
| 2017 | Balu Mahi | |
| 2017 | Shaan-e-Ishq | Ikram Khan |
| 2017 | Mehrunisa V Lub U | |
| 2017 | Na Maloom Afraad 2 dagger | Shakeel |
| TBA | Jackpot dagger | TBA |
| TBA | Teefa in Troubledagger | TBA |