Izhar Qazi was a famous actor
Izhar Qazi was a great legend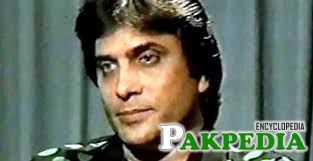 The big name of Pakistan
An very old drama of Izhar Qazi
Izhar Qazi giving a speech
Detail
Early life
The award-winning actor left his job with the Pakistan Steel Mills when he was lured to Lahore by the film industry, where his talent landed him a large number of roles. During an over two-decade-long career, Mr Qazi worked in more than a hundred films, including the hits Roohi, Baghi Haseena, Bangkok Key Sanam, Manila Key Janbaz, Aalmi Jasoos, Abdullah the Great, Janbaaz, Suhag Raat and Phoolan Devi. He worked opposite almost all the famous heroines of the time, including
Babra Sharif
, Babita, Kavita, Neeli, Reema, Madiha Shah, Saima and Nadira.
[2]
 Early Career 
EarlyCareer
Izhar Qazi made his film debut in 1986 by starring in Nazar Shabab's Ruby, as the lead actor, which was an instant hit.He excelled in the film despite the presence of veterans Mustafa Qureshi, Shafi Mohammad, Sabeeta and Rangeela. Although Javed Shiekh was cast initially for the lead role, his sudden disappearance from the cast (due to his visit to India with Salma Agha), forced the film distributor Satish Anand to send Izhar Qazi to fill the gap left by
Javed Sheikh
. During this time Jan Mohammad, another Pakistani film director, grew fed up with Javed and replaced Javed's role with Izhar for his film Bangkok ke chor. In only his third movie, Izhar acted opposite Shabnam (Pakistan's top film actress at that time) in a unique young-to-old character role. Most of his films were in Urdu but he also appeared in double version Urdu-Punjabi films, besides acting in his only Pushto film, Ghunghru do Kalashankoff, opposite Salma Agha.
[3]
 Early  Career 
Partnership with director Jan Muhammad
Soon Izhar made a successful partnership with director Jan Muhammad and released hit films such as Manila ki bijlyan, Roop ki rani and Choron ka baadshah. He also made a successful acting pair with the late Sultan Rahi, releasing a series of successful Punjabi films such as Abdullah the great, Irada, Gujjar baadshah, Lahori baadshah, Pajero group, Ghunda and Dilari. Hence he was more of an action hero than a romantic one. Qazi's role in Sakhi baadshan and Bakhtawar, both earned him the prestigious Nigar Awards twice. He also received the National Award for best actor for his role in Masood Butt's Chiragh Bali.
[4]
 Partnership with director 
Showbiz debut in 1982
Izhar Qazi made his showbiz debut in 1982 by starring in Fatima Surraiyya Bajia's family television drama serial Ana.In one of the middle episodes of Ana in which he appeared for the first time, Izhar didn't deliver a single dialogue. But his mere appearance on the screen and resemblance with Amitabh caught the eyes of every viewer in
Pakistan
. Debuting alongside another newcomer, Mehreen Ilahi, as the young romantic lead and proving his mettle opposite veteran television performers Shakeel and Ghazala Kaifi, Izhar became a household name through his first TV serial. His credentials were further strengthened by excellent acting in the serial Daira and Gardish, again standing out in presence of Shakeel and the late Pakistani actor Saqi.
[5]
 Showbiz debut in 1982 
Qazis last acting role
Qazi's last acting role before his retirement was in the private TV serial, Pani Pe Naam, aired on PTV for which he received a nomination in the best actor category of Lux Style Awards in 2004. Soon after achieving moderate television success, Izhar Qazi played a gamble by leaving his job and venturing into films and remarkably again achieved instant Lollywood stardom.
[6]
 Qazi's last acting role 
Filmography
1986
Ruby Urdu Sabeeta, Izhar Qazi, Rangeela
Bangkok ke Chor Urdu Sabeeta, Izhar Qazi
1987
Dulari Punjabi Anjuman, Sultan Rahi, Izhar Qazi
Himmatwala Urdu Sabeeta, Izhar Qazi
Manila ki bijliyan Urdu Sabeeta, Izhar Qazi
Mera Insaaf Urdu Babra Sharif, Izhar Qazi
Nachay Nagin Punjabi Nadira, Ismael Shah, Izhar Qazi, Rahi
Nijaat Urdu Sabeeta, Izhar Qazi
1988
Bardasht Punjabi Anjuman, Izhar Qazi
Choron ka Baadshah Urdu Kaveeta, Izhar Qazi
1989
Manila ke Janbaaz Urdu Kaveeta, Izhar Qazi
Rakhwala Punjabi Nadira, Sultan Rahi, Izhar Qazi
1990
Jangi Punjabi Anjuman, Sultan Rahi, Izhar Qazi
KalaPani P/U Babra Sharif, Izhar Qazi, Ajab Gul
Manga Punjabi Anjuman, Sultan Rahi, Izhar Qazi
NumberOne P/U Salma Agha, Izhar Qazi
Insaniyat Kay Dushman Urdu Anjuman, Sultan Rahi, Nadeem, Izhar Qazi
Leader Urdu Kaveeta, Nadeem, Izhar Qazi, Hamayun
1993
Ghunda Punjabi Reema, Sultan Rahi, Izhar Qazi
Ghunghru do Kalashankoff Pashto Salma Agha, Izhar Qazi
Iradah P/U Madiah Shah, Sultan Rahi, Izhar Qazi
Jannat Urdu Rubi Niazi, Izhar Qazi, Mohsin Khan
Nagin Sapera P/U Madiha Shah, Jan Rambo, Izhar Qazi
Sapni P/U Nadia, Izhar Qazi, Sonia
Betaj Badshah P/U Neeli, Reema, Nadeem, Izhar Qazi, Abid Ali
Zamana P/U Sultan Rahi, Neeli, Javed Sheikh, Gori
1997
Ghail Urdu Babra Sharif, Izhar Qazi, Ghulam Moh.
Kala Raj Punjabi Saima, Sultan Rahi, Izhar Qazi
Kalay Naag Punjabi Saima, Izhar Qazi
Aulad ki Qasam Urdu Reema, Babur Ali, Shabnam, Nadeem, Izhar
1999
Hawwa ki Beti Urdu Sapna, Izhar Qazi, Nargis
2004
Daaman aur Chingari Urdu Saima, Izhar Qazi, Nargis
2005
Parcham Urdu Sana, Shaan, Arbaz Khan, Izhar Qazi
Death
The 50-year-old suffered a severe heart attack in his Gulistan-i-Jauhar home . He was taken to a nearby private hospital but the doctors' efforts were in vain and he died shortly afterwards of heart failure. He left this world leaving a widow, four daughters and a son.His funeral prayers were led by Shaikhul-Hadis Maulana Asfandyar Khan and were held at Gulistan-i-Jauhar's Masjid-ul-Khair The veteran actor was later laid to rest at the Model Colony graveyard.{:ref:{ Death - 
Death
 }}