Islamabad Zoo, previously Marghazar Zoo, is an 82-acre (33 ha) zoo in Islamabad Capital Territory. It was opened in 1978 and is under the administration of Capital Development Authority of Pakistan. The zoo started in 1978 as a refuge for leopards, spotted deer, and Indian gazelle found in the region. It soon gained popularity and became a part of the Japanese garden. An aviary was later constructed. The Capital Development Authority devised a plan in August 2008 to upgrade and extend the zoo as a recreational area and wildlife sanctuary. The estimated cost of the project is 1407.8 million Pakistani rupees.[1]zoo in – Islamabad Capital Territory 
| Title | Description |
| --- | --- |
| Information | |
| Location: | Islamabad |
| Nickname: | Zoo |
| Type: | Tourism point |
| Local Language Name: | Islamabad Zoo |
| Coordinates : | 33°44′3.47″N 73°3′32.81″E |
| Address: | Pir Sohawa Road، Islamabad 54000 |
| Area: | 33 ha |
| Opened: | 1978 |
| Hours: | Open today · 9AM–5PM |
| Phone: | 0300 4545686 |
| Annual visitors: | 1 million |
| No. of animals: | 600 |
| Details | |
| famous as : | Animals |
| The estimated cost of the project: | 1407.8 million Pakistani rupees |
| History: | A small but beautiful zoo in Islamabad |
| Islamabad Zoo: | called as "Marghazar |
| stablished in : | 1978 |
| Capital Development Authority: | Islamabad Zoo |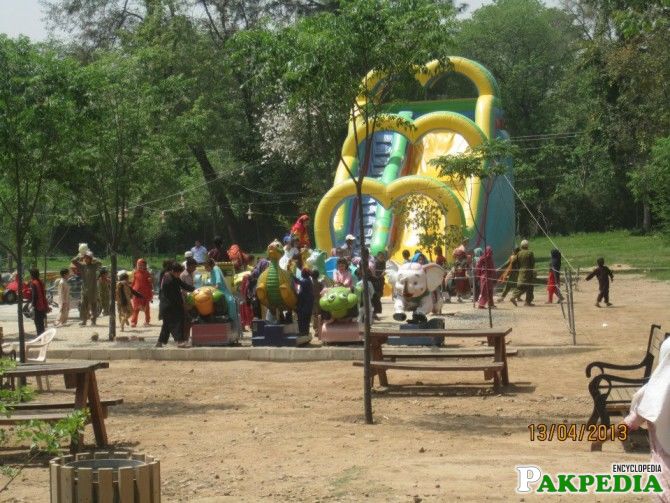 About
History
A small but beautiful zoo in Islamabad is called as "Marghazar". It was established in 1978, and is administered by Capital Development Authority of Pakistan. Located in the feet of Margalla hill, Islamabad zoo provides for a very natural environment for the animals. The zoo has a good collection of different breads of birds including black kites, black swans, budgerigars, ostriches, peacocks, etc. Mammals including zebras, blackbuck, leopard, nilgai, monkeys, foxes and bears are also housed in this zoo. However, the best attraction for kids is an elephant. In 2013, The Capital Development Authority Islamabad, has extended the zoo and include a Dino Park in it. This park includes life like replicas of popular Dinosaur breeds and is an enjoyable walk.[2]  beautiful zoo in Islamabad – is called as "Marghazar
Animal list
Accipitriformes
   Black kite
   Steppe eagle
   Lesser kestrel
Anseriformes
   Mute swan
   Black swan
   Mallard
   Domestic goose
Columbiformes
Galliformes
   Common pheasant
   Swinhoe's pheasant
   Golden pheasant
   Indian peafowl
formes
Pelecaniformes
Psittaciformes
   Ring-necked parakeet
   Alexandrine parakeet
   Sulphur-crested cockatoo
   Budgerigar
Islamabad Zoo to have tiger lion soon
The Islamabad Zoo will have a pair of tigers and lions soon as the civic agency has allocated funds in the current budget to get the missing animals.
Visitors to the zoo were let down during Eid holidays when they did not find the big cats.
The Islamabad Zoo has been without a lion after its pair of lions died almost four years ago after they had come of age. The only tiger of the zoo also died a few months back after developing a leg fracture.[3] Islamabad Zoo will have –  pair of tigers and lions
A senior CDA official claimed that the zoo administration has completed all preparations to get the missing animals including an elephant to pull more and more crowd.
When contacted,[4] Sri Lankan governments –  purchase the elephant CDA Member Environment Mustafeen Kazmi said that talks were under way with Singapore and Sri Lankan governments to purchase the elephant.
Islamabad Zoos lonely elephant Kaavan suffering mental illness
The Islamabad Zoo's lonely elephant Kaavan has become the subject of a high-profile rights campaign backed by music icon Cher, but efforts to improve the pachyderm's lot appear limited.
The 32-year-old Asian elephant is suffering from "mental illness", and without a better habitat his future is bleak even if a long-promised new mate finally arrives, experts told AFP.
Outrage over Kaavan's treatment went global ─ with a petition garnering over 200,000 signatures ─ after it emerged he was being chained at the Islamabad Zoo in Pakistan's leafy capital.
Zoo officials have said this is no longer the case, and that Kaavan just needs a new mate after his previous partner died in 2012. [5] The 32-year –  old Asian elephant
Address
Islamabad Zoo is situated at the base of Margalla Hills. Way to Daman-e-Koh & Pir Sohawa just passes the zoo. It is located near Children Play Land. Pir Sohawa Road, Islamabad, Pakistan[6]  Islamabad Zoo is situated –  the base of Margalla Hills