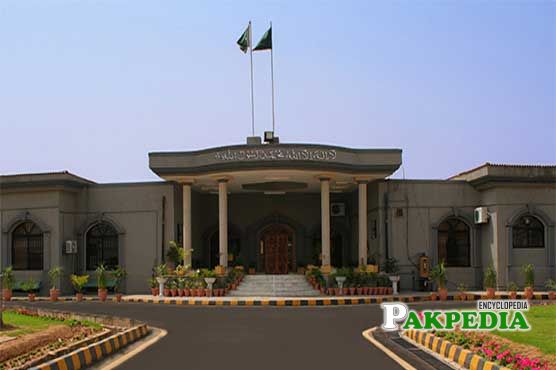 Court
Mr. Justice Muhammad Anwar Khan Kasi
Building
Sign Board
IHC Pakistan
Chief Justice Message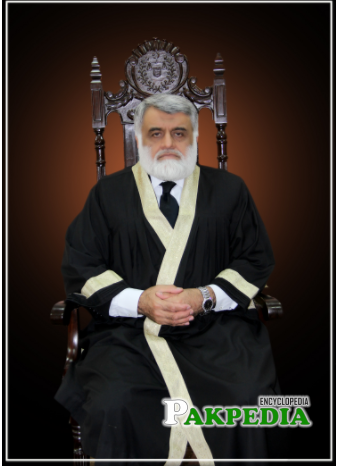 Mr. Justice Muhammad Anwar Khan Kasi is the Chief Justice of Islamabad High Court.Islamabad High Court is a newly established institution. However with the grace of Allah Almighty, it has made steady progress in short period of time. The High Court is performing its basic functions of enforcement of fundamental rights along with fair and just adjudication of public and private litigation. The sole purpose of this website is to facilitate all stakeholders including lawyers, litigants and public at large. I firmly believe this facility would prove another mile stone in achieving the goal of fair and speedy dispensation of justice.
[1]
Chief Justice Message
History
location
Located in Pothohar Plateau, the region has historically been a part of the cross roads of
Punjab
and
Khyber Pakhtunkhwa
, with Margalla pass acting as a gateway between the two regions. The city was build during 1960's to replace Karachi as Pakistan's Capital. Historically the territory is regarded to be one of the earliest sites of human civilization in Asia. Many great armies such as those of Alexander the great, Genghaiz Khan, Taimur and Ahmad Shah Durani used this corridor through Islamabad on their way to invade the subcontinent.
National Capital
In 1958, a commission was constituted to a select a suitable site for the National Capital with particular emphasis on location, climate, logistics and defense requirements along with other attributes. After extensive study, research and through review of potential cites, the commission recommended the area North East of
Rawalpindi
. A Greek firm of Architects, Konstantino Apostolos Doxiadies designed the master plan of the city.
Federal Government
The Federal Government was shifted from
Karachi
to Rawalpindi under President's Order No.20 of 1960, which was deemed to have taken effect on the 20th October, 1959 whereby it was stipulated that the Capital of the Republic shall be
Islamabad
situated in the District of Rawalpindi in the Province of West Pakistan at the site to be selected and the area to be determined by the Central Legislature. It was also provided that until provision was made for establishing the Central
Government
at Islamabad, the principal seat of the Government shall be at Rawalpindi. Under the Capital of the Republic (Determination of Area) Ordinance, 1963 as required by clause (2) of Article 211 of the Constitution 1962, the area of Islamabad Capital Territory was determined.
Province
By virtue of President's Order No.1 of 1970, the Province of West Pakistan was dissolved, and in its place the four Provinces of
Baluchistan
, the North-West Frontier Province, the Punjab and
Sindh
were constituted, besides two centrally administered areas, namely, the Islamabad Capital Territory and the centrally administered Tribal Area. In clause (2) of Article 14 of this Order the Islamabad Capital Territory was placed within the jurisdiction of the High Court of Punjab. Even President's Order No.8 of 1970 (High Courts Establishment Order 1970) established a High Court for the Province of the Punjab and the Islamabad Capital Territory to be called the Lahore High Court Lahore with its principle seat at
Lahore
.
Constitution of Islamic Republic of Pakistan
Article 1(2)(b) of the Constitution of Islamic Republic of Pakistan, 1973 declared status of Islamabad Capital Territory as of a distinct territory not forming part of any province. Article 175 of the Constitution provided that there shall be a Supreme Court of Pakistan, a High Court for each province and such other courts as may be established by law. Although Islamabad Capital Territory had not been part of any province of
Pakistan
yet no independent High Court was established to cater for the litigation pertaining to its area, rather the previous arrangement as made vide Article 3(b) of President's Order No.8 of 1970 (High Courts Establishment Order 1970) continued. Article 192(4) of the Constitution had provided about extension of jurisdiction of any High Court to any area in Pakistan not forming part of the Province and in this way the Islamabad Capital Territory remained under jurisdiction of Lahore High Court, Lahore.
Islamabad Capital
By virtue of P.O. No.18 of 1980 followed by S.R.No.1316 (1)/80 dated 31.12.1980, the Islamabad Capital Territory attained provincial status for the purpose of its governance on administrative side but it remained without its own High Court. As result of the Islamabad High Court (Establishment) Order 2007, a High Court for Islamabad Capital Territory was established but its cessation took place as a result of the verdict of August Supreme Court of Pakistan reported as PLD 2009 SC 879. Thereafter the Islamabad High Court Act 2010 (Act No.XVII of 2010) established an independent High Court for Islamabad Capital Territory having original, appellate and other jurisdiction, as under the Constitution or other laws and also brought all Civil, Criminal, Revenue, Special Courts & all Tribunals which were exercising jurisdiction and functions in the ICT immediately before the commencement of the Act under the superintendence and control of the Lahore High Court, Lahore under the supervision and control of the Islamabad High Court.
[2]
History
Honourable Judges
Mr. Justice Shaukat Aziz Siddiqui
Mr. Justice Athar Minallah    
Mr. Justice Aamer Farooq       
Mr. Justice Mohsin Akhtar Kayani
Mr. Justice Miangul Hassan Aurangzeb
Former Honourable Chief Justice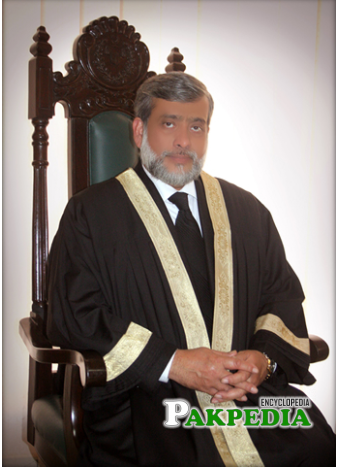 Honourable Mr. Justice Iqbal Hameed ur Rahman is a scion of a noble family that has its roots in the legal fraternity since pre-partition of Indo-Pak Sub Continent. His paternal uncle, late Maudood ur Rahman was a barrister, who later became a Judge of the Chief Court Calcutta. His maternal grandfather late Mr. Ashraf Ali Khan was a barrister and a practicing Advocate in Calcutta High Court. He was also a member of the Bengal Legislative Assembly in Calcutta and was later elected as Deputy Speaker of the said Assembly before partition. His illustrious father late Hon'ble Mr. Justice Hamood ur Rahman was appointed as Advocate General of East Pakistan in 1953, from where he was elevated to the Bench as judge of the Dhaka High Court in 1954. In addition he remained as the Vice Chancellor of Dhaka University (1958-60). He was appointed as judge of the Supreme Court of Pakistan in 1960 and was made the Chief Justice of Pakistan in 1968.
Former Honourable Justice
Honourable Mr. Justice Riaz Ahmad khan was born on 15-05-1952 in Nowshera (Khyber Pakhtunkhwa). Justice Riaz Ahmad Kan, remained posted as Civil Judge
Kohat
,
Haripur
, and
Peshawar
and lastly posted as Senior Civil Judge at D. I. Khan. He resigned from the said post and started practicing law. During his legal practice, he conducted many well known cases on Civil, Criminal and Constitutional side. He was appointed as Assistant Advocate General (N.W.F.P) in 1997. Later on, he was appointed as Additional Deputy Prosecutor General Accountability, NAB (F), Peshawar and he remained on that post for three years. He was elected as Member Provincial Bar Council (N.W.F.P) in 1999.
RegistrarRaja Jawad Abbas Hassan
Professional Career
Passed Judicial Civil Services Examination in the Year 1993 and joined as Civil Judge.
Promoted as Senior Civil Judge in 1999.
Promoted as Additional District & Sessions Judge in the Year 2000.
Promoted as District & Sessions Judge in the Year 2007.
Served as Additional Secretary (BPS-21) in the National Assembly of Pakistan in the Years 2008-2009.
Appointed as District & Sessions Judge in the Islamabad Judicial Service and posted as District & Sessions, Islamabad from 2011 to 2014.
Posted as Member Inspection Team along with the additional charge of the post of Director General, Human Rights Cell at the Islamabad High Court, Islamabad from October 2014 till date. 
Posted as Registrar, Islamabad High Court, Islamabad on 09.01.2015 to 10.12.2015 and 23.10.2016 to till date.
Judicial Career
Judicial Magistrate ( Quetta, Dera Allah Yar, Mastung) in the Years 1994-2000.
Senior Civil Judge ( Dera Allah Yar) in the Year 2000.
Additional District Judge (Hub, Quetta, Dera Allah Yar, Panjgoor, Sibi) in the Years 2001-2003.
Acting Sessions Judge in the Years 2003-2007.
District & Sessions Judge (Dera Allah Yar) in the Years 2008.
District & Sessions Judge ( Loralai) in the Years 2009-2011
District & Sessions Judge, Islamabad in the Years 2011-2014.
IHC Achievements
IHC Automation
The rapidly growing importance of Information Technology in this era can not be denied. The miraculous inventions of this technology have revolutionized the human societies. The automation process is continuously occupying almost every field of life in the contemporary world. Courts are no exception to this rule. The Honourable Chief Justice takes keen interest in the automation of working in Islamabad High Court, and it is all because of his personal interest that this Court has made substantial progress in this particular field. The endeavors made during the yesteryear are as under.      
Office Timings Opening Hours
Islamabad High Court
For Courts
08:30 am to 02:00 noon (Monday to Thursday)
08:30 am to 12:00 noon (Friday)
For Offices
08:00 am to 03:30 noon (Monday to Thursday)
08:00 am to 12:30 noon (Friday)
District Court Timings
08:00 am to 03:30 noon (Monday to Thursday)
08:00 am to 12:30 noon (Friday)
Contact Information
Secretary to Hon'ble Chief Justice +92 51 9108041
P.S to Hon'able Chief Justice +92 51 9108031
Registrar +92 51 9108042
P.A to Registrar +92 51 9108042