Imad Wasim Batting Action
Imad Wasim Selfie Momentt
Imad Wasim and Afridi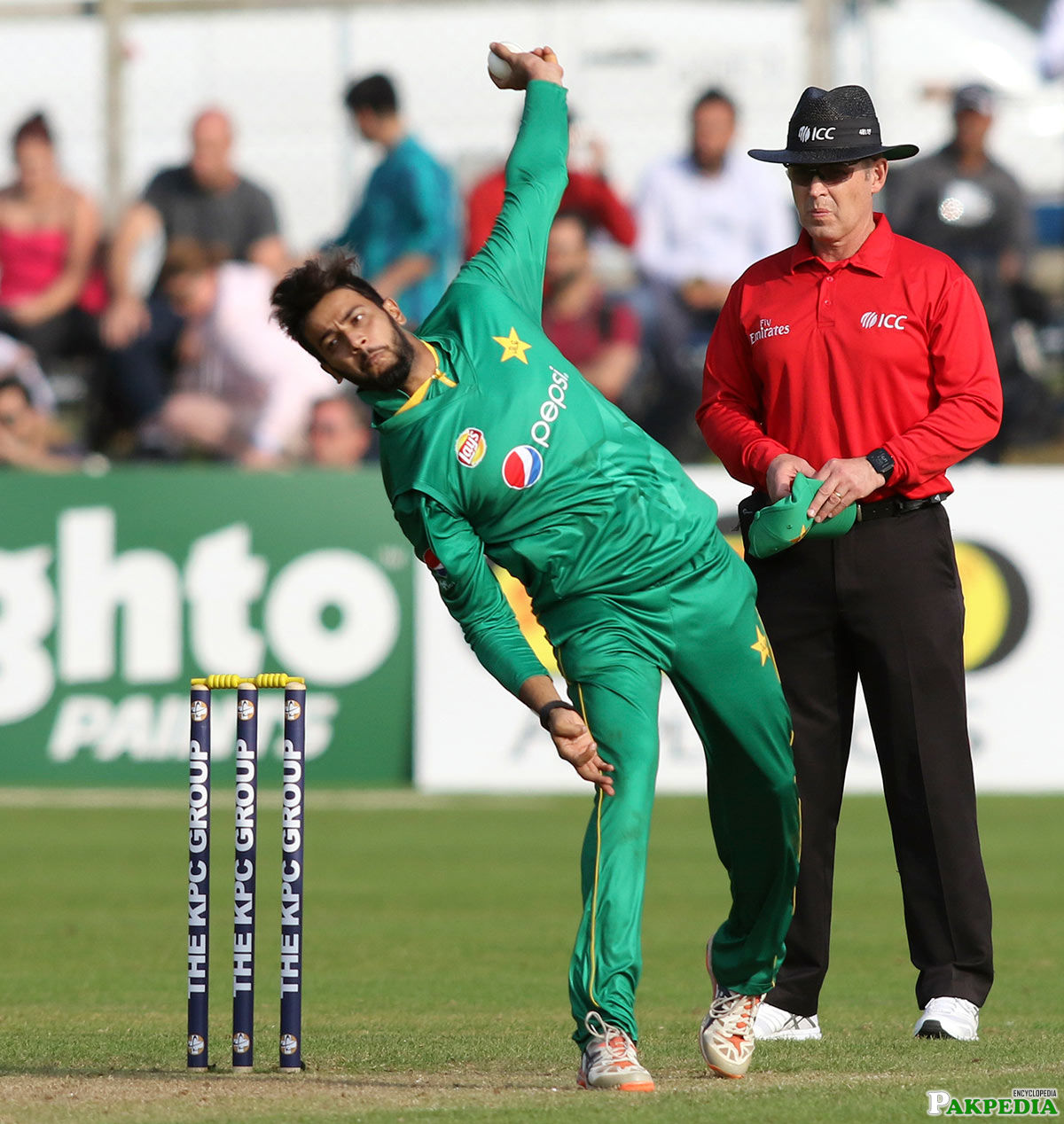 Imad Wasim Bolling Action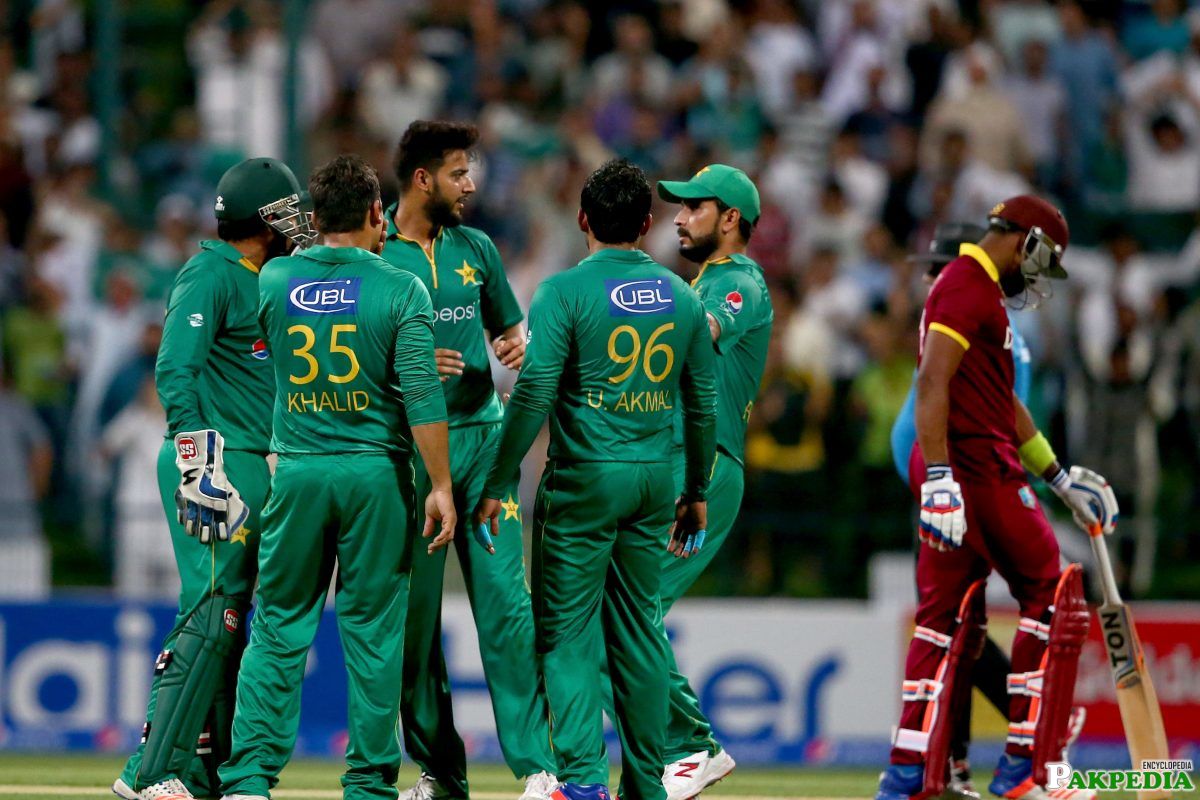 Imad Wasim And Pak Team
Profile
Syed Imad Wasim was born in Wales' second largest city Swansea, and made his First-Class debut at the age of 18 for Islamabad. He was a prominent member of the victorious Pakistani squad that won the Under-19 World Cup in 2006. His consistency and skill pushed the national selectors to hand him the reigns of Under 19 team. He did a commendable job by leading Pakistan to semifinals of the Under-19 World Cup in 2008. Post his under-19-career success, it took 7 more years for him to make his first appearance in the national side. He must count himself lucky as unlike some of his seniors, he got a chance to make his international debut on home soil (against Zimbabwe in a T20I). With
Mohammad Hafeez
''s ban ( for chucking) Wasim was offered an opportunity to try his luck in the ODI format. He impressed on his ODI debut against Sri Lanka by picking up 2 wickets and bowled an economical spell. Wasim's first ODI victim was Sri Lanka's highly rated, Dinesh Chandimal. In a TV interview (with a local Pakistani channel in August 2015) he confessed that he was not obsessed with emulating anyone and added that he was working hard to rectify his weaknesses. He idolizes Wasim Akram and had he not been a cricketer, he might have well found a living in the field of medicine.
[2]
Syed Imad Wasim  
Good Performance
The surface in Dubai was cracked, but there seemed to be more cracks in the batting line-up of the World T20 champions. Imad Wasim exploited all those cracks and rolled West Indies over for 115. In the process, the left-arm spinning allrounder became only the second Pakistan bowler, after
Umar Gul
, to take a five-for in T20Is. Pakistan then merrily skipped to the target with 34 balls to spare to hint at a white-ball revival, having secured their second successive nine-wicket win in T20Is. The portents were clear from the first over, after Pakistan had opted to bowl. Taking the new ball, Wasim had Evin Lewis top-edging a catch to deep midwicket. In his next over, he accounted for Andre Fletcher and Marlon Samuels to leave West Indies at 16 for 3. A raft of balls fizzed through and thudded into the pad, drawing appeals from an ever-present slip and captain Sarfraz Ahmed. Looking at the scorecard, it may have appeared that Wasim was bowling magic balls. Truth be told, he didn't turn them much. Instead, he relied on accuracy and drift to run through West Indies. Fletcher attempted a low-percentage slog across the line and was bowled. Samuels' technique of camping back in the crease was exposed again when he was trapped plumb in front by a full slider. Wasim alternated between a good length and a full length, and kept attacking the stumps. West Indies kept losing wickets. Mohammad Nawaz, the other left-arm spinner, joined the fun when Johnson Charles stepped away outside leg and missed a fast, skiddy delivery. Debutant Nicholas Pooran guided Hasan Ali, the medium-fast bowler, behind in the next over, before Wasim returned and stabbed away at West Indies. When Wasim dismissed Carlos 'remember the name' Brathwaite, he ensured his name would be remembered too, as he became the first Pakistan spinner to pick up a five-wicket haul in T20Is. He finished with figures of 4-0-14-5. He had only bowled only one genuine loose ball: a half-tracker, which was square-cut for four by Samuels. At 48 for 8 in 12 overs, following the run-out of Sunil Narine, West Indies were in danger of being bowled out for their lowest T20I score. Dwayne Bravo and Jerome Taylor, however, strung together 66, the highest ninth-wicket partnership in T20Is. Taylor first upset Pakistan's rhythm when he raced down the track and lofted Nawaz straight over his head for the first six of the match. Bravo, becalmed till then, drove
Sohail Tanvir
inside-out over extra-cover for six and followed it with a flicked four to rejuvenate the innings. They hit a higher gear when they took three fours in the 16th over, bowled by Ali. This meant West Indies passed their previous-lowest score of 79. Tanvir, however, ended the stand when he yorked Taylor for a run-a-ball 21. He ended the innings when he undid Bravo for 55 with a legcutter three balls later. With only Bravo and Taylor logging double-digit scores, the recovery would not be prove enough for West Indies. Sharjeel Khan set Pakistan's modest chase in motion with three fours and a six before his old enemy resurfaced: tendency to pull balls that aren't short enough. He was bowled by a length-ball dart from Samuel Badree for 22, but the wicket only served to alter the margin of victory rather than provide West Indies with any real hope. The advent of dew did not help West Indies' cause either. Their misery was compounded by slipshod fielding. Taylor dropped Babar Azam on 12 at the edge of the long-leg boundary. Azam proceeded to seal the chase with back-to-back fours, the first of which snuck through Bravo's legs to the third-man boundary and gave Azam his maiden T20I half-century. Opener Khalid Latif complemented him, contributing 30 in an unbroken 88-run stand for the second wicket. West Indies had managed all of 12 boundaries in their innings. Azam and Latif alone hit 13. While West Indies seemed to be missing their Champions - Andre Russell, Chris Gayle and Lendl Simmons - Pakistan found their own amid roars of "Champion, Champion" from the sizeable crowd. 
[3]
Imad Parfumance 
England One-Day Series
Imad Wasim, the Pakistan all-rounder, was on Thursday ruled out of the one-day series against England starting next month. The 26-year-old left-arm spinner, who bats left-handed, fractured a finger in his left hand during a first-class match for Islamabad against
United Bank Limited
in a Quaid-e-Azam trophy match on Thursday. "Wasim has fractured his finger and is ruled out of the four-match one-day series against England," said a Pakistan Cricket Board (PCB) spokesman. Haroon Rashid, Pakistan's chief selector, was at the venue when Wasim injured himself, however said that the all-rounder would miss the complete limited-overs leg, including the T20Is. "His finger is fractured and is in plaster. Doctors have said he requires at least three weeks before they know his fitness situation. So he is out of the limited-over series," Rashid was quoted as saying by PTI. Wasim has made his mark in one-day and T20 cricket since making his debut against Zimbabwe at home in May-June this year. He hit a last-over six to help Pakistan beat Sri Lanka in a T20 match in August this year. Wasim also hit a half century to help Pakistan win a one-day contest in Zimbabwe earlier this month. Pakistan are likely to announce the ODI squad during the third Test against England in Sharjah, starting on Sunday. The first of four one-day matches between Pakistan and England will be played in Abu Dhabi on November 11. The two teams will also play three Twenty20 internationals. 
[4]
Imad England Series 
Ranking Suggests Says Wasim
After a momentous breakthrough victory over Australia at the MCG on Sunday (January 15), a previously beleaguered Pakistan received a desperately needed tonic. Their six-wicket victory in the second One-Day International (ODI) levelled the series at 1-1 and ended a long-running hoodoo on Australian soil against the hosts. Astoundingly, it was Pakistan's first victory over Australia in Australia since January of 2005, ending a streak of 16 consecutive losses across the formats. With Australia battered due to injuries striking and fatigue seemingly settling in after an arduous schedule, there is a sense Pakistan can sniff a series upset. A victory is of major importance for Pakistan, who are dangerously perched at No. 8 in the ODI world rankings with only the top eight teams guaranteed an automatic berth to the 2019 World Cup. Imad Wasim, Pakistan's left-arm spinner, said the team was much better than that lowly ranking. "I personally believed before coming to this tour that we could beat any team in the world in shorter formats, because our team combination is very good," he told the media in Perth on Tuesday (January 17). "Number eight in the world ... that's the ranking, but our side is better than that. If you don't believe you can beat any opposition, there's no point coming here. We are here to beat them. We are here to play good cricket. We are here to fight," he added. In a major blow to their chances,
Azhar Ali
, Pakistan's captain, has been ruled out of the match after suffering a hamstring strain in the opening match of the series in Brisbane but could return for the fourth ODI in Sydney on Sunday (January 22). However, fuelling their chances are the absences of Australian spearhead Mitchell Starc and allrounder Mitch Marsh, who misses a chance to play on his home deck after suffering a shoulder injury in Melbourne. Starc has been rested in a bid to rejuvenate after a heavy workload this summer. Peter Handscomb, the Victorian middle-order batsman, and allrounder Marcus Stoinis have been called into the squad. Wasim, who has been a key contributor for Pakistan with four wickets during the opening two matches, believed Pakistan could capitalise on Australia's depleted team. "Starc is a world-class bowler and Mitchell Marsh is a great all-rounder," he said. "He's been a match-winner for Australia and Starc as we all know, he's the best bowler in the world in all the formats. "It's a good thing for us, but Australia has got good back-up bowlers. I think they're going to come hard at us and we're be ready for it," he added. In both of the opening matches, Pakistan has been able to scythe through Australia's top-order and will need to replicate that at the WACA if they are to take a series lead, according to Wasim. "These are very good batting wickets," he said. "It's hard work. You have to bowl in good areas. I think we bowled really well, to be very honest. 
[5]
Wasim Ranking Suggests  
Play Cricket For Pakistan
There might not be any Welsh representation in the England team taking on Australia in the Ashes... but one man born this side of the Severn Bridge is making an impact in international cricket. Imad Wasim, a 26-year-old who was born in Swansea, has become the first man to be born in Wales and go on to play for Pakistan. He made his debut for the country in Sunday's One-Day International win over Sri Lanka, the slow-left armer taking two wickets as his side secured a 135-run win in Colombo.Wasim may have been born in Wales but he has played all of his cricket in Pakistan. He represented the country at Under-19 level and has impressed sufficiently to make the step-up to the full international game. He made his Pakistan debut in a Twenty20 clash with Zimbabwe in Lahore in May and followed that with a brace of wickets against Sri Lanka. Set 317 to win by Pakistan, Sri Lanka never got close as they were bowled for a paltry 182 to lose by 135 runs.Wasim took the wickets of wicket keeper Dinesh Chandimal and tailender Lasith Malinga to clinch victory, finishing with figures of two for 28.It all came after play was halted for half an hour due to crowd trouble, supporters of either team clashing in the stands. Reports say rocks were thrown and a number of fans, who were then evicted from the ground, continued to throw projectiles into the Premadasa Stadium from outside the turnstiles. After authorities got things under control, Pakistan's win means they lead the five-match series 2-1 with two games still to play. 
[6]
Imad debut for Pakistan 
Batting Career Summary
| | | | | | | | | | | | | |
| --- | --- | --- | --- | --- | --- | --- | --- | --- | --- | --- | --- | --- |
|   |  M |  Inn |  NO |  Runs |  HS |  Avg |  BF   |  SR |  100 |  200 |   50 |  4s |
|  ODI |  21 |  16 |  7 |  381 |  63 |  42.33 |  380 |  100.26 |  0 |  0 |  3 |  31 |
|  T20  |  19 |  11 |  4 |  90 |  24 |  12.86 |  61 |  147.54 |  0 |  0 |  0 |  7 |
Bowling Career Summary
| | | | | | | | | | | | | |
| --- | --- | --- | --- | --- | --- | --- | --- | --- | --- | --- | --- | --- |
|   |   M |  Inn |  B |  Runs |  Wkts |  BBI |  BBM |  Econ |  Avg |  SR |  5W |  10W |
|   ODI |  21 |  21 |  983 |  764 |  24 |  14/5 |  14/5 |  31.83 |  31.83 | 40.96 |  1 |  0 |
|   T20 |  19 |  19 |  396 |   385  |  23 |  14/5 |  14/5 |  5.83 |  16.74 |  17.22 |   1 |  0 |