Iftikhar Muhammad Chaudhry was the 20th chief justice of Pakistan. He was appointed by Gen. Pervaiz Musharraf in 2005.He was suspended by President General Musharraf on March 9, 2007, when he refused to oblige Musharraf by refusing to resign. After having been elected as President for second term by the Parliament, Musharraf in November 2007 pre-empted an impending court decision against his re-election and suspended the constitution and declared a state of emergency. Justice Chaudhry convened a seven-member bench which issued an interim order against this action.[1]  Iftikhar Muhammad Chaudhry 
| Title | Description |
| --- | --- |
| Personal | |
| Name: | Iftikhar Muhammad Chaudhry |
| In Urdu: | اِفتِخار مُحَمّد چودھری‎ |
| Famous As: | Former Pakistani Judge |
| Nationality: | Pakistani |
| Education: | Sindh Law University University of Sindh |
| Religion: | Islam |
| Profession: | Judge |
| 20th Chief Justice of Pakistan: | In office 22 March 2009 – 11 December 2013 |
| Appointed by : | Asif Ali Zardari |
| Preceded by : | Abdul Hameed Dogar |
| Succeeded by : | Tassaduq Hussain Jillani |
| Founder and President of Pakistan Justice Democratic Critic Party: | Assumed office 25 December 2015 |
| Preceded by : | Position established |
| Chief Justice of the Balochistan High Court: | in Office 22 April 1999 – 3 February 2000 |
| Appointed by : | Miangul Aurangzeb |
| Preceded by : | Amir-ul-Mulk Mengal |
| Succeeded by : | Javaid Iqbal |
| Born | |
| Date: | 12 December 1948 |
| Place: | Quetta, Baluchistan |
| Family | |
| Spouse: | Faiqa Iftikhar |
| Children: | 5 |
| Relatives: | Arsalan Iftikhar Chaudhry (son),Rana Sanaullah Khan (cousin) |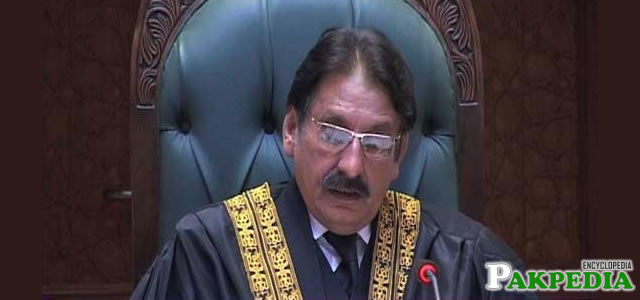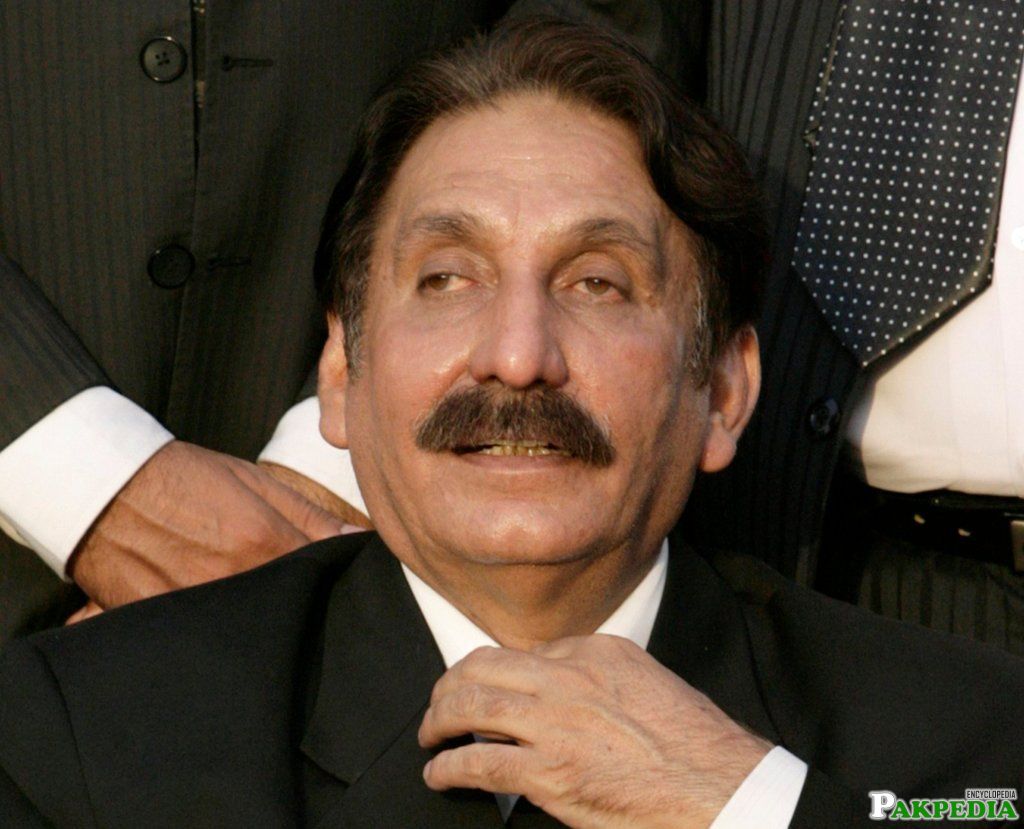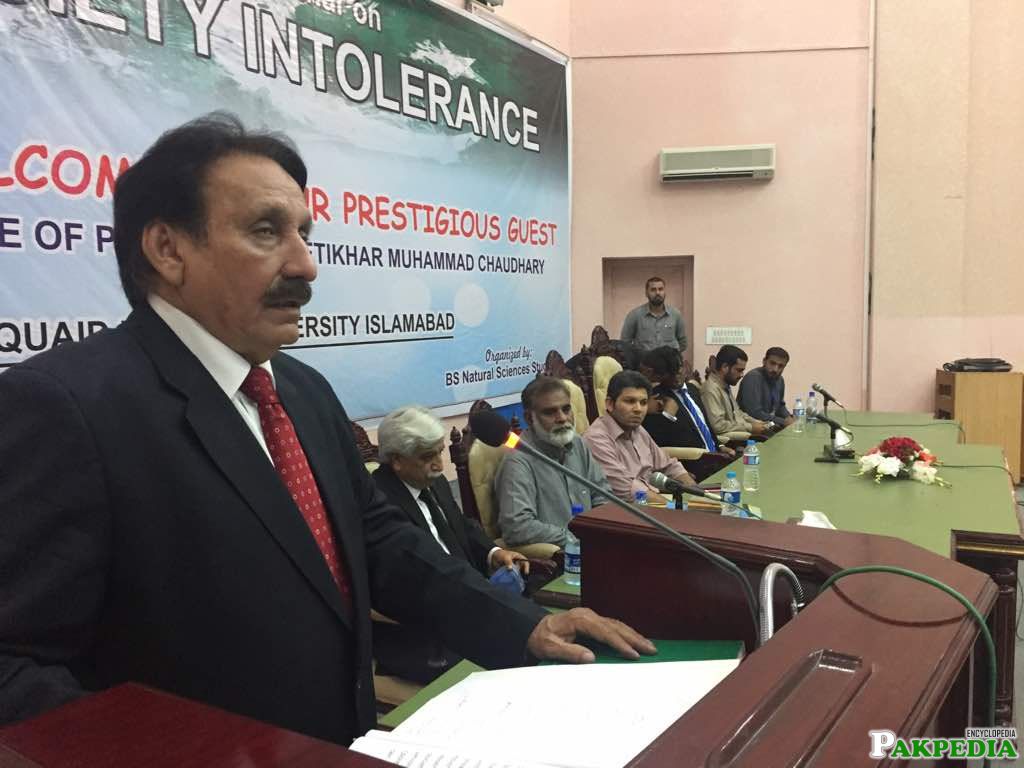 Early life

Iftikhar Muhammad Chaudhry was born on 12 December 1948 (age 62) in Quetta, Balochistan Province, Pakistan.[2]  Early life 
Family Background
His father was a police officer. His father made residency in a famous city of jalander of east Punjab. His rujputi dignity mixed with sweet Punjabi of jalander. They migrated from jalander after the establishment of Pakistan. They made residing in Quetta the city of Pakistan. His second son name is iftikhar but parents did not know that one day this child will make glory not only them but also for their country, and not only changed high judicial but also the history of Pakistan.[3] Family Background
Children
Arsalan Iftikhar Chaudhry (Son)
Ahmed Balach Iftikhar (Son
Ayesha Iftikhar (Daughter)
Palwasha Iftikhar (Daughter)
Ifrah Iftikhar(Daughter)
Education
Chaudhry received his early education in Balochistan before moving to Sindh province, where he studied law at Hyderabad University, receiving an LL.B. with special concentration in constitutional law, criminal law, and tax and revenue law. He established a legal practice as an advocate in 1974 and became an advocate for the Balochistan High Court in 1976. In 1985 he enrolled as an advocate before the Pakistan Supreme Court. Chaudhry was then named (1989) advocate general of the Balochistan High Court, was designated (1990) additional judge of the Balochistan High Court, and held several other judiciary positions.[4]  Education 
Career in Law

Chaudhry has a Bachelors in Arts and Bachelors in Law (LLB) from University of Sindh, Jamshoro. He joined the bar in 1974. Later, he was enrolled as Advocate of the High Court in 1976 and as an Advocate of the Supreme Court in 1985. In 1989 he was appointed Advocate General, Balochistan by Akbar Bugti the then Chief Minister of Balochistan. He was elevated as Additional Judge, Balochistan High Court on 6 November 1990 until 21 April 1999. On 22 April 1999 he became Chief Justice of Balochistan High Court. 
Judge of High Court
Besides remaining as Judge of High Court, he discharged duties as Banking Judge, Judge Special Court for Speedy Trials, Judge Customs Appellate Courts as well as Company Judge. Chaudhry also remained President of High Court Bar Association, Quetta, and was elected twice as Member of the Bar Council. In 1992 he was appointed as Chairman of Balochistan Local Council Election Authority and thereafter for second term in 1998. He also worked as Chairman, Provincial Review Board for the province of Balochistan and was twice appointed as Chairman of the Pakistan Red Crescent Society, Balochistan.
Justice of Supreme Court of Pakistan
On 4 February 2000 he was nominated Justice of Supreme Court of Pakistan. He is said to be the youngest Chief Justice of Pakistan, who will be serving the longest period that any other chief justice has ever served in the history of Pakistan's judiciary. On 30 June 2005 he became the Chief Justice of Pakistan. At present, Justice Iftikhar is also functioning as Chairman, Enrollment Committee of Pakistan Bar Council and as Chairman, Supreme Court Building Committee.[5]  Career in Law 
Suspension and Reinstatement 2007
On March 9, 2007, Chaudhry was suspended by Pakistani President Pervez Musharraf. Musharraf also filed a Presidential reference against Chaudhry for misconduct. Pakistani President Pervez Musharraf forwarded the case to Supreme Judicial Council as per procedure in constitution of Pakistan.
Pakistani Supreme Court
It was the first time in the 60-year history of the Pakistani Supreme Court that a Chief Justice was suspended. The suspension was made on the grounds of complaints against Chief Justice Chaudhry for violating the norms of judicial propriety, corruption, seeking favours and misbehaving with senior lawyers. He was also accused of interfering in the working of the executive branch.After his suspension, there was unrest in the country with regard to the validity of the allegations against Chaudhry, as well as doubt as to whether Musharraf technically had the power to suspend the Chief Justice under the circumstances.
Traveled
On May 5, 2007, Chaudhry with his counsel and politician friend Atizaz Ahsan, who is also the party member of the PPP, traveled from Islamabad to Lahore to address the Lahore High Court Bar Association. Demonstrations of support along the route slowed his motorcade to the point that it took him 25 hours to reach the dinner the association was holding in his honor.
Reinstated
On July 20, 2007, Chaudhry was reinstated to his position as Chief Justice in a ruling by the thirteen-member bench of Pakistani Supreme Court headed by Justice Khalil ur Rehman Ramday. He was represented by Aitzaz Ahsan, Shahid Saeed, Gohar Khan and Nadeem Ahmed against 16 senior lawyers representing the Federation. The ruling combined 25 constitutional petitions filed by various parties, but referred most of the issues raised by the 24 petitions not filed by Chaudhry himself to lower courts for extended adjudication. All thirteen of the sitting justices agreed that Musharraf's action had been illegal, and ten of the thirteen ordered Chaudhry was to be reinstated and that he "shall be deemed to be holding the said office and shall always be deemed to have been so holding the same".[6]  Suspension and Reinstatement, 2007 
2007 State of Emergency
On Saturday, Nov 3, 2007, General Pervez Musharraf, who was the President and Chief of Army Staff of Pakistan at the time, declared a state of emergency and suspended the nation's constitution and parliament at the same time. The declaration accused the judges of violating article 209 of the Constitution of 1973.On 15 November Geo News reported that Chaudhry had ordered the Islamabad Inspector General of Police to take action against his and his family's house arrest and their possible relocation to Quetta. According to the channel, Chaudhry held the interior secretary, the commissioner, the deputy commissioner and the assistant commissioner responsible for his house arrest. He said he was still the Chief Justice of Pakistan and the official residence was his by right.[7]  2007 State of Emergency 
Reinstatement 2008-09
Just after general elections in February, on March 24, 2008, on his first day of premiership the Pakistani PM Yousaf Raza Gillani ordered Chaudhry's release from house arrest.In October 2008, Chaudhry visited the Supreme Court building.The Lawyers' Movement announced a "long march" for the restoration of the judges, especially Chief Justice Iftikhar from 12 to 16 March 2009. The government of Pakistan refused to reinstate the judges and declared section 144 in effect in three of the four provinces of Pakistan thereby forbidding any form of gatherings of the "long march". Arrangements were made to block all roads and other means of transport to prevent the lawyers from reaching the federal capital, Islamabad. Workers of the main political parties in opposition and the lawyers movement as well as other known persons from the civil society were arrested. Despite these efforts, the movement continued and was able to break through the blockade in Lahore en route to Islamabad in the night between 15 and 16 March 2009. A few hours later, on the morning of March 16, 2009, the prime minister of Pakistan restored Chaudhary Iftikahar as chief justice of Pakistan through an executive order. after which the opposition agreed to stop the "long.[8]  Reinstatement 2008-09 
Historical and Famous Judgements
7th Amendment and President's Uniform Case 2005
Dismissal of petition challenging Legal Framework Order (LFO) 2002
PCO judges Case
Karachi law and order case
New Murre housing project
NICL scam
Hajj corruption case
National Reconciliation Ordinance (NRO)
Power Rental Case
Disappeared activists from Baluchistan province
Environmental catastrophe case
PTCL's Employees Case
Pakistan Justice Democratic Critic Party PJDCP
Former CJ of SC of Pakistan, Mr. Iftikhar Muhammad Chaudhary announced his own political party on 25 December 2016. The name of new party was proposed "Pakistan Justice Democratic Critic Party". Founder and first President of PJDCP is Iftikhar Muhammad Chaudhary itself. He announced 25 points agenda of his party in Lahore.[9] Pakistan Justice Democratic Critic Party PJDCP 
Visited Place
His lordship attended 22nd Biennial Congress on the Law of the World held in Beijing & Shanghai, China in September, 2005 and participated in International Conference and Showcase on Judicial Reforms held in the Philippines in November, 2005.
He also visited United Kingdom in February, 2006 in connection with The UK-Pakistan Judicial Protocol on Child and Family Laws.
Attended XVII World Congress of the "International Association of Youth and Family Judges and Magistrates" at Belfast, Northern Ireland in August, 2006.
Visited Malaysia in August, 2006 to deliver a Public Lecture on the topic, "The Relationship between Law and Mortality in Islamic Common Law System".
Visited India on Golden Jubilee Celebration of Indian Law Institute in November, 2006.
Attended the Symposium on 47th Anniversary of the Constitutional Court of Turkey in April, 2009.
Attended the 17th Commonwealth Law Conference on "Emerging Economics and the Rule of Law – Opportunities and Challenges" in Hyderabad, India in February, 2011.
His lordship attended International Conference of Jurists 28th-29th May, 2012, United Kingdom.
He was also awarded different awards by the International Organizations including the National Law Journal, published in the United States,honoured him as the lawyer of the year for 2007.
The Nova Southeastern University conferred upon him the degree of Doctor of Laws, honoris causa. The Honorary Degree Citation of May 10, 2008.
The Association of the Bar of the City of New York also granted Justice Iftikhar Muhammad Chaudhry an honorary membership in the association on November 17, 2008, recognizing him as a "symbol of the movement for judicial and lawyer independence in Pakistan."
First Life Time Achievement Award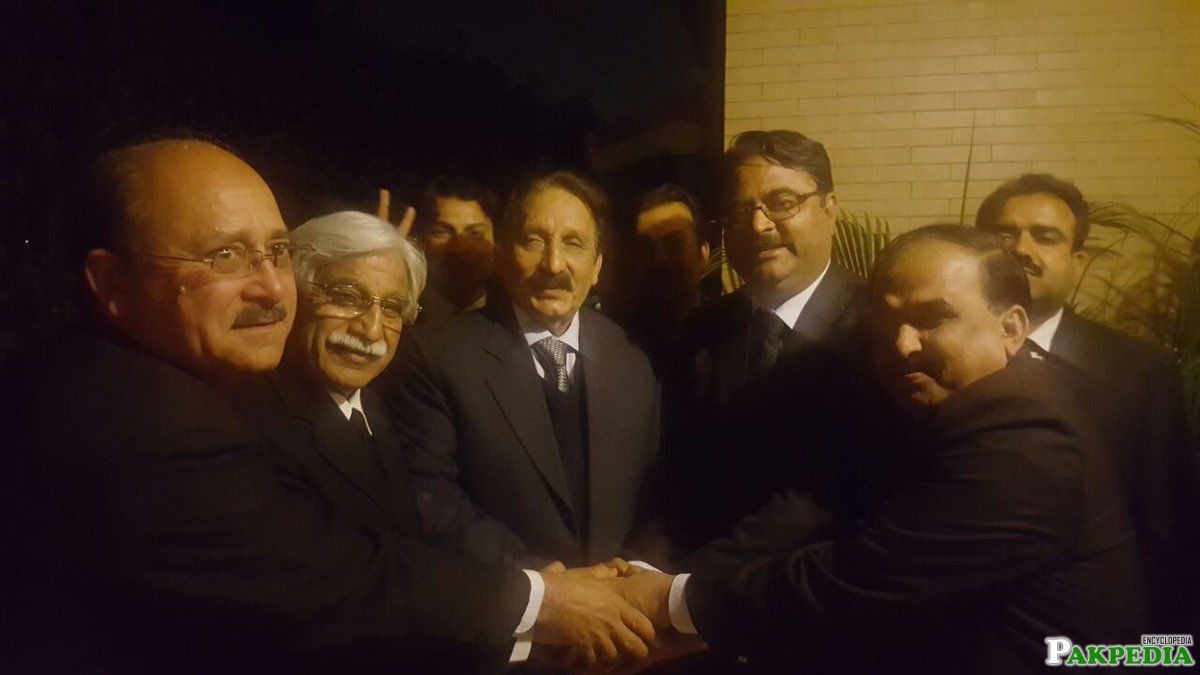 The Karachi Tax Bar Association also presented First Life Time Achievement Award to Justice Iftikhar Muhammad Chaudhry in recognition of His lordship struggle for rule of law and independence of judiciary on March 3, 2012.Justice Iftikhar Muhammad Chaudhry received International Jurists Award 2012 from Rt. Hon. Lord Phillips, President of Supreme Court of the United Kingdom, conferred by International Jurists Council on May 28, 2012 in recognition of his Lordship's unique and tremendous contribution in the field of administration of justice.He also received Medal of Freedom from the Harvard Law School (HLS).[10]  Award 
Retirement
11 December 2013 – A full court reference in honour of Chief Justice of Pakistan Justice Iftikhar Muhammad Chaudhry will be retiring after serving as judge of the apex court and Chief Justice of Pakistan for more than one decade.According to sources of the Registrar office of the Supreme Court, full court reference and all the judges of the apex court will participate in the reference. Attorney General for Pakistan Munir A Malik, Vice Chairman Pakistan Bar Council (PBC) Syed Qalab e Hassan and President Supreme Court Bar Association (SCBA) Kamran Murtaza will deliver their speeches on the occasion.The outgoing Chief Justice Iftikhar Muhammad Chaudhry will also deliver his speech on the occasion and highlight performance of the judiciary regarding dispensation of justice in the country especially the role of apex court.[11]  Retirement