Since 1998, Hybrid Aviation has been a leader in the field of aviation in Pakistan. It is an organization managed by aviation professionals with an unmatched passion. We offer a wide range of aviation services such as aircraft charter, air ambulance, mail delivery, air advertisements and numerous FBO services. Hybrid has now also opened a flying school in order to impart quality flying training to aspiring and eligible pilots, thus making Hybrid Aviation a complete aviation services provider across the country.[1] Hybrid Aviation  –  Since 1998
| Title | Description |
| --- | --- |
| Details | |
| Type: | Aviation |
| Since: | 1998 |
| Address: | Lahore |
| Phone: | 0321 4409848 |
| charter service: | Cessna 414 and Cessna 310 |
| services to: | 50 additional airports/airstrips |
| Hybrid offers a variety : | charter services to corporations and individuals |
| provides state: | Hybrid Aviation Flying |
| changes occurring: | 21st Century aviation |
| Complete aviation: | services provider across the country |
| Each aircraft: | own Technical Log book for perusal |
| facility: | engine, air frame and electronics repair |
| Hybrid's staff: | just focus on flying while Hybrid's staff |
| aviation services: | aircraft charter, air ambulance, mail delivery, air advertisements |
| aircrafts Cessna: | 7 Cessna |
About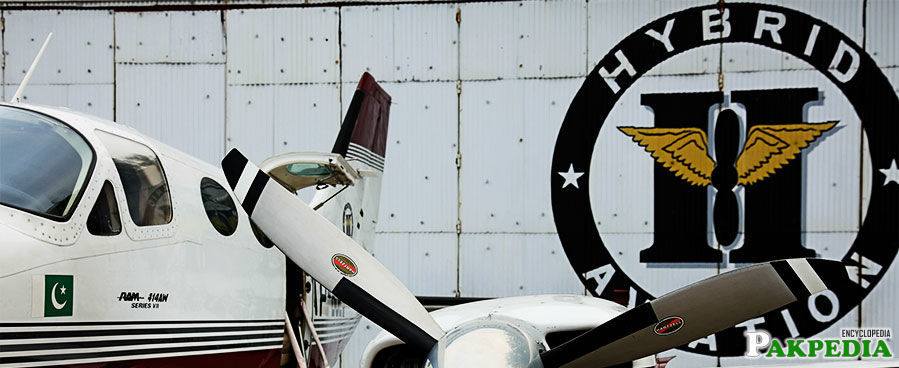 Our Fleet
Since 1998, Hybrid Aviation has expanded its aircraft fleet significantly. From just one Cessna 310 in the beginning, today Hybrid proudly operates eight aircrafts. All of our aircraft comply with the necessary safety and Civil Aviation Authority (CAA) rules. They carry appropriate insurance for flying training purposes and for carrying members of the public. Each aircraft has its own Technical Log book for perusal. We invite you to take note of our adherence to safety and maintenance of aircrafts.[2] From just one –  Cessna 310 in the beginning
Field Based Operations FBO
Twenty-four hours a day, seven days a week and all year round, Hybrid Aviation accommodates every need of the passengers and crews who enter our doors. Hybrid has complete aircraft maintenance facility and personnel for engine, air frame and electronics repair. You can place your aircraft at hybrid premises and just focus on flying while Hybrid's staff would ensure aircraft airworthiness all year around.
We also offer complete line services, aircraft interior and exterior cleaning, refueling, and nightly hangaring of your aircraft. We make sure passengers and crews have the ground transportation services they need while in the Lahore metro area. Whether you are here for just a brief visit or a longer stay, we make everything easier for you.[3] hybrid premises –  Just focus on flying while Hybrid's staff
Flying School
Hybrid Aviation Flying School provides state-of-the-art flying training facilities where student pilots have the opportunity of acquiring theoretical knowledge along with practical flying training. Students use modern training aids, gadgets, models, actual aircraft parts and instruments in order to gain clear and in-depth knowledge of the systems, structures, working principles, operations and handling of the aircraft as a whole.
Our objective is to produce professional private and commercial pilots who are conversant with the latest avation standards & safety rules. All students undergo equipment they are flying with, and also have the baseline knowledge, aptitude and open-minded attitude to adopt rapid changes occurring in the 21st Century aviation environment and may develop professional approach towards aviation regardless of whether they want to adopt it as a profession or to fly for fun or business use.[4] Hybrid Aviation –  Flying School provides
Aeiral Services
Hybrid Aviation offers a range of aerial services within Pakistan. From joyrides to insurance guidance, Hybrid caters to people from all walks of life. Prices for any of Hybrid's services will vary depending on the aircraft and duration of flight. Please contact us for a quotation.[5] Hybrid Aviation offers –  range of aerial services within Pakistan
Aircraft Charter Service
Time is probably our single most precious commodity and time spent traveling is seldom very productive. Whether you are traveling for business or for pleasure, Hybrid Aviation's Air Charter Service can save you both time and money. Our airplanes are maintained, comfortable and ideal for any destination. Hybrid offers a variety of charter services to corporations and individuals.[6]  single most precious –  commodity and time spent traveling
Why Fly Charter
Convenience
Board minutes before your departure time and take off within minutes of boarding. Avoid long lines and poor service associated with airlines. With services to over 50 additional airports/airstrips not accessible by the airlines, our charter service can put you mere minutes away from your destination.
Speed
Enjoy point-to-point service to virtually any major town in the country. This avoids long layovers in the hub's that most airlines take you to. This can save hours off of any flight and allows business and recreational travelers more time to enjoy their destinations or to spend less time away from their home.[7] -point service to virtually –  Speed
Service
Everything is tailored for you. Speedy departures, in-flight snacks and drinks and above all, friendly staff ensure an enjoyable time for you and your companions.
Charter Aircrafts
Hybrid Aviation primarily uses its Cessna 414 and Cessna 310 for charter service. They have proven to be the most cost-effective and comfortable choice for any destination within Pakistan. Mentioned below are some features of each aircraft. Additionally, a detailed list of our aircraft fleet is available here. [8]  charter service –  Cessna 414 and Cessna 310 Prices depend on the type of aircraft and flight time. For updated rates and concessions, please contact us.