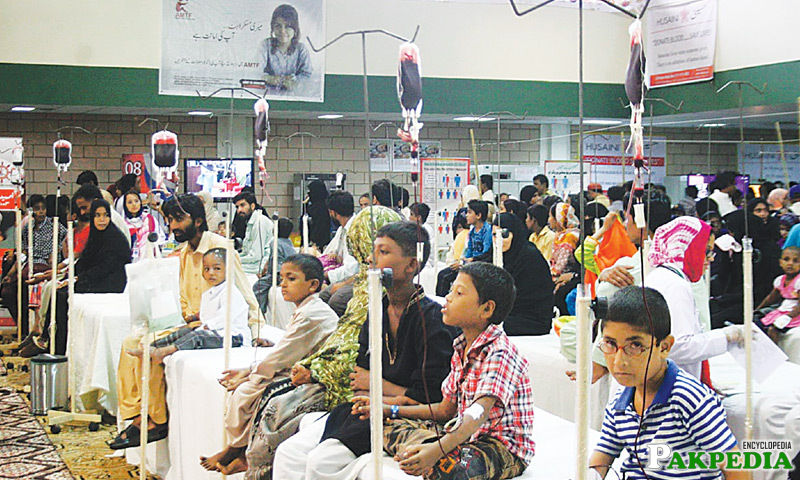 Husaini blood bank
Husaini blood bank LOGO
Husaini blood bank
Husaini blood bank OFFICE
Husaini blood bank
About
History
Annually around 200,000 units of blood and its components are issued from Husaini Blood Bank from its Branches all over Pakistan. The External Quality Assurance of the Blood Bank is done by College of American Pathologists (CAP) and External Quality Assurance Service (EQAS), Europe.
[2]
 Annually around 200,000 -  units of blood and its component
Blood is a living tissue which cannot be produced artificially so far. The only source of safe blood is healthy voluntary Blood Donors to motivate voluntary blood donation Husaini Blood Bank offers a service which is called Voluntary Blood Account Service.Blood is a life line for us but infected blood can transmit deadly viral infections like Hepatitis B, Hepatitis C and HIV. Therefore, Blood screening is considered as the backbone of any Blood Transfusion service. By the Grace of Allah and with the Support of our Trustees, Husaini Blood Bank is equipped with FDA approved PCR based NAT screening system which is the most sensitive and specific screening system in the world so far.
[3]
 Blood is a living tissue  -  cannot be produced artificially
Tips HUSSAINI BLOOD
By following a few recommendations before, during and after your blood donation can help you make your donation experience as safe, successful and pleasant as possible.
[4]
 make your donation -  experience as safe
Before Your Donation
Your minimum hemoglobin should be 12 gram / deciliter
Get a good night's sleep if possible
Drink an extra 16 oz. of water and fluids before the donation.
Eat normal meal before your donation.
Be free of aspirin for two days prior to donation.
During Your Donation
Wear clothing with sleeves that can be raised above the elbow.
Relax, watch TV, or read during the donation process.
if you have a preferred arm and show the staff any good veins
450 ml blood bag isfilled in 8-10 minutes.
Take the time to enjoy a snack and a drink after blood donation.
After Your Donation
Keep lying at least for ten minutes.
Drink plenty of fluids over the next 24-48 hours.
Avoid strenuous physical activity or heavy lifting 5 hours.
Do not drive car, motorcycle, smoke, tobacco or pan at least for 2 hours.[5] Do not use smoke, tobacco or pan -  at least for 2 hours.
Benefits of Donation
Al Quran "who saved the
life of one human has saved the humanity". (Surah Al Maida).
It feels great
to donate!
You get free juice and cookies.
Heart diseases are less common who donate blood regularly.
You will have a free medical checkup prior blood donation.
You will get free blood report once you donate blood.
Blood to spare.
You will be someone's hero. in fact, you may help as many as three people with just one donation.
Who can Donate
Only healthy volunteers can donate blood
Age between 18 To 60 years
Weight 50kg or above
Never had jaundice due to hepatitis B & C Is not suffering from HIV /AIDS
Have normal hemoglobin.
Minimum gap between 3 months
Business Details
Owned By
Dr. Hasan Ali Vajid - Founder Husaini Blood Bank Trust
Certifications
RINA ISO:9001 UKAS Quality Managment International Society of Blood Transfusion - Netherlands Pakistan National Accreditation Council
[6]
  Quality Managment -  Blood Transfusion - Netherlands
Memberships
American Association of Blood Banking College of American Pathologists International Society of Blood Transfussion Thalassemia International Federation Thalassemia Federation of Pakistan Sindh Blood Transfussion Authority Sindh Medical Faculty Sindh Board of Technical Education
[7]
 American Association - Memberships 
Business Hours
Monday - Saturday
Head Office
Address : 43, Rehmat Manzil, Bhurgri Road, Soldier Bazar, Karachi.
Landmarks : Bhurgri Road, Britto Road, Rehmat Manzil, Soldier Bazar
City : Karachi
Phone : +92-21-32237734, 32237736, 32238405, 32238406, 32238407, 32238408
Fax : +92-21-32237735
UAN : +92-21-111111422[8] Address -  Head Office karachi